---
December 14, 2009 4:13 PM
We had an info-packed past week at SearchCIO.com. Don't believe me? Check out the stories and guides below, covering 2010 information technology budgets, CIO job tenure, outsourcing IT application develoment and management and more.
2010 information technology plans will have smaller budgets — Will 2010 be the year most IT budgets decline? Our annual survey says "yes" but also reveals significant differences in both budgets and priorities between the haves and have-nots.
A mainframe application modernization strategy that pays for itself — This "lift and shift" migration from 700 MIPS to Windows paid for itself and future enhancements out of operational savings. In this piece, experts weigh in on some best practices.
Insourcing IT application development and management: A how-to guide — Insourcing your IT application development and management can bring you closer to your mission-critical applications and data. In this tip, get advice on bringing application work back in-house.
CIOs parlay business smarts into stable job tenures — In a sign that the IT role is maturing, the tenure of IT executive jobs was an average six years in 2009, a dramatic difference from past downturns. Find out why CIOs are sticking around.
CIO's guide to outsourcing application development and management — Application outsourcing will lead enterprise CIO agendas again next year, with IT application development and management services in high demand. Learn more in this guide, our latest in the CIO Briefing series.
December 11, 2009 3:39 PM

Profile: Linda Tucci
How important is a strong project management office to the success of an IT leader? For Ogilvy & Mather Worldwide CTO Yuri Aguiar, building a centralized PMO was the cornerstone of his efforts over the past year to leverage technology for the ad agency's 15,000 employees.
Ogilvy was spending millions annually on technology-related projects but not getting very far, Aguiar said. "It would all go towards hardware and services and be fragmented around the globe." A year and a half ago, the PMO was established under the auspices of the global IT operations in New York.
"We have managed to centralize every single dime of the capital. It is our biggest success story in managing spending," he said.
Aguiar was in Boston last night to talk about transformational leadership at the Society For Information Management's (SIM) end-of-year get together.
The power is not in the PMO, per se, Aguiar said, but in a fundamental change in how projects are funded and managed at Ogilvy. All projects are reviewed by three architects and subjected to a risk mitigation and management (dubbed RM2) metric before approval. Top priority is given to revenue-generating projects. Urgent projects trump "important" projects, and timelines run about 12 to 14 months max. Also, all project managers report directly to Aguiar. "If somebody is running one day late, he or she is knocking on my door," he said. He also appointed a person (based outside New York) who spends roughly 50% of his time capturing the results of the projects. Success stories are then shown off on a regular basis, with "real statistic and measurements, no vaporware," he said. If the project "can't be seen or touched or used, it is not there."
The project management office becomes even more critical in a tough economy. To compete on price, Ogilvy has built small production hubs in places around the world to take advantage of the lower labor costs.
I'll be digging deeper into how the Ogilvy PMO works in an upcoming story. In the meantime, we'd like to hear from you on how you are structuring your PMOs to drive IT execution and strategy.
Coda: CIO equals "career in overdrive"
Typical of good speakers, Aguiar's talk was peppered with multi-point lessons and catch phrases — and raw ambition proudly on display. Aguiar said he stepped into the position in January armed with four personal goals. Nobody in the organization was going to think of the CIO as a "career is over." In his realm, CIO is going to stand for "career in overdrive." He wanted to be "sought after" by the business to solve problems, not "hunted" down to answer why something wasn't working He is earning the respect of his IT team by showing them he is a leader not a "middleman" in the business, and he plans to convince the business he is a partner, not a participant, in Ogilvy's success.
---
December 7, 2009 4:11 PM
We got our first snowfall here in Boston yesterday (not counting the snow we had in mid-October — yes, October), and I think I'm already done with winter…if only Mother Nature were on board! If you're hating snow like I am — or even if you're not — check out the latest content from SearchCIO.com, covering disaster recovery, customer feedback management, outsourcing application development and log management practices.
Four lessons in IT disaster recovery planning from an FAA outage — Does the recent FAA outage contain lessons for CIOs? You bet, starting with the fact that most IT disasters are exactly like the one that hobbled the flight management system.
Customer feedback management tools advance, but still no social media — Customer feedback management tools offer new functionality, but responding to social media often falls to the call center.
Managing application development outsourcing risks — Application development outsourcing poses risks, from developers sharing information on blogs to not knowing who is really writing your code. Find out how to manage them here.
Leveraging log management for IT and business process efficiency — Having invested in log management for security and compliance, some companies are using their security information and event management tools to drive business process efficiency.
---
December 4, 2009 2:41 PM
I'm going to preface this post by admitting that Google usually impresses me with ease. Google Web search? Easily the best one out there. Google Street View? Amazing. Google Chrome Web browser? Just made the switch and glad that I did. So, when I received my long-awaited Google Wave invite last week, I was ecstatic, and quickly passed invites along to several friends and colleagues. I'd heard all the buzzwords. "Unified communication." "Enterprise collaboration." "Real-time integration." All of this, plus Google's well-earned reputation as a leader in Web and IT innovation? I couldn't wait to ride the Wave!
OK, now somebody please explain this to me, because I am so unimpressed. I've been able to chat through Gmail through years, so how is this much different? I guess the fact that you can hold a multi-person chat is cool, as is the ability to embed videos and photos directly into the chat stream (when it works). But I don't see anything revolutionary in here. Moreover, I find it cluttered and confusing to navigate, whereas Google is usually so intuitive. (Also, a friend and I each experienced an unwanted person from our past popping up on our contact list – come on, Google, you're supposed to be smarter than that!)
My experience has made me question Google's long-term strategy with regard to enterprise collaboration and Google Wave. Google likes to be the standard by which other Software as a Service applications judge themselves. More and more, Google is trying to market its services, like Gmail, to enterprise organizations. From all of the hype surrounding it, I had the impression that Google Wave would make me feel like my colleague in the Midwest is sitting at the next desk over. Alas, it hasn't, and I can't see Google Wave, in its present iteration anyway, taking on any kind of foothold in the enterprise.
Moreover, would enterprise audiences want so much pertinent communication taking place on a platform that they do not oversee? In a new and somewhat untested Web 2.0 environment, security and privacy issues are likely to emerge, and I would anticipate compliance headaches aplenty for CIOs who have employees communicating on this platform about work-related matters.
Despite the rocky start to our relationship, I'm trying to give Google Wave a second shot, and envision ways it could carry an enterprise forward. Have you tried using Google Wave in the workplace yet? What's your experience been? Can you see a CIO sanctioning its use as an enterprise collaboration platform in the distributed workforce?
---
---
November 23, 2009 3:20 PM
It's almost Thanksgiving! And nobody is looking forward to mashed potatoes and pumpkin pie more than I am. Since those of us in the U.S. have a shortened work week ahead, I won't keep you for long, but please take a few moments to check out our latest SearchCIO.com content, from Agile best practices to application consolidation to a compilation of our best IT management FAQ guides for the CIO.
FAQ: Agile practices and their role in software development — Companies are increasingly using Agile practices to improve software project outcomes. Learn more about Agile in our latest FAQ guide, from Scrum to Extreme Programming and more.
IT exec's best practices for application consolidation include SaaS — Learn how one IT director employed application consolidation to cut maintenance costs, improve reliability and centralize data with a strategy that included SaaS.
IT management FAQ guides for enterprise IT strategies — In these IT management FAQ guides, get answers to frequently asked questions about technologies and methodologies such as ITIL, Lean thinking, Six Sigma, and more.
---
November 20, 2009 5:10 PM

Profile: Christina Torode
I recently made my first big purchase — a new vehicle — and I made my mind up pretty much before I entered the showroom floor, thanks to customer feedback I gathered on the Internet. What surprised me when I went to test drive my dream SUV was the lack of customer feedback management being done by the car dealers and makers.
I went to Consumer Reports and Edmunds to compare safety ratings, highway miles per gallon, handling and longevity, but my list of choices was narrowed down much further by comments made at the end of the reviews by current and former drivers.
I was sure I was going to buy one particular SUV but found repeated complaints about its small back window that caused huge blind spots. Another one on my list had a souped-up engine [based on customer feedback] but left the gas tank the same size, leading to another customer complaint that still hasn't been addressed: frequent fill-ups.
I was overloaded by all the different complaints and accolades made by drivers, but when I asked the salespeople about the customer feedback I read on blogs and reviews I heard "I haven't heard that" or "No one's told me that."
I don't lay the blame on the salespeople — they might not even be encouraged to look at what people are saying on public forums like blogs, Twitter, Facebook, emails or YouTube.
But who is responsible for customer feedback management? The feet on the street, or management? How do you centralize all this information, and distribute it so front-line employees are on top of what customers are saying and equipped to respond?
Was my experience atypical, or are companies ignoring a channel that may decide what people actually buy? Are they paralyzed by some of the critiques, and choosing to ignore them instead?
This is just the experience I had when looking for an SUV. I won't even go into how the dealer dropped the ball when it came to rating my buying experience.
Share your thoughts on customer feedback management, or the lack of it — but particularly if you work for a company that does it well. Email me at ctorode@techtarget.com.
---
November 20, 2009 4:20 PM

Profile: EditorAnne
This has been a tough year, yet there are always things to be thankful for. Indeed, the upside of the worst of times may just be to make that clear. Pondering this over the past few days with Thanksgiving approaching, I asked around to find out what things some of you were thankful for, from technologies to the softer side of managing. Here are some of your responses.
"What springs to mind immediately is that [the recession] has given us (IT) the chance to dig into regrouping, planning, reorganizing and streamlining our processes and architecture to be positioned so that we are able to meet increased demand with aplomb. Thank goodness we had that chance, because that demand has already begun with a vengeance!" — Kendyl Peebles, IT director/department manager, Clancy & Theys Construction Co.
"The sense of humor and the absurd of my staff; Windows 7; virtualization." — Joanne Kossuth, CIO and vice president for operations, Franklin W. Olin College of Engineering
"I am thankful for having a talented and dedicated team of professionals who have never lost their focus, passion or commitment in these difficult times." — Larry Bonfante, CIO, U.S. Tennis Association
"Our industry is going strong and gold is well over $1,100! We made a lot of headway towards standardization and process improvements and we have many key projects in our pipeline for 2010 that my team is excited and ready to execute." — Shelly Barnes, director of PMO, IT Services & Infrastructure, Newmont Mining Corp.
"That my company considered IT part of the solution (rather than a target) to finding better, less expensive ways to get work done." — Niel Nickolaisen, CIO and vice president of strategic planning, Headwaters Inc
"Not having lost anything that really matters during this year of greed and idiocy. I'm truly thankful for being reminded of what is important." — Les Johnson, CIO, North Coast Electric Co.
And we here at SearchCIO.com and TechTarget are thankful for all of you, who contribute to our efforts in so many ways as readers, as sources, as advisers and even as friends. Thank you for a great year so far, and have a great holiday!
---
November 16, 2009 4:13 PM
Last week was a busy one for SearchCIO.com, with SOA topping our slate. We have best practices for SOA implementation, SOA for business process transformation, SOA in action at Amtrak…you get the picture. We also quizzed you on your ITIL and ITSM knowledge and discussed application consolidation in four ssteps. For the full list of articles, click on the links below!
(And yes, if you sense some forced cheeriness, it's because I'm still trying to recover from last night's Patriots-Colts game. I don't want to talk about it — still too painful to put into words.)
Best practices for a SOA implementation and application integration — A service-oriented architecture (SOA) implementation and application integration allow information to be transferred and supported efficiently. In this month's CIO Briefing, learn more about SOA best practices.
SOA implementation propels business process transformation — When business process automation was insufficient and BPM products proved too narrow, a CIO turned to SOA to streamline business processes and boost productivity by 30%.
SOA best practices from Amtrak — Amtrak's chief SOA architect offers advice to CIOs on implementing SOA services, from creating a plan and choosing standards to governance and monitoring.
Review the latest trends in ITSM and ITIL best practices — Many enterprises find that implementing ITSM and ITIL best practices leads to improved efficiencies and lower costs. Review our latest ITSM and ITIL content and take our quiz.
Should it stay or should it go? Application consolidation in 4 steps — In this piece, learn how to decide which applications to cut and which to keep when consolidating your application portfolio.
---
November 13, 2009 7:32 PM

Profile: AlexanderHoward
Last week at the University of Maryland's 10th Annual CIO Forum, a succession of CIOs from the government, health care and publishing industries described how they are harnessing IT innovation with limited resources during the recession. The featured speakers also discussed what they see as the future of Web 2.0 in the business.
Bipin Patel, CIO of ProQuest, spoke to the audience about the ways that Web 2.0 is changing business and usage patterns at his company. As he observed, "the inflection point [for Web 2.0] has been met and passed. The old model of publishing is gone." So, what has replaced it? "The users themselves – the researchers – are creating information and reacting with each other," he said. "They are the publishers now." They're working collaboratively with their community to identify and feature useful information. As part of his company's Web 2.0 efforts, Patel's team has created an online community for graduate students, where they can publish their dissertations for public view. The online community, called GradShare, has been rolled out in about 30 schools.
Premal Shah, formerly of PayPal and now the president of Kiva, offered another example of how to leverage Web 2.0. He described how the "eBay for microfinance," as he put it, has leveraged Web 2.0 to both sustain innovation and build out features that Kiva's resources could not provide. Kiva has grown rapidly since its founding and now has made more than $100 million in loans from more than 600,000 people, with 103 microfinance partners globally. Shah said the microcredit model is working, citing a 98% repayment rate for Kiva loans, and that transparency in results is crucial to success. "Imperfect credit is OK, but imperfect data is not OK," he said. "The donors of the world want transparency."
"Radical transparency," in fact, was one of three Web 2.0 principles that Shah listed, along with providing an addictive user experience and crowdsourcing against constraints. Since engineering resources were scarce for IT innovation, Kiva opened up its API to crowdsource development. As a result, Kivadata.org is online. Shah said that Kiva now also has about 500 volunteers that work as "virtual translators," helping to translate profiles so that their projects can get funded.
Shah also offered advice on growing Web 2.0 communities: identity the influencers and power users. "Cater to your addicts," said Shah. "Keep short feedback loops."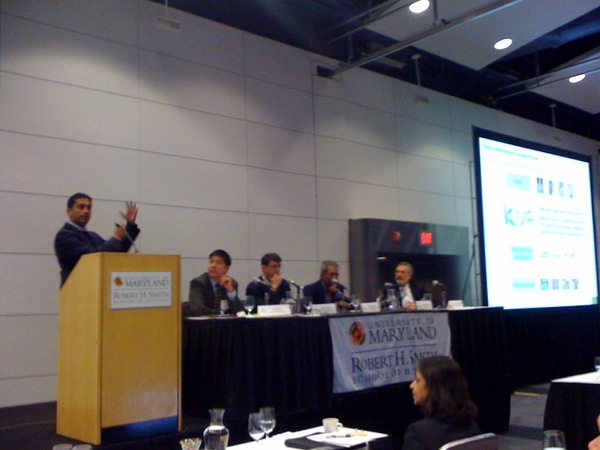 Douglas Abel, CIO of Anne Arundel Health System, focused his remarks on how to manage growing demand for health care at a new health care campus in downtown Annapolis. He's seen success using targeted IT innovation, like bar-coding medicine at the bedside to "check to see if it's the right patient, right dose." Now, as electronic healthcare records (EHRs) enter the system, he says the effectiveness of sharing data depends on standards, identifying bad data and avoiding duplicate records. Should his efforts succeed, Bell said that Anne Arundel Health System will be in the top 10% of automated hospitals. "It's about building an infrastructure that's patient-centric," he said, "not venue-centric."
Web platforms for health care information exchange are growing outside of major hospital systems. David Horrocks, former CIO and president of CRISP, discussed the ways that he's building out Maryland's statewide health information exchange and maintaining privacy. CRISP is Maryland's statewide health information exchange, which moves clinical information electronically among disparate health information systems.
New models for IT innovation in telemedicine also are also emerging. Dr. Sean Khozin presented on Hello Health, a pilot practice in New York that uses a Web-based platform for primary health care. Hello Health requires an in-person initial checkup, after which virtual follow-ups use telemedicine, unified communications and EHRs.
---