---
May 22, 2009 3:05 PM
In a perfect world, connected healthcare information systems would be easy to use, offer doctors a way to effectively communicate with their patients without any barriers or restrictions and give patients a secured means of keeping track of their electronic medial records (EMR).  Today's healthcare information system doesn't do this.  
According to last month's New England Journal of Medicine, 17% of U.S. physicians use some kind of electronic medical records system and only 9% of U.S. hospitals are adopting EMRs. What's the holdup?
Some say it's a case of misalignment of incentives. At this week's MIT Sloan CIO Symposium, Dr. John Halamka, CIO of Harvard Medical School, talked about how implementing connected healthcare information systems comes at a high price in terms of cost and productivity to doctors and medical facilities, with little return on their investment. Halamka talked about how doctors are presented with this great new technology for electronic health records. But the doctors initially have to put their own money up to fund the technology investment. They then see an immediate loss in productivity due to the setup time and management of the system. Finally – their staff ends up quitting or complaining about all the extra work involved in the new process. What are the incentives to this? Extra hours, lack of productivity and no additional compensation. And how is that supposed to improve my healthcare experience?
Or maybe it's a workflow issue that's holding up the progress of connected healthcare information systems. Fellow panelist Gregory Veltri, CIO of Denver Health and Hospital, blamed the lack of progress on workflow. Veltri gave a great example of his CEO telling him, "Nurses chart today the same way they did 30 years ago. You need to fix that." This was a wake-up call for Veltri, who realized that doctors and medical facilities have a major workflow issue. They have been using the same systems and workflow processes for years and literally haven't had the time to make changes.
Could the holdup be blamed on the technology? Does the technology behind connected healthcare information systems do a good enough job in meeting the needs of doctors, patients and insurance carriers? Connected healthcare information systems are very complex and involve doctors constantly codifying data for flows, reminders and alerts. Most doctors don't think in terms of codes. Moreover, a lack of standards means the system your primary care doctor adopts might not be the same as the one a specialist or hospital has, making your record unusable by anyone but the facility that created it.
The goal of connected healthcare information systems should be "to push the right data to the right provider at the right time," said Veltri. I'm not sure about you, but I'd rather have my doctor use a system that will allow him to spend more time figuring out my diagnosis, not just the right codes to enter.  
May 22, 2009 2:52 PM

Profile: AlexanderHoward
CIOs look to the MIT CIO Symposium for information on management, technology and innovation. Those in attendance at the academic panel held in Kresge Auditorium in Cambridge, Mass., enjoyed a healthy helping of all three, as distinguished researchers from MIT's business centers offered ample insight into how successful organizations leverage technology to increase innovation and profit. Over the course of the hour, the audience heard about the power of collective thinking, the impact of Web 2.0 tools behind the firewall and the methodologies for innovation that have served to differentiate IT giants like Google from their competitors.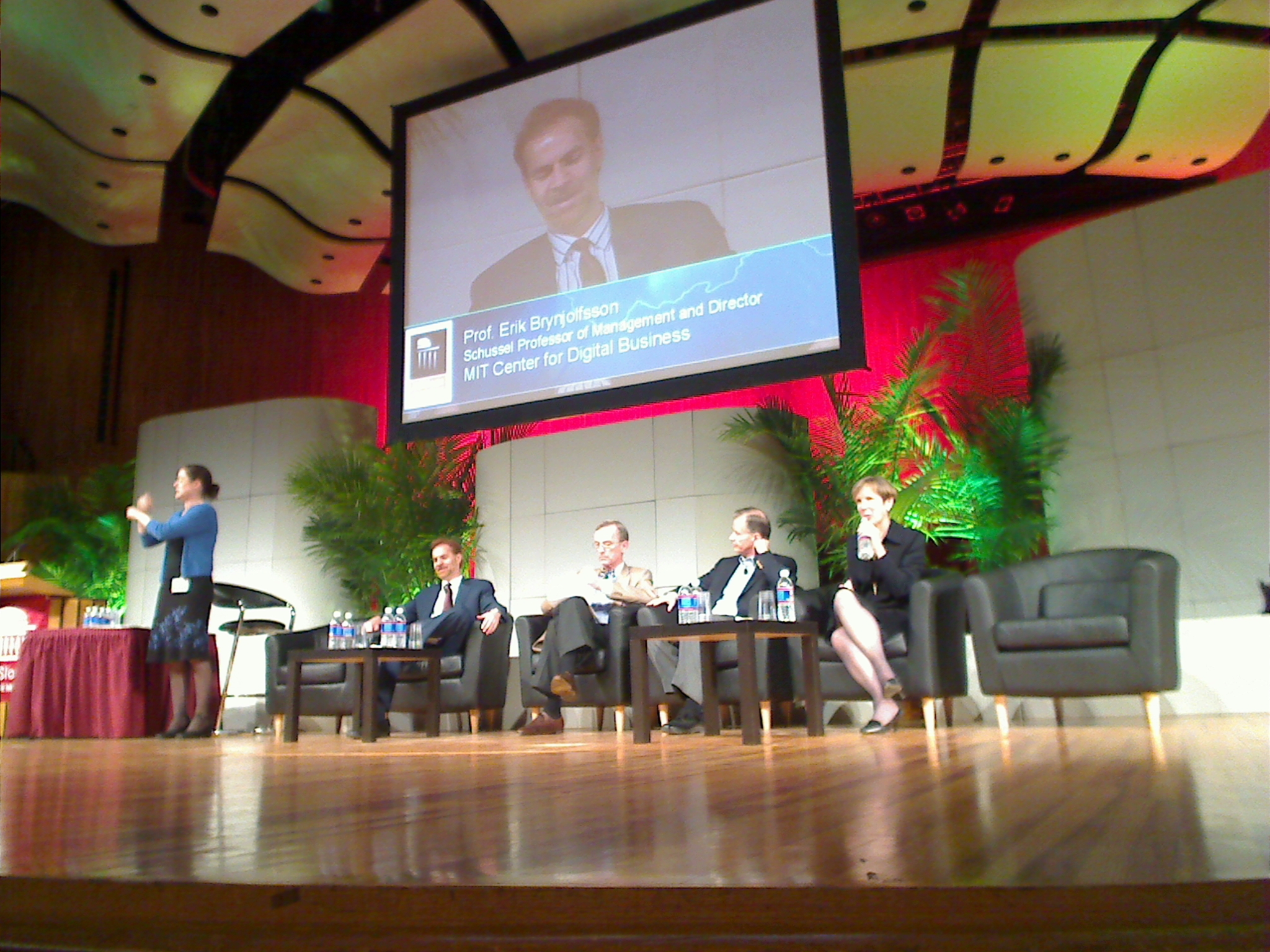 [From left to right: Prof. Erik Brynjolfsson, Gary Beach, Prof. Thomas Malone, Dr. Jeanne Ross]
The moderator for the panel, publisher emeritus of CIO magazine Gary Beach, didn't waste any time, asking each academic what "the next big thing" in IT was. Professor Thomas Malone, Director of MIT's Center for Collective Intelligence, noted immediately that the "elephant on the table is cloud computing." In his opinion, "It may well be the next being thing in the hardware progression." He chose, however, to focus on the power of collective intelligence.
His choice may not be surprising, given his research, but his coinage of the term crowd computing to describe distributed online collective intelligence turned to solving problems drew appreciative chuckles from the crowd. In Malone's view, the answers of the many, or so-called "wisdom of the crowds," is a powerful tool for organizations seeking answers to tough questions. Malone noted Twitter and Innocentive as two examples of the concept.
Dr. Jeanne Ross from MIT's Center for Information Systems Research (CISR) chose to focus on the digitization of organizational resources, stating that in her view, only "about 2% of global companies have nailed the concept of a digitized platform." She said here are two things IT does well: standardizing and integrating business processes. Organizations of all types will gain the most from their IT investments by focusing in these areas.
Professor Erik Brynjolfsson, author of the forthcoming Wired for Innovation: How Information Technology is Reshaping the Economy, sees opportunity in the downturn. As he noted, "the lion's share of Fortune 500 companies were founded in earlier economic disruptions." Brynjolfsson calls today's recession the "great restructuring." In that trend, he sees three key elements: Experimentation, measurement and scale
Each of these elements is substantially enabled by innovations in information technology, like A/B testing, Web and data analytics and cloud computing or enterprise resource planning systems. Brynjolfsson provided a bottom-line example of how such methodologies can result in increased profitability, noting that "Yahoo only makes 16% as much per page served as Google with the same underlying technology. Why? Scale."
Brynjolfsson suggested to the CIOs in the audience that they push for experiments, measure and validate them in order to rapidly adopt the innovation, replicate it and then scale it. "Experiments aren't an excuse to validate preconceived notions," Brynjolffsson was quick to note. "That's the wrong mentality. Leaders must approach experimenting with a genuinely open mind to see what works and what doesn't." Brynjolffson offered a CVS case study that he and Harvard Professor Andrew McAfee wrote in 2005 as an example. CVS created a pharmacy service improvement at one test location. Once the new process proved effective, CVS embedded the process into all of its IT system, replicating it to thousands of other locations.
Take his research with McAfee as another example. McAfee hypothesized that companies would become more similar over time as each organization enjoyed the benefits of improvements in information technology. What he and Brynjolfsson found was striking. When you compare leaders with laggards, over the past decade there has been a substantial growth in the gap. From the 1960s through the late 1990s, technology advancements benefited the nation's companies in roughly the same amount. Starting in the late 90s, however, there was a discernible shift to higher profitability in the top 25% of the nation's corporations, particularly in more IT-intensive areas of economy. Increasing performance heterogeneity was a result that appeared to be closely correlated with IT – if not IT itself.
In other words , the results implied that companies were using information technology in a new way after the dot-com bubble, with the top echelon leveraging investments in ways that dramatically accelerated their growth and profitability in the new millennium.
When asked what CIOs and CEOs could invest in now for returns on investment in recessionary times, Brynjolfsson focused on so-called "Enterprise 2.0" technologies. In his view, blogs, wikis and enterprise microblogging quickly allow innovations to be discovered and amplified across the companies.
---
May 21, 2009 1:08 AM
Organizations that establish a BPM center of excellence have a much greater degree of success, according to Clay Richardson, a senior analyst at Forrester Research. Recent Forrester research showed that out of the customers who weren't having success in their BPM initiatives, only 4% had a formal center of excellence in place. Out of the ones who were having BPM success, 67% had centers of excellence.
According to Richardson and other experts, a center of excellence is ideal where there are multiple players contributing to each project. A BPM center of excellence often consists of IT and business people and serves as a formal hub to coordinate goals, priorities and governance for process implementations.
If centers of excellence are tied to BPM success, why aren't more people implementing them?
One reason might be credibility. For organizations new to BPM, it's a business culture change. Justifying the value of BPM isn't always easy, especially without proof. That's why it's often easier to implement BPM successfully on a couple of projects first and then set up a center of excellence as phase two.
"You can't start with a center of excellence," said Derek Miers, founder of BPMfocus.org. "You have to deliver value on projects first."
One could argue that a BPM center of excellence is like the chicken and the egg all over again: You need one for the other to work. But in the case of BPM, it's better to start small, show value and then build your center of excellence.
---
---
May 15, 2009 3:02 PM

Profile: EditorAnne
When the Massachusetts Senate took action this week to modify the state data privacy act (Standards for the Protection of Personal Information of Residents of the Commonwealth), I didn't jump for joy the way some people did.
Yes, the original legislation set such a high benchmark that it would place an enormous burden on businesses to comply: encrypting all personally identifiable information, designating one person to oversee a company's privacy program (a big burden for smaller businesses where there's not even one person dedicated to security). So I understand the hue and cry about legislators not getting the implications of what they are putting in place because they don't understand the technology, or IT, or the economics of risk management for the business world. That is all true.
But what is also true is that data protection is changing, and needs to change, in the U.S. Even as the Massachusetts law would defer to federal law in many places, the fact is we don't yet have a tough federal law on the order of what is commonplace in some other parts of the world. Americans, as capitalists, often roll their eyes at many European conventions (think: six-week vacations, nationalized health care, controls on greenhouse gas emissions) but in fact the U.S. could end up emulating some EU practices because they work. Privacy and data protection should be no different.
As a resident of Massachusetts, I'm disappointed that my state might not end up with the toughest data protection law in the nation. But I hope the feds will soon pick up the ball and take care of that for us. Unlike legislation like SOX, where the sins of the few brought the burden to the many, a federal data protection act would be one for all of us. With nothing less than the integrity of our identities at stake, creating such electronic border controls should involve federal funding just as any aspect of national security does. And on the global stage in the electronic age, this is indeed a national security issue.
Yes, many states have data protection laws on the books now. But that doesn't satisfy the Europeans, who view our data protection as weak without a federal law. Now's the time for the feds to step in and give us a united stand.
---
May 14, 2009 6:02 PM
In the course of writing today's story on spend management software and cost transparency tools, I talked quite a bit with Shane O'Sullivan, group CIO for Skandia Group Cos., about his methods for tightening up operational costs in procurement. O'Sullivan touched on many aspects of his organization's program, and noted that having a procurement-related governance model in place from early on has been invaluable when it comes to being responsive to marketplace conditions, contract negotiations and the like.
That attitude makes sense to me: SearchCIO.com has looked at IT governance from a number of angles, and we've seen that — especially in a recessionary environment — organizations are finding that establishing protocols with regard to purchasing, hiring and other operational areas is imperative in order to run a lean-but-effective business.
I'm looking to write a longer story about procurement cost-cutting and governance strategies. Are you an enterprise CIO with experience in cost-cutting or governance related to procurement? If so, please email me at rlebeaux@techtarget.com.
---
May 11, 2009 3:26 PM
Happy Monday! SearchCIO.com was hard at work this past week studying business process management (BPM), service-oriented architecture (SOA) and business activity monitoring (BAM). We also launched a new IT consultant blog. Read the details below!
A move to cloud computing should involve SOA and BPM – Enterprises preparing for cloud computing should involve SOA and BPM in the process to achieve transformational change.
How CIOs are enabling business activity monitoring with existing tools – Find out how CIOs are providing business users with real-time data without big investments in BAM tools.
BPM guide: Business process management best practices for CIOs – Business process management refers to an approach for improving an organization's processes. In this all-inclusive guide, find BPM news, best practices and tools for enterprise CIOs.
Ask the IT Consultant blog – We hope all of our regular blog visitors will take the time to visit our new blog, Ask the IT Consultant, where members of the Boston chapter of the Society for Information Management are available to answer your questions.
---
May 8, 2009 1:50 PM

Profile: Christina Torode
Some ISVs are behind the curve when it comes to changing their licensing terms to accommodate application virtualization.
Having one installed application that is streamed to many users, as is the model with application virtualization, versus a per-user licensing model, is one curve ball ISVs are mulling.
There is what analyst Mike Cherry with Kirkland, Wash.-based Directions on Microsoft calls a chicken-and-egg game going on: CIOs are waiting for word from their vertical ISVs on whether they're going to adapt their licensing models for virtualized versions of their applications, and ISVs are waiting on CIOs to tell them to come up with licensing that reflects a virtual environment/application.
There are risks that CIOs can run into if they forge ahead and virtualize an application without first checking to see if the ISV can support that type of deployment. Cherry has seen companies do just that, only to be told by the ISV to put the application back on the physical server because the ISV doesn't know how to fix the application when something goes wrong in a virtual environment.
And he's not alone. Ty Schwab, CEO and founder of virtualization consulting firm Blackhawk Technology Consulting LLC in Eugene, Ore., has said that not enough companies are checking to see if the ISV is supporting virtualized versions of their applications, and not all software vendors have a plan for how they're going to charge for their applications in a virtual environment.
He advises that CIOs test the application to make sure it can be virtualized, then call the software vendors to come up with a plan for how they're going to charge you for licensing.
In addition to the cost of the software license, keep in mind that you will have to pay for the technology used to create a virtual application, such as SoftGrid, which Microsoft acquired and renamed App-V 4.5. Such software comes with a one-time fee of $2,000 to $5,000 for the application virtualization studio or administration console needed to design, repackage and virtualize applications. On top of that there is an application virtualization licensing cost of around $30 to $150 per application that is virtualized.
Have you already gone through the process of negotiating virtualization licensing terms with your ISV? Do you have any advice for others as they start down that path?
Let me know at ctorode@techtarget.com.
---
May 7, 2009 3:57 PM
Telecom providers will do whatever it takes to keep your business, even in a business downturn. And that's not just lip service.
Did you know that you can insist on a "business downturn" contract clause in your telecom agreements? Many large corporations are spending in the millions on telecom expenses each year. Even the IT organizations that excel at telecom expense management can't effectively do so when the business takes a hit. For instance, if your company loses a major account or sells off a subsidiary or business unit, a "business downturn" contract clause allows you to reduce your original commitment level to the telecom provider – in terms of spending, rates and/or contract length.
A "business downturn" contract clause can also cover migration to a new technology that possibly reduces the original amount of services covered by your contract. However, "you will want to eliminate language restricting the clause to business downturns 'beyond the customer's control' or to situations in which the customer cannot meet the commitment 'despite its best efforts,'" advises telecommunications and IT law firm Levine, Blaszak, Block & Boothby LLP on its website. "Such phrases eviscerate any rights that the clause otherwise grants."
Just last month, TNCI, a national voice and data communications reseller, competitive level exchange carrier and VoIP network provider, announced that it was offering a "business downturn flexibility" contract clause to new and existing customers using its telecom services. The new contract clause is "designed as a method for renegotiating service agreements due to a change in the customer's business situation as a result of the recession," according to a statement by company officials.
TNCI isn't the first to do this and definitely won't be the last. Telecom providers are feeling the heat of this weakened economy and are doing whatever is necessary to work with IT organizations on managing their telecom spending and services.
Telecom providers ultimately want to keep your business. It's easier for them to keep a remaining large customer than invest in a new one. "If Verizon has a customer with 1,000 analog lines, it is easier to lower their rates or work with them on their contract, than install 1000 lines for a new customer," said Michael McCauley, PMP of TelPlus Communications, a managed telecommunications solutions provider. "It's always much easier to negotiate from a point of strength."
Whether your telecom spending is managed through IT or an outsourced service provider, adding a "business downturn" clause to your contracts is a smart business decision in bad times.
---
May 4, 2009 3:33 PM
This past week, SearchCIO.com was all over business process management, from BPM and service-oriented architecture (SOA) and how they work together to how to find fast ROI using BPM. We also podcasted an interview with the Massachusetts state CIO, who offered helpful lessons for any enterprise CIO grappling with new technologies, compliance, budgets and more. Check it all out below, and scroll down for the latest from the blog.
The challenges of a state CIO – In this podcast, Anne Margulies, state CIO of the commonwealth of Massachusetts, discusses the challenges of investing in new technology, while keeping an IT infrastructure running smoothly.
How BPM and SOA work together for business process improvement – Enterprises should marry their BPM and SOA efforts if they really want reuse — and true business process improvement.
BPM software: How to find fast ROI on smaller projects – BPM software can lead to fast ROI when companies use it properly, experts and users say. Learn how Level 3 Communications launched its own BPM platform and how you can do the same.
---