---
August 24, 2012 8:19 PM
It's back to school time and, if you're picking up some crayons for the kiddies, maybe grab one of those 64-count Crayola boxes for yourself. In this week's SearchCIO.com Searchlight, graffiti artist Erik Wahl explains why a sniff of your old waxy friends can calm you down and lift up your creative spirit. Wahl's keynote address at this week's Gartner Inc. Catalyst conference in San Diego sought to convey the idea that tech innovation is rooted deeply in our crayon-art-scrawling youthful imaginations. To continue on the theme, this week's Searchlight brings you a roundup of  Web items focused on innovators — from the "idea monkey" to Pinterest pioneers.
Go to SearchCIO.com Searchlight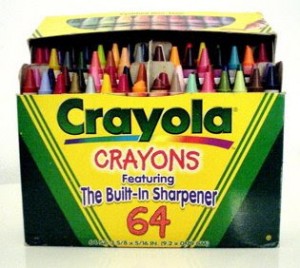 August 17, 2012 3:11 PM
Mid-August is here, when the uptick in back injuries from lugging mini-fridges and long goodbye-hugs remind us it's college move-in time once again. And like so many wide-eyed, hot plate-toting freshmen, the weekly roundup is settling into new digs too – at SearchCIO.com Searchlight.  Click the link to join us at our new location where we've got interesting bits on social media skills, Google the bully and a bellwether of better times for tech.
---
August 10, 2012 6:36 PM
The summer games may be winding down in London, but we just can't let go of that whole go-for-the-gold-vibe. Hence, this week's roundup of news bits and analysis from around the web explodes out of the blocks with three items about creating competitive advantage. Find out why Bing may well be the smartest search engine in the room but is still no match for well-connected Google. Also included for your reading pleasure in this week's roundup: One expert's take on how to keep IT competitive with outside service providers and why big data analytics may ruin the fun for coupon clippers.
You may be the smartest candidate for the job, but sometimes it's all about social connections. This holds true in the Bing versus Google battle for search supremacy.  Despite having what may be the smartest computer learning system in the world, the Microsoft-owned search engine lags far behind Google. Why? It's all about the massive amount of personal information Big Brother Google captures about users.
If CIOs don't think they have to compete for the business of internal customers, chances are they've already lost them. Check out these expert tips on keeping IT competitive and relevant to the business. While you're at it, read why we think this just might be the new CIO benchmark.
What's a little privacy when there's money to be saved on diapers and coffee? In a quest to create competitive advantage supermarket chains put big data analytics into action by offering customers individualized pricing based on their shopping habits.
Instagram: It's not just for shoe-gazing hipsters anymore. Increasingly, big-name companies like Starbucks, GE and Nike are leveraging the popular photo app to gather customer data.
Finally, in case you missed it, check out this week's installment of CIO Matters in which news director Linda Tucci makes a case for the CIO's need to know just how "green" cloud computing really is and why it matters to us all.
---
August 4, 2012 4:44 PM
Every four years, it's the same thing. We sit and watch the summer Olympics in awe of human physical potential and our minds begin to wander. What if we'd kept up those swimming lessons? If only we didn't dump track for the school newspaper. Then we come back to reality, pop open another soda and wonder how those divers can be so darn synchronized. But Olympic-loving readers, take heart — CIOs can shine in the summer games.
Leading off this week's roundup, from our sister site SearchCIO-Midmarket.com, we have a CIO whose gold medal-worthy green tech innovation is truly energizing London's Olympic Park. Also, read about how speeding to market with software could kill a trading firm, and read about the CIO's role in IT transformation.
As chronicled on the SearchCIO-Midmarket.com blog, CIO Symmetry, the CIO of the London summer games scored big, lighting up Olympic Park with green tech innovation. And he didn't even have to put on a Speedo.
Speed is great for sprinters and the like but can be downright dangerous for makers of stock-trading software. Perhaps Wall Street's third stock-trading fiasco in five months will drive home this point.
Winning by changing the rules doesn't sound very sportsmanlike. Unless we're talking victory over network hackers — then by all means we ought to hear out the argument for changing the rules of writing code.
Think social collaboration is a frivolous pursuit? Perhaps this bar graph can convince you otherwise.
Finally, be sure to check out this week's CIO Matters column, in which SearchCIO.com's Editorial Director Scot Petersen looks at the role of the CIO in the midst of IT transformation.
---
July 27, 2012 7:53 PM
Can you believe what a disappointment these games are turning out to be? Oh, we're not talking about the Olympics. We're referring of course to Zynga's recent woes. Yes, in life, as in the Olympics, there are winners and there are losers. In this week's roundup we catch up with a few former tech world superstars who won't be up on a podium any time soon. Also up: the dark (Hat) side of tech innovation, some truly heroic leadership lessons and more.
Zynga may want to have a word with friends. Opinion is rife that Facebook doesn't have the company's best interests at heart.
We now know one outlet where BlackBerry users won't be reading more bad news for RIM.
Where there's money, there are criminals. Hot on the heels of tech innovation that makes your smartphone a virtual wallet comes a tech innovation that virtually steals that wallet.
Who doesn't like a good chart? We especially like this one which attempts to diagram the main routes to unified information access (UIA) across silos when dealing with big data.
Finally, be sure to check out this week's CIO Matters, wherein our crusading columnist Wendy Schuchart saves the day with awesomely powerful leadership lessons CIOs can glean from superheroes. Kapow!
---
July 20, 2012 7:55 PM
Is there anyone out there who didn't have the longest, hottest week since ever? We're going to keep this brief, as our brains are more melted than hoax-ified Canadian currency. Good thing this week's roundup includes some tips on reviving your gray matter. Also, we've discovered the only question you need ask to solve your big data analysis dilemma* and some enlightened opinions on why no one (except perhaps Target) should care what Marissa Mayer will be doing in October.
*Sorta.
Do you like your brain? Then stop being so mean to it. Check out these tips for preventing brain abuse — including dealing with the evils of the email inbox.
As soon as you finish reading this story about new research on the detrimental effects of too much interwebs, go outside. Please.
If, like so many, you too (U2?) still haven't found what you're looking for with big data analysis, maybe you failed to ask the most important question.
As with that Stephen King novel on our summer beach-read list,  we both love and are frightened by this infographic on how personalized sites use personal data.
Finally, in case you missed it, check out our latest CIO Matters column looking at how women in technology are looking at the hoopla over Yahoo CEO Marissa Mayer.
---
July 13, 2012 9:04 PM
Why is it that Friday the 13th only seems scary when it falls in October? Didn't those unfortunate teens meet their demise at a summer camp? At any rate, in honor of this allegedly spooky/unlucky day, we've stocked up the roundup with scary-good tech innovations, a howling CEO and a reminder of how frighteningly bad our photos used to be before everyone had a digital camera and easy-to-use editing tools. At least back then we were spared the horrors of tagging.
---
July 10, 2012 9:09 PM
Let me be honest here: I would be thoroughly impressed with myself if I could successfully compile a grocery list on Excel. I offer this as a disclaimer. But even though funnels befuddle me and I've managed to merge information straight into the ether, there is one thing I do know about Excel — it's the wrong tool for virtualization capacity management. And yet, some folks still use it because that's how they've tracked their physical environment.
I learned this at the outset of reporting on today's featured SearchCIO.com story about capacity management. I took this information with me as I went on to talk to IT leaders about how they approach capacity management in their virtual environments. Talking with them made it clear that trying to keep tabs with a spreadsheet is like doing your long-form tax return with an abacus. Sure, TurboTax might cost more, but the money you save in mistakes will be worth it in the long run.
This isn't a plug for any particular vendor or any specific tools. It's just a helpful tip/warning of things to come. If you are joining the ranks of virtualization nation, you need to pack the right tools. As Gartner analyst and virtualization go-to guy Chris Wolf told me, some of the things that make virtualization great — the small footprint, the ease of provisioning — also make it dangerous. Because of the mobility and the abstraction provided by virtualization, you can't assume something is in the same place anymore, Wolf pointed out. On top of that, virtualization makes it easy to provision new servers, and if you're not careful — especially with the capricious capacity demands of the business — it becomes very easy to over-provision, resulting in availability failure. And that's one trend you certainly don't want to be a part of.
---
July 7, 2012 3:18 AM
Is this the official holiday weekend or was that last weekend? Mid-week holidays are so confusing. One thing we do know for sure is that summer is now in full swing. To celebrate, we've got a compendium of fun things to do outdoors. They include reading, daydreaming (about BPM applications!) and, um, setting up your data center. It's true, TotalCIO readers — thanks to AOL engineers, a barbeque grill is no longer the coolest thing you can toss on a concrete slab out back. To the roundup:
---
July 3, 2012 8:50 PM
Some things just bear repeating.
As part of our most recent roundup post — in roundups, we gather interesting items you may have missed from the week that was — we highlighted a new initiative created to promote young women in computer science.
Girls Who Code was founded by former New York City deputy public advocate Reshma Saujani. She plans to kick off the program in New York this summer with hopes of bringing it to other cities in 2013. The group announced last week they now have the support of such tech heavyweights as Twitter, General Electric, Google and eBay.
According to Twitter engineer Sara Haider, Girls Who Code will start with an eight-week intensive program that will teach basic principles of computer science and coding, as well as design, research and entrepreneurship, to girls aged 13 to 17. "Each participant will be matched with a female mentor from a tech company, and she and her mentor will work closely throughout the program and afterwards."
These companies and others are giving support in the form of money, and perhaps more importantly — time. This, I think, is key.  If the program does what it has set out to do, it will give these young women a chance not only to learn incredibly valuable skills, but also to see and get to know women in computer science and engineering who have succeeded. How often does a teen girl have an opportunity like that?  She's not going to see it in the media; and if somehow a teenage girl stumbled into a tech show, she might be inclined to believe her only possible future in tech is limited to booth babe.
This is a shame for these girls and their potential future employers, especially when you consider some of the numbers on which Girls Who Code is basing its mission. For example: Technology companies with more women on their management teams have a 34% higher ROI; having women on technical teams increases teams' problem-solving ability and creativity. By 2018 there will be 1.4 million computer-science-related job openings, yet U.S. universities are expected to produce enough computer science graduates to fill just 29% of these jobs. And while 57% of bachelor's degrees are obtained by women, less than 14% of those degrees are in computer science.
Look, I'm a writer, and I'm pretty sure this is what I'm "meant to be." I did the necessary math and science to get through high school and enough so-called math to get a degree in English, and probably went on to get a master's degree in journalism just because it didn't involve any math. OK, not really, but — as I've written about before in this space — with the right encouragement at the right time, I might be one of those women in computer science mentoring today.  I'm not saying a tech career would be better than (or preclude) a writing career, or that I would have excelled in computer science, I'm just saying it would've been fun to find out.
---