---
October 19, 2012 1:59 PM
This week's SearchCIO.com Searchlight comes to you from Forrester's Digital Disruption Forum in Orlando, which in turn inspired our findings around the web this week. From the sleepy South, comes an urgent message for CIOs: there is not a minute to lose in this age of digital disruption. From Microsoft's new tablet to Newsweek's call to literally stop the presses — you know what? Just click the link and find out. Hurry!
October 12, 2012 4:14 PM
Blame it on the rain. Sorry if we just put that Milli Vanilli song in your head, but it's the best way we can explain how this week's SearchCIO.com Searchlight wound up so cloud-focused. The weather's been bleaker than Morrissey on a Sunday so perhaps it stands to reason we have cloud on the brain. Included in this weeks' roundup:  an item about how Europe's lagging public cloud adoption is a problem for all global enterprises; the question of when to go with the devil you know; a seasonally-themed (and informative) infographic on open source cloud and more.  Head on over before we make yet another 80s musical reference. So what are you waiting for?
---
October 5, 2012 3:23 PM
What if you had skills so powerful they could change the course of the U.S. economy? You'd try to pass that awesomeness along, right? Well, great news SearchCIO.com Searchlight readers — you happen to possess such skills! As you'll see when you go to this week's roundup, volunteer IT professionals are changing kids' lives by teaching tech in public high schools. The hope is these  tech savvy high schoolers are more likely to become tech savvy college grads, who then fill some much-needed skills gaps in our economy. Check out the item, as well as bits about a project aimed at finding "The Human Face of Big Data," a look at Windows 8 from someone "in the know" and more.
---
September 28, 2012 6:04 PM
Ladies and gentlemen! Are you ready to rumble?! It's time for Data Center Energy Use Smackdown 2012! OK, so things have been a little more dignified than that, but the start of  The New York Times' series "The Cloud Factories" certainly ruffled some IT industry feathers. In this week's CIO Searchlight, we gathered up some of the more dignified entries in the counterstrike. Also: if that verbal pugilism gets too ugly, we soften things up with yet another tablet release timed for holiday shopping convenience and RIM offering up one of the most uncomfortable "romantic" pleas this side of a public marriage proposal diss. If Tim Cook releases a version of "Lovin' You" to follow up his apology for Apple Maps, we're outta here.
---
September 21, 2012 5:25 PM
In this week's SearchCIO.com Searchlight we have  a bevvy, a big ol' bonanza — ok — a bunch of interesting bits you may have missed in your own web travels.  Read about why being brainy is beautiful when it comes to big data analytics; learn about a media project that puts the "big" in big data; enjoy a beautiful infografic depicting the role of the CIO in 2012 and more. Brilliant!
---
September 14, 2012 4:56 PM
Not all aspects of dealing with technology are fun. But sometimes technology itself can pep things up. This week, the SearchCIO.com Searchlight shines upon a few examples of the innovative thinking that keeps IT fresh. For example, did you know that refreshing your security policy knowledge could  be kinda fun? Well, with the gamification of HIPPA training, at least it's a lot less boring. Also this week, if you weren't particularly impressed by the Apple iPhone 5 announcement, perhaps you've just become too cynical to recognize something magical when you see it. Maybe Louis CK was right.
---
September 7, 2012 5:51 PM
For some folks the start of the fall season brings thoughts of  leaf peeping and apple picking. But  at SearchCIO.com Searchlight we can't help but think of competition. A presidential election, NFL football, a new school year – it's all noses to grindstones in order to come out on top as far as we're concerned!  This week we've stocked up on items about quests to be the best including  political Twitter battles, Amazon taking aim at Apple in the fight for tablet supremacy, a group of girls who dedicated their school vacation to tech innovation and more. Head over to Searchlight to check it out now – we'll race you to it!
Go to SearchCIO.com Searchlight
---
August 31, 2012 1:52 PM
Labor Day – the most bittersweet of the long weekends. Of course an extended weekend is always a good thing, but it's always a little sad to hit the unofficial end of summer. Everyone is taking it easy and relaxing, all the while knowing things are about to get a little more rigorous. Hence we invite you to check out this week's SearchCIO.com Searchlight in which we gently encourage you to break out your BYOD policy (a new Amazon device is coming – conveniently on the heels of the Kindle Fire selling out), consider whether your mobile app dev is up to par and maybe look into sprucing up that old data center.
---
August 24, 2012 8:19 PM
It's back to school time and, if you're picking up some crayons for the kiddies, maybe grab one of those 64-count Crayola boxes for yourself. In this week's SearchCIO.com Searchlight, graffiti artist Erik Wahl explains why a sniff of your old waxy friends can calm you down and lift up your creative spirit. Wahl's keynote address at this week's Gartner Inc. Catalyst conference in San Diego sought to convey the idea that tech innovation is rooted deeply in our crayon-art-scrawling youthful imaginations. To continue on the theme, this week's Searchlight brings you a roundup of  Web items focused on innovators — from the "idea monkey" to Pinterest pioneers.
Go to SearchCIO.com Searchlight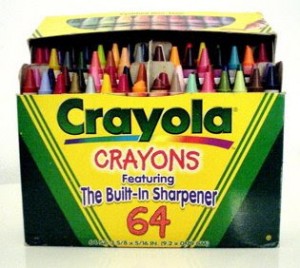 ---
August 17, 2012 3:11 PM
Mid-August is here, when the uptick in back injuries from lugging mini-fridges and long goodbye-hugs remind us it's college move-in time once again. And like so many wide-eyed, hot plate-toting freshmen, the weekly roundup is settling into new digs too – at SearchCIO.com Searchlight.  Click the link to join us at our new location where we've got interesting bits on social media skills, Google the bully and a bellwether of better times for tech.
---