---
November 27, 2013 9:05 PM
It seems ironic. Even as enterprises become increasingly comfortable with the sometimes-dicey world of external social media — Facebook, Twitter, et al — most fail to see the value in embracing enterprise social media technologies. This is made abundantly clear in a recent McKinsey Quarterly piece co-authored by Michael Chui, Martin Dewhurst and Lindsay Pollak. "Building the social enterprise," in addition to sharing somewhat mindboggling stats about the use of enterprise social technologies, offers some tips on how to get in the game.
About two-thirds of the estimated economic value of social media comes from improved collaboration and communication inside enterprises, according to the authors. And while approximately 80% of executives claim their companies use social technologies, few have figured out how to use social collaboration toward the creation of any measurable impact or value. Only about one-quarter of executives believe their companies have incorporated social technologies and collaboration into their daily work routine.
Is it really that big of a deal? Well, if your business likes money, it is. The McKinsey Global Institute last year estimated that $900 billion to $1.3 trillion in annual value could be "unlocked" by products and services that enable social interaction. It's not a simple trick, to be sure, but, the authors write, "a large part of the problem is that many companies, viewing social technologies as yet another tool to be implemented rather than as an enabler of organizational transformation, fail to identify the specific organizational problems social technologies can solve."
Like any kind of change in the workplace, with social technologies and collaboration, the problem revolves more around people than around technology. Even companies that do embrace the use of internal social media find it difficult to get employees to let go of their email. Harder still is the task of creating an environment in which continual information sharing is the norm. It may be difficult, but not impossible, and is certainly worth putting in the effort. The time to try is now.
Here are some tips for your journey from the authors (and check out the original piece for real-life examples of how  companies have put these tips to use):
Add value, not complexity — Social technologies should be used to complement (and ideally replace) existing processes. They should be embedded in the daily workflow, not tacked on as distracting "extras."
Provide essential organizational support — No technology in and of itself can change an organization. Companies have to define their objective, select a technology based on the objective and understand the additional organizational change required to support it.
Experiment and learn — When it comes to social collaboration, top-down directives rarely work and are usually anathema to the whole purpose. Organizations do well to adopt approaches that emphasize testing and learning where there are no failures, only lessons learned.
Track impact and evolve metrics — It's important to have an open mind about social initiatives and it's not always possible to have metrics early on, but it's critical to put rigorous ones in place once you find something in your experimentation that is obviously adding value.
November 22, 2013 8:54 PM
They say you can't be all things to all people, or in a million places at once. Well, "they" are going to fail at business as the age of the customer continues to entwine with the digital age. It's no longer enough to think multichannel — it's time to get on board with omnichannel. And if you're looking for an example of just what this is or why it's important, look no further than this week's lead Searchlight item. In it, you'll find a valuable lesson about how being hyper-customer focused might just save Best Buy (you know, the Amazon showroom many left for dead?). Plus, a company whose social media efforts are miles ahead of above the competition, how the big tech companies like Google and Apple are doing with protecting your data and more.
---
November 15, 2013 10:09 PM
Pretty much nobody thought stack ranking was a good idea at Microsoft. In fact, it so stank, it was finally put to rest this week in favor of a more employee-empowering, collaborative approach. So, no longer will good (even great) employees be sacrificed for no other real reason than "thems the rules." Thank goodness that nightmare is over! Unless of course you work at Yahoo, in which case it's just beginning. Yep, Yahoo has picked up the maligned practice making it CEO Marissa Mayer's second major "fail," according to Forbes' contributor Peter Cohan.
Do you know who wouldn't look at stack ranking and think it's a valuable idea? Today's top CIOs. Time and again at this week's Society for Information Management conference in Boston, some of the nation's most successful CIOs extolled the virtues of being hands-on leaders who know their people — and whose people feel appreciated and encouraged, always, to learn.
Also in this week's Searchlight: IBM brings Watson to the people, Facebook's $3 billion snub, the cool new frontier in user interface and more.
---
November 13, 2013 3:39 PM
The collision of the electronic health records and the Affordable Care Act has brought even more complexity and uncertainty to the role of IT in the health care industry. One could make the case that the CIOs of health care organizations are sitting in the hottest of the digital-age hot seats. At the 45th annual SIMposium, held in Boston, Mass., a panel of health IT CIOs talked about how technology is changing just about every aspect of health care — except one: the importance of leadership. When asked what skill they rely on most to achieve change in a challenging environment, there was no mention of ERP systems, silos, systems integration, data warehouses or, for that matter, data. In fact, technology didn't come up at all. Here's what they had to say:
Jim Noga, CIO of Partners HealthCare, on leading by showing and explaining: "I think you achieve change by being transparent and being able to explain the purpose of the change rather than having an autocratic approach of, 'We're just going to do this.' In terms of CIOs, I see that role morphing into something closer to a COO than a CIO and driving that clinical and business transformation. That's going to be the role of new CIO — especially as things move into the cloud. It's the old adage of we overestimate how quickly things are going to change in the next [two] years but we underestimate how things are going to change in five to ten years. … It's not that you don't need the technical skills, but you're going to be seen more as a leader of process change in the organization."
Bruce Metz, CIO of Lahey Clinic, on leading by building trust: "[Unless you] develop strong working relationships and trust with members of IT …  and everybody throughout the organization … you're not going to get the kind of organization and culture of change that you need. You'll get successful technology implementations, but the organization isn't going to get where it needs to go. … For what's going on in health care, you have to have a high tolerance for uncertainty because we don't know some of the things that are going to happen. If people in Washington decide, as they keep saying they're going to do, to cut $50 million to $100 million in what we each get for federal reimbursement, life's going to change overnight. We also have to stay flexible so we can deal with those unknowns, and with whoever may wind up joining our system when [Washington] decides to do that … So it's dealing with uncertainty, flexibility, but really focusing on all the members of the organization — and outside too, with our partners — and having those strong working relationships that can carry through whatever does come at you. "
Paul Hanlon, CIO of Blue Cross & Blue Shield of Rhode Island, on leading with honesty and humor: "Brutal honesty and a sense of humor. We're all trying to change a system … that's facing regulatory pressures, that's facing market pressures, and everyone's running at pace. So that means sometimes we're going to have to confess to not doing things as well as we'd like to have done them, and other times we're going to have to confess by having a dialogue with our business customers where we say, 'We don't think that's the right place to go, and here are the reasons why.' In an environment where you've got those types of pressures, honesty is important — it's what drives trust. And, frankly, you need to have a sense of humor. … For me, those are the two most important things because they help build relationships. And once you've got relationships, you can build from there."
---
November 8, 2013 9:07 PM
When news first broke about the pending Twitter IPO, it was widely speculated whether it would mirror Facebook's fumbled launch. After all, both are social networks, both are of questionable revenue generation, relying as they do on digital advertising. But Twitter is not Facebook — in more ways than one.
It's not so much a social network as an information sharing tool or if you're being as bold as Kevin Thau, the company's recently departed veep of business and corporate development, a new kind of news network. However one chooses to describe it, it is fundamentally an endless stream of public sentiment (aka heaps o' data). And that's made a big difference in investors willing to hop on board. Another difference? Greater popularity with the kiddies — Facebook is so 2011.
For more reasons why Twitter will likely continue to soar, head over to this week's Searchlight which also includes: how mobile computing is changing ecommerce, whether it makes sense for your company to stick with BlackBerry and more.
---
November 6, 2013 9:36 PM
One commonly held belief about big data is that it provides better and deeper answers to business questions. "And it does," Ken Rubin, director of analytics at Facebook Inc., said at the recent Strata Conference + Hadoop World in New York.
But, Rubin argues, it's a belief that also needs to be challenged. While businesses focus their energies on the answers big data will provide, they risk overlooking the important role that questions play. Put another way, if IT spends time solving problems that don't ultimately provide any value to the business, the richness and depth of their resulting hard-won insights hardly matter. But pinpointing (and articulating) what those questions should be doesn't necessarily come naturally.
"You can use science and technology and statistics to figure out what the answers are, but it's still an art to figure out what the right questions are," Rubin said.
That's one of the reasons why Facebook, in addition to hiring people who have both technical and business savvy, sends its employees to "Data Camp." "This two-week,  intensive, immersive program teaches them everything they need to know about analytics," Rubin said.
And everyone is on the bus: Product managers, designers, engineers and members of the finance and operations department all attend Data Camp. During that two-week stint, they learn how to use relevant tools and technologies but they also learn how to ask the right questions and how to "frame business questions in such a way that you can use data to get the answer," Rubin said.
It may sound a little elementary,  but giving employees this type of language lesson creates a lingua franca across the organization, which can help eliminate what some CIOs have cited as a barrier between IT and the business.
Another tip: Figure out the best organizational structure for analysts — centralized, decentralized or some combination of the two. Facebook implemented what it calls an embedded model, a hybrid between a centralized and decentralized structure, where business units roll up to a central team but analysts "physically sit with the organization they're providing a service for," Rubin said.
"The benefit there is that you get your common standards and processes from centralization, but you also get great alignment and connection to the goals," he said.
---
November 6, 2013 4:10 PM
Vendors are still plunking down big bets on Hadoop. Last week, Cloudera Inc., the first-ever Hadoop distributor, rolled out the beta release of Cloudera Enterprise 5. It's the latest version of the company's big data enterprise platform, which introduces what Cloudera is calling the "enterprise data hub." Long story short: Welcome to another illustration on how to design for big data.
"We've seen a significant new trend emerging," Mike Olson, chief strategy officer and former CEO of Cloudera, said at Strata Conference + Hadoop World 2013 in New York. "Hadoop is moving from the periphery to the architectural center of the data center."
Powered by Apache Hadoop 2, Cloudera's latest offering is built to help businesses execute on that trend. The platform includes a lot of bells and whistles, but it's the concept of the "data hub" that's snagging most of the attention. And for good reason: Hadoop as the heart of the data center suggests that the technology not only has the maturity but also the momentum to move into the mainstream.
Olson, for one, is a believer. "No matter your mission, no matter your business, you need to look at all your data, [and] analyze it together in new ways in order to make the very best possible decision," he said. "You need a data hub."
The beauty of Hadoop is its ability to ingest and process all kinds of structured and unstructured data quickly; that doesn't change. Cloudera's platform adds security, compliance and governance features to the mix, characteristics that are well-suited to — and much needed in — the enterprise. The platform enables businesses to store data in "full fidelity" for as long as they need, and also provides search, query and data discovery capabilities.
But, as Olson pointed out, "that ain't a hub — not yet. A hub is at the center; it needs spokes; it has to connect to the other infrastructure you already rely on."
His keynote provided another opportunity for businesses to hear that Hadoop (via Cloudera, in this case) isn't killing off the relational database. Instead, the enterprise data hub is a hybrid architecture that marries the old and the new and "pragmatically extends the value of existing investments while enabling fundamentally new ways of delivering value from data," according to the press release.
The phrase hybrid architecture is key, but it's not unique. Gartner Inc. and Enterprise Management Associates Inc. have been talking about "extending" the enterprise data warehouse (EDW) with analytical, cloud or big data platforms for a couple of years now. Their frameworks encourage businesses to let data live where it performs best and to virtualize views into the data.
Olson is introducing a platform that still embraces a centralized location for data — but the location has shifted. Rather than primp, clean and format data for the EDW, the Cloudera platform acts as an initial staging ground — and beyond — where it can be stored, aggregated, indexed, tagged, you-name-it — and fed to the appropriate place such as a relational database.
"This idea, this enterprise data hub, these capabilities — this is far too powerful of an idea, this is far too correct an architecture not to win," Olson said. "You will see this hub emerge at the center of most enterprises that manage data for a living."
On paper, an enterprise data hub looks great; in practice, well, that usually turns out to be a different story. Just ask the EDW.
---
November 1, 2013 6:23 PM
We probably didn't need a study to tell us this, but in case there was any doubt, babies are bonkers for mobile devices. Tablets, smartphones, you name it, they want to rub their little mitts on it. Kinda gives a whole new meaning to "sticky user experience." And that, in a way, is why an item about the Common Sense Media study is this week's lead Searchlight item.
In 2011, about 10% of kiddies up to age 2 had used a mobile device. That number has jumped to 38% and shows no sign of slowing. This is the real digital generation; for them a great mobile experience will not be appreciated, it will be expected. And lest CIOs think they have plenty of time to work on this, remember: They grow up so fast!
Also this week: the mystery of the Google (?) barges, a cool new concept in data center temperature control, IT-themed Halloween costumes and more.
---
October 25, 2013 6:32 PM
If you're one of the thousands (millions?) of Americans who've run up against the mess that is federal health insurance exchange website you may be wondering — in colorful language — how such an important project could be such a disaster. But before you start cursing the coders and damning the developers, consider this: by all accounts there was very little accounting for what was going on during the site-building process. In this week's lead Searchlight item, MIT Sloan School of Management's Center for Digital Business research fellow Michael Schrage explains that blame lies not with those who worked on the site but with the fact that there was no project governance to guide them. But not all the news out of Washington this week is so glum: This week's searchlight also highlights Congressional efforts to thwart devious data brokers and patent trolls. Keep reading to learn about Facebook's dabblings in deep learning and Wikipedia's hard lesson on the limits of collaboration.
---
October 15, 2013 5:28 PM
Eric Schmidt, the executive chairman of Google Inc., admits it: The tablet caught him off guard. He made the confession during the 2013 Gartner Symposium/ITxpo in Orlando, Fla. Want a closer look? Here's what he had to say during his keynote address about mobile enterprise computing, the tablet revolution and why businesses are going to need a whole new infrastructure.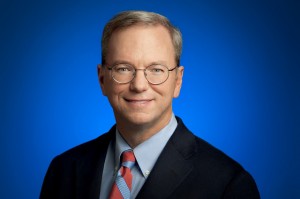 I like to think of this in a historical context, having been a member of the enterprise software industry for so many decades. The first decade I would define as roughly the following: Sales teams sell seats on a per-seat basis; a sales person would typically have a million dollar quota; [that way] you could pay the sales person's salary, pay a little to the engineers, and have a 20% margin. That's roughly the model, and it was largely, in my view, developed by Oracle. They would often sell seats you didn't deploy, and eventually, if you grew as a company, you would deploy them. You had a 5- or 10-year contract cycle with a 15% service model. That is largely the model that incumbents, if you will, of an enterprise are using today.
The second phase was the arrival of cloud computing co-existing with this intranet model. That term intranet was coined 25 years ago. So we had this model of the protected intranet, VPNs, gateways, software inside the corporation. And there was this other thing going on, which was inspired by companies such as Google and others, such as Amazon, in particular. I would argue that was a fair fight in the sense that there were a lot of benefits to the incumbents, the new guys were cheaper, better, faster in some ways, but they were different, they weren't fully compatible, they weren't fully integrated. And then something happened.
That's why there's this third phase. This third phase was really driven by tablets. I was actually surprised by this. I didn't call this. To me, would the phone replace the worker in the corporation? I figured they would use the PC and the phone. But in fact it was the tablet revolution, and it looks to us like the majority of enterprise computing is being done on mobile devices, in particular on tablets.
That broke the model. It actually just broke it. One way to understand this, what does the new model look like? I'm afraid to say it, and I'm sorry to say it so bluntly, it looks like you're going to have to dismantle much of that existing infrastructure and replace it by a model that actually works in this new tablet/phone/mobility model. It's happening right before your eyes.
I'll give you some examples. Somehow we as a group thought it was a clever idea to have VPNs from outside of the firewall, through the firewall and into the corporate network and we thought that would be secure. … The fact of the matter is, it's crazy to imagine these open pathways through port 80 are secure. And indeed with modern tunneling what you can do, especially if you're the Chinese, is get yourself into a downriver server — typically a Windows NT server, which is how it happened with most of the previous attacks because you haven't upgraded those servers — write yourself a Windows NP certificate right through the VPN and off you go. It's just a terrible architecture.
A much better architecture is to say we're not going to have an intranet anymore. We're going to have just the network and we're going to make sure that any access is application to application.
---