---
July 14, 2014 2:08 AM
CIO
Silicon Valley companies are going back to high school; but not in the way that you're thinking. They're stalking the unhallowed halls for summer interns and paying them dearly for their wisdom, as chronicled in this week's Searchlight news round-up.
The story of a 17-year-old still in braces flown out to Facebook for a one-on-one with Mark Zuckerberg and a place in the social network's summer intern program makes for good copy. But it will probably also send shudders down the spines of CIOs. Finding talented IT folks is a perennial challenge for CIOs and it seems to get harder every year. When the LinkedIn CEO Jeff Weiner shouts to his 2014 crop of interns that "Talent is our No. 1 operating priority and our most important asset," it's clear the hunt for tech talent is ferocious.
At least out in Silicon Valley, somebody's decided that technology belongs to the young. That tech sophistication is not something they've learned in school; it comes with the territory of being under 20 years old. While it's doubtful your company will find its edge courtesy of a teenager this summer, the hunt for highschoolers does suggest CIOs keep an open mind when recruiting talent. Age matters.
Go to Searchlight for the details – and the rest of the news roundup, including: a fitness app that is proving useful for more than just fitness, troubled electronics firms being turned into farms and more!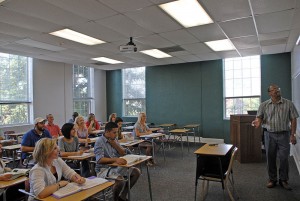 July 7, 2014 6:38 PM
CIO
I'm embarking on a month-long investigation into the economics of cloud computing and what makes the most financial sense for CIOs of certain companies in certain industries. I'll be speaking with a wide variety of experts in the field from CIOs to analysts to consultants with the purpose of figuring out what works and what doesn't. Along the way, I'll be giving TotalCIO readers periodic updates on what I'm hearing.
For David Linthicum, senior vice president of Cloud Technology Partners (CTP), a Boston software and services provider specializing in cloud migration services, Cloud Economics 101 starts with a homework assignment.
"It really gets down to the planning and understanding of your own requirements. That's kind of the boring answer I don't think people want to hear," Linthicum said.
Boring or not, CIOs, together with their business colleagues, need to identify what CTP has dubbed their "value drivers" for the cloud — that is, where and how the cloud can boost performance based on where the business is and where it needs to go.
Obviously, the value drivers for a big bank, for example, are going to be very different from those of a manufacturing company or a healthcare company and so on, but Linthicum recommends starting the analysis by examining the three areas in every business where there is potential for value to be found in moving to cloud:
operational costs
security and compliance issues
agility
Identifying the operational cost savings of migrating to the cloud — "the whole Capex vs. Opex thing," as Linthicum put it — is probably the most straightforward analysis for most companies. If a company is about to build another $10 million data center and they're trying to avoid [the cost of ownership], using cloud computing can add to the bottom line," he said. Or if a company foresees having a big bolus of data that will need processing and realizes it would take 500 more servers to do it, then outsourcing those operations to cloud could pay off immediately, Linthicum said.
In an area such as security and compliance, however, the ROI of moving to the public cloud will be more difficult to calculate. On first glance, many heavily regulated companies will decide the potential risks of the public cloud will outweigh its benefits. "They just want to maintain the systems and control them more closely than outsourcing them to Amazon or Rackspace or Microsoft [would allow]." But even in these cases, Linthicum recommends CIOs not jump to conclusions. "In the majority of cases, I find out that's typically not the case," he said.
For companies that absolutely need to control sensitive data, an alternative is to use a private cloud; however, this option may not be very economical in the end, because you still need to buy your own software and hardware, among other things, Linthicum said. (Much more on the economics of private cloud to come in the next update.)
Still, when it comes to security and moving to the public cloud, "there has to be some planning and some architecture," Linthicum said, starting with a rigorous assessment of what kinds of data will be stored in the cloud and whether it contains sensitive information.
Probably the most overlooked reason for companies to move to the cloud is agility, Linthicum said. Companies have been so enamored by how the cloud can save them money on operational costs, they neglect to think about the revenue it can generate by helping their businesses move into new markets, acquire companies, and change and shift their core processes around new opportunities. "That typically is where cloud pays off," said Linthicum.
The move to the multi-cloud
One trend Linthicum has noticed is the increasing move to the multi-cloud, or what he describes as "hybrid cloud on steroids." Interestingly, the strategy has come to the forefront in part because of all the "shadow cloud IT" commissioned by the business and the need to find a unifying architecture for the sundry cloud services. Cloud management platform vendors such as ServiceMesh, VMware, and IBM sell technology that automates the movement of workloads in between the various cloud services a company may be using.
This cloud strategy is also beneficial for smaller companies and startups because they can leverage multi-cloud as an IT strategy in lieu of building their own data center or renting data center space.
For those CIOs who may be loath to embrace something that has emerged from shadow IT, Linthicum urges CIOs not to rush to judgment.
"When guys like me come in and kind of run the map for them, it does make sense for their marketing department to put their almost-100 TB of video files on a public cloud at $1,000 a month versus making [the marketing department] buy massive amounts of EMC servers, physical servers, for the data center [for] multimillions of dollars," Linthicum said.
Let us know what you think about the story; email Kristen Lee, features writer, or find her on Twitter @Kristen_Lee_34.
---
July 3, 2014 7:51 PM
BYOD
,
CIO
,
Forrester
,
Gartner
,
Mobile productivity
,
Tablet
I think it's safe to say we've covered bring your own device from almost every angle, from crafting a successful BYOD program to managing and securing mobile devices to integrating mobile in disaster recovery plans — I could go on. Why? Because it's an accepted reality today that employees use mobile devices — their own as much as their companies' — to do work. We've even got Gartner's backing on that: The consultancy says that 80% of companies will have a mobile workforce armed with tablets by the end of this year.
But do you really know how many of your employees actually use tablets for work? And taking it a step further: who exactly makes up that number? Forrester says it's got an answer, and it appears to go against Gartner's take on the tablet landscape, as this week's Searchlight spells out.
Reasons for the disparity? Myriad factors, says NYT Bits blogger Victor J. Blue, not least of which is that managers and individual workers are expected to do productive work, not just consume and view, and most of today's tablets just aren't completely up to the task — yet.
What do you think? Is it just part and parcel of being a lowly worker?
Also causing sparks in tech news this week: Wired offers pro tips on taking ace firework photos; Facebook collects "feelings" data from users on the sly; and Russian hackers take aim at Western oil and gas companies.
Get the deets at this week's Searchlight — and then enjoy a merry Fourth!
---
June 27, 2014 7:46 PM
Chief marketing technologist
,
CIO
,
Digital media
,
Intelligence
,
Internet of Things
,
Marketing
A brand is a contract between a company and its consumers, says marketing consultant Marc de Swaan Arons on The Atlantic, and the customers its judge and jury. And never has it been more crucial to uphold that contract than in today's digital market, as evidenced by Gartner's prediction that by 2017, chief marketing officers (CMOs) will be spending more on technology than CIOs. As such, a new role has emerged in the C-suite: the chief marketing technologist (CMT), as this week's Searchlight details.
The CMT (who could go by various monikers, including head of marketing technology and business information officer for global marketing) is vital not only to effectively managing this deluge of technology investments, but also to ensuring that marketing and IT see eye to eye. CMTs must embrace and encourage a holistic approach to marketing — founded on both technical expertise and a passion for marketing — and function as "the connective tissue" among their business' many key constituencies, Scott Brinker and Laura McLellan write in Harvard Business Review , including the CMO, the CIO and third-party providers.
Liaison, strategist, aligner, enabler, innovator — the wide-ranging and continuously evolving role of the CMT is no mean feat.
Other timely tech tidings: The Supreme Court rules on suspects' phone data privacy; GE hooks up airline systems to the Internet of Things; futurist Ray Kurzweil applies his theory of intelligence to online information; and more.
Get your fix of these headlines by heading over to Searchlight!
---
June 20, 2014 4:12 PM
Amazon
,
C-suite
,
CIO
,
CISO
,
cybersecurity
,
Data breach
,
FCC
,
Hackers
,
ISP
,
Netflix
,
Smart Device
,
Target data breach
By now, everyone and their mother knows about the massive financial damage that payment card data breaches wreak upon companies and their consumers, in the form of replacing credit cards, credit monitoring, lawsuits and lost business. Target, for example, may end up incurring a staggering total loss of $18 billion in the wake of its high-profile breach.
But, as we cover in this week's Searchlight, avoiding the monetary damage of such crimes isn't the only detriment CIOs should consider — these breaches could also cost CIOs and their C-suite cohorts their jobs. Target and fellow prominent data-breach victim Neiman Marcus have learned these lessons the hard way. The former parted ways with its CEO and CIO earlier this year and is adding General Motors exec Brad Maiorino to its own executive team in the CISO role. Neiman Marcus is looking to fill a brand new CISO role on its board.
Another hidden cost is the impact of the media's sensationalism of the criminal market, engendering greater numbers of your "everyday hacker[s] … willing to burn down your home in order to steal the copper plumbing inside." The takeaway for CIOs and CISOs: Assume your systems will be breached and plan accordingly.
In other tech news: Netflix asks for FCC intervention in its ISP dealings; Amazon finally unveils its Fire Phone to mixed reviews; a "smart cup" could help you celebrate the World Cup wisely; and more.
Check it all out in this week's Searchlight!
---
June 13, 2014 6:31 PM
CIO
Job growth for IT professionals is going strong this year. According to an analysis by Foote Partners of the Bureau of Labor Statistics U.S. employment report, 15,600 more IT jobs were added to U.S. payrolls in May — the fourth consecutive month of strong job growth.
The numbers also showed a decline of 200,000 part-time positions for all sectors, indicating that employers are hiring more full-time positions including in IT. Can it be?
In fact, employers can't afford not to, according to Foote Partners spokesperson Ted Lane. More than ever, companies need people who understand both IT and business to be competitive, Lane said in a phone interview. "Right now I think the business is saying, 'We want IT to add value to our company, not just manage cost.'" These businesses are realizing IT can give them an edge, now that everything is "tech-enabled in one way or another," he said.
The full-time IT hiring that has occurred during the past few years has been mostly by the IT services and consulting firms, Lane said: 95% of all IT jobs added to the US payrolls in the past two years were in  computer systems design/related services, and management and technical consulting services. And  the trend continues today. Computer systems design/related services, for example, produced 6,600 new jobs in May. The number represented an increase over the monthly gains in November (+2,700), December (+1,400), January (+4,700), February (+5,000), and March (+6,100), but it was down about 25% from April's 8900 new jobs. Management and technical consulting services grew by 6,800 in May, up from 5,000 in April and 3,500 in March.
These service and consulting firms have been aggressively hiring people with the skills to handle the rush of new technologies in the enterprise, from cloud to mobile to social and big data. And they have focused on people with business and IT acumen — a necessary combo for deriving value from big data analytics, developing mobile apps that users and customers actually want to use and for understanding the business velocity (as opposed to just cost-savings) that cloud affords the business.
When businesses have needed these services in the past few years, they have been turning to the IT providers rather than investing in a full-time person who may or may not work out, or going to the expense of training internally.
But Lane and partner David Foote say the tide is turning. They are seeing companies scrambling to hire people with IT and business skills into their IT departments. In addition to cloud computing, mobile platforms and advanced analytics, security is a hot field, Lane said. And these companies are finding that talent is scarce. Moreover, when companies do snag talent, they are more willing to pay a premium now, whether that job has an executive title attached to it or not: "One person that shows [he or she] can have an impact on the business is a hot commodity," Lane said.
What does this mean for CIOs? According to Lane, the most important trait to demonstrate to the business today is that you can manage the enterprise transition from legacy systems to technologies like the cloud and mobile. And if you can't help your company make that change, watch out. Lane gave an example of a company he was working with who hired a CIO that lasted only nine months because he didn't know how to manage change.
"We're in a real transition period for CIOs," said Lane, adding that when he attends private CIO meetings there are more "really visibly frightened CIOs than I've ever seen." Lane said he is seeing CIOs beginning to retire even though they are too young for retirement. They just can't see themselves transforming their careers. The most upbeat people in upper IT management are in their 30's, he said, — people who grew up in a digital world.
But despite your age, Lane advises CIOs start implementing "people architecture"  — that is, IT architecture in the service of your workforce. For those who can't? "They just need to get out of the way."
Let us know what you think about the story; email Kristen Lee, features writer, or find her on Twitter @Kristen_Lee_34
---
June 13, 2014 4:30 PM
Algorithms
,
CIO
,
Google Glass
,
Smartwatch
,
twitter
,
Xss
,
XSS attack
When we sat down with Patrick Gilmore, CTO of data center services provider Markley Group, at last month's MIT CIO symposium and asked him what his biggest IT challenge was, we never expected "Murphy's Law."
But the answer makes unequivocal sense. In an ideal world, IT managers would be able to adequately plan for every possible negative scenario, but modern systems are simply too complex to do so. And as we detail in this week's Searchlight, data service providers aren't Mr. Murphy's only target.
As you likely heard — or experienced — on the Twittersphere earlier this week, Tweetdeck, Twitter's account management app, was innocently "hacked" (a "comedy of errors," as ZDNet's Larry Seltzer cheekily described the accident) by a 19-year-old who wanted to experiment with the "&hearts" code – uncovering what was apparently a longstanding XSS vulnerability in the platform. For many of us, this snafu was only a minor nuisance, but for CIOs, the takeaway shouldn't be taken lightly: You can never be too prepared for Mr. Murphy.
Also trending in tech news: World Cup refs go high tech with smartwatches; a Hong Kong venture-capital firm appoints an algorithm to its board; future Google Glass wearers might be able to detect lies; and more.
Get up to speed and sprint over to Searchlight!
---
June 6, 2014 8:28 PM
Apple
,
Artificial intelligence
,
CIO
,
CIO leadership
,
Health IT
,
Healthcare
,
IT leadership
,
MIT
,
Programming
,
Robotics
,
Startups
Hearing the personal stories of this year's batch of MIT Sloan's CIO Leadership Award finalists, whom SearchCIO had the good fortune to feature in our conference video series, had me in awe. What sparked their interest in IT leadership? Associate editor Emily McLaughlin explores these standout CIOs' career trajectories in this week's Searchlight.
It was striking how each CIO's journey was so distinct; indeed, one of the few things they had in common was that each story did not begin with the revelation of "I want to be an IT leader when I grow up!" Perhaps because it doesn't sound as glamorous as "doctor" or "firefighter," but probably because it isn't part of a 9-year-old's vocabulary. And that is the point. The role of the CIO was young and uncharted when these IT execs started out.
So it stands to reason that the path to CIO  was long and winding for these folks — in a good way. They acquired myriad  skills, both hard and soft, in the process. F. Thaddeus Arroyo, AT&T's CIO (not to mention an MIT CIO Leadership Award winner) always took the road less traveled — lateral moves in addition to promotions, and in both IT and business, no less — with an eye toward his professional growth. Dell CIO Andi Karaboutis followed her mathematical bent: She started out studying industrial engineering but became a computer science convert after taking a course in FORTRAN. Kristin Darby, on the other hand, grew up with IT (discovering a knack for software development while working for her family's home automation business) but — in a rebellious streak — left it for accounting and healthcare. She eventually found IT again, this time merging it with her desire to improve lives.
But perhaps the more important  aspect of these leaders' stories is the attribute they share with  hot shots from all professions — passion. Leadership requires it. Each of these IT leaders discovered what they were passionate about and followed their gut — which eventually molded them into the well-rounded trailblazers they are today.
Who knew business and technology could be such an adventure? Parents – and schools – take note!
In other important tech news this week: Apple also strives to inspire fun with a new programming language Swift; a report shows why young workers are moths to the startup flame; Japanese corporation Softbank creates the first emotionally smart robot; and more.
Read all about it in this week's Searchlight!
---
June 5, 2014 9:24 PM

Profile: Nicole Laskowski
CIO
A customer loyalty or a customer service department may not be the most "analytically inclined" departments within a business, but they may have some of the best data. That's according to Tom H.C. Anderson, consumer insights expert and founder of market research firm Anderson Analytics LLC. In fact, he advises businesses forgo analyzing social media data in favor of milking those internal and potentially lucrative cash data cows.
"Phone calls that come in from customers, for instance, and emails — whenever there's contact like that, there's a lot of information being generated," Anderson said. The information ranges from unstructured text to structured data that can be as specific as an SKU number.
That data, alone, is valuable. Combined with other metrics, such as consumer behavior or ad campaign success rates, it becomes more valuable still. And much more valuable, in his view, than a folder full of tweets.
But he's not preaching to the choir. Businesses have bought into the notion that social media and customer insights are joined at the hip. Plus, what Anderson is proposing companies do instead is not easy. As CIOs know, accessing and integrating data from different sources — let alone different departments — remains a challenge.  
Next week, Anderson will moderate a session on customer analytics at the Useful Business Analytics Summit in Boston. In advance of the summit, I had a chance to sit down with him and talk about why businesses should be wary of social media data. 
What is the biggest challenge businesses face in consumer analytics and how can CIOs help business overcome that challenge?
Part of the problem has been and continues to be just the sharing of data — getting access and combining the data that matters most. On the one hand, everyone's rushing toward social media data because no one owns it — it's free, available …. Meanwhile, the data companies are already collecting, [they] aren't merging. So, what I'm talking about, for instance, are things like customer satisfaction survey trackers along with metrics such as actual behavior — how much a customer spent, how successful were certain campaigns, and returning behavior. Giving people access across departments to that data and doing more interesting analysis that involves more than one set of data and using the data that's most suitable to answering the business problem: That continues to be a challenge.
It sounds like you're suggesting that companies need better data accessibility as well as user-friendly tools that can provide that access or enable consumption.
Both of those. Tools are becoming more powerful and easier to use, so we have that. Where there's a shortage is of people who are good at analyzing the data. One of the things I've championed for is that the consumer insights/market research folks should play a greater role [here] because they have so much experience analyzing customer behavior already.
Let's get back to social media data.
They call it 'social media data,' but, really, 80% of it is Twitter data … Facebook, LinkedIn — all of that other stuff is off limits.
Why are tweets so attractive? Is it because the business is data hungry and tweets are easy to access?
People think just because data is big it's got to be important. No. Data is as interesting as what it represents. And in this case, [tweets] represent about 10% of the population. And there's huge overlap between the 10% who blog and tweet. They're not your average person. They're very different from the average LinkedIn or Facebook user. …
Yes, [the attraction] is partly because it is so easy to gain access to and it's also the way it's being sold. [The message has] moved, to some degree, away from, 'you're going to find the answer to every question in social media monitoring.' (Not totally, some people are still claiming that.) But [now they're] selling it as a fear factor-type thing, saying, 'You can't afford not to listen to Twitter because, God forbid, one person says something bad about your company.' I'd argue that's not a good reason to spend a lot of money on Twitter.
The real point here is that businesses [caught] in this social media frenzy are forgetting they have interesting, much richer data that can answer a lot more problems.
What are businesses doing with that social data other than listening?
The short answer to that is, it's very limited. I'm invited to speak to 20 conferences a year, so I'm exposed to a lot of presentations, and a lot of them are about social media in one respect or another, but I've yet to be really impressed.
Now there is talk about doing customer acquisition targeting on social media. So, in other words, somebody who's selling home insurance, [will use] algorithms to look for people who are tweeting about buying a new home. You find them, classify them in certain income groups and so forth, and [determine if they're] a good target to sell your product to. But that's still very much vaporware. It's good in theory; it's not actually being done.
Do you see this changing anytime soon?
A few years ago, we were talking about walled gardens. Facebook has a walled garden, LinkedIn has a walled garden. In other words, they own the data. We were talking about how all data is going to be free for everyone — like Twitter. Because Twitter [uses] basically the same technology that blogs [use]. You post it out there and it's pushed to everyone. But that never happened — these walled gardens coming down.
Instead, we see the opposite: Data is being protected more. Facebook has access to obviously large amounts of extremely interesting information on everyone. Google is another one. And what do you think is going to happen? It's not going to be about sharing that data. People are thinking more about privacy and there's legislation happening. Some people in my industry for whom data is important seem to think Amazon, Google and Facebook will protect us from that legislation … but the opposite is going to happen.
Facebook, Google — there's more for them to gain by closing the opportunity — basically a data monopoly. So Facebook and Google can say, 'You're right. Privacy is an important issue and nobody else can protect or should have access to this data. Let's close it up and make sure we don't have any competition.' And that's really what they're petitioning the politicians for.
---
June 4, 2014 4:44 PM
CIO
A study released today by cloud security startup Netskope reinforces what CIOs already know: Your business users are using a ton of cloud apps, many of which are unknown to your IT department and three quarters of which are not — repeat, are not — enterprise-ready. Another turn of the screw? All this rogue IT will potentially cost you — big time. The study estimates that the use of cloud services by the business increases the likelihood of a data breach three-fold.
"It is not time to run for the hills, it is not time to build a bunker and move all your data underground, it is just time to embrace reality: that shadow IT is alive and well," Jamie Barnett, vice president of market data at Netskope, said.
Conducted by the Ponemon Institute, the independent study surveyed 613 U.S. IT and IT practitioners who identified themselves as familiar with their company's use of cloud services. From the study:
Respondents believe 45% of all software applications used by organizations are in the cloud, but exactly half (22.5%) of these applications are not visible to IT.
Respondents estimate that 36% of business critical apps are based in the cloud, yet IT lacks visibility into nearly half of them.
While about half of respondents (51%) said that their company's in-house IT services were "equally or less secure" than cloud-based services, 66 % also said their organization's use of cloud resources does diminish its ability to protect confidential or sensitive information.
Nearly two-thirds (62%) of respondents believe the cloud services used by their organization are not thoroughly vetted before deployment. More than two-thirds (69%) of respondents believe their organizations are not proactive in assessing information that is too sensitive to be stored in the cloud.
Impact of rogue cloud services on likelihood of breach
This laissez faire governance exacts a high price, according to the study. A May 2014 study by Ponemon established a cost of $201.18 per lost or stolen customer record. When survey respondents were asked how the current use of cloud services at their companies might impact the probability of a breach, the result was three times. From the study:
Respondents estimated that every 1% increase in the use of cloud services will result in a 3% higher probability of a data breach. This means that an organization using 100 cloud services would only need to add 25 more to increase the likelihood of a data breach by 75%.
And when a data breach happens, don't expect much help from your cloud provider.
Almost three-quarters (72%) of respondents believe their cloud service provider would not notify them immediately if they had a data breach involving the loss or theft of their intellectual property or business confidential information, and 71% believe they would not receive immediate notification following a breach involving the loss or theft of customer data.
Here's what will hike up the cost of a data breach
Not all data breaches are created equal when it comes to monetary damage.  Certain activities can drive up the cost of a breach. The cost of lost or stolen customer information rises when:
An organization increases the backup and storage of sensitive and/or confidential customer information in the cloud (which can cause the most costly of breaches),
An organization expands its primary cloud services too quickly and experiences financial difficulties,
An organization increases its use of cloud infrastructure services (IaaS).
The cost of lost or stolen confidential business information and high-value IP rises when:
An organization uses Bring your own Cloud (BYOC) — which results in the most costly of breaches involving high value IP,
An organization increases backup and storage of sensitive or confidential information in the cloud,
An organization's primary cloud provider fails an audit that concerns its inability to securely manage identity and authentication processes.
So what can CIOs do to stop a costly data breach from happening? There is no guaranteed solution yet.
But despite this risky behavior by some of your employees, Sanjay Beri, CEO of Netskope, advises that CIOs not "shut your end users down even when they perform these risky activities…. In 99 % of the cases, they're not malicious people. They're just doing things because they don't know better."
Instead, Beri encourages CIOs to investigate what is really going on with cloud app usage in their company, put policies and rules into place, and coach employees on safe usage of cloud apps.
Let us know what you think about the story; email  Kristen Lee, features writer, or find her on Twitter @Kristen_Lee_34
---