---
February 21, 2018 6:38 PM
Using Market Intelligence to Challenge Leaders in your market
Why companies need market intelligence when they aren't the primary feature of the research?
Challenger vendors don't often show up in true market data at a level to draw any statistically significant insights because they currently constitute only a small part of a very significant existing market.
Deal ScoreCard quantitative insights can have a real impact on the quality and confidence of a challenger's market strategy and help multiple roles within the company get on the same page with regard to "market needs."

Find places to attack – Deal ScoreCard highlights the specific features, project types and workloads where existing, large vendors are weak. It also highlights the reasons why buyers say leading vendors lose deals.
See the types of deals you are not currently competing for – Deal ScoreCard shows the nature, volume and characteristics of deals which your company could compete in with marketing targeted to these segments.
Quantify where the market is going – Deal ScoreCard shows what issues are the most prevalent with buyers (at the shortlist and product evaluation phases) and which of those issues are increasing or decreasing in importance in buyers' eyes.
Know what's coming in must-win deals – Deal ScoreCard exposes the pricing, packaging and other sales tactics that leading vendors use to close deals
Know market issues for your partners – Many vendors ride into a market on the back of a hardware or service provider. DSC helps these companies understand better the specific issues driving the market and fortunes of their partners. This insight can helps challengers be a much better partner.

Remember when you thought market research was primarily to help you understand what was actually going on in the market (as opposed to a vehicle to prove you were viable)?  Deal ScoreCard provides reliable data, and data visualizations about your market, your competitors and your buyers – whether you are a market leader like Microsoft, Dell EMC, Cisco, or a market challenger looking for objective ways to unseat established brands.  Deal ScoreCard can help you.
February 13, 2018 6:20 PM
Welcome to the TechTarget Research Blog. TechTarget, since its very inception, has recognized that enterprise technology buyers need definitive guidance and insight when researching purchases and we have delivered on that promise for over 20 years. Now, we offer information and insight to technology vendors via our newest offering – TechTarget Research.  I encourage you to visit TechTarget Research  and to follow us on Twitter @TTGT_Insights.
This blog is a place to share insights from our ongoing research that will be of interest to product management, sales and marketing leadership, strategy teams, win/loss and competitive intelligence within firms actively engaged in creating and selling new enterprise technology products and services.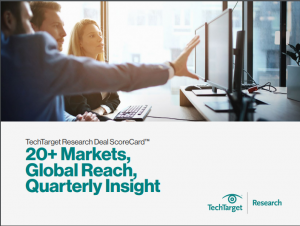 We cover more than 20 specialist markets important to vendors in the data center infrastructure, cloud computing, and primary / secondary storage management markets with our premium research offering – Deal ScoreCard  (press release, sample report). Within these markets, we measure how product features, pricing, and promotional efforts, and pricing are driving product consideration ("making short lists") and final product selection. We do this through the entire purchase life cycle using a combination of online surveys and direct buyer interviews. With an audience of over 18 million buyers, we're able to see exactly what drives IT purchase decisions in your market.
---