---
August 28, 2011 2:11 PM
Hi all, Steve Jobs has resigned as Apple's CEO due to health concerns. That is a huge blow to Apple. It isn't like this is news because anyone with at least one eye could see he was getting sicker by the month. For Apple fans the question of how much of Apple is dependent on Steve is a real question. Mr. Jobs turned around the company about a decade ago by coming back to a company that was struggling. If the company was so easy to make innovative then he wouldn't have been needed for its continued success. We will see if that is the case when he is no longer there.
Until next time,
TechStop (JW)
August 27, 2011 11:47 PM
Hi all, Cisco's ASDM is one of the management tools that you can use manage your ASA environment. It is a great tool for viewing your ASA's and if you don't like the command line interface it is also a great way to configure them. But what if you want to look through the ASDM and how it would display the features in different configurations. For example, let's say you wanted to install an IPS module into the ASA but you also want to confirm that the ASA has a sufficient method of managing the additional hardware. Well you are in luck! The ASDM has a demo mode that you can use.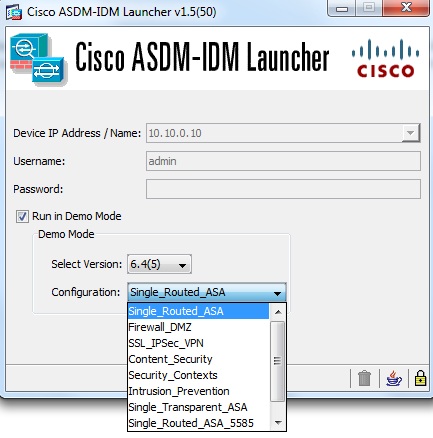 After launching the ASDM simply click the "Run in Demo Mode" button. But there is a catch, like always. The catch is that you need to download the demo mode files in order to launch it in this mode. This is easily enough done if you have a Cisco.com login. I find it difficult to find files on the Cisco site sometimes so to give you head start on the actual file name, the version of the demo mode file that I am using is named "asdm-demo-645.msi".
Until next time,
TechStop (JW)
---
August 26, 2011 11:26 PM
Hi all, Cisco has a server line of products. That we already knew. Cisco has recently announced that they will start selling a version of the UCS that will fit into their routers. To that I say, "About freaking time!". This is a great idea and one of the ways that I think that Cisco should have tried to move towards much more quickly. Think about the scenario where you have a branch that is relatively small. Let's say 15 office workers just for example sake. What do those users need in a large enterprise that has branches? They need a local file/pricnt, router, IPSec tunnel to the HQ, maybe WAN optimization and likely phones so SRST/SRSV. That can now all be delivered in one box with redundant power supplies.
This means that you no longer need to provide a separate system for the servers at your branches. Now given that this hardware also supports VMware it makes deployment and support very very easy.
Until next time,
TechStop (JW)
---
August 26, 2011 12:34 PM
The world of virtualization is moving forward and down into the network portion of the data centre. Several of Cisco's network products are getting virtual versions of their network products. The Cisco WAAS, which is their WAN optimizer, and the Cisco ACS, which is an authentication server, are two such products. As much as Cisco or other proponents would like to believe hardware based devices are the fastest, easiest and most stable way to deploy many of the services that Cisco offers you can't admit that in this day virtualization is the way things are going. People want to reduce their hardware and rack space with good reason. Hopefully Cisco sees that and continues to bring more of their products to market in virtual forms.
Until next time,
TechStop (JW)
---
July 27, 2011 11:34 PM
IPv6 Example 1 – Private IPs
Hi all, so in the last post I discussed a need for some barebones examples. Mostly in the context of IPv6 day and the interest that will have generated. In this blog post I want to go through a really basic example of a private IPv6 address and how to use it on a Cisco router.
The first thing that you will need is a private IPv6 IP. These are somewhat pointless when looked at from the typical world of IPv4 where they were needed in order to stave off exhaustion but they have their purpose. One such purpose is just what we are doing here, testing. You can get one here. A website that gives a very brief explanation of IPv6 as well as an easy way to generate private IPv6 IPs.
Once you have that you need two routing devices for our example. Anything that can successfully run IPv6 will do which should be all current routers or layer 3 switches. Once you have your routers setup with a cable between two ports here is where the configuring starts.
In the Cisco world you need to turn on IPv6 routing. Yes, depending on your IOS version it doesn't come turned on by default. Whether this was a security feature or a resource feature I don't know but in order to turn IPv6 on you use the command "ipv6 unicast-routing". This effectively activates the ability to use IPv6 in your router.
Now the next part is pretty simple … you assign the IPs. You use the slightly modified command "ipv6 address XX/XX" in order to assign your IPv6 address to the interface. Just below is my configuration on R2 or my two router setup.
R2#sh run int fa0/0
interface FastEthernet0/0
no ip address
duplex auto
speed auto
ipv6 address FD34:41B7:DFE:78FF::1/64
As you can see there isn't much to it. And here is R1.
R1#sh run int fa0/0
interface FastEthernet0/0
no ip address
duplex auto
speed auto
ipv6 address FD34:41B7:DFE:78FF::2/64
ipv6 address FD34:41B7:DFE:78FF::3/64
And a ping from R1 to R2
R1#ping ipv6 FD34:41B7:DFE:78FF::1
Type escape sequence to abort.
Sending 5, 100-byte ICMP Echos to FD34:41B7:DFE:78FF::1, timeout is 2 seconds:
!!!!!
Success rate is 100 percent (5/5), round-trip min/avg/max = 8/13/32 ms
Now R1 has something that might be different for some people. It has two IPs but doesn't have the secondary command. This is new IPv6 and is much easier than the traditional need for the secondary command.
Hopefully that was useful and hopefully I can get some feedback on these short how-tos so that I can include information that people request.
Until next time,
TechStop (JW)
---
July 27, 2011 11:05 PM
Hi all, well the IPv6 day came and went and that left many thinking about why they don't run IPv6 and when they will need to convert. The religious mantra of IPv6 is just starting since most requests for IPv4 IPs are just now running into trouble. With all of the hype surrounding IPv6 there doesn't seem to be many practical application, sample configurations or barebones examples of IPv6 that someone could pick up and use.
In order to slowly fill that need here are a couple of links for resources that are deep wells of information. Over the following months I hope to add to this in a digestible manner. Check back soon.
6Net Guide: Very through but may be a bit old. That doesn't make any less relevant.
http://www.6net.org/book/deployment-guide.pdf
IPv6DISS: Some older newsletters and information around IPv6
http://www.6diss.org/publications/index.html
Until next time,
TechStop (JW)
---
July 25, 2011 11:20 PM
Hi all, so the RIM who makes the Playbook and venerable BlackBerry is looking rough around the edges. They have laid off 2000 employees (link here) and their PlayBook wasn't received with a lot of excitement for a new product. However, RIM has gotten approval from a government security organization of note. NIST has given the PlayBook the FIPS approval which means that the PlayBook could be used in some government agencies soon. This could be a huge deal for RIM given that government spending and employment rate is on the high side right now. Good for RIM for making this happen. You can read about the approval here.
Until next time,
TechStop (JW)
---
July 20, 2011 11:22 PM
Hi all, VMware has released the newest version of their virtualization product. There are some shiny new features in this release that I will be discussing in the future but for now let's discuss their new certification track. Version 5 of the VCP certification experience with VMware is a bit different this time (well really every time with VMware). You have until February 29th, 2012 to study for and pass the VCP 5 exam. If you don't make that deadline you have to take a refresher class.
The VCP 5 exam has no study materials that I can find on the Internet. Their suggested method of study is "Gain hands-on experience with VMware vSphere 5". That might work for some but for those that need a book to condense their docs into an easy to read and use manual for the exam there is a 2 day class titled "VMware vSphere: What's New V5". And thankfully it is available online this time around!
VMware VCP 4 to 5 conversion track can be found here. Have a look.
Until next time,
TechStop (JW)
---
July 16, 2011 11:19 PM
Hi all, recently I discussed the announcement that Cisco made about their new Supervisor cards for the 6500 platform. During the press release that Cisco made they made a comparison to what they believe to be the equivalent HP solution. The comparison was between the $38,000.00 Sup2T and they said that HP would cost over $100,000.00 for the same solution. Well, HP wasn't going to take that lying down and they released a lengthy response to the Sup2T release. You can read that response here.
Until next time,
TechStop (JW)
---
July 15, 2011 11:18 PM
Hi all, now that Cisco Live is free I was able to watch the press conference release of the Cisco 6500 chassis supervisor. The recurring theme of the release, apart from the supervisor itself, was that Cisco sees the 6500 chassis as a product that they will continue to support for years to come. They really pumped their sales numbers of the 6500 platform during the release and that is good news for those who have invested in the 6500 platform.
Now as for the new supervisor engine, the 2t has some impressive performance improvements. You can see the stats here. You can see from the table below that they have made some impressive gains with this upgrade. Now what is the estimated price for this card upgrade? Well, Cisco says $38,000.00 and that is a pretty good price for what you are getting.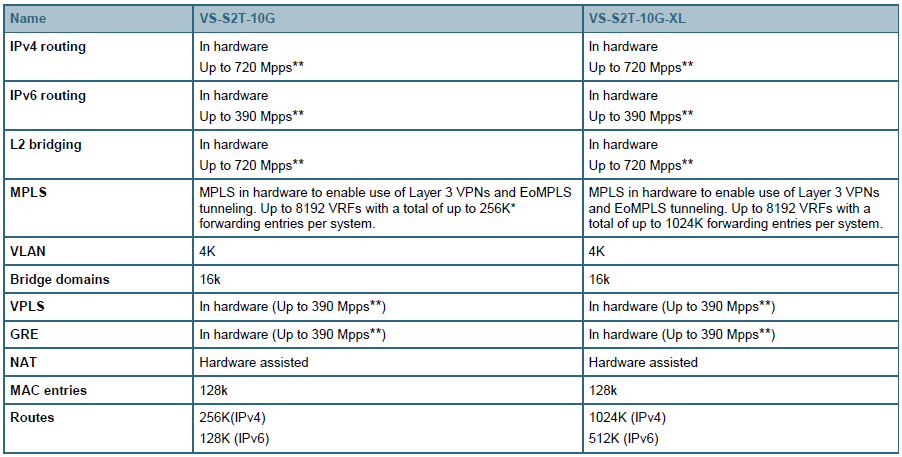 Until next time,
TechStop (JW)
---