Nov 19 2008 7:12PM GMT
Posted by:
BrentSheets
Tags:

We're gathering stories and photos for a cool contest sponsored by American Power Conversion (APC). First place in our Data Center Contest wins a Nintendo Wii game system. And we're giving away twenty (20) copies of System Specifications and Project Manual for Data Centers (a $250 value!) to members just for entering the contest with a valid entry. Enjoy the contest entry below — and feel free to comment.
We also received a couple of photos with this contest entry. These ought to curl your toes…

Community Manager
---
From a Member who wishes to remain anonymous:
Evolution is supposed to be an systematic increase in order, complexity and efficiency. Well, along the way, Darwin's concept was forgotten as this "wiring closet" was evolving.

The original panel and wiring was installed in the late 70′s and as extensions and additional outside lines were added, and changed, this arrangement became more …um…interesting.

About half of this company's PBX telephone gear still runs through this panel, along with all six of their fax lines. The eight incoming telco lines are also present here (somewhere…).

The most recent addition is the network switches and their APC battery backup (barely visible above the switches) that handle about 20 of the company's 50 workstations.

There is no documentation, no labels, no tags. What the image does not show is the fact that there is about 8 feet of space between the bottom edge of the photo and the floor. So any work done on this panel must be done from a ladder.

Long term plans are to replace the current Executone PBX system (circa 1992) with a new VOIP system, until then, nobody wants to even breathe on this panel for fear of knocking something loose.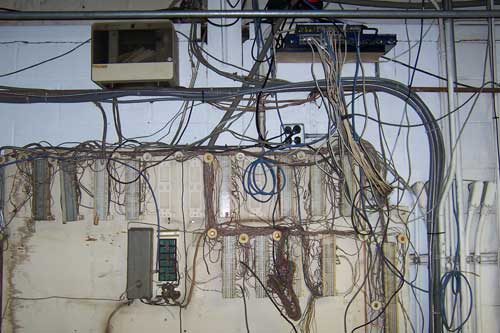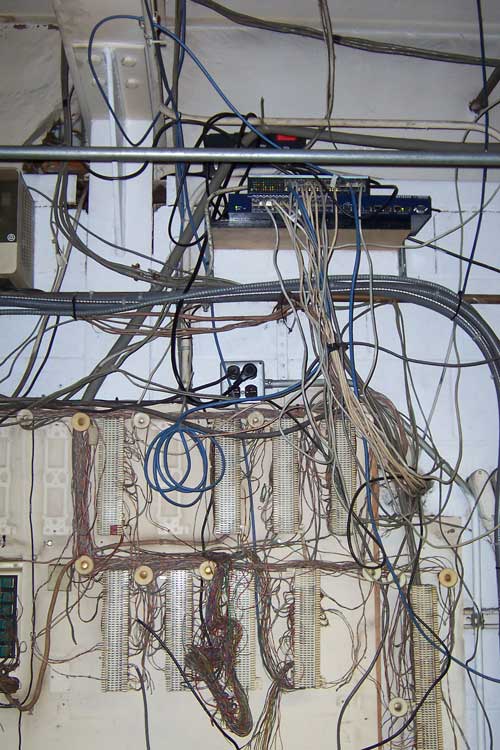 ---
View All →
Data Center Contest Entries
---