Mar 23 2009 3:53PM GMT
Posted by:
David Vasta
Tags: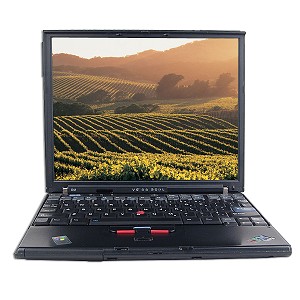 LINK :: Lenovo X41 Laptop with Linux
The X41 is small and light, weighing around 2.7 lbs with the 4-cell battery it came with. It uses a 1.50 GHz Pentium M processor with the Intel 915GM chipset. Other specs include: Intel PRO wifi chipset (fully supported by Linux out of the box), Intel graphics card, a 12.1″ XGA TFT screen, 512 MB RAM (Geeks sent us a 1 GB RAM upgrade too, reaching the overall RAM of 1.5 GB), fingerprint reader, a 1.8″ 60GB drive at 4200RPM. It features a modem port, an ethernet port, headphone/line-out, external microphone, infrared, expansion bus for IBM laptops, VGA-out, 1 PCMCIA slot, 1 SD slot, two generic USB 2.0 ports, and 1 IBM "USB" port (not compatible with most gadgets).