---
March 26, 2015 9:58 AM
SanDisk
,
Storage
Diablo Technologies claimed a "decisive victory" in the lawsuit brought by Netlist over technology used in Diablo's Memory Channel Storage architecture. However, Netlist vowed to fight on with its patent suit against Diablo and partner SanDisk.
Netlist charged Diablo with patent infringement, and gained an injunction in January preventing Diablo from shipping chips used in SanDisk ULLtraDIMM storage products.
A federal jury in the U.S. District Court for the Northern District of California Wednesday ruled that there was no breach of contract or misuse of trade secrets. Both sides agree on that. But while Diablo maintains the jury confirmed its sole ownership and inventorship of the 917 patent, Netlist says the patent issue is not settled. The 917 patent was issued for a method of programming a load reduction dual inline memory module (LRDIMM).
Netlist Claims the jury ruled in its favor on two trademark counts Wednesday. It also may appeal the parts of the verdict that went in Diablo's favor.
Even without an appeal, the issue remains unsettled. A briefing is scheduled to be completed by April 3 with an oral hearing before a judge tentatively scheduled for April 10 to determine the effect of the jury verdict on the preliminary injunction granted Netlist in January.
Diablo is expected to file a motion to remove that injunction because of Wednesdays' verdict.
"We are extremely pleased with the jury's verdict today," Diablo CEO Riccardo Badalone said in a statement released by the vendor. "We look forward to getting back to serving our customers and delivering on our exciting Memory Channel Storage roadmap."
Netlist released a statement indicating it still intends to win the patent case:
"Netlist intends to vigorously pursue its patent suit against SanDisk and Diablo related to the ULLtraDIMM. The verdict in the trade secret case has no effect on the patent case. The company also intends to request that the court correct the verdict as to the breach of contract count, and to pursue all available appeals."
March 25, 2015 10:44 AM
Storage
Backup appliance revenue hit $1 billion worldwide for the first time in the fourth quarter of 2014 as Symantec and Quantum made huge gains and market leader EMC slipped a bit, according to IDC's quarterly numbers.
The market grew three percent over the fourth quarter of 2013, and 924 PB of capacity shipped in the quarter increased 40.3 percent year over year. EMC's revenue of $640 million slipped 1.3 percent from the previous year and its share fell from 66.6 percent to a still dominant 63.8 percent.
No. 2 Symantec continued to make gains with its NetBackup appliances. Its revenue grew 23.1 percent to $115.7 million in the quarter as its market share went from 9.6 percent to 11.5 percent. No. 5 Quantum revenue grew 33.5 percent from $17.6 million to $23.5 million and its share rose from 1.8 percent to 2.3 percent. No. 3 IBM's revenue fell 10.4 percent to $67.2 million and No. 4 Hewlett-Packard slipped 5.8 percent to $40 million. All other vendors combined grew revenue 21 percent to $116.6 million.
For the full year, backup appliance revenue increased four percent to $3.259 billion. EMC grew share 3.6 percent to $2.03 billion and held 62.3 percent of the market. Symantec gained the most, increasing revenue 16.2 percent to $417.5 million and 12.8 percent share. IBM dropped 12.3 percent to $205.9 million and 6.3 percent share, HP fell 10.6 percent to $134.5 percent and 4.1 share , and Quantum increased 4.9 percent to $73.3 million and 2.2 percent share. Others combined for 10.6 percent growth and 12.2 percent market share.
IDC defines a purpose-built backup appliance as a standalone disk-based product such as EMC's Data Domain or a system tightly integrated with the backup software such as the Symantec NetBackup Appliance.
---
March 24, 2015 5:09 PM
Open source storage
,
Red Hat Storage
,
Storage
Red Hat today rebranded its storage software platforms in hopes of clarifying their intended use cases.
Inktank Ceph Enterprise becomes Red Hat Ceph Storage and Red Hat Storage Server becomes Red Hat Gluster Storage. The scale-out open source platforms fall under a Red Hat Storage umbrella. Both storage platforms came to Red Hat through acquisitions. Red Hat picked up file-based Gluster in 2011 and added block and object storage vendor Inktank in May 2014. Since the Inktank acquisition, there have been questions about whether Red Hat would keep the two platforms separate or merge them.
Both will live on, Red Hat Storage direct of product marketing Ross Turk said. Red Hat positions its Gluster Storage as best suited for enterprise virtualization (VMware), analytics (Hadoop and Splunk), and sync and share workloads. Ceph Storage is designed for OpenStack, object storage (Amazon S3-compatible) and other cloud infrastructure workloads. They both can play in archiving and rich media markets.
"This represents a sea change in how we talk about our products, and we're starting with the workloads," Turk said. "We're trying not to think of Gluster as file and Ceph as object and block. We're trying instead to think of what the best architectural fit is for each of them."
Put another way, Gluster is more apt for traditional file-out storage needs while Ceph is more for public cloud storage developers and enterprises with large development teams.
"Ceph was built for the cloud and for building infrastructure," Turk said. "Red Hat Gluster Storage is a completely different beast. It's purpose built as a scale-out file store. Gluster was built to consolidate storage resources on a bunch of servers under a single namespace."
Turk said the two platforms are licensed separately, and Red Hat has customers using both.
---
March 20, 2015 10:34 AM
Fragmentation
,
Storage
Condusiv Technologies this week launched Diskeeper Server software to defrag disks connected to SANs.
Wait, is fragmentation even a thing for SANs? You never hear SAN vendors or even customers talk about it. What are all those RAID schemes and expensive SAN controllers for anyway?
Condusiv insists fragmentation is a problem at the logical disk layer, whether the SAN vendors admit it or not. And that fragmentation is impacting performance of applications on physical servers.
"We've expanded our fragmentation technology below local storage to include SAN storage," said Brian Morin, Condusiv's senior vice president of global marketing.
That means Condusiv is expanding its focus from desktop and laptop PCs to servers. Condusiv has been around for 33 years, but was known as Diskeeper until 2012. It claims to have sold 45 million licenses, but with the PC market shrinking and flash becoming popular, the company is targeting SANs as its new frontier.
It's not defragging disks in SAN arrays, but preventing files from being broken into pieces before being written to hard disk drives or solid-state drives non-sequentially. That way, it prevents fragmentation before it becomes an issue.
Morin said Diskeeper Server can improve the way the Windows file system writes files to disk. "We monitor the system and see how data is being created," he said. "Whenever a file is created or extended, Windows looks for a fixed size allocation because it doesn't know how big the file is going to be. That causes extra I/O, or fragmentation. We give it the intelligence to say 'This file is going to be this big.' It finds the correct allocation and prevents that fragmentation from occurring in the first place."
There can be a performance hit from the fragmentation prevention process, but Morin said that is less of a drag than the results of fragmented files.
"If Windows splits a file into 20 pieces, it's writing 20 different I/O streams," Morin said. "Windows sees that file as 20 separate pieces and issues I/O operations for every piece of that file. That's a lot of I/O overhead to the physical server."
Condusiv claims 73 percent of physical servers – about 2 million of them — are attached to SANs and fragmentation dampens their performance by 25 percent or more.
Diskeeper Server has a list price of $399.95 per server.
---
March 12, 2015 2:54 PM
Cloud DR
,
DRaaS
,
Storage
Quorum today hired John Newsom as CEO to help the disaster recover as a service (DRaaS) startup navigate a rapidly growing market with a crowded field of competitors.
Newsom replaced Walter Angerer, who served as Quorum's CEO since Nov. 2013 and moves into the executive chairman role.
Newsom has spent most of his 20-year career in tech at Quest Software as an executive in engineering, sales and product management. He joined Quest in 1996 when it was a $6 million revenue company and was still there when Dell acquired it for $2.4 billion in 2012.
Quorum sells several backup, DR and archiving appliances that can be implemented on-site or in the cloud. The vendor promises simple one-click DR. Newsom said in Quorum he sees a company with good products that needs to find partners to help bring it to market.
"Our product is strong," he said. "We need to accelerate how we get into the market. I know I can radically help with that. We're a simple solution, easy for partners to adopt and the most robust on the market."
Quorum clams its revenue grew 600 percent over the past two years, and its channel reseller revenue grew by 200 percent. Newsom said Quorum has the potential to fill the role for DR as a service that ServiceNow.com did for IT service management and Salesforce.com did for CRM.
"We see people re-inventing old systems that have been around forever," he said. "People say, 'how can I do it with fewer dollars?' The cloud is part of that."
The cloud is a major part of DR now, and new cloud DR products and vendors are becoming frequent occurrences.
"Everybody is jumping in, from mom and pop startups and big players who recognize they have to be in this," Newsom said. "I see an opportunity for us with bigger strategic players, instead of them having to re-create what we've done."
Angerer will stay involved in Quorum as executive chairman, but gave up the CEO post because he is also CEO of Parsec Labs. He briefly found a replacement last May when Quorum hired Edward Sharp as CEO, but Sharp lasted only three months and is current chief strategy and technology officer at PMC Sierra
---
March 11, 2015 1:31 PM
EMC
,
flash storage
,
Storage
Amid all of the financial numbers and strategy talk at the EMC Strategic Forum Tuesday, the vendor gave a detailed description of the first product that will spring from its 2014 DSSD acquisition. The target ship date for the flash appliance is late 2015.
The DSSD system is a 5u direct attached storage box that uses proprietary PCIe flash modules to connect to multiple servers. Data moves from the flash module to the application server through a PCIe fabric. Each system has 36 flash modules with ports on the back to connect up to 48 servers.
DSSD founder Bill Moore uncovered the appliance on stage at the Forum in New York, and showed off its parts.
"PCI was not built for a shared fabric," Moore said. "We built the world's largest PCI shared fabric in the back [of the system]."
Moore said the advantage of shared storage is that it will improve performance and eliminate bottlenecks of the traditional PCIe approach that connects one server to storage. DSSD appliances will pool capacity as well as performance, he said.
He added that DSSD engineers have taken customer NAND chips and controllers and designed their own flash module. He said the custom modules built with EMC firmware gives the box 10 times the performance and five times reliability as using the same NAND as competitors.
Unlike most of today's all-flash arrays that are designed for block storage, the API-based DSSD product is built for big data applications such as Hadoop, Cassandra, Hive, mongoDB and memSQL.
On a day when EMC hyped all of its products – including those of its VMware and Pivotal companies – its execs saved their most lavish praise for DSSD.
Here's how EMC Information Infrastructure CEO David Goulden introduced Moore's demo: "What if we could give you something that was competitive on price points with dense and low-cost flash systems? What if it was orders of magnitude faster? Not hundreds of thousands of IOPS, but millions of IOPS. And what if the latency was a 10 of other systems … we're talking a few microseconds."
Moore added, "There are three metrics for high performance – eye-watering, face melting and head exploding. This is bridging the gap between a face-melting and head-exploding appliance."
Fortunately, we have at least six months to ice our faces and hold our heads to prepare for the DSSD appliance.
Other products EMC teased during the event included a software-only version of VNX that is in beta; new VCE Vblocks including ScaleIO storage, VMware NXS software-defined networking and eventually DSSD systems; and a VMware EVO: Rack system under the VCE brand. VMware CEO Pat Gelsinger said EMC will be the first EVO:RACK partner, with an announcement at VMWorld in August. EVO:RACK is a rackscale version of VMware's VSAN hyper-converged storage that is now available in smaller EVO:RAIL bundles.
---
March 9, 2015 2:38 PM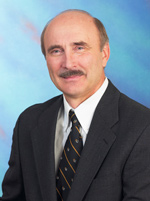 Profile: Randy Kerns
Storage
The enterprise storage market is splitting into two areas that are still indistinct but will become a lot less so. It's important to understand this evolution if you are to make sense of storage vendor product strategy.
Before explaining this tectonic motion, it is necessary to define what I mean by enterprise storage.
When I talk about enterprise storage, I mean storage systems used for enterprises that traditionally have had their own data centers and have certain expectations about storage capabilities and characteristics. This segment includes two dynamics. One is the current operations and critical business applications that must continue without interruption while meeting increasing demands. The other is a transition to IT as a Service methodologies with private cloud implementations.
The traditional IT environment has relied on storage systems to provide resiliency and data protection.  And as requirements for availability and business continuity have increased over time, high value capabilities have been designed into storage systems.  This has made systems more sophisticated (also more complicated) and more expensive.  The capabilities are enumerated in product data sheets.
Private cloud deployments mimic the approaches used in public clouds where storage is more of a commodity and functionality is added in the software for the application level. This means the resiliency and availability does not depend on the underlying storage system, but must be developed into the application or software where it executes.
This second segment leads to opportunity for people designing storage systems. The opportunity is to provide storage platforms for this market that are different than the more sophisticated systems required to meet traditional IT demands. These systems can be as simple as enclosures with devices and control hardware with functionality that routes access.
While private clouds do not eliminate the need for sophisticated storage systems, they represent a set of revolving requirements and product offerings. This is where the "land grab" is on for storage vendors to establish market share. The change presents an opportunity for new storage vendors that can meet the cost and margin demands to enter the market, and allows storage consumers to buy storage that better fits their changing needs.
(Randy Kerns is Senior Strategist at Evaluator Group, an IT analyst firm).
---
March 6, 2015 3:31 PM
Storage
,
Violin Memory
Violin Memory initiated a turnaround plan under a new CEO a year ago and still has little to show for it.
It's been a busy year for Violin under CEO Kevin DeNuccio, with several new product rollouts to help the all-flash vendor overhaul its portfolio to remain competitive in a hot area. Still, Violin's revenues for the fourth quarter of 2014 shrunk from the previous year as did its full year revenues. Losses continue and guidance for this quarter came in light.
The best thing you can say about Violin's earning results from Thursday was that the vendor lost less money last quarter than it did in the same quarter a year ago. But it lost twice as much in the fourth quarter of 2014 as it did in the third.
Here are the numbers:
• Fourth quarter revenue of $20.5 million was down six percent from last year (excluding revenue from discontinued PCIe flash revenue) and down 10 percent from the previous quarter. It also fell $3.5 million below analysts' expectations.
• Fourth quarter loss was $46.8 million, compared to third quarter loss of $23.5 million and $56.5 million loss from fourth quarter of 2013.
• Full year revenue of $79 million was down 27 percent from previous year, and full year loss of $108.9 million was an improvement over the loss of $149.8 million from 2013.
• Guidance for this quarter was in the range of $21 million to $24 million, with the high end hitting analysts' expectations.
DeNuccio said he remains optimistic that he can complete what he calls "one of the greatest technology transitions" he has ever seen. That optimism is based on two factors: Violin's newly updated Flash Storage Platform (FSP) and the rising wave of flash storage.
"While the fourth quarter was technically challenging, it is important to recognize that we have built a strong foundation in our people, our technology and our financials," DeNuccio said on Thursday's call with analysts. "We are not just in a better, stronger place, but we are well positioned at the forefront of one of the greatest technology transitions I've witnessed in my career."
DeNuccio blamed the disappointing fourth quarter on customers holding off on buying until they can test the new FSP systems. He said he expects to increase revenue 10 percent every quarter this year, but gave no timetable for turning a profit.
Violin upgraded its Concerto operating system a month ago, adding features such as lock-level inline deduplication and compression, snapshots, clones, replication, CDP and better management features. The goal is the make Violin's all-flash arrays better suited for primary storage than for high performance use cases.
Violin executives say the average selling price for the new primary storage arrays will be up to four times that of Violin's previous platform. CFO Cory Sindelar estimated the new average price will be $500,000 to $1 million range, up from $200,000 to $250,000 for its old systems.
But Violin faces tough competition for those dollars in the flash market, mainly from EMC, IBM and well-funded privately held Pure Storage. None of those vendors are backing off in their dedication to flash, as are any of the other mainstream storage vendors or startup SolidFire. And new flash platforms are still coming into the market, such as SanDisk's InfiniFlash launched this week.
So that great tech transition is hardly a sure bet.
---
March 6, 2015 1:40 PM
Storage
Storage revenue rebounded in the fourth quarter of 2014, no thanks to the large vendors.
Total storage revenue grew 7.2 percent to nearly $10.6 billion and external (networked) storage increased 3.4 percent to $7.15 billion, according to IDC's worldwide quarterly disk storage tracker.
For the year, storage spending rose 3.6 percent to $36.2 billion and total capacity increased 43 percent to 99.2 exabytes.
That comes despite a year-over-year decline of nearly seven percent in overall storage spending in the first quarter of 2014, and two quarters of external storage declines during the year.
No. 1 EMC's revenue growth of 3.3 percent to $2.35 billion decreased its market share from 23.1 percent to 22.2 percent in overall storage from a year ago. No. 2 Hewlett-Packard increased revenue 4.8 percent to $1.46 billion but its share dropped from 14.1 percent to 13.8 percent. No. 3 Dell increased revenue 5.2 percent to $952 million. That put Dell barely above IBM, whose revenue dropped 23.8 percent to $951 million. Dell and IBM each had nine percent market share. No. 5 NetApp's revenue also declined 3.5 percent and its market share dropped from eight percent to 7.2 percent at $764 million.
So how did the market grow if the combined revenue of the top five vendors declined? Smaller vendors (IDC's "Others" category) and original design manufacturers (ODMs) who sell directly to hyper-scale data centers led the rally.
Other vendors increased 20.2 percent to $2.74 million and increased share from 23.1 percent to 25.9 percent. ODMs increased revenue by 39.4 percent to $1.36 billion and grew market share from 9.9 percent to 12.8 percent.
In external storage, EMC grew 3.3 percent to $2.35 billion to remain at 32.9 percent market share. No. 2 IBM dropped 7.2 percent year-over-year to $837 million to fall from 13 percent to 11.7 percent share and No. 3 NetApp decreased 3.5 percent to $764 million. No. 4 HP grew 3.3 percent to $689 million and 9.6 percent share. HDS' 3.5 percent increase to $577 million left it at 8.1 percent share. The revenue from other storage vendors increased 12.3 percent to $1.93 billion and jumped from 24.9 percent to 27 percent market share.
IDC research director Eric Sheppard attributed the fourth-quarter growth to year-end seasonality, demand for mid-range systems with flash capacity and hyper-scale data center storage.
Dell led in total storage capacity shipped during the year at 10.85 exabytes, followed by HP with 9.98 exabytes and EMC with 9.96 exabytes.
---
March 3, 2015 8:52 AM
HGST
,
Object storage
,
Storage
,
western digital
Western Digital, which has been collecting flash-related startups over the past few years, today beefed up its archiving portfolio by acquiring object storage vendor Amplidata.
Amplidata will become part of Western Digital's HGST subsidiary. The deal is expected to close this month. Western Digital did not disclose the acquisition price.
Amplidata claims its Himalaya object storage software can handle zettabytes of data and trillions of stored objects under a single global namespace. The software was called AmpliStore until Amplidata re-branded it as Himalaya in June 2014.
Western Digital invested $10 million in Amplidata last year, and Amplidata was a joint development partner in HGST's Active Archive platform. HGST sees Active Archives as large repositories of recently created data that needs to be accessed at least occasionally, unlike cold archived data that is rarely accessed.
Amplidata also has an OEM deal with storage systems vendor Quantum, which uses Amplidata in its Lattus and StorNext archiving products. It appears that relationship will continue, as Western Digital's press release today quoted Quantum CEO Jon Gacek saying he was "excited about the acquisition" and is looking forward to new partnership opportunities.
Until today, HGST has concentrated more on storage performance products than archiving with its acquisitions. It bought all-solid state drive array vendor Skyera in December 2014, after picking up NAND controller vendor sTec, PCIe-based flash card vendor Virident Systems and application acceleration vendor VeloBit.
Who's next for Western Digital/HGST? Keep an eye on Avere Systems. Western Digital led a $20 million investment round in Avere last July, Avere is also an Active Archive partner and its NAS acceleration appliances incorporate flash.
---