---
February 12, 2016 5:02 PM
Violin Memory
Violin Memory's latest all-flash arrays haven't received the warm reaction in the market the vendor hoped for, so it's releasing bundled systems that will make it easier and cheaper to deploy.
Violin launched its Flash Storage Platform (FSP) 7700 with data reduction and protection features last year, hoping to make a renewed push into the all-flash world. But sales have been slow with only $12.5 million in total revenue and $6.3 million in product revenue in the third quarter of 2015. So this week Violin came out with what it calls Starter Kits to simplify sales.
Violin calls these the Violin Scalable Starter Kit and the Stretch Cluster Starter Kit. The Scalable Starter Kit includes two FSP 7700 array controllers, two Brocade Fibre Channel switches, two all-flash arrays with 35 TB each, and Violin Concerto OS7 and Symphony Management Kit. The Stretch Cluster kit adds a Stretch Cluster license that automates recovery of critical applications and data by using two data centers.
Customers can scale beyond 70 TB by adding flash drive shelves.
This is the first time Violin has bundled its arrays with switches. "Before, you would have to buy a 7700 system, switches and a storage shelf as discrete purchases," said Keith Parker, Violin's director of product marketing. "Now we've packaged everything together in a kit."
The starter kits can save customers considerably. The list prices are $470,000 for the Scalable Kit and $840,000 for the Stretch Cluster kit. That's about half the price as it would cost to buy everything separately, Parker said.
January 29, 2016 9:48 AM
Asigra
,
Cloud Backup
Asigra is packaging its Cloud Backup software on the Oracle ZFS Appliance for cloud providers who would rather not purchase and maintain their own hardware.
Toronto-based Asigra for decades have sold backup software only to managed service providers. As cloud backup grows in popularity, MSPs find their hardware infrastructure costs rising to keep up with capacity demands, Asigra executive vice president Eran Farajun said.
Farajun said Asigra has been looking to reduce costs for service providers for several years, beginning with a recovery license model. "Our partners said, 'We like that but we have other costs in the stack, and that's the hardware,'" he said. "We said, 'We're not a hardware company, we're a software-company.' They said 'Go into your cave in Toronto and try to figure out a way to lower costs.'"
Farajun said Asigra looked a low-cost hardware and found the ZFS Storage Appliance. "We didn't know Oracle even made storage," he said. "We did trials and got good performance. We joined their OEM program. That gives us access to Oracle products and aggressive prices, and we can pass that on to our partners."
He said for providers, buying Asigra backup on the Oracle appliances is "cheaper than cobbling together your own system. Some try using commodity hardware with CentOS, fully open-sourced, then they run into trouble and there's nobody to call for support."
Asigra actually does cobble together its own appliance for smaller partners. Last year it began bundling Cloud Backup on Supermicro appliances with FreeBSD open-source software. Farajun said the Asigra appliance is scales to 100 TB, while the Oracle ZFS appliance begins at 100 TB.
---
January 28, 2016 5:37 PM
Backup software
,
Cloud Backup
,
Commvault
Is Commvault back on track?
The backup vendor snapped a string of four quarters of year-over-year revenue declines when it reported of $155.7 million last quarter, up 2% from the previous year. More impressively, its software revenue of $71.4 million increased 24% from the previous year.
While Commvault continued to make money during its sales declines, its $13.2 million income last quarter was its highest take in a year.
Now we'll see if Commvault can gain momentum with its its new platform launched in October. Wall Street analysts expect revenue of $156.3 million this quarter, a small uptick from last year.
Commvault spent the past year revamping its sales and marketing teams before the new data protection and management platform launch. Discussing the earnings Wednesday, Commvault CEO Bob Hammer said that transformation period is over.
Hammer said the latest software platform was a controlled release to select customers, with broader distribution expected this quarter. But he said the changes made to that release played a key role in attracting customers. Commvault reacted to claims that its software was too expensive and complicated by altering its pricing model and making it available in smaller bundles.
"As we went into this transformation, we had to segregate the product line, pricing, packaging … " he said. "We had to make some really significant underlying changes to the platform to align to the cloud..
"We experienced significant increases in the amount of large enterprise deals and had higher than normal close rates," he added.
Commvault's enterprise deals of more than $100,000 in a quarter represented 54% of its software revenue, and increased 33% from the previous quarter.
Hammer said more enterprises are moving backups to the cloud, which hurts storage hardware vendors but is a positive for Commvault because it helps with the process. Commvault software use the cloud as a repository, just as it would if the backups were going to disk or tape.
"As customers migrate to the cloud, adopt new IT infrastructures and deploy newly architected applications, they are looking for a strategic partner who has technology and services that can help them make the transition," he said.
"AWS might have hundreds of different data centers, so we can move the data in those clouds, orchestrate those infrastructures, spit up compute network storage in the cloud, tie to a given application and manage and index all that data. So now customers have a complete picture of what the heck is going on with the data no matter where it resides. And we can federate across the different AWS silos or [Microsoft] Azure silos or between Azure and AWS or Azure and OpenStack, et cetera."
Another thing helping Commvault is the largest backup software vendors are going through their own changes. EMC is getting acquired by Dell, Veritas just spun out from Symantec, Hewlett-Packard split up and IBM has been in a storage revenue freefall.
"I'm not going to get into a specific commentary on Veritas or what's going on with EMC or some of the other larger competitors of ours, HP or IBM," Hammer said. "But, clearly we've gotten significantly out in the front of every one of those competitors from a technical standpoint, a services and support standpoint, and we're going to create additional distance between us and these competitors. We are on a much firmer foundation right now … and every one of the competitors I just mentioned has what I call significant architectural underlying issues that will take time and money to address."
Commvault still has to worry about Veeam Software, which has been cutting into Commvault's business from below. Veeam, a private company, said it had a 55% increase in bookings revenue in the fourth quarter of the year. Veeam said its bookings revenue for 2015 totaled $474 million. Commvault's revenue for calendar 2015 was $581 million.
---
January 28, 2016 11:30 AM
EMC
While waiting to become part of Dell, EMC is planning a massive flash injection into its storage systems.
David Goulden, CEO of EMC Information Infrastructure, teased new product launches to the VMX, VNX, DSSD and Data Domain product lines Wednesday during EMC's earnings conference call. Flash will play a major role in all of the primary storage arrays, including at least one new all-flash platform.
"Flash is one of the megatrends that's changing the infrastructure business forever," said Goulden's boss, EMC CEO Joe Tucci.
Goulden didn't give away too many details, but he said VMAX enterprise and VNX midrange arrays would be "re-archtected" for flash. The VMAX and VNX are legacy arrays developed for hard disk drives but were retrofitted to accompany solid-state drives (SSDs) when they became available for primary storage. Goulden said new all-flash versions will include substantial changes to take full advantage of new flash technologies.
In an attempt to set a record for using the word "flash" the most times in a sentence, Goulden said this quarter EMC will introduce "a new flash-optimized all-flash VMAX that will significantly change the way flash is deployed in high-end primary storage."
It's unclear if EMC will re-name VNX or add another midrange product. While Goulden referred to VNX by name several times on the call, he also talked about a "mid-tier storage family' coming in the second quarter, "which will change the use cases for flash in the mid-tier." Whether that is VNX or another family remains to be seen.
DSSD is a new product, with technology acquired when EMC bought Andy Bechtolsheim-founded startup DSSD in 2014. EMC has previewed server-based DSSD at events over the past year but the system has not been released. Goulden said DSSD will launch this quarter, calling it a "quantum leap" in flash. He said DSSD will deliver "mind-blowing performance, bandwidth and latency for high-performance business applications like Hadoop analytics and ultra high-performance databases."
Goulden did not mention any updates to XtremIO, which is the market leader in all-flash systems with $1 billion worth of sales in 2015. He did mention integrated copy data management (ICDM) added to XtremIO last year that puts database copies on primary storage.
EMC will also release a software-only version of the Data Domain disk backup platform and new converged products from VCE. The vendor has been in development with the virtual Data Domain for several years but wasn't sure if it should cannibalize its popular hardware backup system.
Goulden said EMC and VMware have developed "a new next-generation hyper-converged appliance family" and VMware will make an announcement in February.
Despite any backup or hyper-converged developments, 2016 is shaping up as the year of all-flash for EMC. Or as Goulden said, a shift to "all-flash, all-the time ' in the midrange and high end.
"Flash is not about a single product," Goulden said. "It's a key technology across our portfolio. We really think that the technology has advanced to the stage with the latest 3D NAND technology and things like 3.8 terabyte drives. Of course you need to architect your system to optimize to use something that big and that fast, which is why we talked about the re-architecting. We can really come to market with a complete family of VNX, VMAX, XtremIO, DSSD, leveraging this latest technology and basically use all-flash all the time for primary storage."
Product overlap is nothing new to EMC, but how will it explain to customers which all-flash platform to use?
"DSSD is going to address a whole new class of workloads," Goulden said. "XtremIO and VMAX are playing in broadly similar markets, but with different attributes. The mid-tier line fits underneath that. So we really have the market exceptionally well covered and of course we're leading with an all-flash agenda.
---
January 27, 2016 4:52 PM
Gridstore
Gridstore closed a $19 million funding round today with plans to substantially expand engineering and sales of its all-flash hyper-converged systems built for Microsoft Hyper-V.
The round brings Gridstore's total funding to $45.5 million over three rounds. While $19 million is small compared to some of the storage funding rounds over the past year, Gridstore CEO George Symons said it is more than enough to fund Gridstore's growth plans.
"I'm a believer in not going out and raising stupid amounts of money, even if you can," he said. "If the goal is to go public in a year and lose large amounts, that's the way you do it. Our goal is to build a business."
He said the funding is enough to allow Gridstore to more than double from its current 38 employees by the end of 2016. Symons said most of the growth will hit the vendor's two largest departments, sales and engineering.
Gridstore has already hired a chief strategy officer and chief financial officer – two positions it never had before. Former Del CTO James Thomason will fill the CSO role. Kevin Rains is the new CFO. Rains also worked at Dell as director of operations for its Enterprise Software Group. Gridstore also hired Phillip Lavery as VP of sales for the Americas and Nariman Teymourian, most recently senior vice president and general manager of the Converged Systems Division of HPE, replaces Imation CTO Geoff Barrall as Gridstore's chairman.
Gridstore started selling storage appliances for Microsoft in 2013 and added all-flash hyper-converged systems in 2014. Symons said Gridstore revenue grew 343% last year, with new new customers "almost exclusively hyper-converged. It surprised me how quickly it happened and how completely it happened. I don't think we had more than one or two new standalone storage customers last year."
Symons said Gridstore will drop its storage-only system but will expand its hypervisor support by adding KVM. As for market leading hypervisor VMware, Gridstore will continue to leave that space to other hyper-converged players – including VMware.
"We'll continue to watch that market," he said. "Just jumping in as another hyper-converged infrastructure player doesn't seem to be the right move for us."
Atlantic Bridge Capital led the funding round with previous investors Acero Capital, GGV Capital and Onset Ventures participating.
---
January 27, 2016 8:02 AM
Hyper-convergence
Hyper-converged vendor Pivot3 today acquired hybrid flash vendor NexGen Storage, combining small private companies that play in two hot technology areas.
NexGen CEO and founder John Spiers said the deal "came about serendipitously" at the suggestion of a venture capitalist firm. While working on a funding round, NexGen talked to one of Pivot3's investors who suggested the two explore a merger. Spiers met with Pivot3 CEO Ron Nash and the two agreed they would be better as a larger company. The vendors' investors decided how to allot the shares in the new company.
 "It's really a stock swap, there's no real purchase price," Nash said.
Nash will be CEO of the new Pivot3. Spiers will become Pivot3's executive vice president and Chief Strategy Officer and fellow NexGen founder Kelly Long will be a CTO in the company. Nash said all NexGen's employees will join Pivot3.
 Pivot3 sells its VMware-based vStac OS on all-flash and hybrid hyper-converged systems combining storage and compute. It also sells a system optimized for video surveillance and high-density blades that fit in a rack to support up to 9,000 virtual machines.
NexGen sells all-flash and hybrid arrays that use PCIe server-based flash, solid-state drives and hard disk drives. Its policy-based quality of service manages data based on its value.
"We saw in NexGen a unique opportunity to expand upon what we have been doing in hyper-convergence," Nash said. "We saw that we can be boarder in terms of the range of performance we can offer to IT shops. And they have a lot of storage functionality that makes us deeper.
"NexGen gets to combine with us, we have more international reach and additional products. It's a great combination all around."
 Nash said NexGen's 86 employees will join Pivot3's 130 to expand the headcount to more than 200. He said Pivot3 has more than 1,600 customers and NexGen has around 400, giving the combined company more than 2,000 customers. Austin, Texas-based Pivot3 will keep NexGen's Boulder, Colorado, office.
Nash said Pivot3 will continue to sell both companies' current products, and they will port software features to the others' platforms. The NexGen brand will continue for now, but there will be new products combining both vendors' technologies.
Among NexGen's software features, Nash said Pivot3 is most interested in quality of service and dynamic provisioning.
 "There is a new wave of technology breaking out," Nash said. "In a software-defined data center, you will have some hyper-converged, some storage-only and some cloud products – all based on a commodity x86 processor with software on top of it."
This is the second time NexGen has been acquired. PCIe flash vendor Fusion-io bought NexGen in 2013 for $119 million. After SanDisk subsequently acquired Fusion-io, SanDisk spun off NexGen in January, 2015, putting it back in control of original founders Spiers and Long.
"We weren't a good it for SanDisk's business strategy because we competed with their OEMs," Spiers said. "Our growth plans [for 2016] were to triple the size of our sales force, hire key marking positions and add key people in Europe and Asia. Pivot3 brings all that to the table."
"We think this new wave of technology is going to knock out several incumbent IT companies," Nash said. "We think we have a chance to be one company that pops up to replace them."
---
January 26, 2016 9:00 AM
EMC
,
Object storage
EMC today launched Elastic Cloud Storage 2.2, making its object storage platform more mature as it prepares to take over use cases from EMC's other object storage products, Atmos and Centera.
ECS is available as a software-only product or packaged on an appliance. The software is the ViPR software-defined storage data plane and the hardware is an x86 server.
EMC launched ECS in 2014 and brought out ECS 2.0 last May.
ECS 2.2 adds native NFS support to go with its previous support for Amazon S3, OpenStack Swift and Hadoop Distributed File System (HDFS). Native NFS support allows ECS to handle file storage without a file gateway. EMC also enhanced the search capabilities, claiming ECS can search metadata across exabytes of unstructured data without a dedicated database. For security, EMC added data at rest encryption.
"We feel ECS now has anything you might want from an object storage platform," said Manuvir Das, senior vice president of EMC's Advanced Software Division.
Das said the metadata search "opens up an Internet of Things use case. We have automotive customers storing telemetry data from vehicles. Those are small pieces of large volumes of data. They can throw that into scalable object storage and search the metadata."
He said EMC has shipped more than an exabyte of ECS storage, mostly on hardware appliances. He said there are three main types of customers. Traditional enterprise shops are using ECS for a low-cost archive as well as storage used to develop new applications. Service providers use it to build object-based clouds to compete with popular public clouds, and content providers creating cloud apps deploy ECS for scalable storage.
EMC has two other types of object storage – Centera for compliance-related data and Atmos for the cloud. Das said EMC continues to support and upgrade those applications, but it sees ECS as its object storage of the future.
"All roads lead to ECS," he said. "Almost all the use cases across Atmos and Centera are heading to ECS. With version 2.2, the ECS feature set can do anything Atmos and almost everything Centera can do. Centera has advance compliance features that ECS does not yet do, but those are covered on the ECS roadmap."
---
January 21, 2016 11:06 PM

Profile: Carol Sliwa
Netlist unveiled its new DDR4-based non-volatile dual in-line memory module (NVDIMM) yesterday at the Storage Networking Industry Association (SNIA)'s Non-Volatile Memory (NVM) Summit in San Jose.
The NVvault DDR4 NVDIMM (NV4) combines DRAM and NAND flash, with the non-volatile flash ensuring that data is protected in the event of a power failure. The main difference between the latest NV4 product and the prior NV3 NVDIMM is support for DDR4 DRAM.
Netlist's DDR4-based NV4, which became generally available yesterday, brings speed and capacity advantages over the DDR3-based NV3 product. The maximum density expands from 8 GB to 16 GB, and the DRAM clock speed increases from 1,600 megahertz (MHz) to 2,400 MHz, according to Mat Young, Netlist's vice president of marketing.
At the NVM Summit, Netlist demonstrated the NV4 NVDIMM against a PCIe NVMe NAND flash device using a Super Micro server running a Percona TPC-C-like transaction processing benchmark on a MySQL database. Netlist claimed the NV4 system achieved a transaction rate five times higher than the PCIe NVMe flash.
Young said industry demos often focus on IOPS and bandwidth, but Netlist wanted to show potential customers how the product could performance with a real-world application.
"We feel really strongly that non-volatile memory is the next potential performance boost for storage. It's a bit like NAND was to spinning hard drives," said Young.
Netlist is working with several server and BIOS manufacturers on support for its NV4 NVDIMMs and sampling the product to an undisclosed number of customers, according to Young. He said target customers include OEMs and ODMs, appliance manufacturers and end users looking for higher application performance than NAND flash can provide.
"The fact that they've migrated to the DD4 interface indicates that NVDIMMs are growing in popularity. Although today's main application is logs or journals in storage arrays, the growth of in-memory databases will create a much larger market," said Jim Handy, chief analyst at Objective Analysis in Los Gatos, California. Handy said Netlist's competition includes AgigA Tech, Micron, Smart Modular Technologies and Viking Technology.
---
January 20, 2016 12:52 PM

Profile: Sonia Lelii
Caringo has expanded its Swarm object storage to Microsoft Azure.
The company recently said its object storage software, which already has Amazon S3 support, now is available on the Azure cloud so customers have the ability to move applications seamlessly from Amazon S3 to the Azure cloud by using the Swarm software.
This capability gives customers another storage tier option, allowing them to tier to the Azure cloud without changing mount points or work flows. Files can be consolidated from all filers into a scalable object storage tier that is accessible via a web-based portal for search while also giving the ability to deploy disaster recovery sites globally. Data can be accessed and managed universally through cloud and file protocols and RESTful APIs.
"We've talked to a number of customers that don't want to be connected just to one vendor," said Tony Barbagallo, Caringo's vice president of product. "This is an expansion of our platform. We have customers who use our storage on-premise but also want to replicate to the cloud and customers want multiple storage targets.
"They want a hybrid solution so they can distribute cloud storage or replicate to cloud storage," Barbagallo.
Caringo's object storage manages objects in a flat address space, making it easy to adjust to petabyte scale configurations. Each object is assigned a unique identifier, which allows a server to retrieve it without needing to know the physical location of the data. These characteristics make it a good fit for cloud storage.
This latest capability gives companies the ability to migrate Amazon S3-based application to the Azure cloud with the use of a RESTful interface.
The new Microsoft Azure template can be deployed in a 16TB, 32TB or 64TB Swarm cluster with an SSL Amazon S3 interface. It requires 18, 26 and 42 available processor cores for 16TB, 32TB and 64TB sizes and each size needs a Jump-Box virtual machine to increase the requirement for each size by one additional processor core.
Once on Swarm, files can be combined and protected in a searchable pool for continued use and complex analysis.
"Azure can offer our operating system as a server running on Azure hardware," Barbagallo said. "For S3 we have a proxy server. If an application has a S3 problem, it is transferred to our protocol and translated. When the information is sent back, the translation goes the other way."
In September 2015, Caringo came out with software that lets customers move data back and forth between file-based primary storage and Caringo Swarm object storage software. FileFly for Caringo Swarm is a Windows-based application that plugs directly into the Windows NTFS file system.
FileFly uses policy-based automation to identify and migrate aged data from primary Netapp file servers and arrays running the Windows Storage Server operating system to Caringo Swarm on the back end. No changes are required to applications or end user workflows.
Barbagallo said Caringo has no immediate plans to support the Google Cloud platform.
"Right now, we have no current plans to expand beyond this," he said.
---
January 19, 2016 1:17 PM
Actifio
Nearly five years into sales of its copy data virtualization, Actifio is finding customers are looking for a simpler way to manage data across its appliances.
Today the vendor launched Actifio Global Manager (AGM) and a new Actifio Report Manager to give customers one HTML5 screen to manage their installed appliances.
AGM lets customers set service level agreement-based management from one interface. Actifio previously had a report manager, but the new one is re-designed with a new engine to create, manage and view reports on application, protection and recovery job performance, and SLA compliance.
Until now, Actifio customers used a desktop user interface to manage one appliance at a time. Chandra Reddy, Actifio's vice president of product marketing, said the average Actifio enterprise customer uses Actifio to protect 100 TB of data, and some protect petabytes. To protect 100 TB, an organization would need two appliances on site and two more at a remote site for DR. Those four appliances would be managed separately without AGM.
Service providers might use 30 or more appliances, Reddy said.
"Now a customer can go to a single dashboard and get an aggregated view," he said.
Customers can use AGM to migrate applications between Actifio appliances and to load balance applications across appliances. AGM also allows customers to manage processes such as snapshots, deduplication, live cloning and replication.
"Customers want a single centralized pane of glass to manage, monitor and troubleshoot thousands of protected virtual machines," Reddy said. "That was the genesis of AGM."
AGM will require a separate license. For new customers, AGM is free for the first two Actifio appliances and existing customers will not be charged for their first 10 appliances.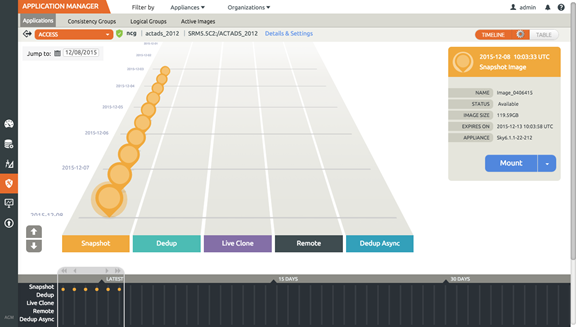 ---