---
March 4, 2016 10:43 AM
HPE
,
Hyper-convergence
Hewlett Packard Enterprise (HPE) is planning to go after Nutanix and other hyper-converged vendors with an appliance based on its ProLiant server line.
HPE CEO Meg Whitman revealed the vendor's hyper-converged plans during its quarterly earnings call Thursday night. It was part of her promise to deliver innovative products in storage and other areas.
She said the new hyper-converged announcement will come this month. Whitman said the system will "offer customers installation in minutes, a consumer-inspired simple mobile array user experience, and automated IT operations. All at 20 percent lower cost than Nutanix."
Whitman predicted the new system will make HPE a major player in what she identified as a $5 billion hyper-converged market. Nutanix is considered the market leader, although VMware claims it has more customers for its Virtual SAN (VSAN) hyper-converged software.
HPE sells hyper-converged appliances based on its aging StoreVirtual technology acquired from LeftHand Systems. HP briefly signed on as a VMware EVO: Rail partner, but quickly dropped out of that VSAN OEM program.
Whitman said all the technology for the new hyper-converged system is developed by HPE.
"We're quite excited about this," Whitman said. "The hyper-converged market is big. It's growing fast. It's also getting pretty crowded. You've seen a lot of announcements over the last couple of months, but we very much like this product from a side-by-side comparison and features and functionality to our competitors."
During the call, Whitman said the HPE "innovation engine is firing on all cylinders," with products coming in many enterprise areas including all-flash storage.
The earnings report was the first for HPE since the HP split, but the same old story for storage. Overall storage revenue fell three percent year over year, but 3PAR array revenue grew 21%. CFO Timothy Stonesifer said revenue from 3PAR all-flash systems more than doubled from a year ago. And despite the overall revenue decline, HPE executives claim they gained overall market share.
Whitman held up 3PAR's all-flash array as an example of the type of innovation she expects to see from the vendor going forward. Whitman said she favors home-grown products to acquisitions. She actually cited 3PAR as an example of both "internally homegrown" technology as well as a good acquisition.
"The benefit of doing organic innovation is you don't end up with a Frankenstein of architectures," she said. "The second choice would be acquisitions that look like 3PAR, 3Com and Aruba that have been very successful acquisitions for us. They are additional complementary technology."
March 3, 2016 6:50 PM

Profile: Carol Sliwa
Storage
Brocade, QLogic and Broadcom coordinated this week's shipments of the first switches and adapters to support Gen 6 Fibre Channel storage networking technology.
We caught up with Jack Rondoni, vice president of storage networking at Brocade, to talk about the latest generation of Fibre Channel (FC), which is designed to support 32 Gigabits per second (Gbps) and 128 Gbps. Rondoni also gave his take on the future of the specialized storage technology at a time when many experts predict the use of Ethernet-based networking will continue to grow for enterprise data storage. Interview excerpts follow.
I'm sure you've heard the death knell sounding for Fibre Channel. What might change that picture with the launch of Gen 6 Fibre Channel?
Jack Rondoni: I've been hearing that death knell since the year 2000 – which is kind of humorous since we're in 2016, and the technology is still advancing to the future. The biggest difference right now is, when Gen 5 launched, Brocade was on an island. We were the only one launching that technology in the market. Our competitors were publicly saying Fibre Channel is dead, and the adapter vendors were focusing on [Fibre Channel over Ethernet] FCoE technology – and frankly, so was Brocade. We were working on FCoE technology. But, the difference is we were doing that in parallel. It was not an either/or.
With Gen 6, the vast majority of the ecosystem is already there . . . Part of that is just the failure of FCoE in the market, but I also think it's clearly the realization that mission-critical applications still run on block storage today. They're the applications that run companies. It's not Facebook-class data. If you want to keep those applications running and keep your company running, Fibre Channel is the most proven, most resilient technology out there.
Why did everyone get on board for the Gen 6 launch?
Rondoni: The proliferation of flash-based storage. There's a clear benefit that solid-state storage gets with Fibre Channel. We see higher attach rates of Fibre Channel to SSD-based storage. And SSD-based storage carries a very good value proposition to the end user community – better performance, better storage capacity utilization. That dynamic in the storage array market was not there [when 16 Gbps Gen 5 FC launched]. It was just at its early stages.
How do you see the battle between the 25/50/100 Gigabit Ethernet shaping up against 32/64/128 Gbps Fibre Channel?
Rondoni: Certainly within the Fibre Channel community, there's aggressive work being done. Obviously Gen 6 includes 32 Gigabit. It also includes 128 Gig, [and] you can take multi 32 Gigs today and trunk 'em at 64 much like most of the early 50 Gig implementations will be.
Netting it out, Fibre Channel will always be faster than Ethernet, whether that's a comparison of 32 to 25, 128 Fibre to 100 Gig Ethernet. And if you look further into the future, the standards works that are being done at 64 Gig Fibre Channel serial technology and 256 Gig parallel, it's actually ahead of where 50 Gig serial and 200 Gig Ethernet is. From the standards on the Fibre Channel side, we expect 64 or 256 to be done in 2017, while on Ethernet, the 50 and 200 Gig timeframe is going to be probably 2018.
To me, it's really not about speed. Fibre Channel will always advance the roadmap to be a step ahead of Ethernet for those who care about it. But, the demand for resiliency, availability and deep instrumentation within the storage connectivity networks is actually going to be more important than the speeds because you're going to have many, many workflows in these environments.
What's in store for the short- and long-term future of Fibre Channel?
Rondoni: Fibre Channel will continue to advance to enable [enterprises] to use next-generation storage technologies such as high-performance SSDs and [non-volatile memory express] NVMe without ripping and replacing their entire Fibre Channel environment. We're ready for the future of any kind of new storage devices being thrown at us.
The second thing is that Fibre Channel will continue to advance on its core principles of the highest levels of resiliency, availability and performance, and we're going to keep the operational costs down as low as possible.
---
March 3, 2016 11:54 AM
Pure Storage
Pure Storage is looking at more competition and more opportunity than ever, and handling both well. The all-flash vendor bucked industry trends by growing revenue significantly last quarter despite new flash arrays flooding the market.
Pure Wednesday reported $150 million in revenue for last quarter, a 128% increase over last year and well above its own guidance. Its 2015 revenue of $440.3 million grew 152% over 2014. Pure claims it added more than 300 customers in the fourth quarter, bringing its total to more than 1,650.
Pure Storage is still losing money, but cut losses slightly last quarter due to the spike in sales along with a shift to commodity hardware that lowered costs for its M Series arrays.
Its loss of $44.3 million for the quarter compared to a loss of $47.6 million a year ago, although its loss for the year of $213.7 million actually grew from $183.2 million loss in 2015. Pure did have free cash flow of $32 million for the quarter compared to negative $45 million a year ago.
"We are making progress toward profitability," Pure Storage CEO Scott Dietzen said on the earnings conference call. "We've previously said that we expected to reach sustained positive cash flow by 2018, and today we are pleased to pull that date forward to the second half of 2017. The business also rounded the corner on operating losses, which peaked last year, but will be flat this year and then improve going forward."
Reaching profitability will require sustained revenue growth, too. Pure forecast revenue of between $135 million and $139 million for this quarter, compared to $74 million for the same quarter a year ago. The overall market for all-flash arrays is growing, but so is the amount of competition.
Flash is all over the storage news these days. EMC rolled out two new all-flash products this week and declared 2016 the year that all-flash arrays take over the primary storage word. SanDisk lined up partner IBM to sell its InfiniFlash system and Tegile Systems started shipping its IntelliFlash box based on SanDisk technology. Nimble Storage launched its first all-flash array last week after years of trying to convince people that hybrid was the way to go. NetApp also closed its acquisition of all-flash startup SolidFire last week, and earlier this year Hitachi Data Systems launched a new all-flash platform.
"That feels to us like a really strong endorsement of the founding thesis of the company," Dietzen said of all the flash activity.
Pure will also launch new flash products at its Accelerate user conference this month. Pure is well behind EMC's market-leader XtremIO in revenue from all-flash systems, but is close to or ahead of the other large storage vendors.
Dietzen attributes Pure's revenue growth to its ability to tap into cloud companies as well as take advantage of flash. He said Pure counts "cloud customers" such as LinkedIn, Intuit and Workday, as well as software-as-a-service and infrastructure-as-a-service providers as a rapidly growing part of its business.
He said Pure is "in a rapidly evolving market that is proving difficult for competitors ill-prepared for the all-flash and cloud disruptions … Our success is being driven by increased customer adoption of our uniquely flash and cloud-friendly storage platform."
That sets up an interesting battle between Pure and NetApp's SolidFire arrays that focus on cloud companies.
---
March 1, 2016 4:45 PM
flash storage
,
Mainframe storage
By hailing 2016 as the year of all-flash for primary storage, EMC set the expectation that hard disk drives will disappear soon from primary arrays. The mainframe is another story. That remains alive and well in the world that the VMAX occupies.
While launching its VMAX All Flash array Monday, EMC also said the SSD-only storage system would support mainframes. The vendor disclosed other VMAX mainframe enhancements, mainly dealing with data protection. Mainframe support has been one of the traditional uses for the VMAX enterprise array.
The enhancements included a new on-array automated snapshot protection tool for mainframes called zDP. EMC also added a global virtual library capability to its Disk Library for mainframe (DLm) backup product, allowing customers to share workloads across DLms for high availability. The EMC DLm uses either Data Domain or VNX storage hardware.
VMAX and VMAX All Flash for mainframe includes a new data protection feature called zDP, which can take snapshots every 10 minutes on the array to slash recovery point objective (RPO) times. Mainframe administrators can have 144 recovery points per day to restore from instead of dealing with potentially troubling business continuance volumes (BCVs) and gold copies.
Bill Leslie, VMAX product marketing manager, described zDP as EMC's TimeFinder VP Snap application with an automated scheduler on top of it.
"This takes snapshots that can be utilized as business continuance volumes," he said. "It enables much more granular data protection."
---
February 25, 2016 10:52 AM

Profile: Sonia Lelii
Cloud storage
Nearly one third of cloud service providers spend more than 10% of their revenue on storage while 46% of them spend five to 10 percent of their revenue on storage, according to a survey conducted by Tintri.
Twenty-three percent of the CSPs surveyed held their storage spending to less than five percent.
"Storage can make or break a CSP's business," according to the report. "It represents an area of significant investment, both money and time. The highly virtualized environments that CSPs operate depend on storage to serve as an enabler rather than a bottleneck."
Tintri, which sells storage systems for virtualized and cloud environments, surveyed 78 CSPs in December 2015. Forty percent of those participants were from companies with more than 1,000 employees and 38 percent were from organizations with less than 100 employees.
The CSPs identified performance as the top priority when evaluating storage. Eighty-six percent of the respondents considered it the most important criterion, while 69% sited reliability, availability and serviceability as the top considerations for storage. Fifty-eight percent said cost was the top factor while 41% stated manageability and 38% cited scalability.
"The fourth criterion, manageability, has a huge impact on performance and reliability that CSPs may underestimate," the report stated. "In an open-ended question, we asked respondents to describe their problems with existing storage."
The survey found that respondents frequently cited performance, scalability, management, monitoring, reporting and troubleshooting as problems.
"Which point to manageability as a pain-point sitting right below the surface of more obvious performance pains," according to the report.
The survey also found that smaller CSPs provide a more diverse set of services to customers generally because they are competing in a much more crowded market. Eighty four percent provide infrastructure as a service (IaaS), while 67% provide private cloud hosting and 48% provide traditional managed services.
"More granular data show that larger CSPs have a much stronger holding in managed services while smaller CSPs have marched into disaster recovery as a service (DRaaS)," according to the survey. "Larger CSPs likely went through a journey from VAR to MSP to CSP while smaller CSPs entered the cloud market offering newer, differentiated services."
Larger CSPs don't come close to matching Amazon's billions of dollars in annual revenue from its cloud business. The survey found that 21% of the respondents that are from companies with more than 1,000 employees have over $500 million in annual revenue.
"In contrast, 56 percent of respondents' companies have annual revenue under $50 million," the report stated. "This percentage is greater than the 38 percent of respondents coming from small companies that are fewer than 100 employees."
---
February 19, 2016 4:14 PM
Dell
,
EMC
Michael Dell and other Dell executives have told employees the $67 billion acquisition of EMC will go through despite reports that his group is having trouble securing financing for the deal.
Dell will incur approximately $57 billion in debt to complete the deal. Reports in the financial press last week said the deadline for securing the first $10 billion in financing had to be extended because of market conditions.
During a Field Readiness Seminar held Feb. 9 with Dell employees, Michael Dell called the reports "click-bait" from a dying media business.
"You may have read a story that questions if this deal is going to happen. If you have, you're wasting your time," Dell said to applause from employees, according to a transcript released by the company. "The media business is under a lot of stress and their business model is sort of cratering. And what they do to survive in those tough times is they create something called click bait. They create an inflammatory headline. So and so was impregnated by aliens, or whatever, click on here to read about this story, see some ads, try to get some money. So don't fall for that, OK?
"We're absolutely moving forward with the transaction under the original timeline, the original terms, at full steam ahead. And it's not contingent on the share price of EMC or VMware. It is subject to a shareholder vote and regulatory approvals. But, we expect to close in the same time frame that we announced before May to October."
Dell's comments were followed by a letter from the company's chief integration officer Rory Read to all employees a week later.
"I want to address some of the chatter over the past few weeks about possible financing headwinds with the transaction," Read wrote. "I can assure you any suggestions our debt financing is in jeopardy are off-target and do not reflect our financing terms and the progress of our financing to date. The debt financing is fully-committed and is being underwritten by many of the leading global banks. The process of syndicating and placing the debt for a transaction of this nature frequently encompasses a time period of several months from start to finish. That process currently is underway and remains on track, as planned. We anticipate closing the transaction sometime in the May – October timeframe, as originally communicated, subject to achieving customary closing conditions."
Compellent seems safe post-merger
Michael Dell's comments and Read's letters were disclosed in documents EMC filed with the SEC.
Michael Dell also addressed storage product overlap during the Field Readiness Seminar, and said the Compellent SC array platform will survive the merger. "We have a great vision for how the SC Series is a key part of the combined storage portfolio with EMC," he said, adding that Dell has five times as many customers and 10 times as many installed SC systems as Compellent did before Dell bought that company five years ago.
Dell and EMC received better news this week with reports that the European Union will give its antitrust approval for the merger next week.
Negotiation timeline revealed
EMC's SEC filings included a timeline of negotiations that led to the deal. The deal was straightforward for a $67 billion acquisition. There were no other serious negotiators after the first conversation between Dell and EMC CEO Joe Tucci, and the original offer was close to the final price.
It was widely reported at the time that Elliott Management investment group pushed EMC to divest pieces or sell itself soon after buying shares in the company in mid-2014. It is also well known that Hewlett-Packard, referred to in the filing as "Company X," talked to EMC about buying VMware or perhaps all of EMC in 2013 through 2014 but nothing came of those talks.
Michael Dell first contacted Tucci Sept. 24, 2014 about a "potential transaction" between the companies, according to the SEC filing. Representatives of Dell's holding company Denali and EMC continued from there. Dell and Tucci held several conversations by phone and face-to-face, including a meeting at the World Economic Forum in Davos, Switzerland in January 2015.
On July 15, 2015, Dell made its first offer, suggesting a price of $33.05 per share to EMC shareholders for all of EMC, including VMware. That offer consisted of $24.69 per share in cash and $8.36 per share in a non-voting tracking stock for VMware. That offer was slightly revised Sept. 1 to $24.92 in cash and $8.13 in tracking stock, which still came to a total of $33.05 per share.
The final offer of $33.15 – roughly $67 billion — came on Sept. 23, although EMC's share price had actually dropped since the previous offer. The sides continued to discuss issues such as allocation of per share total between cash and tracking stock until agreeing on the deal Oct. 11 for $24.05 per share in cash and $9.10 in tracking stock for $33.15 per share. The deal was formally announced the following day.
Go-shop period drew no shoppers
Dell gave EMC a 60-day window to shop itself to other potential buyers. EMC contacted 15 potential buyers but none made an offer. Those contacted included "Company Y" – identified as a "global provider of servers, storage and networking solutions" and most likely Cisco. "Company Y" declined to participate in discussions.
"Company X" – HP – was not contacted during the go-shop period "due to changes in [its] structure and business …" HP was completing its split onto two companies during that time.
---
February 18, 2016 3:58 PM
X-IO
X-IO Technologies today expanded its iglu blaze fx enterprise platform with an all-flash version that scales from 4.3 TB to 466 TB in an array.
X-IO launched the iglu platform in July 2015, building on its direct-attached ISE technology. The original blaze products were hybrid arrays.
The iglu 800 series uses all Toshiba enterprise MLC solid-state drives (SSDs) and includes X-IO software features such as a new stretched cluster technology with synchronous mirroring, snapshots, replication, and data-at-rest encryption.
The vendor claims the 800 can deliver 600,000 IOPS with 366 TB of flash capacity. The stretch clustering provides disaster recovery for data centers up to 100 kilometers (6.2 miles) apart. Stretch clustering can be used with any iglu storage system.
Customers can federate 32 pairs of iglu controllers.
For the all-flash version, X-IO upgraded iglu controllers with double the number of CPUs and cores and up to three times as much memory of its hybrid arrays. The 800 series includes Intel Xeon E5-2680 v3, 12 cores, and 64GB of memory.
The iglu 800 all-flash arrays start at around $120,000 for 28 TB of capacity.
One feature missing is data deduplication, which has become popular in all-flash arrays because it expands the amount of effective data that can be stored on a system and reduces price per GB. Ellen Rome, X-IO's vice president of marketing, said the vendor is concentrating on performance and dedupe can slow it down.
"We're positioning this for really high performance environments where they might not benefit from dedupe," Rome said. "We're running high performance databases, small block loads, things like that."
---
February 18, 2016 12:01 PM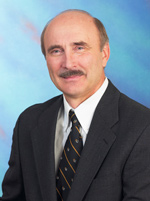 Profile: Randy Kerns
Object storage
The latest object storage systems are often misunderstood by potential buyers. This may be because these systems, capable of storing extremely large numbers of object and files, serve more than one type of environment. The messaging for one environment can leave an impression that the object storage system is not an applicable solution for another.
Based on Evaluator Group's work with clients, we have discovered several ways to apply object storage. It helps to understand that in a majority of IT environments, a parallel IT organization has evolved. So you have the traditional IT group tasked with continuing to run current operations – keeping the lights on, if you will.  Proficient in current operations, this group struggles with demands for more capacity and greater productivity. The second IT group in the parallel IT organization is the one charged with changing the delivery of services by creating and deploying a private or hybrid cloud.
Object storage can be used in both of these groups. For the traditional environment, object storage serves as a content repository to directly access information that may have been on primary or secondary systems before.
The system can meet the growing capacity demands by using replication and versioning, altering and simplifying the data protection model. This type of system adds value by also serving as a target for retained copies of backups and an online archive. The following diagram illustrates the traditional IT usage of object storage systems.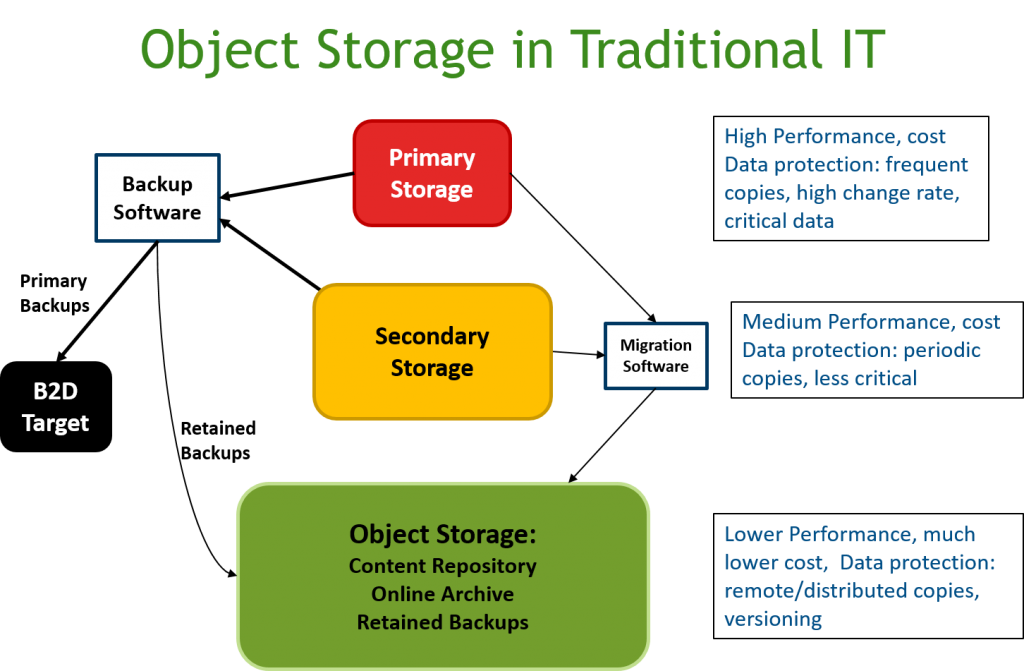 Use of object storage in private or hybrid clouds is understood but is somewhat hard to depict in a diagram.  In general, object storage in a private cloud is a separate system used for many of the same purposes as traditional IT but with different access methods. The major difference is that object storage in private/hybrid clouds is the target for newly written applications that often deal with mobile devices and distributed access.  A content repository is another major use case and many times is coupled with file sync and share software. As with traditional IT environments, object storage can serve as online archive and retained backup targets in the cloud. The following diagram shows use of object storage in private/hybrid clouds, representing it as a separate system (logically or physically) from the compute/storage node instances federated together for creating the cloud environment.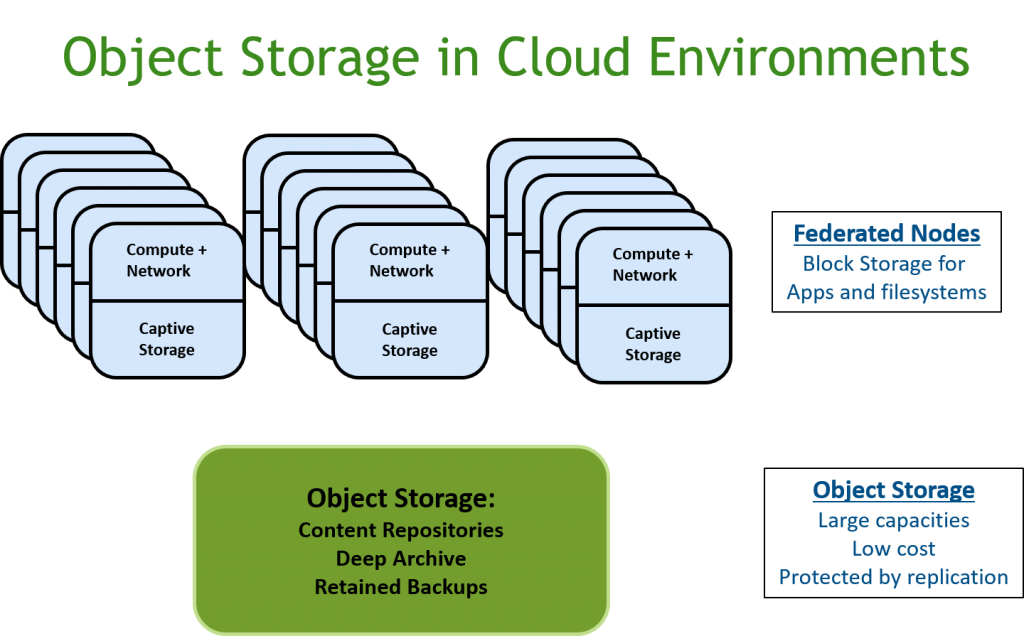 Object storage systems are really multi-dimensional with many uses in different environments.  In the parallel IT groups that have evolved in organizations, object storage systems can be applied as solutions for growing capacity demands and solving data protection issues from the growth.  As this dual applicability becomes better understood, expect more deployments.
(Randy Kerns is Senior Strategist at Evaluator Group, an IT analyst firm).
---
February 18, 2016 11:47 AM
NetApp
NetApp's latest earnings report shows the vendor is still in a hole with a lot of digging to do before it returns to revenue growth.
NetApp reported another quarter of declining revenue Wednesday and laid out plans to reduce its workforce by 12%. NetApp's overall revenue of $1.39 billion was down 11% from last year and four percent from the previous quarter. Its product revenue of $750 million was down 19% year-over-year and eight percent from the previous quarter. The vendor did turn a profit of $153 million, but that was down from $177 million a year ago. NetApp revenue was below its previous guidance of $1.4 billion to $1.5 billion. Its guidance of $1.35 billion to $1.5 billion for this quarter was also below expectation as financial analysts expected roughly $1.51 billion.
George Kurian, who took over as NetApp CEO in June 2015, said he has completed a formal review of the company and developed a turnaround strategy. The plan includes concentrating on growth areas of the market, cutting costs, and trying to build value in the company through share repurposes, dividends and long-term investments.
On the plus side, NetApp is making progress selling the clustered DataOntap (CDOT) operating software that requires customers to do a disruptive migration. It also reported a strong uptick in all-flash arrays, not including the SolidFire all-flash systems NetApp acquired for $870 million last December.
"NetApp does not need to completely reinvent itself …" Kurian said, adding the vendor is in a transformation that will require taking "significant steps to streamline the business and further advance our pivot to the growth areas of the market."
The growth segment of NetApp's products consists largely of CDOT, its all-flash arrays, E-Series performance arrays and OnCommand Insight management software. NetApp is phasing out its OEM business and the DataOnTap 7-Mode product being replaced by CDOT.
The plan is to return to growth by late 2017.
Kurian said NetApp is looking to reduce costs by $400 million annually, with half of that coming from cutting around 1,500 jobs. He said most of the layoffs will occur this quarter.
Kurian said CDOT is now running on 24% of NetApp's installed FAS arrays, including nearly 80% of FAS arrays bought last quarter. The number of customers who bought CDOT last quarter increased by about 60% over last year.
NetApp executives said their all-flash revenue increased about 60% last quarter from the previous quarter, to around $150 million.
The focus on growth areas at the same time as NetApp makes cuts might not leave much opportunity to jump into new technologies. For instance, NetApp apparently has no plans to come out with a hyper-converged system. Kurian said NetApp can solve customers' problems with its current products, such as SolidFire and its FlexPod reference architecture program with Cisco.
"We see what customers really want [from hyper-convergence] is essentially simplified provisioning and operational management, like our relatively simple pay-as-you-go building block architecture," Kurian said. "And you will see address those customer needs with both the SolidFire scale-out architecture, as well as exciting new innovations in the FlexPod lineup."
---
February 17, 2016 1:17 PM
With 2015 in the rear-view mirror, FalconStor CEO Gary Quinn says the storage software vendor has completed its transition phase and is ready to reverse its years-long streak of losing money.
"We believe that FalconStor has moved from its transition phase from when I first took over the company in July 2013, and we are now on a normal operating pattern in 2016 and beyond," Quinn said Tuesday during FalconStor's earnings call.
"Normal" for FalconStor means its FreeStor data protection and storage management software is fully in the market and subscriptions are coming in. It doesn't mean the vendor is flush in sales or money, though. For the final quarter of 2015, FalconStor reported revenue of $9.4 million, down from $11.8 million from the previous year. The vendor lost $1.3 million in the quarter compared to a loss of $2.1 million a year ago.
For the full year of 2015, FalconStor's $48.6 million in revenue was up from $46.3 million in 2014 and its loss of $1.3 million compared to a $6.1 million loss for 2014. FalconStor finished the year with $13.4 million in cash.
Quinn and CFO Lou Petrucelly said the company's goal is to at least break even for this year. FalconStor has suffered through years of losses and turmoil, including the 2011 suicide of founder ReiJane Huai in the wake of fraud charges.
FalconStor executives claim more than 170 customers are using FreeStor in production. Quinn said FalconStor has 0.1 percent of the software-defined storage market as defined by IDC. But he expects that to grow significantly and predictably as FalconStor moves from perpetual licensing to a subscription model. Because the subscription pricing is deferred revenue, the switch resulted in lower revenue over the last few quarters but Quinn said it will bring growth in the long run.
However, FalconStor is losing a steady revenue stream from an OEM deal with Hitachi Data Systems (HDS). HDS sales of FalconStor virtual tape library backup software regularly accounted for more than 10% of FalconStor revenue, and came to 34% in the fourth quarter of 2014. HDS is now selling its own disk backup product from its 2014 Sepaton acquisition, which will relegate FalconStor software to occasional deals through HDS.
"I would not view them as a contributor going forward," Quinn said of HDS. "It's really more opportunistic on a one-off deal here and there where our technology is better than Sepaton or we have existing installed base customers  who like our technology and are renewing it."
---