---
December 5, 2007 9:58 AM
 Three months after filing to become a public company, NAS vendor BlueArc has pushed back its scheduled IPO until 2008 according to industry sources.
Citing SEC regulations, BlueArc declined to comment on its IPO schedule. But several industry and financial analysts familiar with the company say its bankers have decided to hold off on going public. BlueArc filed to for its IPO Sept. 7, and it normally takes a company about three months to begin trading shares as a public company. But BlueArc has yet to set its expected share range or go on its roadshow that precedes an IPO. There is usually a gap of at least two weeks between the share range and IPO, which means BlueArc would run smack into the holiday season if it decided to become public by the end of 2007.
It's not clear why BlueArc decided to wait, but it's likely that the company and its bankers anticipate a lower price for shares than they originally expected if they go public now.
"I'm sure market conditions haven't helped," said a banker for a securities firm who is not involved with BlueArc's IPO.
A financial analyst who follows storage said investors "are doing more due diligences on IPOs now," and said it could hurt BlueArc that the stock prices of storage systems companies Isilon and Compellent have dropped drastically since their recent IPOs. The analyst said BlueArc might want to show another quarter of solid growth to help its case. There is also the possibility of an acquisition. IP SAN vendor EqualLogic had filed for an IPO before Dell scooped it up for $1.4 billion last month. Storage insiders agree that Hitachi Data Systems is the most likely suitor because it has an OEM deal to sell BlueArc NAS systems and an equity stake in the company.
Even without BlueArc, 2007 was an active year for storage IPOs. Pure storage companies Compellent, 3PAR and Data Domain all went public, along with EMC's partial spinoff of server virtualization company VMware and InfiniBand suppliers Mellanox and Voltaire.
November 30, 2007 12:12 PM
Just when I think that I have heard every reason for keeping data on tape, new arguments keep emerging. Now the latest is that tape is more energy efficient than disk.
My first real insight into this came a few weeks ago when I was speaking to Spectra Logic's director of technical marketing, Molly Rector, who had just returned to Denver after meetings with Spectra Logic channel partners, resellers and users in the New York and Boston area. The feedback that she received from her meetings was that some data centers in the Northeast were running low on power and no longer able to obtain new power. In these cases, the shortage of power was forcing their customers to choose tape because it was more energy efficient than disk even though they wanted to buy disk for their backup environment.
While it may be true that tape consumes less power than disk, it is disconcerting that some companies find themselves in this predicament of needing to choose tape over disk because of something as seemingly preventable as an inadequate supply of power.
Keeping data on tape costs businesses in ways that are sometimes hard to measure. Legal discoveries, the personnel needed to manage tape and moving and storing tapes offsite all add to the costs of tape management and also consume power in more subtle ways. To somehow conclude that the choice between disk and tape somehow needs to stop and start with a company's rate of energy consumption seems a bit archaic to me.
Tape may consume less power than disk, but that does not necessarily make tape a better choice. Disk and tape are both choices that companies need to have available to them and either one, if managed properly and looked at from a total cost of ownership, can save companies money and cut energy consumption in the process.
Companies in this situation are obviously looking at some hard choices in the near term as their choices are less about the choice between disk and tape but if it is time to change how and even where they manage their data. In the Northeast, it appears some companies have already waited too long to make a decision because when the number of outlets left in the wall dictates what storage media they need to buy, the only choices left are unpleasant ones.
---
November 30, 2007 12:11 PM
In doing some research recently on the problems associated with recovering data from old tapes, I found out that a similar set of problems exist when trying to recover data stored on old disks. This problem becomes especially pronounced if a company unplugs an old disk drive and puts it on the shelf or keeps it in production too long.
The problem that companies are more likely to encounter when storing a disk drive on the shelf is not necessarily data degradation on the disk drive platter but mechanical failures of the parts within the disk drive itself. Greg Schulz, the lead analyst with Minneapolis-based StorageIO, finds that the lubricants of the mechanical parts within the disk drive can settle. This can cause the disk drive to malfunction when the company attempts power it up again for the first time in a long time.
Jim Reinert, VP of disaster recovery for Kroll Ontrack, a worldwide provider of data recovery services, says that the largest problem Kroll encounters with trying to recover data from old disk drives is repairing and replacing defective mechanical parts inside the disk drive. Motors failing and electronic circuit boards going bad are just some of the components Kroll has had to repair before it can recover the data from the drive. This situation requires Kroll to find an exact match for the defective part, usually on the used market.
Of course, mechanical problems can also occur while the computer system is still in use. Reinert finds that some of the toughest data to recover is found on older, proprietary computer systems that are in use but break. Typically found in manufacturing and production environments, these are older computer systems that control a piece of equipment that everyone uses but no one manages. As a result, the data is not backed up nor does anyone know who created the application or how it runs.
So, what's the best way to protect data on old disk drives? The best and simplest way is to avoid keeping data on old disk drives and migrate data to newer disk drives. Kroll Ontrack classifies disk drives over five years in age as "old" since by this time disk drive warranties have usually expired and parts for the disk drive are out of production.
Schulz is a little less dogmatic about the five year cut-off. He finds that disk drives that are up to seven to eight years in age are probably OK depending on what condition in which they were stored or how they are used in production. He suggests spinning them up on a regular basis (once every 3 to 6 months), though he agrees that as disk drives age, administrators should migrate the data to newer drives.
If a disk drive has already failed or you come across one of indeterminate age or condition and you don't know what data is on it or its value to your business, your best bet is probably to send it to a data recovery specialist and keep your fingers crossed.
---
November 20, 2007 9:54 AM
As Dell proved when it decided to drop $1.4 billion on EqualLogic earlier this month, large storage acquisitions have not gone away just because startups have found a lucrative IPO path and EMC is taking an M&A breather to integrate its new toys.
Hewlett-Packard, a company a lot of people thought was getting ready to exit the storage business a few years back, is now the most likely to add to its storage portfolio through acquisition. Over the past few years HP has picked up AppIQ, OuterBay, PolyServe and Opsware, and more is expected.
There has been persistent talk about possible HP deals of varying sizes: small (email archiving startup Mimosa Systems), medium (IPO-eyeing iSCSI vendor LeftHand Networks) and blockbuster (struggling security-storage giant Symantec).  While some of these rumors have swirled for months and are growing stale, don't be surprised to see HP pull the trigger on at least one deal between now and its Dec. 11 Analyst Day. And storage is high on HP's list of priorities these days.
"Storage is a place that we have interest in growing our position," HP CEO Mark Hurd said during the company's Monday evening earnings conference call.
When asked specifically about storage acquisitions, Hurd refused to give details, "other than to say we continue to have a filter of something that makes strategic sense, it makes financial sense, and we can actually run and operate it."
Hurd went on to talk about the importance of data storage in today's corporate world, calling it a key attribute in the process of creating, moving, processing, visualizing, and printing content.
Hurd's comments came after HP reported positive signs of storage growth after several disappointing quarters. Most of that growth came in the midrange and low-end. HP's 7% increase in storage and 17% growth in its midrange EVA systems were on par with numbers recently reported by EMC and Network Appliance and well ahead of IBM's storage performance last quarter.  Hurd said he was also happy with the performance of  low-end MSA systems.
The biggest storage disappointment for HP was that tape revenue declined, as did the high-end storage systems business that HP sells through an OEM deal with Hitachi Data Systems.
"There is still much room for improvement," Hurd said of storage. "We still have a tape business that is not growing the way we would like and the high end is still behaving more like the mainframe market, as opposed to the mid-range market and the lower end of the storage market."
Now we'll see what HP does to, as Hurd put it, "grow its position."
---
November 15, 2007 10:25 AM
It was a treat for natives of the Boston area to go to the Museum of Science–most of us who hail from Massachusetts agreed the place is a staple of our childhoods. I haven't been there in about 15 years, but was both surprised and delighted to find that most of the main exhibit areas I saw haven't changed at all (leading one analyst to crack wise about EMC's selection of venue for an "Innovation" day).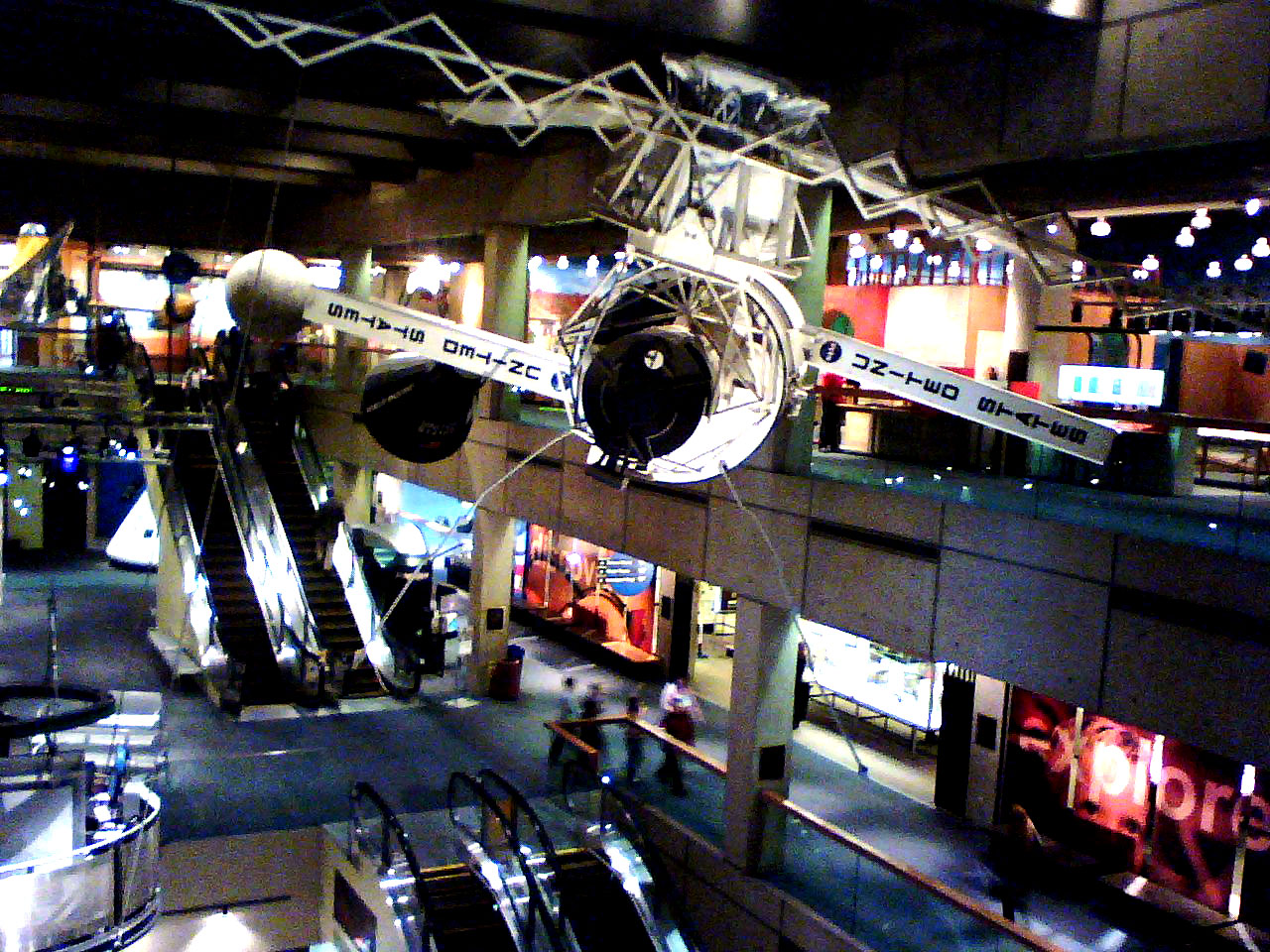 Here's a photo of some of the usual suspects attentively listening to Joe Tucci give his entire PR staff heart attacks by revealing the code names of four new products set to be announced next year. (Said Tucci of the meeting during which objections to the pre-announcement were registered: "I asked, who do I see about getting that policy changed? And the arguments ceased.")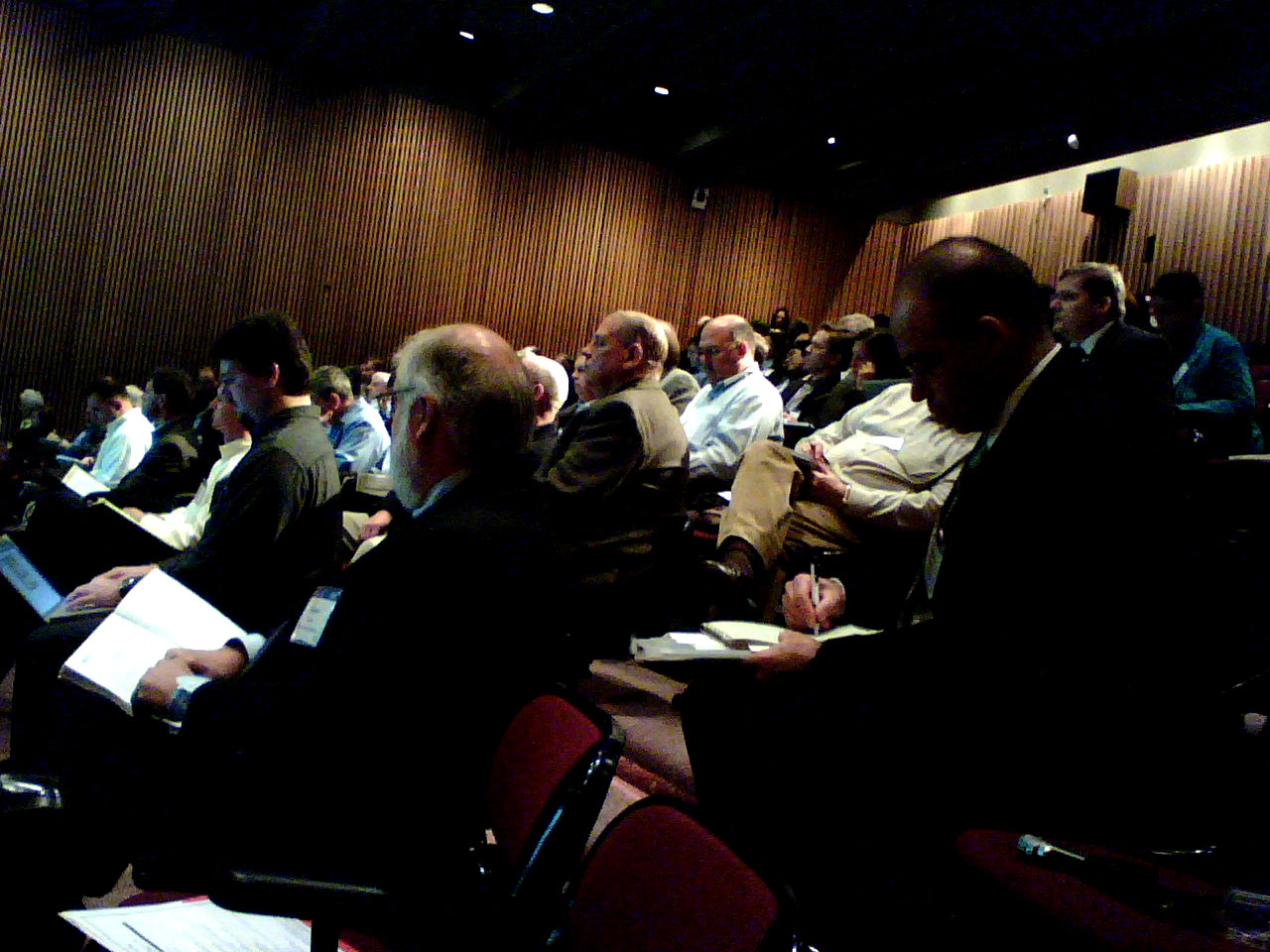 Last but not least, here's the newly appointed president of the compliance and archiving division at EMC (formerly chief development officer) Mark Lewis demonstrating a new Documentum interface called Media Space.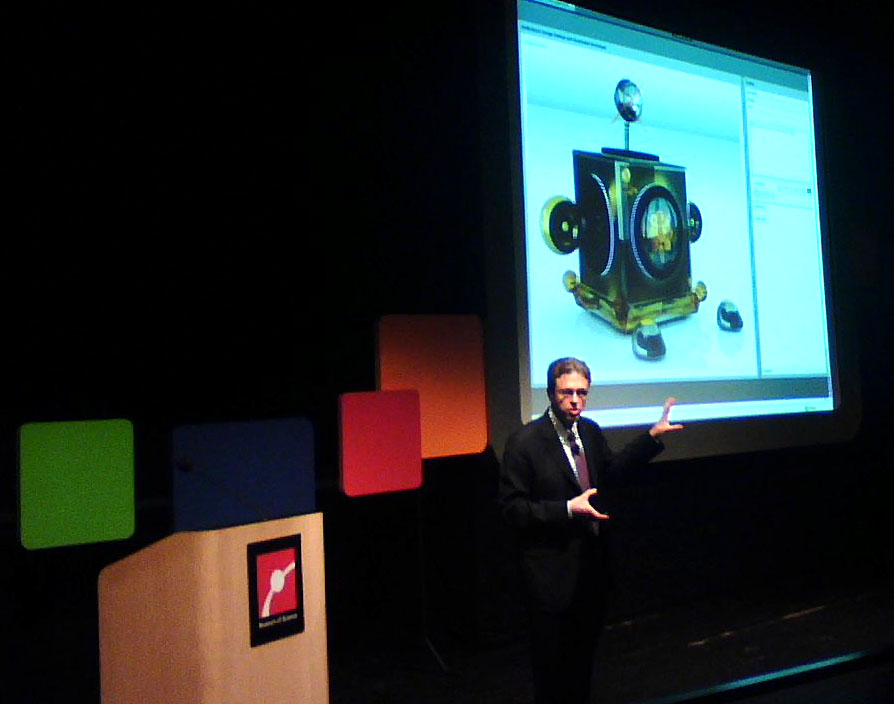 It's showing an computer-generated sketch of a hypothetical video game console to show how the program can be used to collaborate on images.
---
November 15, 2007 10:20 AM
Storage vendors look forward to the fourth quarter of every year because customers need to spend the rest of their annual budget, so they buy a lot of storage products. At this time of year you hear storage CEOs gleefully refer to "budget flush," and the fourth quarter is almost always their top revenue period.
But this year that flush you hear may be their business going down the toilet. There has been a trend of CEOs from large tech companies warning that large enterprises and particularly financial services firms are spending less, and this could spill over to the rest of the business world.
Cisco, Symantec and IBM expressed those sentiments during their earnings reports over the past month or so. But while those companies sell storage, it's not their main business. Storage is Network Appliance's sole business, however,  and CEO Dan Warmenhoven was no more optimistic during NetApp's conference call Wednesday night.
Although NetApp  had good results last quarter and gave a sunny forecast for this quarter, Warmenhoven pointed to a few ominous signs:  business in North America was slow, outside of federal  government. Revenues from NetApp's 22 largest customers fell 4% over the last year. And he is worried that the problems with U.S. financial services firms could spread to the U.K., and other U.S. industries.
"I don't see any pattern other than the financial services meltdown, and I would encourage all of you who are part of the financial services – especially broker-dealer organizations-to please keep that among yourself," he told financial analysts on the call. "Once you start exporting that set of problems to the rest of the economy, everybody is going to go in the tank."
Warmenhoven's take on the economy was gloomier than EMC's Joe Tucci's comments last month when he said sales to financial services were "all right" but "nothing to write home about."
But storage vendors' gloom can be good news for customers looking to buy. NetApp execs spoke of "selective pricing" and pricing bundles on their conference call. They refused to get specific when analysts tried to pin them down, but it sounds like this could be a good time for a discount.
---
November 14, 2007 10:06 AM
 Riverbed is going on the offensive in its patent lawsuit infringement battle against Quantum by filing its own claim against the backup vendor.
In response to Quantum's patent infringement suit filed five weeks ago, Riverbed this week filed a counter-claim in Federal District Court in San Francisco charging that Quantum's data deduplication products infringe a Riverbed patent. Quantum's original lawsuit accused Riverbed of infringing a Quantum patent in its wide area file services devices.
A Riverbed press release quotes general counsel Brett Nissenberg saying Riverbed carefully evaluated Quantum's DXi series of deduplication products after the original lawsuit, and found that Quantum infringed on Riverbed's patents.
Basically, Riverbed is saying "Not only didn't we infringe on your patent, but you infringed on ours." Now Riverbed is seeking what Nissenberg calls "substantial compensation" from Quantum, along with an injunction preventing it from using the technology.
If this all sounds familiar, it is. Substitute Quantum for Network Appliance, Riverbed for Sun and deduplication for ZFS and you have a similar situation going on with the storage system vendors. The difference here is, Riverbed and Quantum aren't exchanging verbal smacks via executive blogs.
Riverbed CEO Jerry Kennelly did address the issue during the company's earnings call last month, calling the lawsuit "meritless."
"We know our products," Kennelly said. "We have read their patents and we do not infringe their patents and we tried to tell them that for eight months."
Quantum had a similar response to Riverbed's legal action. "We believe that Riverbed's counter-claim is entirely without merit and will obviously defend ourselves vigorously," a Quantum spokesman said in an e-mail to SearchStorage.
---
November 13, 2007 9:47 AM
Disclaimer: I do not claim to be an expert in international politics.
That said, let me dive right in to that subject.
We know this much is true: China is a force in the world to be reckoned with, and that only becomes a trickier proposition with every passing day. Because while we enjoy their cheap labor and cost-effective manufacturing processes in this country, the behavior of the Communist regime in China is often, er, problematic for citizens of Western democracies.
We also know this much is true: inexorably, inevitably, tech companies are following the money straight to Beijing. Cisco announced it plans to invest $16 billion in China; EMC recently committed $1 billion through 2012. U.S. networking player 3Com was bought out in part by its Chinese partner, Huawei. And while there are clearly strategic reasons for these investments, companies doing business in China are also running up against the ethical conflicts mentioned above.
Perhaps "running up against" isn't the correct term. Perhaps "crashing up against" or "clashing with" would be more appropriate. It's a rare and fascinating thing to watch the worlds of morality and business intersect in this way.
Cisco is the prime example. Shareholders at its Nov. 15 meeting are expected to bring the China issue to the forefront of debate.
One proposal, from Boston Common Asset Management LLC , has been on Cisco's ballot before and attracted significant support at last year's meeting.

Boston Common is asking Cisco for a report on how it could reduce the chances of its equipment being used to repress privacy or freedom of expression. "What kinds of questions are they asking when they go into these markets? Are they even asking these questions?" says Dawn Wolfe, a Boston Common social research analyst.

Boston Common's proposals attracted support from 19 percent of voters at last year's meeting. "That's a tremendous amount for a human rights proposal," Wolfe says.
If it's not careful, Cisco might repeat the mistake of Yahoo, which has been taking no shortage of heat for its role in assisting the Chinese government in imprisoning two political "dissidents" 10 years each for running news stories without permission.
In fact, even if it is careful, Cisco's equipment could still be at the center of practices considered nefarious in the U.S. (and, well, in most places). Seagate's subsidiary Maxtor found this out the hard way recently when Chinese subcontractors inserted malware into Maxtor external hard drives bound for Taiwan, containing trojan horses which automatically upload saved information to Web sites in Beijing.
On top of the ethical issues there is also the matter of international espionage. It sounds like something out of a hyperdramatic James Bond scene, but North American technical trade secrets falling into Chinese hands has also been a very real fear expressed by some in the tech market after rumors surfaced earlier this year that Seagate was about to be acquired by a Chinese company.
And yet here we are between the proverbial rock and hard place. China's not going away. The Chinese economy isn't going away. But unfortunately neither are the political brambles snagging U.S. companies chasing Beijing's business. Some people argue that the advancements afforded by economic prosperity  could bring China closer to something resembling acceptable human rights in Western eyes. Others point out that's exactly the argument made by companies who continued to invest in apartheid South Africa.
I'm wondering why Cisco, EMC et al, can't invest just as heavily in some kind of social activist group, Human Rights Watch, maybe, or Amnesty International, to try to counterbalance the investments that might encourage China's human rights abuses. I guess they'd argue that's not their responsibility.
But it might be the right thing to do anyway.
---
November 13, 2007 9:43 AM
Imagine you're a down-on-her-luck new divorcee looking to get back on her feet. The year is 1999. You manage to find a job as an in-house masseusse at a little Silicon-Valley dotcom startup for $450 a week and stock options for a company nobody's really heard much about yet.
Eight years later, you retire a millionaire.
Sound far-fetched? It is, but it's exactly what's happened as a result of Google's rise to Internet dominance and accompanying $700+ share price over the last few weeks, according to a New York Times report.
Even more interesting–according to the Times:
Although no one keeps an official count of Google millionaires, it is estimated that 1,000 people each have more than $5 million worth of Google shares from stock grants and stock options.
I wonder if there are any Google millionaires reading this right now. If so, you're buying lunch.
---
November 8, 2007 3:40 PM
Some people will do anything to avoid data migration.
You can't inhabit the storage industry for longer than a week without becoming intimately acquainted with how painful data migration is. Whole product categories have sprung from this pain.
But…still…as an application and internet service provider, you might have hoped Massachusetts-based NaviSite would have had a more foresight than to consolidate data centers by packing servers onto trucks owned by a recently acquired company and shipping them up to Boston by truck. In the process, according to a Boston.com account of the chaos that ensued, the company "cut off Internet service to thousands of individuals and small businesses across the country for nearly a week."
One Boston blog made a frank assessment of the situation:
…instead of doing it the right way (buying new servers, getting them running in Andover, then using that wacky thing called the Internet to move all the data from Baltimore to Andover), they did it the majorly wrong way.
For most of our audience, there's at least one comforting lesson to be taken from this story: you could be having a pretty bad day, but at least you're not the guy who made that decision.
ETA: Speaking of roads and data. We have to take our storage humor where we can get it, so I also feel the need to share with you the line from an acquaintance of mine when he heard about Fujifilm's new GPS tape tracking unit: "I wonder what a tape falling off the back of a truck and bouncing down the road looks like on a GPS system."
---