---
December 22, 2008 1:08 PM
On the heels of the addition of a change management tool to Symantec's CommandCentral SRM software, NetApp last week released version 5.0 of SANScreen, the change management application it acquired by buying Onaro.
Among the updates, according to an email from Steve Cohen, Product Marketing Manager for SANscreen:
More Heterogeneous Support – HDS USP, and EMC CLARiiON (performance) and EMC Celerra (discovery). SANscreen was built to provide heterogeneous visibility and this concept remains core to our values
Data Warehouse and embedded business intelligence engine based on IBM's Cognos. This allows rollup of multiple SANscreen sites into a single Data Warehouse for global storage infrastructures, and offers a possible interface to SQL-accessible 3rd party apps including change management databases (CMDBs) for the overall data center. New custom reporting from data warehouse includes storage chargeback.
VMware vCenter Plug-in – SANscreen data is now available within vCenter, so server teams can use one tool to manage their environment.
iSCSI Support – Single console to monitor multi-protocol environments.
While reporting tools have been steadily adding features and are now available from major vendors, this category of products remains a tough sell, according to analysts. For more on that, see our coverage of Symantec's CommandCentral announcement.
December 19, 2008 4:40 PM
I have just spoken with backup guru Curtis Preston, who confirmed that GlassHouse let him go at 9:30 this morning.  He said there was talk of a drive toward profitability and cutting costs.
But I'm wondering if there's something else behind it. I'm amazed GlassHouse would let someone of Preston's stature go the week before Christmas, and — according to him — with no advanced notice.  When I posted the news on Twitter, his former GlassHouse colleague Stephen Foskett also seemed more than mildly surprised.
That said, I am sure Preston will land on his feet, and soon. His visibility in the industry is huge. One of my fellow TechTarget storage bloggers, Taylor Allis, formerly of Sun and now with Capstone Technology Solutions, immediately tweeted back to me saying Curtis should call him if he's looking. I'm sure that's only the beginning.
---
December 19, 2008 2:08 PM

Bill Moren, senior product manager, storage for Avid Technology Inc.,
with a whiteboard schematic of Unity ISIS 2.0.
I don't hear from Avid much, mainly because the vendor is mostly focused on video-editing software. So I took their invitation to tour their demo data center at their Tewksbury headquarters as yet another sign that storage has gone far more mainstream than it was when I first joined the industry.
That's a pattern I've been noticing a lot lately–storage has emerged at the center of everything, and become much more interdisciplinary. It's partly because people are starting to think more about the overall data center than its separate spheres, but also because the continued digitization of data and the enrichment of data formats, has naturally brought more attention to the problem of where we're going to put it.
Avid storage senior product manager Bill Moren agreed when I met with him yesterday. "It's not so much an accessory as it used to be," he said. "It's a big part of the end to end workflow that users are concerned about."
The video processing world in particular has been among the verticals that have seen data absolutely explode, thanks not only to new mechanisms for digital delivery but the advent of ever-bigger HD formats for film and video. Avid's networked storage system, Unity ISIS, was updated with the goal of addressing ballooning capacity Dec. 1 with support for a 10 GbE connection directly to the desktop workstation for faster access (previous versions supported 10 GbE to the switch), support for 1 TB drives which bring the total system capacity to 384 TB from 192 TB, improved internal bandwidth of 400 MBps per storage chassis (up from 250-300 MBps), and LDAP/ActiveDirectory integration.
The ISIS architecture consists of chassis called Storage Engines. Within each engine is a series of blades containing CPU, memory, and two disk drives. I'm sure you can see where this is going: the blades are parallelized, and divide up pieces of files among them according to software algorithms. Data is reassembled for playback using keys issued by a metadata server. Moren said the metadata server is usually a piece of white-box commodity hardware. Some in the industry argue that the metadata node can become a bottleneck. I asked Moren about that, and it kicked off a conversation about what Avid's trying to do vs. what the data center vendors I usually talk to are aiming for.
For people looking to work on realtime media files, Moren said, the amount of storage you can cram into one box is less important than it is for users running big shared repositories of files in the enterprise. What's more important isn't the burst-rate speed or peak performance of the box either, but rather the its ability to deliver data in an almost metered fashion so frames of video aren't dropped. Moren described the process of Avid's parallel file system feeding data from the parallelized blades through the metadata node to the client as being "like a metronome." It's the predictable steadiness, not the raw speed, that's most important, he said.
I found that interesting, especially because of all the storage vendors out there looking to capture the video content delivery market. Many of those vendors, however, reference customers in the 3D rendering space, or special effects houses for live-action films, which often work on single frames rather than live streams. This isn't a distinction I've considered before.
---
December 19, 2008 1:58 PM
NFS 4.1, which contains the specs for parallel NFS (pNFS), has officially been approved as a proposed standard, according to a blog post by NetApp senior technical director Michael Eisler today.
While products that incorporate the standard are still down the road, pNFS is expected to speed data transfer, eliminate bottlenecks and increase the scalability of clustered NAS products. Parallel NFS provides a specification for placing a metadata server outside the data path of servers attached to a multinode storage system. Storage nodes can be held together with another clustered file system, while pNFS exposes the block mapping of files and objects to the client. The client then receives those blocks through multiple parallel network channels and reassembles them for presentation to the user.
Some storage administrators said they hope VMware will offer a client for pNFS to help overcome storage I/O issues with the server virtualization software.  Eisler also blogged in August with some further clarifications regarding that idea.
---
December 19, 2008 11:54 AM
Brocade finally closed on its $2.6 billion acquisition of Foundry Networks today, and added more Ethernet expertise by hiring a new CTO and senior VP of products and offerings from outside Foundry.
Dave Stevens rejoins Brocade as CTO. He first came to Brocade in the Rhapsody Networks acquisition in 2003 along with current Brocade CEO Mike Klayko, but left the following year. Stevens also founded firewall vendor Palo Alto Networks and worked for networking vendors Atmosphere Networks, Bay Networks, Nortel, and SynOptics.
The new SVP is Marc Randall, former CEO of Force10 Networks and previous VP of engineering at Cisco.
One Ethernet networking vet who won't join Brocade is Foundry founder and CEO Bobby Johnson. Brocade made no mention of Johnson in either of its press releases today, but I had to ask. Brocade spokesman John Noh said most of Foundry's execs will join Brocade, but not the boss.
"[Johnson] now has the opportunity to pursue several charitable activities that he did not have the time to do while serving in his capacity of CEO," Noh wrote in an email. "We thank Bobby for building such a great company with a seasoned executive team, industry-leading products and technologies and a robust customer portfolio."
The acquistion was first revealed in July but didn't receive approval from Foundry shareholders until Wednesday, following a renegotation of price from $3 billion to $2.6 billion.
---
December 18, 2008 10:48 AM
Yesterday I met with Amy O'Connor, who has recently been named VP of services for Sun Microsystems. She told me about new product and services packages Sun would launch today. We also had an interesting discussion about the state of Sun and its services division.
The announcement made today was "Rapid Solutions"– bundles of hardware, software, "cookbooks" and services aimed at data center efficiency, Web infrastructure and high-performance computing. Each of those areas had one bundle introduced today.
Under data center efficiency, Sun rolled out a managed virtual desktop service, in which users deploy hardware and software on premise but the day to day management is run by Sun remotely. The user still has to host all the data, which can be a challenge when it comes to remote desktops where some kind of deduplication or single-instancing tools are required to cut down on redundant machine images.
For Web infrastructure, the first package rolled out for cloud service providers is a bundle of database and identity management tools, including MySQL, Sun Java Identity Management, and Open SSO (single sign-on), servers and storage systems. The storage in this case is Sun StorageTek 6000 disk arrays, but O'Connor said Open Storage packages may also be included down the road.
Finally, O'Connor admitted, the high performance computing market for Sun has weakened in the current economy, but for that vertical Sun is packaging up compute nodes and storage.
Notice storage is involved in every bundle. "We're also working on the scale of open storage systems–you'll see a lot more in this space," O'Connor said. "Sun got that storage religion–when they bought StoragTek I don't think they quite had it yet.
"Let's face it," she went on. "Five years ago, storage had its own acronyms and was a separate shop. If you weren't a storage person you didn't talk storage and data. Now everyone talks storage and data, rather than just threads and CPU. I would say at this point in time everything we do is about storage, and we wouldn't be in a position to compete there at all if it wasn't for StorageTek."
There has been a lot of speculation about the StorageTek business at Sun lately. Sun hasn't done much to enhance StorageTek's disk products, and a lot of people in the industry suspect Sun is looking to spin off the tape business to raise money.
But O'Connor says the StorageTek IP and personnel remain key pieces of Sun's business.
"The acquisition put thought leadership in our sales force in terms of integrating different product units," she said. "I've never believed in our roadmap more than I do today."
Hearing that kind of statement from a Sun executive brings back memories of the first STK Forum I ever attended, just after the acquisition by Sun in 2005. I remember a parade of executives trotted out on stage, almost all of them new to their roles, and many new to Sun while the ink was still fresh on the merger. The execs making statements exactly like O'Connor's included Mark Canepa and Brenda Zawatski, who are both long gone from Sun.
Since then there's been another series of execs in charge of storage divisions, including Nigel Dessau and David Yen, who also talked confidently and optimistically about Sun's latest new direction, only to wind up leaving the company as it heads in yet another new direction. O'Connor has been with Sun many years and her colleagues speak highly of her, but there's only so many times you can hear the same thing from the same company without any action to back it up before you begin to view such statements a bit more skeptically.
But not everybody is so skeptical of Sun. There are some who feel Open Storage may finally be a place Sun can settle for a while.
"Sun's had a major midlife crisis," was how Taneja Group analyst Jeff Boles put it. The company has emerged with the server-storage convergence/open source identity, which "seems like it's locked in and might be good for the new cloud computing paradigm."
---
December 18, 2008 10:24 AM
The spending slowdown most storage industry people are expecting to hit in 2009 has already begun, according to new research from TheInfoPro (TIP).
TIP interviewed 65 senior executives at large Fortune 1000 companies and government agencies, and found nearly one-third spent less on storage this year than they originally budgeted and 68% plan to spend less in 2009 than in 2008. A year ago, TIP's survey found 81% of enterprises expected to spend more this year than they did last year.
The fourth quarter is usually a big one for buying storage, as companies spend their remaining budget and often find pricing favorable as vendors want to finish the year strong. But that apparently isn't the case this year.
"We're seeing a lot less Q4 activity this year," TIP CEO Ken Male said. "We're not seeing a lot of budget flush right now. It's a very defensive procure right now."
According to TIP, only 21% of the execs interviewed expect to spend more than $10 million in 2009 – a 10% drop from last year. The averaged 2008 spend was $10.7 million and the average 2009 budget will decrease 14% over the amount spent this year.
Male says many enterprises will make use of storage they bough in recent years and early n 2008, before what he calls the "nuclear winter" hit the financial services in September.
The spending slowdown isn't limited to financial services. Breaking it down by industry, 75% of technology companies, 68% of financial services firms and 63% of manufacturers forecast significant declines in 2009 spending.
---
December 17, 2008 4:21 PM
Brocade cleared its final hurdle to its $2.6 billion acquisition of Ethernet networking firm Foundry Networks today when Foundry's shareholders approved the deal.
In Brocade's release announcing the approval, the Fibre Channel switch vendor said it expects to close the deal Thursday. Brocade also said it will probably not require more financing than the $1.1 billion loan it secured in October.
Brocade has been trying to wrap up the deal since July, when it revealed it would pay $3 billion for Foundry. With financing tough to come by with current economic conditions, the companies renegotiated the price downward Oct. 30. That prompted the Foundry shareholders to push back their approval vote.
Under final terms, Brocade will pay $16.50 in cash for each Foundry share. Foundry shares closed at $16.62 today, up from their opening price of $15.96.
---
December 16, 2008 3:30 PM

Who you gonna call when your computer's toast?
Originally uploaded on Flickr by alexmuse 
Guess which IT discipline the experts expect to be the most resilient in the face of the recession? You guessed it: good ol' backup. Perhaps the least glorified job in the data center, at times among the most poorly understood–and still chugging along, as the growth of corporate data waits for no man or stock market.
As we begin to look forward to time off for the holidays the New Year, then, what better perspective to take on the storage industry than a careful look at backup, the technical advances that have made it vastly more complicated (but potentially vastly more efficient as well), and the people who are making it work in different environments? This week we're running a feature piece by yours truly at our SearchDataBackup.com site that examines all of the above…and more.
Part I is up today, covering everybody's favorite topic: disk vs. tape. There's even a little NAS disk vs. VTL disk for those who like things a little spicier. Tomorrow will see Part 2, focused on software. Thursday's Part 3 will examine outsourcing and the cloud. Friday's finale will address the ways parts 1-3 still won't get on top of the data growth rate at big companies any time soon. Yay!
Hope everyone who made the venerable disk vs. tape debate so lively on this blog will tune in, and offer their own views.
---
December 15, 2008 2:23 PM
A while back I did a riveting post for this blog covering my collection of storage s.w.a.g. (stuff we all get) picked up in my travels through the storage industry. I thought I'd follow up with a notice about the latest showpiece in my collection: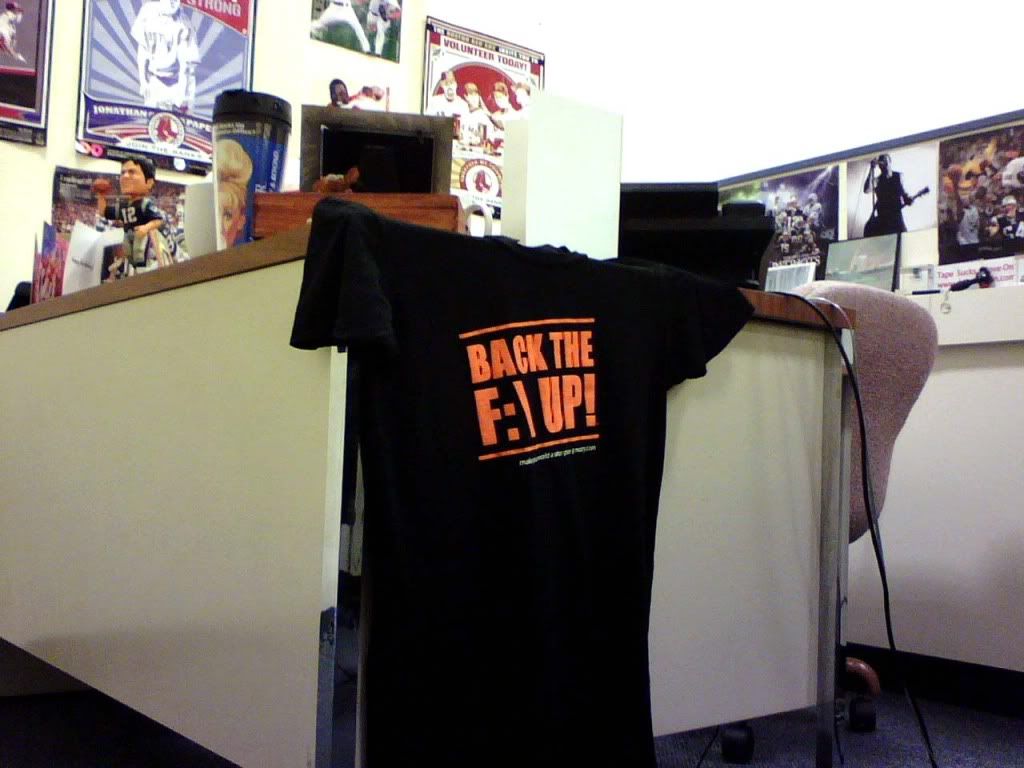 It's a T-shirt, from EMC/Mozy. Occupying a place of honor (and a place of not-fitting) in my work area at the office, it doubles as a conversation piece and warning to intruders.
---