---
January 15, 2009 11:57 AM
We're starting up a new weekly podcast, hosted by yours truly, to review the top stories of the last week you may have missed. Here's our first installment.
SearchStorage: 01-14-2009 Storage Headlines
Play Now
|
Play in Popup
|
Download
Stories referenced:
January 13, 2009 4:34 PM
Pillar Data Systems has published its first system test benchmarks for the Axiom 600 disk array via the Storage Performance Council (SPC). It tested a system with 42 total TB, including 10 TB used and mirrored to allocate a total of about 20 TB. The results were 64,992 total IOPS.
These numbers come in ahead of competitive systems from IBM, NetApp and EMC. The EMC CX 3-40 was tested last January by archrival NetApp, making its SPC benchmarks controversial, but as listed a 22 TB system with 8.5 TB used and mirrored produced 24,997 SPC-1 IOPS. A NetApp 3170 with 32 TB and 19.6 used and mirrored resulted in 60,515 June 10. A 37.5 TB IBM 5300 with 13.7 TB used and mirrored produced 58,158 SPC-1 IOPS Sept. 25.
I found it interesting that with one 2,000-IOPS deviation between the IBM 5300 and NetApp 3170, the systems generally performed better according to which had been most recently tested. Note also how much of an outlier EMC is, both in terms of capacity used and total capacity. It was also an outlier in its free space, with just under 1 TB unused. IBM and NetApp both left approximately 5 TB of free space in their configurations, and Pillar had 16 TB of free space.
I do have to wonder how much weight users give to these industry benchmarks when selecting a product.  NetApp's submitting EMC systems to SPC, a flap last summer over server virtualization benchmark testing, and  continued inconsistency among vendors as to who submits systems for benchmarking leaves a lot of potential reasons to take benchmarks with a grain of salt.
---
January 12, 2009 5:05 PM
A company called pureSilicon came out of stealth last week at CES with new solid state drives in 256 GB, 512 GB and 1 TB capacities. The drives, expected to ship this summer, also include a proprietary 32-channel controller architecture that company founder and president Jason Breakstone said has been clocked at 50,000 random read IOPS.
By comparison, the drives EMC Corp. ships today from STEC are 73 GB and 146 GB. Intel's X-25 E SSDs have 10-channel controllers and are offered in 32 GB and 64 GB capacities, and recently announced enterprise SSDs from Samsung have 8-channel controllers and are offered at 100 GB capacity. This is an already crowded market, but if pureSilicon can do what it says it's going to do, it's found some differentiators already.
A 1 TB SSDs might grab enterprise customers' attention, but the drive is manufactured using multi-level cell (MLC) technology. The 256 GB and 512 GB sizes are single-level cell (SLC) drives, which generally have a longer lifecycle, and are viewed as more reliable than MLC drives because only one layer of data is stored in each Flash cell at a time. For now,  pureSilicon offers the 1 TB MLC drives for enterprise applications with a three-year warranty. Breakstone maintains the the bigger the SSD, the more compelling its value proposition for consolidating large numbers of short-stroked hard drives.
On the other side, however, is the expense of SSDs, despite the fact that Flash pricing has declined over the last year. This is part of the reason for smaller capacities for SSDs so far. Breakstone said pricing won't be set for the new 1 TB behemoth until closer to its release date, but with high capacity and high I/O, "our product can perform at the level of a larger array. If you can achieve the same results using a factor of 10 or 100 fewer drives, it's a win-win."
---
January 12, 2009 11:29 AM
IBM officials confirmed rumblings from last week that IBM veteran Curtis Tearte has replaced Andy Monshaw as its storage boss.
Tearte takes over as GM of the Storage Systems and Technology Group, after previously heading IBM's Industry Growth Initiatives, Infrastructure Solutions, Innovation Solutions, and the Industry Systems Division organizations.
The IBM spokesperson who confirmed the move said the change was "part of IBM's normal job rotation among its senior executives." Monshaw, who became storage GM in January of 2005, becomes  general manager of sales and operations for IBM Japan.
Tearte takes over a storage division that added several pieces last year when it acquired systems startup XIV, VTL vendor Diligent Technologies, and continuous data protection (CDP) software maker FilesX. But Big Blue's storage strategy hasn't always been well defined since the acquisitions. 
---
January 12, 2009 10:26 AM
Seagate sent its top two executives packing this morning, and they'll be followed by 10% of the U.S. staff by the end of the month.
The surprising moves are the latest sign that all is not well with the disk drive maker, which already cut its revenue forecast for last quarter from $3.05 billion to $2.85 billion.
Former CEO and current chairman Stephen Luczo is replacing CEO Bill Watkins, who will stay on as an adviser to Luczo according to Seagate's news release. What Seagate didn't put in its release – but added in its SEC filing – is that president Dave Wickersham resigned and will be replaced by current CTO Bob Whitmore.
The SEC filing also confirmed the layoff of 10% of the U.S. workforce, saying the cuts will "impact a broad range of departments, including research and development" and are the results of the troubled economy. Seagate will probably give more details of the executive changes and layoffs when it reports earnings Jan. 21.
Financial analyst Aaron Rakers of Stifel Financial Corp. says the changes show that things might be even worse than anybody thought at Seagate. He says while it's a good sign that Seagate is making the tough decisions to realign the company after recent struggles, the shakeup could be "a signal that more meaningful negatives are going on within the company."
Luczo was an investment banker for Bear, Stearns & Co., before becoming Seagate's CEO from 1998-2004. During that period, Seagate went private in 2000 before re-emerging as a public company in 2002. He is also on the board of storage system vendor Xiotech, which Seagate spun out during Luczo's term as CEO.
---
January 8, 2009 10:50 AM
Sun's Chief Identity Strategist Sachin Nayyar and I had an interesting discussion today about Sun's plans to bring together role-based access management with storage provisioning this year.
Nayyar, who was CEO of identity management software maker Vaau when Sun acquired it in late 2007, said that Sun is now looking to integrate role-based identity management software with storage provisioning. So, for example, when a new employee joins a company, provisioning of storage on a shared device could be triggered by a call from the software registering that employee's identity on the network. When that employee leaves the company, the identity management software could also remove the employee's data from production storage, migrating it to archival storage or making it a part of the employee's supervisor's storage capacity.
Nayyar said the identity management software has some data migration capabilities, so that it could handle that process, or it could integrate with other elements in the environment. Policies could also be set to migrate an employee's data to archival storage when a project they're involved with finishes, or a department they're in is restructured.  
"It's something we already do today with Outlook," Nayyar said. "We're not sure on the details with the open storage software, if it would provide some of the migration capability, but our identity software has the ability to move content." 
There are always political ramifications within a data center's staff when one piece of software from a certain discipline ( identity management is generally part of the security infrastructure) looks to control a task or device in another (in this case, provisioning storage). However, Nayyar pointed out users across data centers are already integrating with access management software such as Microsoft's Active Directory. "Every provisioning process has set of approvals and the storage admin has to sign off before anything is triggered," he said. "It's similar to what's done today when an account is created with Active Directory–the administrator has to approve it. It's not a big jump in the identity space."
Given the challenges that are facing Sun of late and the fact that the idea is still in the "discussion phase" within Sun, as Nayyar put it, it's probably best to take it with a grain of salt, but as a concept I found it interesting. I wouldn't be surprised to see similar offerings emerge from other companies with storage and security IP, like EMC and IBM. During a conversation I had with EMC CTO Jeff Nick last month, he emphasized the importance of linking data across repositories to individual users.
I can also see this potentially playing a role in multi-tenant cloud environments, particularly in the consumer and SOHO space, where storage needs to be organized according to an individual client's identity. The automated process that would be involved is also supposed to generally appeal in sprawling cloud data centers. Meanwhile, Sun yesterday purchased a Belgian company called Q-Layer, whose software automates the deployment and management of public and private clouds.
---
January 8, 2009 9:17 AM
Going against the grain of tech companies, EMC says it met its revenue forecasts last quarter. Still, EMC is joining the legions of corporations who are laying off workers.
EMC made both revelations in a release Wednesday after the market closed. Despite its sunny results, it added to the unemployment gloom by saying it would cut around 2,400 jobs – 7 % of its headcount – by October. The layoffs are part of a restructuring that EMC hopes will save it $350 million this year and $500 million next year. According to the release, the restructuring will "consolidate back office functions, field and campus offices; rebalance investments towards higher-growth products and markets; reduce management layers; and further reduce indirect spend on contractors, third-party services and travel."
It will be interesting to see what impact this will have on EMC products that don't fall into that higher-growth category.
As for the fourth quarter, EMC said it expects to report revenues of around $4 billion, which would be around an 4% increase from last year and a bit higher than financial analysts expected. It gave no details on what products performed well, but the release comes at a time when storage and overall IT sales forecasts look dim and follows announcements from LSI and Emulex that they failed to meet expectations last quarter. EMC will give more details when it officially reports its earnings Jan. 27.
In a note to clients today, financial analyst Kaushik Roy of Pacific Growth Equities wrote that he believes storage vendors Brocade and QLogic also lived up to expectations last quarter, but "we are cautious about NetApp." Roy also wrote that EMC's results show "that the end-demand for storage remains relatively healthy. … The storage market appears to be holding up better than other sectors of IT. Compliance and disaster recovery/business continuity remains a big driver for storage spending."
---
January 6, 2009 4:10 PM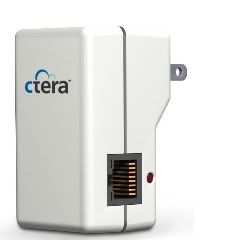 Like clouds themselves, cloud storage is available in many shapes and sizes. The latest shape is the size of an AC power adapter that networks PCs to online storage.
CTERA came out of stealth today by unveiling its CloudPlug device that connects to an Ethernet router and USB device to provide backup and file sharing for small offices.
CloudPlug sends data online, and backed up data appears as shared drives on local PCs. While the first version is for the prosumer market or offices up to five people, CTERA CEO Liran Eshel says larger devices will eventually be available that are better suited for businesses.
Eshel calls CTERA's platform Cloud Attached Storage, and he plans to sell it through service providers. The providers will add their own cloud storage or use third-party services such as Amazon Web Services.
"To use online services you need an application," Eshel said. "But we put sharing and backup in one device. If you share on a local network, you don't want to go back and forth with Amazon, it's very slow. We do the sharing locally, and use Amazon for backup."
CTERA also offers a management portal for service providers. But these are still early days for Cloud Attached Storage. CTERA has no service providers lined up yet. Eshel isn't giving pricing details yet and all he'll say about availability is he expects it sometime this year.
---
January 5, 2009 5:44 PM
Iron Mountain's Connected PC backup product will be available for Mac users starting in March, according to a press release the company issued today at Macworld 2009. As with the PC version, Connected for Mac offers automated backup and centralized management of desktops and laptops both inside and outside the corporate firewall, and users can restore their own files directly without helpdesk intervention.
The offering follows EMC Corp.'s Mozy (now part of new EMC subsidiary Decho Corp.) into the market; the online backup service provider launched consumer and Pro versions of its Mac backup over the last year.
Another differentiator for MozyPro in the prosumer / SOHO market has been the ability to centrally manage storage for multiple workstations. Now, another company, Rebit, will also offer PC-based shared backup to an external hard drives for up to six clients. And so the consumer / prosumer storage space continues to move along at warp speed compared with the enterprise.
In other Mac storage news, ATTO Inc. announced that its iSCSI software initiator for Mac OS X servers, Xtend SAN, has new features, including HeaderDigest and DataDigest with error level 1 processing, used to guarantee the integrity of iSCSI header data.  The software already supports features such as Challenge-Handshake Authentication (CHAP), Internet Storage Name Service (iSNS), Login Redirect and iSCSI error handling and recovery.
At the rate we're seeing vendors burrow into the prosumer and / or Mac markets, I'm expecting to see somebody start offering all of the above, plus new features, by Friday.
---
January 5, 2009 1:43 PM
Europe-based engineering conglomerate Siemens AG lost a patent-infringement claim against Seagate in US District Court in California a little over a week ago, Bloomberg reported. According to court documents, the judge in the case, James V. Selna, determined prior to the jury trial that Seagate had in fact infringed the patent, No. 5,686,838. According to the Bloomberg report, the patent covers "a key component in a sensor-layer system that measures contacts on hard-disk drives." The court documents refer to it only as a "type of sensor."
Selna said that while he had ruled that patent infringement had taken place, he had made no ruling as to whether the patent was "valid, or whether it is enforceable, or whether any infringement by Seagate was willful, or what damages, if any, Siemens is entitled to."
The jury found that the patent was not enforceable due to prior art by IBM, with which Seagate has a licensing agreement in place. Siemens had sought damages of $160 million, which were not granted.
The last two years have seen plenty of patent litigation among storage companies, including a battle between Sun Microsystems and NetApp Inc. that is still ongoing. However, other patent lawsuits that have made a splash in the storage industry, such as Quantum's suit against Riverbed, have been settled out of court or otherwise fizzled like this one. In the Sun case, at least one of the patents cited by NetApp in suing Sun has been taken off the table by the U.S. Patent and Trademark Office due to similar enforcement issues. So far the lawsuits are looking like key talking points for those who argue the patent system in general badly needs reform.
---