---
March 10, 2008 7:55 PM

My fellow children of the 80's will remember an anti-smoking PSA by C3PO and R2D2 from back in the day that ends with plaintive line from C3PO, "R2? Do you really think I don't have a heart?"
That image jumped to mind when I heard about NetApp's rebranding efforts, which include a new advertising campaign with a disembodied human heart as the central image.
In addition to the heart imagery, NetApp has been a little like C3PO in other ways. According to its VP of corporate marketing Elisa Steele, the company decided to change its branding, name and image to try and break out of its "technical company" mold, which at this stage of its growth is holding it back from wider adoption. The company means to maintain its technical culture, but otherwise seems to want to become more than, well, an android.
March 6, 2008 12:31 PM
I'm not sure how we get all mired in TLA's but this FRCP is going to be a PITA (pain in the you-know-where), because it's a four-letter acronym!
I've been fielding quite a few requests for legal holds recently, and I've been tracking the storage used by legal holds on our SAN and tape library. Out of curiosity, I started doing research on the average length of a trial, then tabulating the cost of storing the data requested on WORM for that time.
Guess what I've found?Some trials last a loooooooong time, and the costs are not insignificant. Now I see why Beth has been ringing the alarm about FRCP.
My company has been very lucky — we have a great risk and legal team as well as solid policy.  But people will still sue if you have a business address. The incidental cost of keeping someone's mailbox around for five years or so while they litigate (then appeal when they lose) is high, but can a company afford not to do so? What happens when you can't produce an email to back up your side of a dispute? Worse still, what if the other side accuses you of damaging their case by not providing them with the emails they've requested?
There's a "Safe Harbor" clause in the FRCP that absolves companies of responsibility if the company has — and strictly follows — a deletion and retention policy. This protects the company from falling afoul of the regulation, but does my act (as an end user) of deleting an email fall under the "Safe Harbor" clause?
Let me put on my lawyer hat. Okay, it's on. I've seen some precedent that leads me to believe that simply having and following a policy is not enough. Say that, as a network administrator, I have a policy that strictly prohibits viewing pornography on a company network. I can communicate the policy, but if I don't have measures in place to actively block pornography or follow up complaints about it, I may leave myself open to suit. Some of you may be thinking, "Why would you have a rule that you can't look at pornography and not have a content filter in place?" My point exactly: Why have a deletion and retention policy, and allow people to do their own deleting and retaining?
This is going to get very esoteric and confusing (as many of our laws are), but what I took away from this article was this: If you allow me to do something, you may be implicitly approving of the behavior. Not to mention that while the employee viewing the pornography is breaking the rules and doesn't have a case against me, what about the person walking by their terminal who sees it against their will?
So as it relates to e-discovery, if you allow me to delete my own emails, are you implicitly approving of me disobeying retention and deletion policy?
I started thinking about this a little deeper (which almost always spells trouble) and technically, it seems like I would have to have CDP in place and store every email entering and leaving every mailbox forever to be really covered against every contingency. Suppose I'm an end-user, and I delete an incriminating email, but then sue and claim I need the email to prove my case, and that you should have that email available. . .BUT my mailbox wasn't backed up before I deleted the message. Are you, the respondent, still in hot water?
Implications abound here. Will SMBs that fall under some form of regulation — SOX, HIPAA, etc. — have to store every email forever? I'd love some readers to weigh in on this. Have any of you out there fought this battle with management? Do you know of any vendors that have products that address this particular issue?
I'm curious as to how deep this particular rabbit hole goes and how many folks have been forced to follow it to its logical end. Is there a crazy playing card there yelling "Off with their heads!!"?
---
March 6, 2008 10:32 AM
It doesn't necessarily have anything to do with storage, but I got a chuckle out of this story from Reuters UK today about a lawsuit filed against IBM:
A small Japanese bank has slapped International Business Machines Corp with a $107 million lawsuit, saying the technology giant failed to properly deliver on a computer deal.
Suruga Bank, based in Shizuoka Prefecture west of Tokyo, hired IBM in 2004 to help overhaul its computer system, but later baulked [sic] at the proposed changes.

"We are suing because we decided it would be difficult to implement the system they suggested," a spokesman for the bank said.
Kind of a dangerous precedent for storage vendors if this suit is successful, don't you think?
---
March 5, 2008 3:47 PM
Two storage-related announcements came out of CeBIT this week that have turned a few heads.
The first is the FlashBack Adapter from thumb-drive king SanDisk. The device fits into the ExpressCard slot of a user's PC, and automatically and continuously backs up and encrypts data onto a flash memory card. This way, to quote SanDisk, when "you're at a conference and someone spills coffee on your laptop PC, shorting out the system and cutting you off from your presentation and notes. Or your computer slips out of your hands and crashes to the floor," you can extract the memory card from the smoking wreckage, find another PC and be on your way.
The second announcement comes from a UK company called Retrodata, which is reportedly getting ready to release a do-it-yourself drive recovery system. The beast, which has yet to be photographed, reportedly weighs 75 kg (165 lbs.) and will be priced at around $7000. But for all you Austin Powers fans out there, it does come equipped with…"lasers".

According to techchee, a blog dedicated to high-tech products:
The device uses laser-guided positioning to help it accurately extract platters from any 3.5 inch hard drive with minimal user intervention. What's unusual element is that such devices normally require highly skilled operators, whereas the System P. EX can be used by a relative novice at a data recovery company.
Maybe if Retrodata plays its cards right, it'll get an order for…one million dollars.

---
March 4, 2008 3:40 PM
Brocade today said it intends to buy private professional services firm Strategic Business Systems, Inc. (SBS) today, a reflection of how services have become a big piece of large storage implementations.
According to Rob Buergisser, Brocade's director of operations for service, support and solutions, about 80 percent of the type of services that SBS provides are similar to those Brocade already offers, such as storage assessment, disaster recovery and data migration. But it's the other 20 percent that were key to the deal: SBS's data center virtualization and network design and optimization.
These services are crucial if Brocade is to become more than a Fibre Channel fabric vendor and provide all the pieces required for its vision of the next-generation data center.
Data center virtualization got hot with the rise of VMware in recent years. As Buergisser says, "Backup and recovery is a high growth area for Brocade, and server virtualization fits into that. When you virtualize servers, that changes a lot of things in the data center."
But the IP networking services SBS brings could be the most important part of the acquisition. Brocade needs Ethernet expertise if it is to compete with Cisco when converged networks take over the data center. It also needs Ethernet technology. I expect Brocade's next big acquisition to be an Ethernet switching vendor (perhaps Woven Systems or Force 10 Networks) to fill in the gap in its next-gen data center architecture. For now, it will pump up Ethernet services with SBS. "They bring a lot of IP stuff," Buergisser said, and IP stuff is something Cisco has plenty of and Brocade needs.
---
February 28, 2008 12:40 PM
At a media event for BlueArc in Boston yesterday, I spoke to Tom Burns, director of post-production infrastructure for Technicolor, about an interesting project going on with movie studios and storage.
It's called the Digital Cinema Initiative, a joint venture of Disney, Fox, Paramount, Sony Pictures Entertainment, Universal and Warner Bros. Studios aiming to convert movie theaters from film projection to digital movie delivery on FireWire hard drives. Eventually, Burns told me, the studios want to move from delivering movies to theaters in heavy, expensive film prints to sending them on hard drives so they could be played through license keys.
If you think you've got problems with analog tape in the IT world, consider the plight of the movie projectionist, who must splice together film prints and align them just so on a massive platter more than a yard in diameter. Splice it wrong, and part of the movie will be upside down and backwards, and the whole thing will need to be unspooled from the platter and re-spliced. Film also often spontaneously unspools itself from the platter if not fed through the projector at the right speed. I worked at a movie theater in college and have seen this tangled, panicked phenomenon in action. It's sometimes called a "brain wrap" for the looping patterns the loose film makes on the platter/floor, and it's not pretty.
A move to digital delivery would make it easier for theaters to transfer movies between screens, as they frequently do to move older releases to smaller theaters to make room on bigger screens for the latest premieres. It could also potentially eliminate another custom of the film-projection world that's costly in terms of time for the cinema: the tech screening. It's usually done the night before a movie opens to make sure everything's in proper working order. But this new technology has a downside for theater employees, who are often asked to be the audience for tech screenings to point out any flaws in the film. With those tech sceenings gone, theater employees would lose their free sneak previews.
Speaking of sneak previews, BlueArc execs gave customers, partners and the media a look at the 2008 overall strategy for the company, which still plans on going public. The SEC-imposed quiet period on BlueArc led to some humor in the form of a revenue-growth slide with no numbers on it. CEO Mike Gustafson gamely posed for a photo in front of it for me: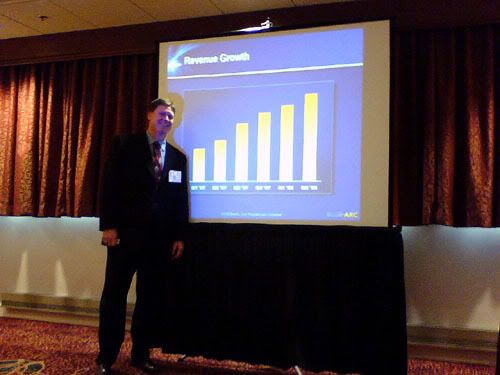 ---
February 27, 2008 9:07 AM
The Mozy online backup service has gotten considerably more expensive since EMC acquired it from Berkley Data Systems.
After buying Berkeley Data Systems for $76 million last October, EMC placed Mozy into its EMC Fortress group of services, expanded the product line to include an enterprise version and split its MozyPro for small businesses into two levels: desktop and server. But new customers must pay a heavy premium for their server backups.
In an email to customers, EMC said its MozyPro desktop service retain its price of $3.95 per license and 50 cents per GB while MozyPro server costs $6.95 per license and $1.75  per GB per month. That means a one-server license with 10 GB of storage that would cost $8.95 under the old model will be $24.95 under the new model. A 20-server license with 500 GB goes from $329 to $1,014.
Before EMC acquired Mozy, MozyPro included server backup in its single tier. It added features such as support for Microsoft Windows server OS, and VSS writer backup and restore to Exchange, SYSVOL and Active Directory to its server tier, but customers will pay a stiff price.
MozyPro customer Jason Powell, IT director at Granger (Indiana) Community Church, wrote about the price increase on his blog, concluding: "An approx (sic) quadrupling in price seems ridiculous to me, but what do I know?"
Roy Sanford, vice president of EMC Fortress, defended the price increase by saying it affects only one Mozy service and EMC is grandfathering the price for licenses purchased before March 1. "There's nothing surreptitious going on here," Sanford said in a statement emailed to SearchStorage.com. "We're not trying to institute enterprise pricing across the board. The price changes that were announced to customers affects only one out of five Mozy offers and certainly can't be misconstrued as a price change across the board."
EMC also offers a Mozy Enterprise service that was not available from Berkeley Data Systems. The Enterprise service costs $5.25 per month per desktop or laptop plus 70 cents per GB, and $9.25 per Windows Server plus $2.35 per GB protected per month.
Ridiculous pricing or not, Powell is considering an upgrade to Enterprise edition because it lets customers seed a 2 TB USB drive from EMC for their first backup instead of uploading data online.
"Guess I'll be making some calls to Mozy this week and see what makes the most sense for GCC," he wrote on his blog.
He may be getting calls from Mozy competitors. Online backup vendor Intronis Technologies already launched a Mozy Migration Plan to induce customers to switch. Intronis says it will charge no license fees for Mozy customers who switch.
---
February 22, 2008 9:57 AM
I've been seeing the scuttlebutt about Apple and Promise Technology and couldn't help but add my two cents about how many Promise arrays I've seen pop up lately.
Last week, while installing our IBM N-series, I saw a couple of admins installing a multi-shelf Promise array. Peering through the cages in one of our colo areas, I've seen quite a few Promise and generic arrays installed. Walking the aisles in the areas I have access to, I've seen a rapid uptick in the installation of Off-Broadway-brand array vendors.
We own a small (5TB) Promise V-Track array we use for limited duty validation and testing (we bought it before the Storevault was released). I like it — it certainly fills the need and it does what it's supposed to do. I can buy any brand and size SATA hard drive I want and the management tools come with the product at no additional charge. I was able to set it up in about 30 minutes and after the drive initialization (took close to 24! hours) I was all set and ready to go, all without a PhD. I even did the guy thing and didn't read the instructions! I don't know about you, but I can't really ask for more, considering the price.
I've seen the folks at Apple accused of being stupid or lacking foresight in the past (Steve, I'm still upset about my Newton!!). In recent years, the accusers have usually been dining on crow, given the fact that Apple's products consistently create trends. (Anyone up for an iDog?) I firmly believe they know something about the trend towards lower-cost generic arrays using generic disks in generic trays, otherwise (at least in my mind anyway), a company that prides itself on solidly locking you into their hardware when you use their software would have gone with a more mainstream storage vendor, or simply re-branded something and inserted a v-chip.
You've read me typing this for a couple of blog posts now, but I'll type it again: Small to midsized SANs for under $50,000 with simple software and easy to use interfaces are going to be the market in the coming years. I'll go a step further and say the days of proprietary drive trays and "enterprise-class " drives are numbered too.
I seem to recall another big vendor that often gets maligned for lacking foresight snapping up a low-cost storage array vendor recently.
More importantly, Apple knows how to make difficult things easy and stylish. Not to mention that people who OEM for Apple (Foxconn , Acer et al.) are quite happy pumping out the iWhatever. It wouldn't be too far-fetched to see Promise doing the same.
If there was ever a company that could pull off making a product that does easy data migration … see where I'm going with this?
Couple Apple's really-easy-to-use SAN software with low-cost generic arrays and you could have a quick rise to major player in the storage software market. . .for a company many thought would be out of business by now, bringing in another company that "real" storage vendors look down their nose at.
---
February 21, 2008 11:13 AM
Or so says Pliant Technology, a new company that just received $8 million in Series A funding. It's comprised of former execs from storage companies including Maxtor, Quantum, Fujitsu and Seagate.
The cast of characters is as follows:
Jim McCoy, Chairman – Co-Founder of Maxtor and Quantum
Amyl Ahola, CEO – Former CEO of TeraStor, vice president at Seagate and Control Data
Mike Chenery, President/Founder – Former vice president of advanced product engineering at Fujitsu
Doug Prins, Founder/Chief Architect – Former consultant for Fujitsu, Emulex, and Q-Logic
Aaron Olbrich, Founder/CTO – Formerly at Fujitsu and IBM
And that's just about all we know in detail right now about Pliant. I spoke with McCoy this week about the announcement of funding; he said the company has decided to come out of stealth now, but has been working on perfecting the solid-state drive for the last two years.
The new company is aiming to improve the solid-state drive with its products, which are due out by the end of this year, with alpha and beta testing scheduled beginning this summer. Pliant's drives will perform better than current flash drives, "closer to what the DRAM people have," McCoy claims. The drives have also been "designed for a 24×7 operating environment, with error rates equal to or better than hard drives." Specifically, the drives are going to tackle an issue McCoy says has been a dirty secret in the solid-state game: read disturb, a phenomenon in which reading data from one portion of a flash drive causes degradation in nearby bits.
Existing solid-state vendors have tried to address this problem, as well as issues with write endurance, using error correction codes (ECCs). But according to McCoy, ECC is not enough. "ECCs are a minimal starting point," he said. "By themselves, they are not sufficient."
If that gets you all wound up about the state of solid state, though, you're going to have to wait to find out how exactly Pliant plans to build a better mousetrap. The specifics of its technical approach are "confidential at this point," said McCoy.
Will the new and improved Pliant drives be able to do anything about the acquisition costs that are keeping many users away from solid-state drives right now? "There won't be much of a price penalty over other [SSD products]," McCoy said, which I'll take as a no. McCoy did point out that long-term, solid state is more cost-effective than over-provisioning hard drives.
The problem is, users rarely start from scratch; many will have over-provisioned hard drives already, and would need to start by adding very expensive SSDs on top of already very expensive assets. "Customers are reaching the end of possible performance with hard drives," McCoy countered. "And new systems [like EMC's Symmetrix] are going to start going out with a combination of drives."
According to research from IDC, performance and mobility-related requirements will propel SSD revenues from $373 million in 2006 to $5.4 billion in 2011, a 71% CAGR. And I've heard many in the industry lament that while the capacity of spinning drives has been going up continually, the ability to get data off those drives faster is not keeping pace. Something will obviously need to change.
Meanwhile, the answer to the question of exactly how Pliant's products propose to be a catalyst in that equation remains in stealth for now.
---
February 19, 2008 12:03 PM
Some of you may have heard of Cleversafe, until now an open-source research project working to develop the prototype of a system that would automatically spread data over geographically dispersed grids while encrypting it.
Cleversafe has been making slow but steady progress over the last year and a half or so and have been keeping me updated. Their concept, is an interesting one: a way to automate the "chunking" of data over geographically dispersed nodes through new algorithms that also make each chunk of data unreadable, essentially combining primary storage with disaster recovery and data security all in one go, as our friends across the pond would say.
So far, Cleversafe has launched itself as an open-source project, invited developers to play with the Dispersed Storage Network (DSNet) prototype, and signed up 14 internet service provider (ISP) partners to pilot the service. This spring, those partners will begin to sell some actual software and hardware to go with the pie-in-the-sky concept.
The new products, which will be generally available May 31, include a storage node, called the Cleversafe Slicestor; a storage router, called the Cleversafe Accesser; and a software management console called the Cleversafe Manager. Each Slicestor will hold 3 TB raw in a 1U pizza box. There is no formal restriction on the number of Slicestors and Accesser nodes in one grid, but the first products will be offered in groups of 8 and 16 nodes, with a 4:1 ratio of storage to router nodes recommended. The nodes can be kept in a single rack in one location or distributed globally. Cleversafe says its business model will be to offer its grids directly to enterprises, as well as ISPs and managed service providers who can offer Cleversafe storage as an online or hosted service.
This is the kind of stuff that really intrigues me in the storage market–the kind of stuff that makes me envision Conan O'Brien with a flashlight under his chin singing "In the Year 2000…" The futuristic stuff. As a general, all-around nerd, it's interesting to me to talk to the people planning the next generation of technology, to learn what the challenges are and what goals their sights are set on. The Cleversafe concept is a particularly interesting one to me given the global-scale DR challenges we're beginning to face.
When we chatted about it last week, though, Taneja Group founder Arun Taneja tempered my enthusiasm with the reminder that future products are just that: in the future, and the proof is in the pudding. "At the concept level I've never had any issue with Cleversafe," he said. "But while the concept is interesting, provability will take a long time." Cleversafe must show its product can support multi-tenancy environments reliably, without mixing up data chunks, and must show that its performance and ability to recover data are what it says they are.
And while some of the deepest innovations in technology are happening around storage, Taneja also reminded me that the market for storage products remains more conservative than most. "Even if Cleversafe can prove that this is the best thing since sliced bread, the GMs, Fords and Pepsis of the world would have to test something like this for years before they'd trust it," he said.
So we might not be looking at The Storage Internet ™ anytime soon. But I'm going to keep watching.
---