---
September 15, 2009 7:40 PM
Dot Hill Systems, which sell storage systems that are rebranded by OEM partners, is entering a new market thanks to intellectual property it acquired from bankrupt vendor Ciprico last September.
Dot Hill today launched what it calls a virtual RAID adapter (VRA), which is basically a software-based host bus adapter for low-end storage systems.
"This is a pure software play, it goes inside Windows or Linux servers," said Andy Mills, Dot Hill's VP of marketing and business development. "We're doing it entirely on the host."
Development of the product was well under way by Ciprico, which had exclusive rights to license Broadcom's RAIDCore technology. The RAIDCore VRA software supports Intel servers' SATA I/O ports and I/O ports on SAS/SATA controllers, and adds RAID functionality without a RAID-on-chip device.
VRA software is aimed at entry level direct attach storage for now, rather the high-end Fibre Channel storage systems.
The product brings Dot Hill a different set of OEM partners. While it now sells storage systems rebranded by NetApp, Hewlett-Packard, Sun and others, VRA software will be sold by server vendors. Mills says he expects an OEM deal with a Tier 1 server vendor by the end of the month. That deal was in the works at Ciprico before Dot Hill picked up its IP.
Mills says Dot Hill plans to eventually add data management and protection features such as snapshots and thin provisioning to the VRA platform. Customers will be able to unlock those features with license keys.
Mills also hinted that Fibre Channel support could be coming down the road, too. "We're not ready to talk about that yet, but we eventually plan to manage a unified protocol," he said.
September 15, 2009 6:53 PM
…but few other details are known yet of the new storage product to be released in three weeks by the original founders of Spinnaker Networks, which now forms the basis of NetApp's scale-out OnTap GX and OnTap 8 offerings.
Avere CEO Ron Bianchini, who held the same title at Spinnaker, says the new company began in a coffee shop after he and other Spinnaker execs left NetApp in late 2007. "Initially, Spinnaker was a separate group [within NetApp]," he said. "There was a huge process of merging the two technologies, but after that there was less and less for the Spinnaker business unit to do, and the three of us left NetApp."
The other two former Spinnaker founders now with Avere are CTO Michael Kazar and VP of engineering Daniel Nydick.
The startup today disclosed a $15 million Series A funding round. It's preparing to roll out what it calls Demand-Driven Storage, which Bianchini described as "looking at an application workload and looking at the types of storage available, then matching the workload to the storage media." He said the idea sprang from increasing diversity in the types of storage media available, whether SAS and SATA drives or solid-state disks (SSDs.).
So is this going to be something along the lines of EMC Corp.'s Fully Automated Storage Tiering (FAST) and Compellent's Data Progression? "That's very good directionally–we go in that direction, but much further," Bianchini said. "When we finally can talk about the technology in detail, we'll differentiate against those products with something broader and with more efficiencies."
Will the product also draw on Spinnaker's scale-out heritage? What market will it address? Is the product primarily software-focused? "All will become clear in three weeks," Bianchini said.
---
September 15, 2009 1:25 PM
Emulex hasn't heard the last from Broadcom after all.
Broadcom, which unsuccessfully tried to acquire Emulex this year, Monday filed a lawsuit charging that the HBA vendor infringed on 10 of its patents for storage and networking technologies. The chipmaker is seeking monetary damages and injunctions to stop Emulex from using the technology.
The patents include Fibre Channel, FCoE, TCP offload engine, remote direct memory access (RDMA), and serializer/deserializer (SerDes) technologies.
"As we developed our plans for the Fibre Channel over Ethernet market, we discovered that Emulex is infringing multiple Broadcom patents in an effort to use Broadcom technology to compete against both our existing and future products," Broadcom VP for intellectual property David Rosmann said in a statement. "We believe Emulex is infringing a broad range of Broadcom patents; we are concerned that Emulex's infringement is pervasive."
Emulex released a brief statement, claiming: "Emulex is reviewing the patents associated with the complaint filed today by Broadcom. Emulex has a policy of vigorously defending the company against assertions of this kind."
Stifel Nicolaus Equity Research analyst Aaron Rakers maintains the suit is a reaction to Emulex fighting off Broadcom's hostile takeover attempt. He says it also indicates Broadcom is now looking to develop its own FCoE technology rather than trying to acquire a company with the technology.
"This is not a move against Emulex to reconvene discussions on a possible combination," Rakers wrote in a note to clients.
Rakers also wondered if Broadcom found any patent infringements against Emulex rival QLogic, but when he brought this up to a Broadcom representative he was told Broadcom has not looked at QLogic's product portfolio.
Broadcom successfully sued its rival Qualcomm several years ago for violating patents, and Qualcomm agreed to pay Broadcom $891 million in a settlement earlier this year.
---
September 14, 2009 9:20 PM
It began with a full page ad from Oracle in the Wall Street Journal last week, throwing down the gauntlet for server hardware giant IBM, and the first definitive statement from the company in the midst of its $7.4 billion acquisition of Sun Microsystems about the fate of Sun's hardware product lines.
Speculation has been widespread since the acquisition was revealed that Oracle wants Sun for its Java and Solaris software IP and planned to do away with the Sun's server and storage hardware business. Instead, Oracle followed the WSJ ad with an invitation sent to press earlier today:
Oracle launched a database machine with Hewlett-Packard hardware a year ago. There is no indication about the fate of that partnership in light of this announcement.
Also, while the Sun/Oracle Database Machine will contain storage, as the HP/Oracle version does, the fate of Sun's data storage-specific product lines — including disk arrays as well as tape libraries acquired with StorageTek — has yet to be settled one way or another. The merger between Sun and Oracle itself remains hung up in European Union regulatory review.
One thing's for sure–Sun storage hardware competitors aren't waiting for an answer before they pounce.
---
September 14, 2009 3:17 PM
Hewlett-Packard Co (HP) poached EMC Corp. storage division head David Donatelli earlier this year, and now EMC has nabbed one of Intel's top executives to take over running EMC's storage products division.
Patrick Gelsinger, who heads Intel's core chip business, has been named President and Chief Operating Officer, EMC Information Infrastructure Products, overseeing Information Storage, RSA Information Security, Content Management and Archiving and Ionix IT management divisions, according to an EMC press release. EMC also promoted Howard Elias, 52, to president and COO, EMC Information Infrastructure and Cloud Services.Wrapped up in this announcement is the first specific indication from EMC CEO Joe Tucci of when he plans to retire. In an interview with the Wall Street Journal, Tucci indicated he plans to step down in three years, when he's 65. According to the Journal piece, Tucci considers Elias, Gelsinger and CFO David Goulden potential candidates to succeed him in the CEO position.
Gelsinger reportedly got to know Tucci when he worked with EMC to transition between proprietary IBM microprocessors in earlier models of the Symmetrix high-end disk array to Intel chips with the release of Symmetrix V-Max earlier this year.
Financial analysts noted that the move could quell speculation that EMC might be a takeover target. "While the [Journal] story notes that this announcement could ease some investor sentiment that EMC would be a takeout candidate, we view this announcement as a positive as the company looks to further deepen what has been a very strong executive management bench," wrote Stifel Nicolaus equity research analyst Aaron Rakers in a note to investors Monday morning.
---
September 11, 2009 7:30 AM
Standard Podcast
[ 10:45 ]
Play Now
|
Play in Popup
|
Download
Stories referenced:
(0:23) Texas Memory Systems acquires storage virtualization IP
(2:06) Adaptec blows hot and cold for SSDs
(3:38) Hitachi Data Systems adds midrange NAS, courtesy of BlueArc
(5:00) VMworld 2009: Storage vendors showcase new vSphere 4 products
VMWorld 2009: storage vendors continue vSphere 4 product updates
VMware Site Recovery Manager to add support for NFS, multi-site failover
2009: VMware and Cisco support distance VMotion
VMworld 2009: Storage admins grapple with growing VMware deployments
(8:00) Iron Mountain Digital to add e-discovery features to PC cloud data backup service
---
September 10, 2009 7:25 PM
When we all get around to writing up those "Look ahead to next year" stories in a few months, there no doubt will be lots of wondering if 2010 will be The Year of the Cloud in storage. It's obviously too soon to tell if 2010 will indeed by a big year for storage clouds, but it's becoming clear that late 2009 is The Half-Year of Setting the Table for Cloud Storage.
Whether it's Hewlett-Packard acquisition of clustered file system vendor Ibrix, NetApp finally getting out its scale-out version of Data Ontap, or the EMC-Cisco-VMware VCE cloud alliance – not to mention the much rumored EMC-Cisco joint venture – the major storage vendors are putting their cloud strategies on the table.
When will customers flock to the cloud for storage? Carpathia Hosting CTO Jon Greaves, whose company launched its storage cloud last April, is banking on that happening next year.
"This is the year everybody wants to talk about the cloud and put their toe into the water," Greaves said. "Next year will be a key year for the cloud, and storage is the onramp to the cloud for a lot of customers, particularly in the enterprise space because the storage cloud is low risk."
Carpathia is still putting together its own pieces for its storage cloud product. The hosting service has used ParaScale Cloud Storage (PCS) for NAS since launching its cloud service, and two weeks ago added more pieces for its storage cloud by acquiring security hosting services company ServerVault. Greaves says ServerVault will provide compliance and security for Carpathia's storage cloud.
"Now we can take the cloud and treat it as a compliance solution," Greaves says. "We'll add compliance services by the end of the year."
---
September 9, 2009 5:25 PM
As solid state drives (SSDs) gain more play in enterprise storage, the emphasis shifts from the drives themselves to the software used to control data on SSDs and hard drives.
That management capability was the impetus for Texas Memory Systems' acquisition of Incipient's storage virtualization IP, and for intelligent data placement software that EMC and IBM have pledged to deliver.
That is also the key to the MaxIQ SSD Cache Performance Solution that Adaptec rolled out today. Billed as a hybrid SSD-hard drive system by Adaptec, it is actually Adaptec's MaxIQ SSD caching software combined with a 32GB Intel X25-E SATA SSD.
The software serves as a higher-performance cache by copying frequently accessed "hot" data directly into the SSD cache to improve performance. I/O for the hot data comes from the SSDs, while "cold" data goes to spinning disk.
"Our controller is an agnostic piece in the middle of the data traffic and does all the monitoring," Adaptec marketing director Scott Cleland says. "If a read request meets the threshold of hot data, it gets copied to the MaxIQ SSD and subsequent requests come from the MaxIQ SSD."
Adaptec claims it can deliver more than five times the IOPS of disk arrays. It also uses NAND flash instead of DRAM to keep down costs, much like NetApp did with the Performance Acceleration Module IIit launched last month.
MaxIQ will be delivered mostly through distributors and resellers, and Cleland says a MaxIQ SSD Cache Performance Kit costs $1,295 for a 32GB X25-E Extreme with the caching software.
---
September 8, 2009 3:40 PM
Hitachi Data Systems today put its brand on the midrange NAS system first launched by its OEM partner BlueArc in July.
The Hitachi NAS 3080 and 3090 are rebranded BlueArc Mercury 50 and 100 systems. The vendors claim the 3080 performs at more than 60,000 IOPS per node and the 3090 at over 100,000 IOPS per node. The 3080 scales to 1 PB, and the 3090 hits 2 PB.
Like BlueArc, HDS bills the new platform as a midrange system for commercial applications rather than a high performance computing (HPC) NAS system. Street pricing begins at $70,000 for an entry-level configuration. Besides price, the biggest difference between the 3080/90 and the HDS 3100 high-end systems is the size of the clusters they support. The 3080 supports two-node clusters, the 3090 clusters four nodes and the 3100 and 3200 scale to eight nodes. HDS sees the 3080/90 as a companion to its Adaptable Modular Storage (ASM) midrange SAN platform and the 3100/3200 continuing to accompany its Universal Storage Platform (USP) enterprise SAN arrays.
On top of the BlueArc hardware, HDS adds the Hitachi Data Discovery Suite to search and index data across all HDS storage and Hitachi Content Archive Platform (HCAP) for policy-based file migration and tiering. "We're trying to make intelligent file tiering, or HSM, cool again," said Fred Oh, HDS senior product marketing manager for NAS, "We're bringing what's been popular on the high end to the midrange."
You can certainly argue that HSM never was cool or popular, but at least BlueArc and HDS have clustered name space for scale out NAS. That's cool, at least for NAS administrators. "One of our nearest competitors in the NAS space is still trying to solve this problem," Oh said, jabbing NetApp for its long delay in adding support for scale-out NAS clusters to its Ontap operating system.
---
September 4, 2009 5:35 PM

View of the Moscone Center where VMWorld 2009 was held.
Speculation swirls about EMC / Cisco joint venture
According to widespread reports, most recently an anonymously sourced report in the Wall Street Journal, Cisco and EMC Corp. are brewing up a joint venture to more easily bundle up EMC storage with Cisco's UCS.
Judging by the amount of buzz, there probably is something happening; EMC storage was also exhibited as part of Cisco's gigantic UCS demo at the show. According to one of my sources, who also requested anonymity, a joint venture would be a way for the companies to jointly market UCS with EMC storage without doubling up on the commission paid to separate sales forces.
If this deal happens, I think it would probably put the kibosh on the longstanding Cisco/EMC merger rumors, which date back at least as long as I've been in the storage market. Should they spin off a joint venture, I think it would be an indication that both organizations have gotten too large and complex to fully merge.
It would also be part of a general trend of alignment between companies whose products live at the top of the data center stack – apps, networking, and servers – and middleware/networking/storage counterparts, whether through acquisition a la Sun/Oracle or partnership as with Dell/Brocade.
Cisco and EMC have declined comment.

Always amazed at the scale of this show…Exhibit A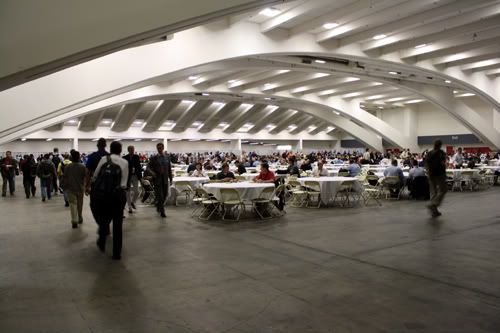 Exhibit B: the "feed lot" for meals, in a space remeniscent of an airplane hangar.

Exhibit C: Hands-on labs were jumping at all hours. This is first thing in the morning, and the line has already stretched out the door…
Asigra on the difference between cloud and online backup
And yes, there is a difference, at least according to Asigra executive vice president Eran Farajun—portability of data.
"Online backup is the closest thing to the cloud, but it still has one foot in the distributed-computing era," he said. If users want to switch service providers, they pretty much have to orphan data or receive it back in raw format that can be labor-intensive to reassimilate behind the firewall. Asigra had been focused on service providers for years before the cloud computing buzzword became hot, and Farajun said that because Asigra is already set up for multi-tenancy and virtualizes the media server on the service-provider end (the customer has a backup "master" server that collects new data on-site), customer workloads can be shifted directly from one partner to another. It's an interesting and helpful distinction to make, the kind of thing we need more discussion about as the cloud phenomenon gains steam.

VMware CEO Paul Maritz gives a keynote speech on Monday morning.
VMware acquires SpringSource
I was curious about this acquisition since the description of SpringSource's rapid-deployment capabilities for new servers and virtualized applications sounded somewhat similar to the company EMC acquired earlier in the week, FastScale. But according to VMware CEO Paul Maritz in a Q&A session on Tuesday, "the two are only loosly in the same space. SpringSource is a level above [FastScale], thinking in terms of applications, rather than how they're deployed in the infrastructure. They are complementary."
Seanodes says it's buddying up with IBM in Europe
Seanodes CEO Frank Gana says the iSCSI SAN vendor is in the midst of deployment with European customers on IBM's BladeCenter servers. Keep an eye on this pairing – IBM has some iSCSI offerings, but nothing to directly compete with HP/LeftHand running on HP BladeSystem, which HP began offering this week as a VDI reference architecture.

Some analysts I ran into on the show floor noted with interest that this was Sun's only presence at the show…
Xsigo usurps Cisco in VMworld show floor demos?
An interesting new addition to demo hardware this year was "What's under my hood?" signs next to the roaring machines in show floor booths. The one at VMware's booth consisted of EMC storage, MDS servers, and…Xsigo I/O virtualization interconnects, rather than the more-hyped VCE approach. Cisco was hardly inconspicous, though. Massive UCS racks greeted attendees as soon as they came down the Moscone Center escalators to get to breakout and general sessions (photo below).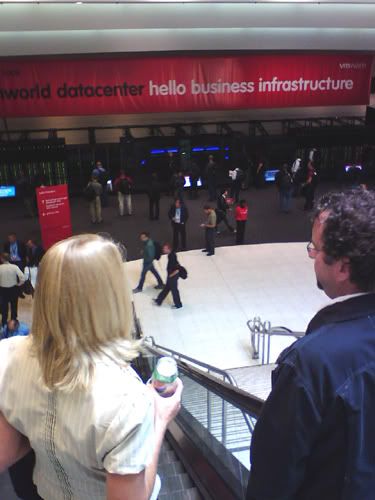 NetApp offers $1 million storage challenge
Building off their 50% storage reduction guarantee for VMware environment (see full story, including fine print), NetApp was offering customers $1 million worth of storage equipment in exchange for a chance to prove they can achieve the 50% reduction. NetApp Chief Marketing Officer Jay Kidd said in this case, the customer agrees to be a public reference for NetApp if the deal works out.
Photos from VCE Distance VMotion session

VMware senior staff engineer Shudong Zhou, EMC VP of VMware technology alliance Chad Sakac, and Cisco manager of product marketing Balaji Sivasubramanian fill attendees in on the finer points of VMotion support.

Chad Sakac, aka Virtual Geek, previews EMC's active-active storage plans

Just part of the VCE distance VMotion test bed config.
Read the news story here.
A must-see T-shirt was a big hit at the show: newScale's WILL PROVISION FOR FOOD. The full story behind it was blogged here. More pics available on Flickr.
More storage news from VMWorld 2009:
---