---
June 15, 2009 2:20 PM
Not surprisingly, Data Domain management today recommended its shareholders reject EMC's offer to buy the deduplication vendor "at this time" in favor of an offer from NetApp.
The reason it's not surprising is that EMC's June 1 cash bid of $30 per Data Domain share was unsolicited, and came more than a week after Data Domain's board already accepted NetApp's offer to acquire the company. NetApp has since increased its offer from $25 per share to $30 per share in a combination of stock and cash, which Data Domain's board again accepted. NetApp's offer is placed at $1.9 billion compared to EMC's $1.8 billion, but EMC maintains its offer is better because it is all cash.
Data Domain shareholders can still vote to accept the deal without the approval of Data Domain's board. However, there have already been rumblings that EMC will raise its offer, perhaps to $34 or $35 per share. Data Domain's stock price opened today at $33.50, indicating its investors expect a higher offer.
"Our Board is committed to enhancing stockholder value and, after careful review with our outside advisors, determined that the $30 per share EMC Offer is not in the best interests of our stockholders at this time," Data Domain CEO Frank Slootman said in a press release today. "We are pleased with the revised terms of NetApp's acquisition offer and feel it will provide great value to our shareholders and customers."
EMC CEO Joe Tucci also issued a statement today, repeating his claim that EMC's offer is superior to NetApp's. "EMC's all-cash offer meets all of Data Domain's stated objectives," Tucci said. "We do not believe that Data Domain stockholders will approve the proposed transaction with NetApp. EMC remains committed to successfully completing this transaction. "
The release said Data Domain's board recommended saying no to EMC for several reasons. They include:
• accepting the deal would allow NetApp to terminate its agreement;
• Data Domain has not been able to negotiate terms of EMC's offer because EMC hasn't agreed to enter into a confidentiality agreement required by the Data Domain-NetApp deal;
• possible issues with the Hart-Scott-Rodino Antitrust act involved with an EMC-Data Domain deal; and
• Data Domain would have to pay NetApp a $57 million fee if it terminates its agreement.
SEC filings previously released noted that NetApp offered Data Domain chairman Aneel Bhusri a place on its board and Slootman a management position. EMC has made no such offers, but has indicated it wants to keep Data Domain management in place.
EMC may have no choice but to increase its offer. By making its $1.8 billion bid public and going on the record with its praise of Data Domain's deduplication devices, it could find it difficult to sell its own competing products based on deduplication software from Quantum.
June 15, 2009 1:43 PM
Last week, after meeting with Hitachi Data Systems at the BD Event in Boston, I posted about some of the things we discussed about HDS's 2008 performance, which included some market share information they supplied, citing IDC as the source.
The problem is, IDC says HDS's numbers don't match its own.
This was the relevant graf in the original blog:
Schmidt said it was specifically EMC that HDS had taken market share from in 2008, citing an IDC study that showed HDS edging to just under 30% market share in high-end disk arrays in 2008 while EMC fell to just over 25%. Schmidt attributed the growth in sales in part to a sales reorganization in February 2008, when former Unisys vice president and general manager of sales and service Randy DeMont was promoted to executive vice president. (Schmidt left EMC, where he worked in the Centera product division, in September for HDS.)
IDC does not publish the data that would have supported this conclusion. It doesn't break out market share according to "high end disk arrays" but rather by price bands. IDC research manager Natalya Yezhkova said that the Hitachi number given to me seems to be a combination of price bands 7 through 9 in IDC's model, essentially systems over $300,000. HDS also included sales from OEM partners Hewlett-Packard and Sun as part of its own in the analysis, which is also not consistent with IDC's methodology, she said.
In fact, calculating using IDC's standard model, the market share numbers in price bands 7 through 9 look like this:
EMC 36.6%

HDS 17.7%
After the fact, here's the statement HDS's EJ Schmidt sent to me about it:
The share number provided is a combination of IDC proprietary data and an inclusion of Hitachi, Ltd./HDS high-end storage revenue contributions from its OEM partnership with HP and reseller relationship with Sun. IDC opts to track high-end storage marketshare by brand rather than by manufacturer, which leads to data that is non-representative of Hitachi's public storage results. Hitachi's public financial results include HDS' sales to Sun and HP to reflect more accurate end-user pricing and end-user marketshare, and by virtue, a more accurate representation of share. This disclosure practice is similar to our peers in the storage market that benefit from indirect channels to market, as you are aware.
IDC doesn't see it that way. According to Benjamin Woo, VP of storage systems research in an email to Storage Soup, "While we recognize that the title of the blog entry does read "HDS says …", the sentence infers that this is factual and based on IDC research. In fact, IDC does not support this quote. More importantly, IDC does not have the data to verify the HDS claim."
Moreover, IDC says HDS requested authorization to use these calculations in press briefings, and was denied. But this data was still presented to me without clarification during our meeting last week.
---
June 12, 2009 2:44 PM
06-12-2009 Storage Headlines
[ 9:06 ]
Play Now
|
Play in Popup
|
Download
---
June 10, 2009 11:26 AM
As a subsidiary of Hitachi Ltd., Hitachi Data Systems (HDS) earnings and revenue numbers often get lost in its parent company's extensive reports. But HDS execs strutted their financial stuff for press at the BD Event in Boston Tuesday, saying fiscal 2008 financial results show HDS taking market share from EMC, especially in the high-end disk array market.
Eric-Jan Schmidt, vice president of corporate marketing, said HDS grew revenue 1% to $672.8 million year over year last quarter while other large storage vendors declined. Storage software grew "in the high double-digits" year over year, high-end storage systems in the single digits, and modular storage was flat year over year, according to Schmidt, who did not give specific numbers for those products.
Total HDS revenue for fiscal 2008 — which ended last quarter — increased 11% to $2.864 billion.
Schmidt said it was specifically EMC that HDS had taken market share from in 2008, citing an IDC study that showed HDS edging to just under 30% market share in high-end disk arrays in 2008 while EMC fell to just over 25%. Schmidt attributed the growth in sales in part to a sales reorganization in February 2008, when former Unisys vice president and general manager of sales and service Randy DeMont was promoted to executive vice president. (Schmidt left EMC, where he worked in the Centera product division, in September for HDS.)
Schmidt added that HDS has seen increased success with its USP-V virtualization controller and storage software in this economy because they can be used to repurpose existing third-party storage. He said 15% of the 12,600 USP and USP-Vs in production so far have third-party storage virtualized behind them.
However, while HDS had a few things to crow about, Hitachi Ltd. did not fare so well, posting a record $8.1 billion loss for the year. That's not a Hitachi-specific record – that's the biggest-ever annual loss by a Japanese manufacturer, according to a report by the Associated Press. According to another report released Tuesday morning on the Dow Jones news wires, Standard & Poor's Ratings Services cut Hitachi Ltd.'s (HIT) ratings to below-average credit quality.
In the meantime, HDS may have something up its sleeve for the Hitachi Content Archiving Platform (HCAP) product based on its acquisition of Archivas in 2007. "Our archive platform will morph into something different over the next year," said Asim Zaheer, HDS vice president, product and competitive marketing.
HCAP is already touted by HDS as a unified repository for multiple federated sources of content. HCAP uses a hierarchical file system, making it different from object-based or content-addressable storage (CAS) products, like Caringo Inc.'s CAStor or EMC's Atmos or Centera. However, given the "federation" aspect of HCAP (also a hot buzzword at this year's EMC World in discussions of cloud storage), my guess would be a scale-out system for active unstructured content in addition to where HCAP is already positioned, in secondary storage archiving. Zaheer would neither confirm or deny my suspicions.
---
June 9, 2009 3:23 PM
EMC CEO Joe Tucci reached out again to Data Domain today – not to increase his company's offer but in an open letter telling Data Domain employees they are better off with EMC than rival NetApp.
EMC sought to outbid NetApp for dedupe specialist Data Domain last week with a $1.8 billion offer. That trumped NetApp's original $1.5 billion bid, but NetApp increased its offer to $1.9 billion last Wednesday. Although both offers are for $30 per Data Domain share, Tucci maintains EMC's is better because it is all cash while NetApp's is part cash, part stock. Still, Data Domain's board recommended that shareholders accept the NetApp bid and said it will comment on EMC's offer by June 16.
Storage insiders expect EMC to raise its offer if necessary. For now, Tucci wants Data Domain employees to feel they will be welcome if they join EMC.
"There's more to the success of a merger than money can ever account for," Tucci wrote in his letter to Data Domain employees.
Tucci pointed to EMC's track record with acquisitions and its larger sales force and R&D budget than NetApp has as factors that "provide assurance that EMC can grow and develop Data Domain more rapidly and effectively than NetApp can."
Tucci has made these points before since EMC's bid, and likely would have made them to Data Domain CEO Frank Slootman if Slootman didn't cancel a scheduled May 27 meeting with EMC after accepting NetApp's $1.5 billion offer.
In his letter to Data Domain employees, Tucci said many employees of past acquisitions have risen to "leadership positions" in EMC. He also made it clear how much he respects Data Domain.
"You have built a terrific company," he wrote. "You have a well-earned reputation for attracting skilled storage professionals who excel at innovation. And we admire how uncompromising you are in caring for and serving your customers. In many ways, you remind of us EMC."
The entire letter is posted on EMC's web site.
It's not clear exactly what Tucci hopes to accomplish with the letter. Data Domain employees won't decide who buys the company, its shareholders will.
In an email to reporters accompanying a copy of the letter, an EMC spokesman wrote: "Joe chose the open letter format as the best way to express directly to Data Domain employees his thoughts about why EMC is the best choice for them."
The email also included a reminder that "before signing the definitive agreement with NetApp, Data Domain's management excluded EMC from consideration as a potential acquirer despite EMC's attempt at an open dialog. Many outside followers have wondered why the Data Domain Board would not have wanted to create a level playing field for other companies that may have been interested in acquiring Data Domain."
It's surprising that Tucci didn't put that in his letter. Maybe Data Domain employees can read it between the lines.
---
June 9, 2009 2:18 AM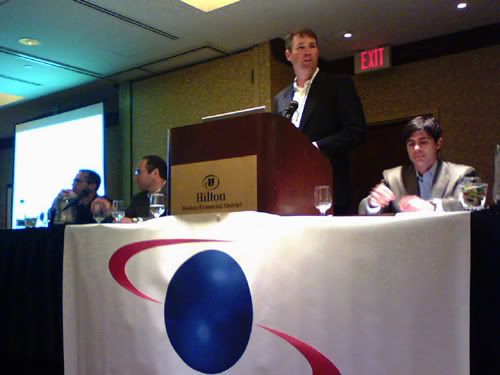 Panel moderator Andrew Williamson of Alexander Dunham Capital Group Inc.
leads a discussion about IT industry consolidation and innovation at The BD Event
on Monday afternoon.
Venture capitalists and business development types of all stripes met in downtown Boston today for the first BD Event, a new networking conference for vendors in the storage, security and virtualization markets. According to a panel discussion this afternoon, the IT market can expect further consolidation along the lines of Sun/Oracle and NetApp/ or EMC/Data Domain, but VCs said that will make room for new, more innovative companies, especially in cloud storage.
The panel included two executives from storage vendors with M&A experience: John O'Brien, senior director of corporate development at EMC; and Peter Levine, senior vice president and general manager at Citrix, and reps from three venture capitalist firms: Mark Rostick, director of Intel Capital,; Ash Ashutosh, partner with Greylock Partners (Ashutosh also sold AppIQ to HP a few years ago); and Charles Curran, general partner at Valhalla Partners, a VC firm that backed Nirvanix, LeftHand Networks, and Sepaton.
According to Levine, the IT industry can expect more heavy consolidation throughout this year, "but that consolidation is more financially driven than customer-driven," he said. "I don't think IT buyers really want one virtual integrated stack – the last thing customers want is IT lock-in."
Nonetheless, he added, "Consolidation absolutely will happen. The big survivors, to grow, have to start getting into areas they weren't in before, and without question that verticalizes the market."
(As for who the likely candidates are for further consolidation – no one I talked to at the event had heard anything about actual talks, but there was a lot of chatter at the conference about IBM/Brocade and Cisco/NetApp acquisitions).
Levine and O'Brien said smaller acquisitions at their own companies are being scrutinized more and more carefully these days. Smaller companies take longer to add to an acquiring company's bottom line and tend to raise operational costs during integration, Levine said. Instead, Citrix will probably focus more on new partnerships with promising small companies. EMC's O'Brien said that EMC has done just two small asset deals so far this year (aside from its $1.8 billion bid for Data Domain).
Panel moderator Andrew Williamson of Alexander Dunham Capital Group Inc. said the percentage of asset sales among new acquisitions has risen in the last six months to 30%. That type of deal represented 16 to 20% of M&A activity in 2008. Meanwhile, the number of VC firms funding startups has declined since 2007 as has their average investment in new companies, along with the revenue multiples they can expect as a return when their portfolio companies are sold or go public.
In other words, get ready for a world in which the number of major vendors will shrink, but there will be less funding for the types of companies that popped up between 2000 and 2003 with a burst of innovation that led to a flurry of IPOs and acquisitions over the last few years.
However, the old rule still applies – "Big companies can't innovate at the level of startups," said Valhalla's Curran. The VCs assured the audience that new storage and security products would still be coming down the pike.
Cloud storage and software will be king
The VCs on the panel agreed about where the money's going in storage these days. They all indicated they were doing few if any deals involving hardware systems. "It's less capital-intensive," said Curran, adding that the shift towards IP networking in the enterprise data center and virtualization would be the biggest trends going forward. Ashutosh also said he was most interested in software companies. "The trend is shifting away from boxes and to the disruptive nature of virtualization and the cloud," he said. Intel's Rostick said his company would invest in at least one more security and one more storage company this year, and would also be focused on the cloud, virtualization and what he called "I/O complexity."
EMC's O'Brien said he'd been "well coached to stick to [EMC CEO] Joe [Tucci]'s script" when it comes to Data Domain, and he wouldn't get specific about what other areas EMC may be eyeing for acquisitions this year. He did say EMC also would focus on virtualization and the cloud going forward.
Some of the cloud technologies that come out in the next year or so may look familiar to IT users, but optimizing technologies for cloud deployment will become its own area of expertise, according to Ashutosh. "There's an emerging trend of innovation around delivery and business model – not just new ideas in technology, but also business," he said.
---
June 8, 2009 1:03 PM
There's a new Ethernet switch vendor on the market as lines are being drawn in the sand about the future of data center networks.
Voltaire, previously focused mainly on InfiniBand switches, today unveiled its entree into the data center Ethernet market, the Voltaire Vantage 8500. The Layer 2 Ethernet switch is based on some of Voltaire's existing InfiniBand IP, including its 11.5 Tbps chassis. It can support up to 288 non-blocking Ethernet ports, and up to 12 chassis can be combined in a cluster using Voltaire's Scale Out Fabric (VSOF) software. The product will become available in the second half of 2009.
As the ripple effect of server virtualization moves through the data center infrastructure, networking vendors are establishing their philosophies about what the next-generation network should look like. Cisco has come out this year with its Unified Computing System (UCS) blade server product, has aggressively advanced the concept of Fibre Channel over Ethernet (FCoE), and is looking to offer customers vertically-integrated, turnkey infrastructures all from its own product portfolio. Brocade, on the other hand, is cozying up to partners Cisco alienated with UCS — mainly IBM and Hewlett-Packard — while developing FC and Ethernet separately alongside FCoE.
Voltaire shares some of Brocade's philosophy, particularly when it comes to partnerships rather than trying to own the whole infrastructure stack. Voltaire is even less bullish on FCoE than Brocade, which has already released FCoE switches and has pledged it will release FCoE converged network adapters (CNAs). "FCoE is part of our story, but adoption will take longer than people anticipate," Voltaire vice president of marketing Asaf Somekh says.
The Vantage 8500 is "FCoE ready," but Voltaire is focused on the data center Ethernet (DCE, also often called Converged Enhanced Ethernet (CEE)) for now.
Voltaire isn't the only InfiniBand vendor to play the consolidation game. Voltaire's InfiniBand rival Mellanox has switches and gateways that support InfiniBand, Ethernet and Fibre Channel on the same device. QLogic is one of the early leaders in FCoE, and also sells InfiniBand switches as well as FC Host Bus Adapters (HBAs).
"It's interesting to see what InfiniBand vendors are bringing to Ethernet," said Taneja Group analyst Jeff Boles. "You see some innovation in the communictions stack and they deliver more performance than you get from traditional Ethernet products up front."
InfiniBand has also been a unified network for a while, so InfiniBand vendors "are used to taking a different look at the fabric than SAN vendors – similar to Finisar's NetWisdom [SAN monitoring device]," Boles says. "You look at that and say, why couldn't I get this from Cisco for MDS three or four years ago, when I needed it?"
---
June 8, 2009 12:39 PM
Email archiving SaaS vendor Proofpoint is adding compliance features to its services today in an effort to reach more enterprise users. The company that bought email archiving SaaS provider Fortiva last year is building new enterprise search and e-Discovery features into its service based on a newly-patented method for searching encrypted data.
Proofpoint email archiving appliances reside at the customer's location, serving as a "gateway" into the cloud. The Microsoft Exchange email server journals emails to a special mailbox, which the gateway then draws from to send data to the cloud. The service integrates with the customer's on-premise Active Directory to provide authentication and role-based access to the archive, and provides Web-based search of the archive for administrators as well as end users.
What makes Proofpoint's approach unique, according to vice president of archiving product management Rick Dales, is that it provides search and other services without any visibility into customers' data. When the data is ingested through the appliance, an encrypted index token is sent to Proofpoint's data centers alongside the data. When users want to perform a search, the Proofpoint middleware makes a correlation between the index token and encrypted data, allowing it to return search results without ever decrypting the information. This is the process that was awarded a patent this week; new with this release is the ability for end users to perform these searches on their portion of the archive, rather than just IT admins.
Some of today's updates to the service also build on these capabilities, like new support for the archiving and search of historical email, meaning email which belongs to users who have left the organization. In prior releases, if users were no longer visible in Active Directory, they would no longer be accessible through Proofpoint. With this release, Active Directory names and encrypted mailbox IDs are sent from the user's appliance along with the encrypted index tokens. Proofpoint has no visibility into a correlation between the Active Directory names and the globally unique identifier (GUID), but can do a lookup on the plain-text name if requested by the user, including generating an address book showing all email addresses registered to that name.
"Often, lawsuits relate to people who are no longer with the organization," said Dales.
Users can queue mail for supervisory review in environments where compliance dictates that, and the new version allows them to 'whitelist' emails that shouldn't be sent to the queue, like newsletters. Similarly, updates to the Proofpoint policy engine mean users can apply policies to 'all mail with exceptions'. Users will also now have the option of retaining data indefinitely, rather than having to decide on a retention period up front. The software also now supports archiving instant messages in addition to email. Finally, a new active legal hold feature flags new mail for archive that may be relevant to existing cases.
The announcement may be among signs that email archiving SaaS offerings, which one analyst described as "not ready for prime time" in the enterprise last year, are beginning to catch up with on-premise products, according to ESG's Babineau. "They might not be able to catch up fully, because there are some inherent limitations to the cloud environment," he said. "But the operational benefits that they deliver, i.e., they don't require any IT ops management and you don't have to buy any storage, make them a viable alternative to on-premise solutions, especially in this economy."
---
June 5, 2009 8:08 PM
This had been apparent from the earnings reports of the major storage vendors, but it's still startling to see the numbers all lined up at once: analyst firm IDC released its worldwide quarterly disk tracker for the first quarter of 2009 today, and the numbers are not pretty.
Worldwide external disk storage systems factory revenues fell 13.6%. The total disk storage systems market declined to $5.6 billion in revenues, an 18.2% decline. Networked storage (NAS plus SAN) fell 12.5%. SAN declined 14.3%. Every one of the top five vendors posted a revenue decline, all but two of them (Dell and Hitachi) in the double digits.
Even in the fourth quarter of 2008 when the the economic crisis was already in full swing, year-over-year revenue only declined 0.5%.
But we knew the first quarter had been awful – maybe it's even more interesting to see what didn't decline. For one thing, while revenues plummeted, capacity growth remained positive, up 14.8% compared with last year. "These contrasting results are due to a combination of currency implications, lower overall sales, shifts in product mix, and aggressive pricing actions," according to Steve Scully, research manager, enterprise storage, as quoted in an IDC press release.
Entry-level price bands (under $14,999) grew 9% and the midrange price band ($15,000 – $49,999) was flat. That might explain all the entry-level NAS systems we've seen introduced over the last few months. The very high end ($300,000 and up) saw growth, also the result of discounting, according to IDC.
In what may be the most interesting data point of all, iSCSI SAN showed 40.5% revenue growth compared to the prior year's quarter. Dell led the market with 36.4% revenue share, followed by EMC with 15.8%. I don't think small companies have some advantage in this crisis big companies don't. Companies of all sizes are probably buying low-end products to bridge the gap.
IDC research manager Natalya Yezhkova agreed. "We don't do analysis by company size," she said. "But one of the products that's done really well on the low end is JBOD, which goes into expanding the capacity of servers, specifically blade servers, and that's usually at larger companies. Users are trying to expand at low cost what they already have."
Storage vendors like EMC have predicted stabilization in the middle quarters of the year, with at least signs of recovery toward the fourth quarter. Yezhkova said that in IDC's next quarterly disk forecast "the magnitude and rate of recovery may have changed, but the overall sense that we'll see recovery by the end of teh year is still the assumption."
---
June 4, 2009 8:43 PM
NetApp and EMC have filed forms with the SEC detailing the timelines of their negotiations with Data Domain, which has accepted NetApp's $1.9 billion offer while EMC's $1.8 billion offer remains on the table.
Some highlights of the negotiations:
• Data Domain CEO Frank Slootman and NetApp CEO Dan Warmenhoven talked informally "from time to time" about their companies and the storage industry since 2006. Last November, a representative of Goldman Sachs arranged for a meeting between the two CEOs to discuss a possible "business combination" between the two. Slootman and Warmenhoven agreed the time was not right for any type of deal between the companies.
• Goldman Sachs arranged another meeting last March 17 between Slootman and NetApp president Tom Georgens to discuss "strategic opportunities" between Data Domain and NetApp. At that meeting, Slootman agreed to discuss a potential deal with the Data Domain directors. He briefed chairman Aneel Bhursi and the other directors that day, and the Data Domain board agreed to open negotiations with NetApp.
• Data Domain met with another company, referred to as "Company A," on April 6 to discuss what the NetApp filing called "terms of a commercial relationship." The unidentified the company is believed to be either Hitachi Data Systems or Symantec, but there were no further discussions after April 6.
• On April 27, NetApp made its first offer of cash and stock worth $22 to $23 per Data Domain share. The offer included a potential position on the NetApp board for Bhursi and a potential NetApp management role for Slootman. Data Domain's board wanted a better financial deal.
• On May 6, after two more NetApp offers and a Data Domain counter of $26 per share in cash and stock, the companies tentatively agreed to a price of $25 per share in cash and stock – worth around $1.5 billion. The next day, an EMC board member contacted Slootman to arrange a meeting with EMC CEO Joe Tucci.
• Warmenhoven said "NetApp would not engage in a bidding contest if additional parties emerged seeking to acquire Data Domain," according to NetApp's filing.
• On May 7, Slootman agreed to meet Tucci May 27 in the San Francisco area, but cancelled the meeting on May 20 after the sides reached a final agreement and NetApp announced that Data Domain accepted its $1.5 billion offer. Tucci was likely referencing the cancelled meeting in his public letter to Slootman Monday, which read "We are disappointed that we were not given an opportunity to explore a business combination prior to the announcement of your proposed transaction with NetApp, particularly since I believe you should have been aware of our interest."
• EMC representatives continued to contact Data Domain representatives after they accepted $1.5 billion offer. Data Domain reps told EMC reps they could not talk to them because of a non-solicitation clause in the merger agreement with NetApp.
• Tucci called Slootman Monday to notify him of EMC's cash offer to Data Domain shareholders worth $30 per share or $1.8 billion. The Data Domain board met that day to review EMC's offer, then notified NetApp they would contact EMC about its offer.
• NetApp said it would increase its offer to $30 in cash and stock – worth $1.9 billion – Tuesday, and made the offer public Wednesday morning. Data Domain's board accepted later in the day, and EMC publicly stated its offer is still superior to NetApp's revised offer.
Today, Data Domain's board said it is reviewing EMC's offer and will make a recommendation to shareholders by June 16.
---