---
May 26, 2009 4:07 PM
Hitachi Data Systems has put out a brain-teaser for storage industry watchers in anticipation of announcing a new system on a webcast scheduled for tomorrow. HDS CTO of Storage Architectures Claus Mikkelsen posted an anagram on his blog of the technology HDS will be making noise about tomorrow – REGRADES OUR CLASSY TREAT.
U.K. storage consultant Chris M. Evans solved the puzzle on his blog with STORAGE ARRAYS CLUSTERED or CLUSTERED STORAGE ARRAYS, although the ever-cheeky Register has a few more "adventurous" suggestions.
Here are a couple more, courtesy of Wordsmith.org:
A Lacerated Grosser Yurts
A Declaratory Egress Ruts
A Daycares Legs Torturers
A Carloads Regrets Surety
A Caldera Rogers Yet Rusts
Let us know if you've come up with any more good ones in the comments.
May 22, 2009 11:28 AM
Xiotech has rolled out a smaller entry-level configuration of its Emprise 7000 array, targeting branch offices and the midmarket. The single-controller Emprise 7000 Edge supports up to 10 of what Xiotech calls Intelligent Storage Elements (ISE), for a total maximum capacity of 160 TB.
Xiotech product management director Eric Lomascolo says the 7000 Edge also has a direct upgrade path to the dual-controller enterprise Emprise 7000, which supports up to 64 ISE for up to 1024 TB.
Xiotech also sells the Emprise 5000, a direct-attached storage (DAS) box, which users can stack to expand capacity. However, according to Lomascolo, the 7000 series includes software features not found in the 5000, including replication, which can be applied to the entire SAN from a single management point. Each 5000 unit has to be managed separately.
Xiotech has yet to add solid-state drive support to Emprise, but Lomascolo said it's on the roadmap and Xiotech will consider hybrid as well as purely solid-state offerings. Another trend among disk array vendors has been the development of software for automatic placement of data on SSDs according to performance needs, but Lomascolo said it's low on the priority list for Xiotech users. "It's absolutely something we'll make available, and today you can move data around with integration through our Web services interface," Lomascolo said. "But what we've seen so far from feature functionality surveys is that's at the bottom of what users really care about."
---
May 22, 2009 8:15 AM
Please excuse my voice this week, battling a cold.
Standard Podcast
Play Now
|
Play in Popup
|
Download
Stories referenced:
(0:25) NetApp acquires data deduplication specialist Data Domain for $1.5 billion
(2:15) EMC Corp. reveals storage automation plans at EMC World 2009
EMC World Reporter's Notebook
(5:31) EMC, AT&T open up Atmos-based cloud storage services
(7:03) IBM writes software to improve data placement on solid-state drives
(9:02) Sun tweaks tape platform while waiting for Oracle to take over
---
May 21, 2009 5:25 PM
Like all large acquisitions, NetApp's $1.5 billion purchase of Data Domain leaves a few lingering questions in its wake.
The first is, will this be another acquisition that blows up in NetApp's face? Let's face it, NetApp hasn't hit any home runs in past pickups. A quick look at its track record shows NetApp:
• bought Spinnaker for $300 million five-and-half years ago, and still hasn't fully integrated the code into its Data OnTap operating system.
• paid $272 million for Decru in 2005, only to be frustrated when the appliance-based encryption market never developed.
• acquired Topio for $160 million in 2006, and discontinued selling its heterogeneous replication software at the end of last year.
NetApp president Tom Georgens is quick to point out the 2008 acquisition of Onaro for $100 million has worked out. Georgens says the SANScreen SRM software NetApp got from Onaro has sold well above expectations in the first year since the deal.
But even counting Onaro as a hit still leaves NetApp with a poor average with acquisitions.
NetApp CEO Dan Warmenhoven found himself on the defensive on the NetApp earnings call Wednesday night when asked about previous acquisitions. "Spinnaker was completely integration — we tried to fuse together two separate technologies," he said. "That was a much harder problem than we anticipated going in. Decru had a little bit different outcome. While I agree with you it was not to the fulfillment of our expectations, I think it was because we saw that market shift much faster than we thought."
Neither of those problems should arise with Data Domain, though. The dedupe market is clearly established and growing, and Data Domain has led the charge. No integration is necessary in this case. There may be some integration down the road, but NetApp can sell the Data Domain dedupe boxes while it develops future products. Unlike Spinnaker, Decru and Topio, Data Domain is a public company. It has a strong organization and an accomplished sales force. And as Warmenhoven points out, NetApp already knows how to sell software wrapped in commodity hardware. The odds look good for NetApp in this case.
Another question in the wake of the deal is, will the ripple effects result in more acquisitions? It is sure to renew speculation that EMC will buy out its dedupe partner Quantum, but EMC already has the only thing from Quantum that it wants – its dedupe code. Why should it buy the entire company, unless another suitor forces it into a defensive deal?
The more likely deal would be Hewlett-Packard and Sepaton. HP already sells Sepaton's dedupe and VTL software, and has a track record of buying companies following successful OEM relationships.
Regardless of what happens next, NetApp's deal has made a hot tech area even more interesting.
---
May 20, 2009 8:38 PM
Well, NetApp found a way to make money off data deduplication without charging for its primary deduplication licenses.
NetApp acquired Data Domain today for $1.5 billion, giving it the top dedupe revenue-producing product platform after the deal closes in about two to four months.
Earlier this week, NetApp issued a release saying 7,200 customers were using its dedupe for more than 37,000 systems. But those customers aren't paying for dedupe because NetApp doesn't charge for dedupe licenses for its primary storage. It does sell virtual tape libraries (VTLs) with separate dedupe licenses, but that platform will likely be phased out now that NetApp has Data Domain's product line.
NetApp paid $25 per share in cash and stock for Data Domain, well above the $18.08 price Data Domain opened at today.
NetApp and Data Domain both count EMC as their largest competitor, and this will intensify the NetApp-EMC competition. EMC licenses Quantum's deduplication software for its Disk Library family, and also offers host-based deduplication with its Avamar software. EMC recently moved to challenge NetApp in primary dedupe by adding single instance capability to its Celerra NAS platform.
See our story on SearchStorage for more details.
---
May 20, 2009 7:57 PM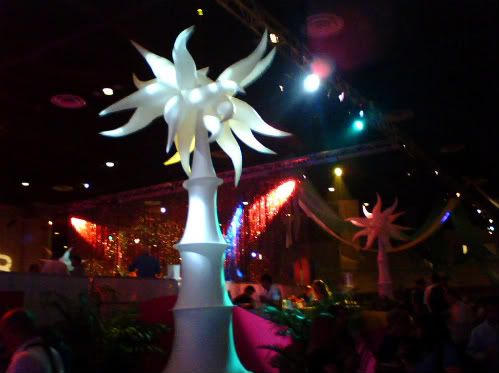 The decor theme at the Welcome Reception Sunday night seemed to be "art-deco tropical."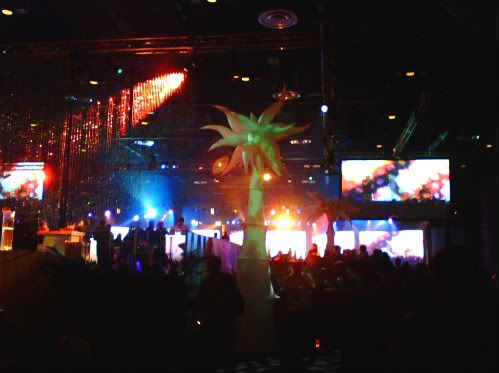 View of the Gin Blossoms concert from behind the VIP Lounge.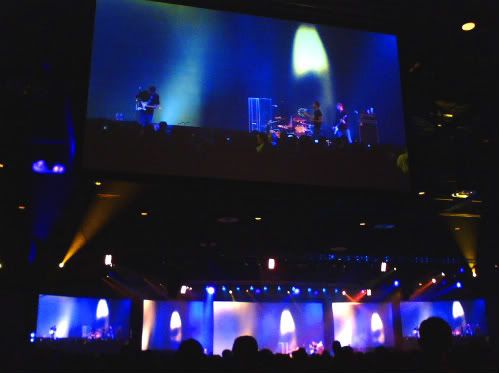 The Gin Blossoms perform on a screen (top / foreground) and onstage (bottom / background).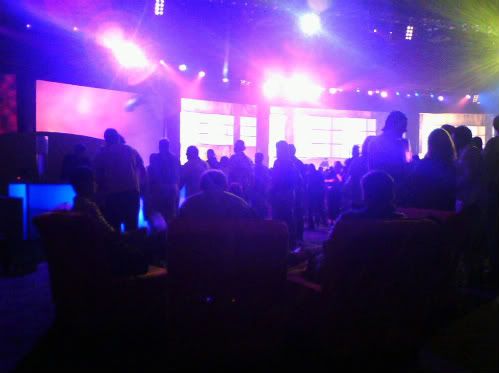 Attendees take in the Gin Blossoms concert at the Welcome Reception Sunday night.

The Gin Blossoms' lead singer, Robin Wilson, stands on the drum kit (center-right) during the band's performance.

It's just not a tech trade show without blinking LED trinkets. This year, they were at the bottom of Brocade-themed beer glasses.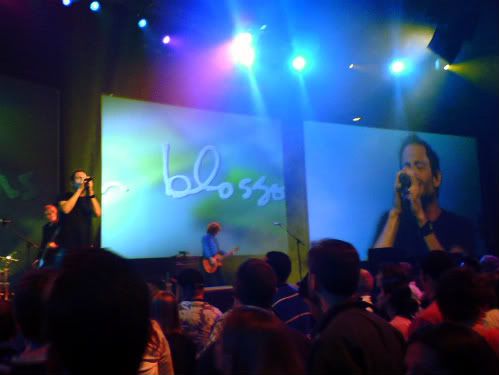 The Gin Blossoms' Robin Wilson performs.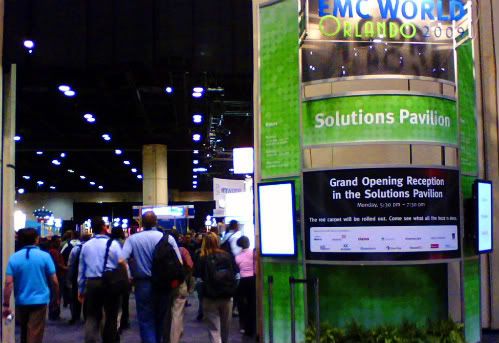 Monday morning – a stampede for the show floor just after it opened.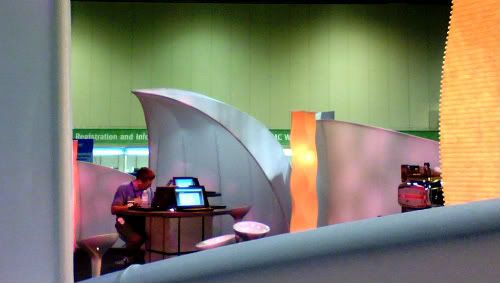 Hard at work inside the Bloggers' Lounge.

View of the funky exterior of the Bloggers' Lounge.

Orlando, I discovered on this trip, is not a walking city. Technically, the Orange County Convention Center was across the street from our hotel, but 'across the street' means something different in Orlando than Boston or New York – in this case the street was a six-lane divided highway. Also, the fact that we could see part of the OCCC from the hotel didn't mean the conference was necessarily close by – the structure (or group of structures) is so enormous we had to be bussed a few blocks to get to the right concourse. Once inside, the scale didn't seem to get much smaller. Needless to say, by this time Monday afternoon I was pretty jealous of the OCCC staff who were jetting around on Segways.

EMC directors' chairs, ready for executives' closeups.

EMC's Rich Napolitano, Mark Sorenson and Brian Gallagher at a panel session with press Monday afternoon. 

Dual controllers: VMware CEO Paul Maritz (left) and EMC CEO Joe Tucci (right) field questions from press on Monday.

VCE reps Chuck Hollis of EMC, Ed Bugnion of Cisco and Parag Patal of VMware host a roundtable discussion with press Tuesday morning.
---
May 20, 2009 2:05 PM
A bear economy and drenching rainstorms raged on outside the Orange County Convention Center during EMC world this week. Inside, though, there were lively conversations in the hallways of the sprawling convention center, most looking forward to the future despite this year's fiscal headwinds.
EMC to add cloud options for Networker, Avamar and RecoverPoint
One more EMC storage product roadmap nugget before we conclude our coverage of the show – senior vice president of storage software Mark Sorenson said Tuesday afternoon that EMC is planning cloud integration for at least three of its backup and replication software products: NetWorker, Avamar and RecoverPoint.
Sorenson said he expects enterprise customers will want a hybrid approach to storing data in the cloud, with some data left on-site. NetWorker will offer backup to EMC's cloud data center as a media option. Customers without their own DR site will be able to replicate Avamar Data Stores or storage arrays using RecoverPoint to the cloud as a secondary data center. The NetWorker and Avamar integrations will come first, with RecoverPoint integration expected next year.
EMC eyeing Axxana?
Speaking of RecoverPoint, startup Axxana demonstrated its Phoenix DR appliance with RecoverPoint integration on the show floor. Axxana describes its product as a "black box" resistant to fire, earthquake, power failures and flood. It performs replication using cellular signals.
It intrigued me when Sorenson, unprompted, pointed to Axxana among all the others on the show floor. He also said EMC has already made a $1 million investment in the Israel-based company. He wouldn't say anything about whether an acquisition is likely, of course, but it'll be worth watching out for.
EMC product convergence, revisited
For a few years now, I've been harboring a sneaking suspicion about EMC's hardware products. Ever since I saw an executive at a customer event talk about a unified backup and archiving appliance, I've been noticing more and more similarities among EMC's other products as well. There are the common disk array enclosures (DAE) between Symmetrix, Clariion and Atmos; the disclosure here at the show that the fully automated storage tiering (FAST) feature already added to Celerra and Symm will be ported to Clariion by the end of this year; the use of the same Intel processors within Clariion and Symmetrix V-Max.
Because of these developments, it's been easy to imagine future arrays that would work like the fabled unified backup appliance – standardized commodity hardware that's given personality by software. I'm not the only one who's gotten that impression, either.
But if that's EMC's ultimate strategy, they spent some time at this show trying to steer people off that trail. Joe Tucci said in a press Q&A Monday that while Clariion and Symmetrix will be able to "talk to each other" sometime next year, and despite the common processors, the two remain distinctly different in hardware as well as software. Even though they have the same kind of processor, they have different quantities of processors inside the system. In the midrange Clariion system, dual controllers mean 50% performance degradation if one fails; with more "engines" in the Symmetrix, it can take more of a licking and keep on ticking.
And what ever happened to that unified backup appliance? Back in Sept. 2007, the timeframe set for the release of the product was within 12 to 24 months. I asked an EMC spokesperson about it, and received this statement in return:
We don't have plans for a combined backup and archive appliance.

Since [the] presentation [in 2007] we have delivered Avamar appliances and continue to deliver Disk Library appliances for backup. We also continue to provide Centera as our primary platform for archive.

Integrated management is central to EMC's data protection strategy for its customers and we've already executed off that strategy with a number of our announcements including those announced today. Much has changed over the last two years around next-generation infrastructures and based on the feedback we've received from our customers, we feel we are making the right integrations to help our customers reduce complexity, increase storage efficiency and cut costs.
Now that I've seen V-Max and Atmos, I can understand how my guesses at the future of EMC hardware were close, but I don't expect full convergence as described with the backup and archive appliance.
VMware, Cisco, EMC host press panel
EMC's Chuck Hollis, Cisco's Ed Bugnion and VMware's Parag Patal held a panel discussion with press Tuesday morning to emphasize the coziness of what they're calling the VCE alliance.
Given the disconnect between EMC's rhapsodizing about an automated virtual future and the inherent conservatism of the storage audience, I asked the panelists when they thought this "new paradigm" they're talking about would come to fruition.
"I still talk to some people who see iSCSI as newfangled," Hollis said. "We won't see majority adoption for many, many years."
Server virtualization, which lays the groundwork for the new virtual data center we heard so much about at the show, "has already passed its tipping point," Patal pointed out.
Cisco talks FCoE adoption
Also on the adoption-trends front, I had a pretty interesting conversation over lunch Tuesday with Bill Marozas, senior manager of business development and partner management in the data center unit for Cisco. We were talking about how the economic downturn might affect adoption for FCoE, because financial services firms were seen as the most likely early adopters and that sector is struggling. Marozas said this would probably impact adoption, but that many companies are already "planning for the upturn."
The problem, I said, is that any upturn in our economy will probably involve fundamental changes to who and what drives it – we might see overall economic revitalization, but in sectors like Web 2.0 rather than financial services. I don't think financial services will return to where they were earlier this decade at all, after the consolidation or collapse of so many firms in the last year.
The most likely place for FCoE to find a home given the state of the financial services industry is probably in either the healthcare or energy sector, both of which are undergoing massive digitization efforts right now.
But after the economy, there are also plenty of questions to be answered about the technology. It needs to be more clearly explained, for example, exactly how Cisco's MDS FC director switches — which Marozas said will remain available even as Cisco pushes its Nexus switches into the market — fit into the FCoE picture. And if you're keeping your FC director while adding new top-of-rack switches for FCoE, where do the infrastructure savings and consolidation come from? Stay tuned for more follow-up here.
Attendance down, economy to blame
According to CEO Joe Tucci's keynote, there were 9,000 total attendees – including EMC staff, partners, press and analysts as well as end users – at EMC World 2008. This year EMC claimed more than 7,000 attendees. A decline, to be sure, and I spoke with several users prior to the show who had attended in previous years but were sitting this one out because of travel budget restrictions. However, the show seemed livelier and much bigger than Storage Networking World, also held in Orlando last month. The fact that the show still went on was a victory in the current climate; competitors NetApp and Symantec both called off their user conferences earlier this year.
Complete EMC World 2009 coverage.
---
May 18, 2009 10:34 PM
The CEO duo of EMC's empire, Joe Tucci of EMC and Paul Maritz of VMware, did plenty of talking at EMC World today, with a keynote apiece and a press Q&A session this afternoon.
The two addressed hot topics including coopetition with Oracle, potential future acquisitions and the high-profile departure of former Storage Division head David Donatelli for Hewlett-Packard.
Both CEOs downplayed the impact of Oracle Corp.'s recent acquisitions of Sun Microsystems and server virtualization player Virtual Iron. The deals will bring Sun into greater competition with EMC and VMware. "There are several companies like Oracle developing rich software stacks right now, including us," Tucci said, pointing out software such as Java and MySQL was most likely the main impetus for the Sun deal. "With that came a hardware business, but I don't think that will really change the landscape [in the storage market] significantly."
Maritz said Virtual Iron's management tools for virtualization "were state of the art two to three years ago, but they've fallen behind. Oracle is trying to come from behind and pick up crumbs along the way to improve their position, but we believe vSphere is at least a generation ahead of them."
With EMC sitting on a reported $9.8 billion in cash reserves, the question of acquisitions came up. Tucci mostly deflected the question, but said that if EMC does acquire more companies, it will be to strengthen offerings in areas where the company already plays, rather than getting into new markets.
Tucci was also asked if EMC might itself be a target for acquisition (Cisco/EMC merger rumors have popped up again in recent months). Tucci replied that EMC is "certainly not for sale. We're obligated to do what's in the best interests of shareholders, but [selling the company] is not our core strategy."
As for Donatelli — whose move to HP is being held up in a legal battle — Tucci didn't make too much of his departure. "It happens in this industry. People get poached," he said. "He's a good leader, but the technologists who designed our products are all still here today. We'll be just fine."

Clouds coming together?
Both CEOs also emphasized their converging vision for the virtual data center and the cloud, which Tucci called "first cousins" – similar data centers at each end of the wire that VMware and EMC envision being managed as a federated whole. Both sides would use VMware as a middleware layer to let apps float between inside-the-firewall and outside-the-firewall infrastructures for enterprises.
This is somewhat similar to today's news about EMC's new Atmos onLine service, which would use applications linked through Atmos APIs to federate data between on-premise and cloud-based storage.
Things got a little confusing, though, between competing claims of perfect alignment with VMware between Atmos and the new Symmetrix V-Max system. Atmos has a file/object interface making it more suitable to unstructured data, and V-Max is geared more toward transaction-heavy workloads, Tucci clarified. He said he expects V-Max deployments going forward to use sold state as a rule. "The norm with V-Max should be that SSDs will be in the system – it will be unusual to see one without it," he said. In his keynote, Tucci also said he expects Flash to dominate solid-state storage, with technologies like phase-change memory much further down the road.
Since the launch of VMware vSphere, EMC and VMware have pushed customers to virtualize tier 1 applications, which in the past have been left out of virtualization because of hypervisor performance penalties. Maritz today touted a new maximum performance benchmark for vSphere of 330,000 IOPS on a paravirtualized VM on a 64-core cluster of servers attached to an array of Flash drives (no details on how many Flash drives and what type they were). This is compared to VMware Virtual Infrastructure 3.5's maximum performance benchmark, which attained about 100,000 IOPS on a 16-core single server attached to 500 FC disk drives on an EMC Clariion disk array.
---
May 18, 2009 9:00 AM
Hifn (now part of Exar Corp.) is taking another crack at getting major OEMs to ship products integrated with its DR line of compression, encryption and deduplication hashing acceleration cards, which could potentially spur the development of primary storage data deduplication offerings.
Prior to its acquisition by Exar, Hifn began sampling Express DR 250 and 255 cards to OEMs, but they hadn't made their way into any announced third-party products. At this spring's SNW, Hifn launched its own product based on the DR 255.
It was unclear why the chip boards, which perform processor-intensive data reduction and encryption in silicon, hadn't caught on with OEMs. Maybe Hifn's announcement today of its new DR 1600 series may tacitly answer that question with new features such as high availability and boosted performance.
The DR 1600 line consists of six new models offering different levels of performance and combinations of compression, encryption, and dedupe. The Express DR 1600, 1610 and 1620 perform LZS compression and encryption only, at speeds of up to 300 MBps, 900 MBps, and 1800 MBps, respectively. The Express DR 1605, 1615, and 1625 run at the same three levels of throughput, but offer compression, encryption and hardware-based hashing for data deduplication (hash comparisons must still be performed by an OEM in software).
Hifn has also developed new software to go with the cards for this release, which includes a new API to standardize and ease integration of the cards into storage products to make it quicker for OEMs to take them to market. The 1600 series includes new high availability software for failover between cards, or to "pass through" traffic. That means if one card fails, the other can still perform compression, encryption, and dedupe in software.
According to Zack Mihalis, director of product marketing for Hifn, the new cards are sampling to OEMs and will become generally available at the end of July. Mihalis claimed that several large OEMs are considering the cards, potentially for primary storage dedupe. EMC, NetApp and Quantum are traditionally among Hifn's OEMs, but Mihalis declined to disclose if any of them are sampling the DR 1600 cards.
Still, some industry analysts see this as the first step toward primary storage data reduction products becoming as ubiquitous as those for backup workloads. "Hifn has some very major OEMs as clients," said IDC analyst Benjamin Woo. "This release is very timely – in this downturn we need to be more efficient with how we deal with data."
However, Taneja Group analyst Jeff Boles pointed out that there's still plenty of engineering work to be done to produce primary storage dedupe products, even with some of it already completed by Hifn. "Keep in mind that Hifn is hashing at 1,800 megabytes per second, but that's not the speed of writing out to disk," he said. "It's still up to someone to make maximum use of this on disk, with caching, etc. Can you use this to service a random workload? That may be an engineering feat in itself."
---
May 15, 2009 7:27 PM
Ten days after picking up Exchange CDP vendor Asempra, BakBone Software Thursday grabbed an entire message management division.
BakBone acquired ColdSpark for $15.9 million in cash and stock, and ColdSpark's products will make up BakBone's new division. ColdSpark founder and CTO Scott Brown becomes general manager of the message management group.
.
With Asempra, ColdSpark and BakBone's NetVault platform, BakBone can protect data in a structured repository or file system or in motion as it moves across messaging systems. This also brings it beyond pure backup, where it probably can be no more than a niche player in a market where it competes with Symantec, EMC, IBM, Hewlett-Packard, CA, and CommVault. Now BakBone is a player in email management as well. That's another crowded market, but there is still opportunity for a small player.
BakBone's shopping spree comes within months of its taking a big step to remove a cloud that has hovered over the company for years. BakBone was knocked off the Toronto Stock Exchange in 2004 after accounting irregularities forced it to restate earnings for 2003 and 2004. It has been working on getting its books in compliance and current since then, and finally did that in February by filing annual reports for 2007, 2008 and the first three quarters of its 2009 fiscal year. BakBone is working on getting re-listed now that is financials are caught up.
My guess is BakBone will continue to move aggressively in the coming months, whether it's making more acquisitions or pushing out its message about messaging.
---