---
March 15, 2010 4:27 PM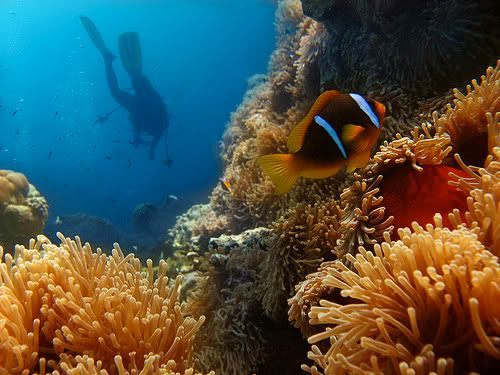 deep dive, originally uploaded by getzy777 on Flickr
The major story with Sepaton's launch of a new midrange data deduplication system and support for EMC Corp.'s NetWorker last week was the shifting competition in the data deduplication market: Data Domain, which made a name for itself catering to midmarket customers, is pushing upmarket now that it's part of EMC, and Sepaton, which has previously emphasized the enterprise, is gunning for Data Domain's midmarket turf with the new S2100-MS2.
Along with the new configuration, though, Sepaton also made some modifications to its data deduplication algorithms that have not been as widely discussed in the industry. I followed up with some Sepaton executivesto get some more details on these updates, and thought they'd be worth throwing into the mix here.
First a couple of refreshers on Sepaton's approach to data deduplication. It uses delta differencing to identify duplicates between two sets of backup data, along with content-aware integration with the major data backup applications – Hewlett-Packard Co. (HP)'s Data Protector; Symantec Corp.'s NetBackup; IBM's Tivoli Storage Manager (TSM) and EMC Corp.'s NetWorker so far. This allows Sepaton's data deduplication engine to identify objects within the backup stream that may be redundant, like Oracle and Word documents. Sepaton's data deduplication also occurs post-process, rather than as data is ingested into the system, and uses forward referencing, a process which keeps the latest copy of data intact and eliminates duplicates from previous versions as opposed to eliminating duplicate data from the newest version upon ingestion.
There are two tradeoffs when it comes to doing delta differencing the way Sepaton does it: the fact that some applications, particularly those that might make large insertions into a database table as records are modified, like SAP, don't necessarily lend themselves well to object comparisons, and a challenge to getting the most data reduction out of a delta comparison between incremental backups, which by definition don't contain many duplicate objects.
With version 5.3 of its DeltaStor data deduplication software, Sepaton has updated its algorithms to better support incrementals using a new metadata "scraper" to give the data deduplication engine "hints" about what blocks within incremental backups can be deduplicated. These "hints" were also developed based on field-collected customer data and new heuristics added to the DeltaStor algorithm, according to executive vice president of engineering Fidelma Russo.
Additional application types such as SAP are now supported with this release, which involved adding a new process to Sepaton's dedupe which allows it to more quickly compare incremental backups to one another, by generating a lightweight "fingerprint" to suggest which portions of the incremental backup might contain duplicate blocks.
This sounds somewhat like the hashing approach used by other data deduplication vendors, including Data Domain, but rather than performing a hash on all data coming in to the system as a primary means of locating duplicates, Sepaton uses this "fingerprinting" process to give the delta differencer "hints" about where duplicates might be located. "Its only goal in life is to sort through incrementals for the delta differencer — inline deduplication products use hashing to compare across all data — our process identifies only the probability of common data," said Dennis Rowland, director of advanced technology for Sepaton. Rowland said Sepaton has a patent pending on its new process.
Backup expert W. Curtis Preston said he doesn't think this latest update of Sepaton's and its ramifications — a new alternative to deduplicating SAP, for example, which is a notoriously heavy application when it comes to generating backup data — have been well understood by the market yet. "I think it's a very important release for [Sepaton]," he said.
March 12, 2010 8:16 AM
03-11-2010 Storage Headlines
[ 8:54 ]
Play Now
|
Play in Popup
|
Download
---
March 9, 2010 7:42 PM
EMC Corp. Monday sent out a release saying its Celerra multiprotocol storage systems now officially have a plug-in available for VMware Inc.'s vCenter management console and Site Recovery Manager (SRM) failover and failback.
At first, this seemed like a ho-hum announcement. Plug-ins that integrate with vCenter are part of the new standard APIs VMware is making available for partners — everyone and their brother seemingly has something along these lines already (including EMC, which introduced a management plug-in for its Clariion and Symmetrix disk arrays last year). Ditto integration with Site Recovery Manager — FalconStor Software, for example, launched an SRM plug-in for its Network Storage Server (NSS) last year around the time of VMWorld in August.
But EMC director of unified storage marketing Brad Bunce claimed EMC's integration of automated failback for VMware environments running on NFS is unique. "The difference [between the Celerra plug-in and competitors] is that failback is automated without requiring advanced scripting in the NFS environment," he said.
At least one competitor acknowledges that the NFS support with automated SRM failback is not something it has yet offered — "As an NFS mounted device Celerra may be the only product with auto failover for SRM," wrote Falconstor director of marketing Fadi Albatal in an email to Storage Soup. However, he added, "from our side, we can say, welcome to the party–you're six months behind. Falconstor's SAN virtualization and DR solutions have a block storage service for SRM and our plug in has an auto-discovery feature that eliminates the need for scripting and ensures full integration with VMware SRM."
EMC's vCenter plug-in for management also includes automated provisioning features for VMware in Celerra NFS environments, including automatic mounts to ESX servers and clusters, virtual machine cloning, and compression.
---
March 9, 2010 5:52 PM
We are hearing from sources that NAS caching and monitoring startup Storspeed is already closing its doors, just six months after coming out of stealth.
Reached for comment today, Storspeed founder and vice president of business development Greg Dahl declined comment but said the company may make a public statement next week.
It's still unclear what the problems were that would have led to the company's quick demise, but our sources say the appliance didn't work correctly. "They were in business since 2007 and did not have a stable, working product," said one source familiar with the company. "The investors lost confidence in their ability to do a re-work." This source also told Storage Soup the company has already laid off employees. Storspeed did not have paying customers when it announced its SP5000 appliance in October.
Update: An anonymous tipster sent us this hint after this blog was originally published: "Storspeed closed the doors last week on Thursday. The product was indeed stable and did work correctly. One of the investors pulled out and caused a domino effect. All employees were laid off. The IP is for sale."
For a startup to source its own hardware rather than focusing on developing software as Storspeed did is an expensive proposition. To gain adoption among enterprises with an appliance that sits in the data path is a tough row to hoe for even the best of technologies. Combine that with the effects of the economic downturn, and there could be a potpurri of reasons for this early exit. Hopefully we'll know more soon.
---
March 5, 2010 9:17 AM
03-04-2010 Storage Headlines
[ 8:02 ]
Play Now
|
Play in Popup
|
Download
(0:25) Oracle/Sun to stop selling Hitachi Data Systems storage arrays
(1:21) Symantec plans Data Insight software to link storage resources with data owners
(2:40) Quantum, Overland get LTO-5 tape backup ball rolling
(4:04) SunGard adds EMC Data Domain deduplication to Secure2Disk cloud data backup service
(5:41) Storwize adds HA, Compression Accelerator to primary storage data reduction device
---
March 4, 2010 3:05 AM
File under "don't try this at home" — according to The Smoking Gun, a man named Florin Necula, accused of planting a card reader on New York City ATMs to "skim" card information, has had an obstruction of justice charge added to his rap sheet after he attempted to swallow a Kingston USB Flash drive containing evidence related to the case.
Per TSG:
When Necula was unable to pass the item after about four days, doctors–concerned that the drive was not compatible with the suspect's GI tract–concluded he "would be injured if they allowed the flash drive to remain inside of him,"
Okay, yikes. But this was the best part for me:
A Kingston executive said it was unclear if stomach acid could damage a flash drive. "As you might imagine, we have no actual experience with someone swallowing a USB," Mike Sager wrote in an e-mail to TSG.
How I wish I could've been the one to forward that request for comment to Kingston's PR! Almost as much as I wish I'd been the first to think of TSG's coinage to describe Mr. Necula, "Giga-biter".
---
March 3, 2010 7:56 PM
Sun/Oracle is back in the news this week because of the demise of the HDS partnership, leaving Oracle's portfolio stocked mainly with Sun's ZFS-based open storage products.
Meanwhile, one of the more interesting aspects of the Sun/Oracle enterprise data storage hardware business going forward is how much of it operates outside Sun's control.
One example of this is a company called Nexenta, which develops Sun's open-source file system independently. This week, Nexenta became the first commercial company to offer inline data deduplication developed for ZFS. Nexenta claims its software has more than 12,000 registered users.
What does it mean when someone else can take source code from a product now owned by Oracle to market before Oracle does? It's a question that will become central, I think, as Oracle/Sun begin offering hardware products.
In the meantime, one service provider which has deployed 400 TB Nexenta's version of ZFS says the price is right and the flexibility to modify the open-source code to the needs of customers was a key factor in picking the product over proprietary competitors.
However, according to Jeremy Miller, head of virtual private server operations for web hosting company Site5, he's hoping to see Nexenta develop a graphical user interface (GUI) for deploying the plugins that give the system advanced features like failover and support for iSCSI. Nexenta has a GUI for day to day management, he said, but requires management of plugins through a command-line interface (CLI).
---
March 2, 2010 11:50 PM
One question about Oracle's plans for Sun storage was answered today – by its enterprise array partner Hitachi Data Systems.
HDS notified its channel partners by email that its nine-year partnership with Sun will end on March 31. Sun sells HDS' Universal Storage Platform V (USP V) and USP VM as the StorageTek StorageTek 9990V and StorageTek 9985V.
HDS told its partners it will make its USP systems available to them under the HDS brand. It is still unclear whether Sun will look for another enterprise storage system partner.
Here's the text of the HDS email:
Dear Valued Partner:
Due to the recent acquisition of Sun Microsystems by Oracle Corporation, there has been much speculation as to the effect the merger will have on the market, product offerings and partnerships. As you are aware, Hitachi Data Systems and Sun Microsystems have enjoyed a successful business partnership. On March 31, 2010, the current distribution agreement that Hitachi Data Systems and Sun Microsystems have been jointly operating under for the past nine years will come to an end.

This relationship has given our partners access to industry-leading storage solutions built on Hitachi technology on which many of the world's top enterprises have come to rely. With the acquisition of Sun Microsystems, Hitachi Data Systems and Oracle agree that the time is right to evolve this relationship into one reflecting the priorities of the new company. We are jointly determining the positioning of the products and solutions based on Hitachi Data Systems that you have deployed with clients. We understand you and your customers have questions and concerns surrounding service obligations to the global install base moving forward.

Hitachi Data Systems will be answering all questions and concerns with solid transition programs and will focus on meeting the demands of the continued excitement in the marketplace around the Hitachi Data Systems technology and the unique leading edge solutions that the Hitachi Data Systems brand has, and will continue to bring to market. These solutions will continue to be made available to you and your customers under the Hitachi Data Systems brand name.

Details will be forthcoming on programs and processes that will help guide you and your customers, as we transition this business moving forward. A new chapter is here, and Hitachi Data Systems sees great opportunities for you that will materialize in the market. Protecting, developing and growing your business is our top priority.

Thank you.
Hewlett-Packard also sells an enterprise storage array – the StorageWorks XP series – based on Hitachi's technology. There was speculation last year when HP hired former EMC executive Dave Donatelli that HP would also drop the HDS platform, but there has been no indication of that from HP.
---
March 2, 2010 7:24 PM
Xiotech has made sweeping changes in its executive suite over the last four months, beginning with the hiring of CEO Alan Atkinson last September. Atkinson revamped his management team, bringing in chief strategy officer Jim McDonald and VP of marketing and business development Brian Reagan.
Now the new team is ready to make product changes. First, it is getting rid of the Magnitude SAN platform. The Magnitude will be end-of-lifed at the end of the month, although the vendor will support systems in the field.
That's no surprise. Xiotech shifted its resources to the Emprise series based on Intelligent Storage Element (ISE) technology two years ago after buying the technology from Seagate, and the new management team is fully committed to continuing down that path.
"That is what we're about," Reagan said of ISE. "All coming product announcements will be ISE-centric."
The strategy now is to make the Emprise more of an enterprise play to broaden Xiotech's market from primarily a midrange play.
"We have ambitions to take Xiotech public," Reagan says. "We've been a midmarket storage company. We see an opportunity to move into the enterprise in a greater fashion. To do that, you need a presence in specific industries such as financial institutions. We see a need to embed ISE technology behind other technologies to make them work better with ISE."
A big part of the strategy is to make Emprise work better with server virtualization stacks from VMware, Microsoft and Citrus, Reagan says. Another step is to make ISE technology work better with home-grown code financial institutions often use for their storage systems.
Support for solid state drives is also in Xiotech's plans for the Emprise platform this year. Reagan says the systems can support SSD now, but Xiotech has reliability concerns about SSDs. "The problem we have with solid state is, from a reliability and performance standpoint, SSDs operate like regular hard drives but are massively more expensive," he said. "As they become full, they become slower. We offer a built-in five-year hardware warranty. Solid state can't live up to our reliability requirements now. It will get there eventually, though."
---
March 1, 2010 10:50 PM
That's the happy tune VMware backup pros are likely singing today, after VMware officially sent out a statement to customers announcing that VMware Consolidated Backup (VCB) will bite the dust with the next vSphere feature release this year.
In the letter to customers, VMware said its data backup partners will offer integrations with new vStorage APIs for Data Protection to replace VCB with the next vSphere release.
Industry experts say VCB had fallen short of its promise to simplify virtual machine backups in networked storage environments. To wit, according to backup expert W. Curtis Preston in a story we did recently about vSphere and backup:
"At this point, I wouldn't be surprised if 80% of users currently have agents in guests," said data backup expert W. Curtis Preston. There are two ways to use the current VMware Consolidated Backup (VCB) option, which transfers the quiescing of applications and execution of snapshots to a proxy server. One is a virtual mount, which means that the C: drive of a guest machine is transferred to the proxy server and backed up using regular backup software as if it was a local drive on the proxy machine. The other is to send an image of the virtual machine itself to the VCB proxy, where it can be backed up in its entirety.

 

According to Preston, "at the least it's a two-stage backup and restore" process to use VMware Consolidated Backup. If a virtual mount is used, the user must have a separate tool. Popular choices include Vizioncore's vRanger Pro and Veeam Software's Backup & Replication to back up the guest machine itself. If an image-level backup is used, the full Virtual machine disk format (VMDK) file is copied to the proxy machine and then backed up. Should users need to restore a single file or object from an image level backup, the full virtual machine must often be restored. Even incremental backups often copy the entire VMDK file over to the proxy server, Preston said.
The new APIs will allow data backup software tools to query virtual machines directly.
Meanwhile, there's palpable joy in at least some parts of the IT blogosphere about this announcement. "Boy-oh-boy-oh-boy, this is the best day since I know what VCB is! Finally, it's being retired!" exulted Joep Piscaer, a product manager for a Dutch VMware partner.
Another blogger wondered aloud if VMware Data Recovery (vDR), VMware's own backup tool launched with vSphere 4, will take over for VCB, but I would be surprised if that happened. DataRecovery is based on the same vStorage APIs VMware is making available to partners, but VMware has said DataRecovery will be limited to disk-based backups of virtual machine images only, and will support up to 100 virtual machines or 2 TB of storage. So for the low end of the market, probably, but most users will still be working with third-party tools.
---