Feb 12 2009 7:29PM GMT
Posted by:
Taylorallis
Tags:
A couple months ago we had a client that needed to migrate production data from one data center to another across geographies. There were a couple of complications, so our team put their heads together on a solution.
A Client's Need
We determined it would be faster (and cheaper) to replicate the data from Data Center A's production environment to some sort of storage repository. Then we would truck/plane that repository to Data Center B – which had a much faster transfer rate than sending the data over the network (given the amount of data we were dealing with). Once at Data Center B, we could copy the data from our storage repository to its new home. But the production data at Data Center A would have changed over the time the replicated copy was on its trip. So once were up at Data Center B, we would need to sync the delta in data to capture all these changes. This could happen over a network line, as the delta in data would be much smaller than the entire production environment.
It sounded like a good plan – and we had everything we needed to do it but a unified appliance that could handle iSCSI, FC, and NAS protocols as well as WAN replication.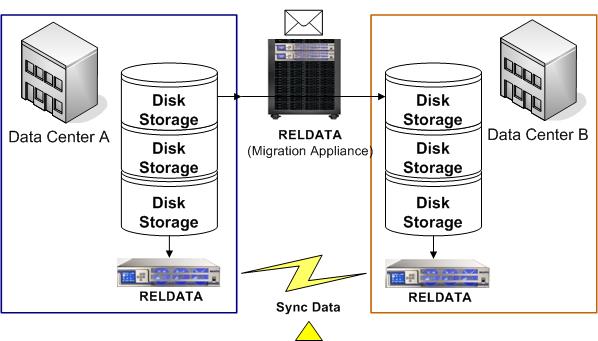 Enter RELDATA
We sat down with the folks at RELDATA, troubleshot the problem, threw a couple tough questions their way, and…were very impressed. What stood out to me was the following:
RELDATA is really a unified storage appliance/gateway built from the ground up – they offer iSCSI, FC SAN, and NAS in a virtualized appliance – in 1GbE and 10GbE flavors.

They weren't a NAS company moving into the SAN market; or a SAN company moving into the NAS market – they set out to build a virtual/unified appliance.
They offer local & WAN data replication & snapshot functionality. Additionally, the appliance looks very simple to install/manage.

In fact, their management council was pretty simple and slick with some cool wizard functionality.
One for the kickers for me was cost/value.

It is priced well (website says MSRP is $40k for a 12TB iSCSI SAN, $85k for a 48TB system with SAS under the hood.)

But the real value is in software licensing.

It is very simple and has NO capacity licensing, which is refreshing in a world where every new feature seems to come with a complex licensing price tag.

In fact, they have

all inclusive

software pricing – NAS, IP SAN, Global WAN Replication, and Virtualization come included. Pretty cool.
RELDATA is a young company, and its roots started in Europe (although they are now HQ'd in NJ). But they are old enough to have several successful implementations under their belt, and newer versions of their systems are coming out. I also found the people and support in the company to be very good and responsive.
RELDATA's 9240i System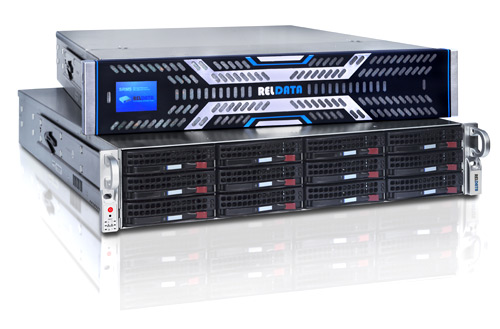 The 9240i is their latest system, some quick specs and highlights:
Includes 12TB SAS Storage in 2U that can scale from there.

Storage can be added via JBOD expansion shelf.

Systems can also be clustered.

They claim 70,000 IOPS and 820MBps performance.

You can choose the licensed functionality you need right away (iSCSI SAN, NAS, etc.) and turn on optional licenses when needed.
Block-level replication + snapshot included with software.

Offers heterogeneous virtualization to play with existing assets.

Mix 1GbE and 10GbE connectivity with either six 1GbE ports (expandable up to 16) or up to eight 10GbE ports.
A Solid Appliance
So, if you are looking for a practical, solid unified appliance for iSCSI SAN, NAS, replication, migration, consolidation, etc. take a look at RELDATA. It may not have all the bells and whistles as larger vendors, but it looks to be a well-built and designed gateway/appliance that can get the job done – simply and affordably.