---
September 27, 2012 11:11 AM
Certainly this won't be the only blog post calling New York Times writer James Glanz to task for his features on data center power use. But there were three specific areas that he missed out on.
Virtualization. In talking about how under-utilized data center servers are, and in appearing to limiting himself to less than state-of-the-art facilities, Glanz failed to notice how prevalent virtualization is becoming, which enables an organization to set up numerous "virtual servers" inside a physical server — which, in the process, results in much higher utilization.  "[V]irtualized systems can be easily run at greater than 50% utilization rates, and cloud systems at greater than 70%," writes Clive Longbottom in SearchDataCenter.
"[I]n many cases the physical "server" doesn't even exist since everyone doing web at scale makes extensive use of virtualization, either by virtualizing at the OS level and running multiple virtual machines (in which case, yes, perhaps that one machine is bigger than a desktop, but it runs several actual server processes in it) or distributing the processing and storage at a more fine-grained level," writes Diego Doval in his critique of the New York Times piece. "There's no longer a 1-1 correlation between "server" and "machine," and, increasingly, "servers" are being replaced by services."
"Although the article mentions virtualization and the cloud as possible solutions to improve power utilization, VMware is not mentioned," agrees Dan Woods in Forbes' critique of the piece. "If the reporter talked to VMware or visited their web site, he would have found massive amounts of material that documents how thousands of data centers are using virtualization to increase server utilization."
Storage. Similarly, Glanz appeared to not be aware of advances in storage technology, even though some of them are taking place in the very data centers he lambasted in his articles. In Prineville, Ore., for example, not all that far from the Quincy, Wash., data centers he criticized, Facebook is working on designing its own storage to eliminate unnecessary parts, as well as setting up low-cost slow-access storage that is spun down most of the time.
Facebook — which does this research precisely because of the economies of scale in its massive data centers — is making similar advances in servers. Moreover, the company's OpenCompute initiative is releasing all these advances to the computer industry in general to help it take advantage of them, too.
In addition, Glanz focused on the "spinning disks" of the storage systems, apparently not realizing that increasingly organizations like eBay are moving to solid-state "flash" storage technology that use much less power.
Also, storage just isn't as big a deal as it used to be and as the story makes out. "A Mr Burton from EMC lets slip that the NYSE 'produces up to 2,000 gigabytes of data per day that must be stored for years'," reports Ian Bitterlin of Data Center Dynamics in its critique of the New York Times piece. "A big deal?  No, not really, since a 2TB (2,000 gigabytes) hard-drive costs $200 – less than a Wall Street trader spends on lunch!"
Disaster recovery. Glanz also criticized data centers for redundancy — particularly their having diesel generators on-site to deal with power failures — apparently not realizing that such redundancy is necessary to make sure the data centers stay up.
And yet, even with all this redundancy, there have been a number of well-publicized data center failures in recent months caused by events as mundane as a thunderstorm. Such outages can cost up to $200,000 per hour for a single company — and a data center such as Amazon's can service multiple companies. If anything, one might argue that the costs of downtime require more redundancy, not less.
Of course it's important to ensure that data centers are making efficient use of power, but it's also important to understand the context.
September 20, 2012 10:00 AM
The only problem with HGST's helium-filled disk drive is that any audio ends up sounding like this.
Just kidding.
The company — formerly known as Hitachi Global Storage Technologies, and now a Western Digital company — has announced a helium-filled hard disk platform, scheduled to ship next year for an undetermined price without specifications, all of which are supposed to be announced when it ships. The technology was demonstrated at a recent Western Digital investor event.
Okay, so why helium? Said the company:
The density of helium is one-seventh that of air, delivering significant advantages to HGST's sealed-drive platform. The lower density means dramatically less drag force acting on the spinning disk stack so that mechanical power into the motor is substantially reduced. The lower helium density also means that the fluid flow forces buffeting the disks and the arms, which position the heads over the data tracks, are substantially reduced allowing for disks to be placed closer together (i.e., seven disks in the same enclosure) and to place data tracks closer together (i.e., allowing continued scaling in data density). The lower shear forces and more efficient thermal conduction of helium also mean the drive will run cooler and will emit less acoustic noise.
That's seven platters as opposed to the current five, though HGST didn't specify how much more dense the data could be nor would this could mean in terms of improved disk capacity. However, storage analyst Tom Coughlin wrote in Forbes that this means "HGST could ship close to 6 TB drives in 2013 and even 10 TB drives with 7 platters could be possible within two years after that."
The company did say, however, that the helium-filled drive used 23 percent less power, for a 45 percent improvement in watts-per-TB. In addition to consuming less power, the drive operates four degrees Celsius cooler, requiring less cooling in the system rack and data center, the company said.
HGST has been working on the technology — the operative part of which is designing a leakproof case — for six years, before Western Digital bought it in March, 2011, and took possession in March, 2012.
What the companies didn't mention, however, is how they might deal with a worldwide shortage of helium that is causing a ballooning of the price, literally — helium balloons now cost three times as much as they did just six months ago. As it turns out, the gas is heavily used in the computer industry.
"Helium is usually generated as a byproduct of natural gas mining, and we're currently in the middle of a shortage of helium, due partly because the recession has slowed natural gas production," wrote Brad Tuttle in Time. "About three-quarters of the world's helium is produced in the U.S., according to the Kansas City Star, and while production is supposed to be increased by the end of the year in spots ranging from Wyoming to Russia, the element is expected to be in short supply for months, if not years."
---
September 13, 2012 3:48 PM
OMG. Hold the presses. In a shocking power grab, EMC CEO fought off attacks by underlings to maintain his position.
No, not really.
Tucci had announced a year ago that he planned to step down from EMC (as well as VMware, of which it owns a majority) by the end of this year. (In fact, the Boston Globe suggested that he had first announced his retirement in September 2009.) He then announced in January that, never mind, he was going to stay through 2013.
While there has been some executive reshuffling since then, on the whole it appears to be an orderly transition, with several potential competent successors.
Now Tucci says he's going to stay through at least February 2015, and at some time before that he's supposed to pick a successor and transition to a purely chairman of the board role.
Roger Cox, vice president of research for Gartner Inc., told the Globe that Tucci's decision to stay longer is probably more about his unwillingness to let go than dissatisfaction by the EMC board with potential successors, of which there are at least three internal ones. While Tucci is 65, he is reportedly in good health and the company is doing well — so well that perhaps the board and stockholders are leery about turning the company over to someone else, no matter how well-groomed they are for the position. And perhaps he is hoping that one or more of the three will move on and make the decision easier.
EMC's orderly transition is in sharp contrast to the traumatic ones in other companies such as HP, notes Channelnomics.
Oh, and should Tucci achieve "certain performance targets, including targets relating to total shareholder return, revenue and other metrics" for 2013 and 2014, he also stands to gain $8 million in stock by the February 2015 deadline.
---
September 6, 2012 2:18 PM
If you needed a reason to implement e-discovery in your company, you now have one. 1.05 billion of them, in fact.
A number of legal experts — as well as e-discovery vendors — have pointed to discovery of electronic documents such as email as an important factor in Apple's patent victory over Samsung. Writes Doug Austin in E-Discovery Daily:
Interviewed after the trial, some of the jurors cited video testimony from Samsung executives and internal emails as key to the verdict.  Jury foreman Velvin Hogan indicated that video testimony from Samsung executives made it "absolutely" clear the infringement was done on purpose.  Another juror, Manuel Ilagan, said , "The e-mails that went back and forth from Samsung execs about the Apple features that they should incorporate into their devices was pretty damning to me."
E-discovery vendors, such as Jeffrey Hartman of EDiscovery Labs, were quick to pounce on the case as an example.
This is yet another clear reminder that otherwise smart people continue to create electronic documents that are both dangerous and discoverable; even as awareness of these pitfalls increases. This is bad news for general counsels and company shareholders…but good news for plaintiff's attorneys seeking the digital goodies that will help them win lawsuits. A large courtroom display of a blow-up of an emotionally charged internal report or email is often worth even more than technical testimony or other hard evidence.
Another important e-discovery aspect to the case is that first Samsung, and then Apple as well, were hit with "spoilation" charges for failing to preserve electronic evidence — in the case of Samsung, for example, for failing to turn off a function that automatically deletes email that's more than two weeks old. While a number of e-discovery experts do recommend implementing such an autodelete feature, you have to turn it off once a case starts to preserve evidence that could be useful to the case, known as a "litigation hold."
There's a compilation of articles about the case if you want to read more — seriously, a lot more — about this.
---
August 31, 2012 3:11 PM
For the second time this year, and the third time since 2006, MD Anderson Cancer Center in Texas has had to alert patients that it had lost access to their personal data.
"On July 14, 2012, MD Anderson learned that on July 13 a trainee lost an unencrypted portable hard drive (a USB thumb drive) on an MD Anderson employee shuttle bus," the company reported earlier this month. "We immediately began a search for the device and conducted a thorough investigation. Unfortunately, the USB thumb drive has not been located." In the thank goodness for small favors department, the data did not include Social Security numbers. Some 2,200 patients were affected.
Similarly, on June 28, the company announced a previous breach. "On April 30, 2012, an unencrypted laptop computer was stolen from an MD Anderson faculty member's home. The faculty member notified the local police department. MD Anderson was alerted to the theft on May 1, and immediately began a thorough investigation to determine what information was contained on the laptop. After a detailed review with outside forensics experts, we have confirmed that the laptop may have contained some of our patients' personal information, including patients' names, medical record numbers, treatment and/or research information, and in some instances Social Security numbers. We have no reason to believe that the laptop was stolen for the information that it contained. We have been working with law enforcement, but to date the laptop has not been located." Another 30,000 patient notifications.
This follows a 2006 notification incident where private health information and Social Security numbers of nearly 4,000 patients of were at risk after a laptop containing their insurance claims was stolen the previous November at the Atlanta home of an employee of PricewaterhouseCoopers, an accounting firm reviewing the patient claims.
It's not uncommon that medical facilities lose data. It's not even uncommon that they lose it more than once. But twice in a single year? Come on, people.
Security experts were unsympathetic.
"Wow, is that dumb," international cyber security expert Bruce Schneier told the Houston Chronicle. "This isn't complicated. This is kindergarten cryptography. And they didn't do it. I'd be embarrassed if I were them. Of course, it's not them whose privacy could be violated. It's the innocent patients who trusted them. To be fair," he said in an email, "the drive could simply be lost and will never be recovered. We don't know that patient information was leaked. But it's still shockingly stupid of the hospital."
"The university says that it's going to start giving out encrypted USB drives to employees and plans on reinforcing patient data safety practices," writes Patrick Ouellette of
EHR Intelligence
. "Of course, Anderson also said back on June 28 that it "takes this incident very seriously and is committed to protecting patient privacy" while
offering the same promises
to improve data security. Letting unencrypted USB devices float around among trainees is not the best way to follow through with those plans."
The center said it was beginning a several-month plan to encrypt all the computers at the hospital, and that 26,000 had been encrypted thus far. The hospital has also ordered 5,000 encrypted thumb drives. In addition, employees will receive training on thumb drives and security.
If nothing else, at least MD Anderson is apparently in good company. "According to a records search of the Privacy Rights Clearinghouse, which keeps a running tab on data breaches and the like, so far this year 387 357 medical-related records have been compromised in 68 reported incidents involving lost, discarded or stolen laptop, PDA, smartphone, portable memory device, CD, hard drive, data tape, etc," writes IEEE Spectrum. "Last year there were 66 such breaches with 6 130 630 records compromised."
---
August 29, 2012 11:02 PM
This week was supposed to be Mark Durcan's last. In late January, he'd announced his retirement from Micron, the U.S.'s only memory chip maker and second largest worldwide after Samsung.
Instead, the following week, CEO Steve Appleton died in a plane crash, and Durcan agreed to take over the CEO role at the company where he'd worked since 1984.
Speaking before the City Club in Boise, Idaho, where Micron is based, Durcan talked about his first six months on the job and where Micron is going.
There used to be 40 memory producers in the world, and now there are only 9, Durcan said. How did Micron manage to be one of them, especially continuing to be based in the U.S.? By focusing on using technology, and being clever on using capital and partnering, he said. In particular, the company was careful not to run out of cash, which is the downfall of many companies, he said.
Micron, which has received a number of tax breaks from Idaho to encourage it to stay in the state where it is one of the largest employers, has come under some criticism for moving jobs overseas, but Durcan denied that, saying that while it does have a number of overseas facilities, they were primarily through acquisition rather than through development.
The company is currently in the process of acquiring Elpida, a Japanese company focused on low-power DRAM and mobile DRAM that is going through bankruptcy. This is actually delaying the acquisition to some extent, Durcan says. "Japan is working through the process," he says, because there isn't much bankruptcy there.
Currently, the worldwide market for memory is $345 billion, and of that, Micron earns $33.4 billion of that in DRAM and $35.9 billion in flash memory, Durcan said. 68% of its revenue comes from Asia, 21% from America, and 11% from Europe, he said. Solid-state drives (SSD) provide 10% of the company's revenue, while mobile provides 17% and is likely to increase after the Elpida acquisition is finalized.
To help, Micron is partnering with other firms such as Intel, and he expects that in the future, the company is going to become even more dependent on partnerships, including with its customers, Durcan says.
Durcan also said he expected the company to move up the value chain to include controllers and processing, and sell systems rather than just silicon. "The cloud is a huge opportunity for us," he noted, both because people are increasingly gaining access to it through smartphones and tablets, to which Micron contributes about 40% and 10% respectively, and because cloud infrastructure is increasingly making use of SSD to improve performance. SSD itself in the enterprise is also expected to be a major factor, as the company has shipped 2 million client SSDs but they make up only .3% of enterprise storage, he said. In other innovations, the company is also known for its hybrid memory cube technology.
Asked about his reaction to the Apple-Samsung lawsuit, Durcan said he "didn't really have a horse in the race" because both of them were Micron customers. He noted, however, that part of the reason Apple won is through the similar design of the smartphone families. "It's easier for the public to understand design than technology," he said.
Durcan didn't say whether he'd rescheduled his retirement.
---
August 25, 2012 11:04 PM
Delayed-retrieval low-cost storage is suddenly cool.
Last week it was Facebook's Sub-Zero. This week it's Amazon's Glacier.
In both cases, the vendors are offering low-cost storage for long-term archiving in return for customers being willing to wait several hours to retrieve their data — though, in Facebook's case, the customer appears to be primarily itself, at least for the time being.
"To keep costs low, Amazon Glacier is optimized for data that is infrequently accessed and for which retrieval times of several hours are suitable," says Amazon. "With Amazon Glacier, customers can reliably store large or small amounts of data for as little as $0.01 per gigabyte per month."
A penny per gigabyte equals $10 per terabyte (1,000 gigabytes) — compared with $79.99 for the cheapest 1-TB external drive from Amazon's product search, while Dropbox's 1-TB plan costs $795 annually, notes Law.com.
The service is intended not for the typical consumer, but for people who are already using Amazon's Web Services (AWS) cloud service. Amazon describes typical use cases as offsite enterprise information archiving for regulatory purposes, archiving large volumes of data such as media or scientific data, digital preservation, or replacement of tape libraries.
"If you're not an Iron Mountain customer, this product probably isn't for you," notes one online commenter who claimed to have worked on the product. "It wasn't built to back up your family photos and music collection."
The service isn't intended to replace Amazon's S3 storage service, but to supplement it, the company says. "Use Amazon S3 if you need low latency or frequent access to your data," Amazon says. "Use Amazon Glacier if low storage cost is paramount, your data is rarely retrieved, and data retrieval times of several hours are acceptable." In addition, Amazon S3 will introduce an option that will allow customers to move data between Amazon S3 and Amazon Glacier based on data lifecycle policies, the company says.
There is also some concern about the cost to retrieve data, particularly because the formula for calculating it is somewhat complicated.
While there is no limit to the total amount of data that can be stored in Amazon Glacier, individual archives are limited to a maximum size of 40 terabytes and up to 1000 "vaults" of data, Amazon says.
While it doesn't deal with the issue of data for software that no longer exists, the Glacier service could help users circumvent the problem of the "digital dark ages" of data being stored in a format that is no longer readable, notes GigaOm.
Can similar services for other cloud products, such as Microsoft's Azure, or for consumers, be far behind?
---
August 19, 2012 10:36 PM
Remember when Facebook started designing its own servers and data center? And then its own disk drives?
Now it's designing its own archival backup.
The story, broken by Robert McMillan at Wired, is that the company is, over the next six to nine months, working to design a storage archive system. Because it stores a second copy of data and is intended to be used only for restores, the system powers down the drives when not in use. Such technology could reduce power use by the data center to one-third, according to the Facebook spokesman quoted by Wired.
More generally, Facebook has been working on what it calls the Open Compute Initiative, which basically means that it is designing new, minimalist hardware for standard functions that — due to the enormous scale of the company's hardware — saves space, money, energy, and so on. The intention, once the design is complete, is to open source the data and offer the designs to the industry.
It isn't clear whether this method of archival storage is also going to be open-sourced, according to the Verge. However, Facebook has been talking about the notion of drives that spin down when not in use — what it calls a "hard drive thermostat" — for almost exactly a year in connection with the Open Compute project.
Storage that is saved but rarely used is called "cold" storage, so the proposed building, part of the Facebook data center complex in Prineville, Ore., is nicknamed Sub-Zero, presumably after the line of high-end refrigerators. The company is also considering building a similar facility as part of its Forest City, N.C., data center.
It's important with such systems to ensure that the data on them really isn't used very much, because it can take up to 30 seconds for the disk to start from zero, and up to 15 seconds from the slower speed.
---
August 16, 2012 12:57 PM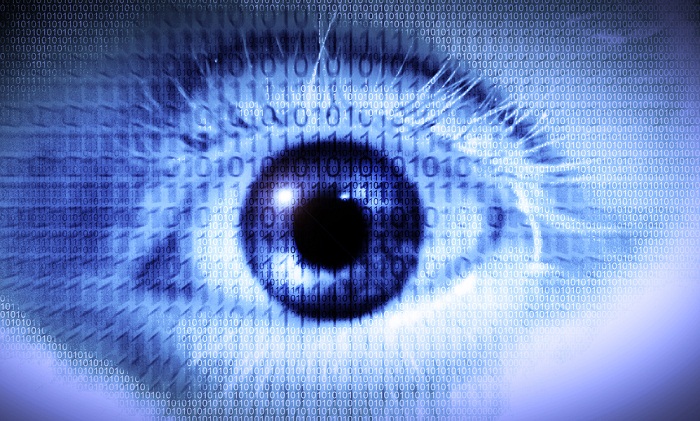 Big Brother image via Shutterstock
"Within the next few years an important threshold will be crossed: For the first time ever, it will become technologically and financially feasible for authoritarian governments to record nearly everything that is said or done within their borders – every phone conversation, electronic message, social media interaction, the movements of nearly every person and vehicle, and video from every street corner."
This is due to a 1-million-times improvement in the ability to store information since 1985, according to John Villasenor, an electrical engineer at the University of California, Los Angeles, as well as a senior fellow at the Brookings Institution.
As an example, it would cost just $50 for an entire year of location data to 15-foot accuracy for 1 million people, updated every five minutes, 24 hours a day, Villasenor said in a seminar earlier this year. Similarly, storing the audio from telephone calls made by an average person in the course of a year would require about 3.3 gigabytes and cost just 17 cents to store, a price that is expected to fall to 2 cents by 2015, he said.
Scott Shane in the New York Times blog called attention to Villasenor's work, which was published in a Brookings Institution paper date last December called Recording Everything: Digital Storage as an Enabler of Authoritarian Governments.
"In the 1960s, the National Security Agency used rail cars to store magnetic tapes containing audio recordings and other material that the agency had collected but had never managed to examine, said James Bamford, an author of three books on the agency," reported Shane. "In those days, the agency used the I.B.M. 350 disk storage unit, bigger than a full-size refrigerator but with a capacity of 4.4 megabytes of data. Today, some flash drives that are small enough to put on a keychain hold a terabyte of data, about 227,000 times as much."
Civil liberties organizations have increasingly been concerned about the amount of government surveillance that has been permitted, ranging from data that can be obtained from cellphones with no warrant required (though Rep. Markey (D-Mass.) has put forth a bill to limit that) to location data that the Sixth Circuit Court has ruled doesn't require a warrant.
Moreover, Villasenor notes, individual people are providing a great deal of such data themselves, through the use of social media, mobile location apps, and so on.
But it is the rapidly declining cost of storage that makes such surveillance possible, Villasenor says. "Over the past three decades, storage costs have declined by a factor of 10 approximately every 4 years, reducing the per-gigabyte cost from approximately $85,000 (in 2011 dollars) in mid-1984 to about five cents today," he writes. "In other words, storage costs have dropped by a factor of well over one million since 1984 [My note: an ironic benchmark to use]. Not surprisingly, that fundamentally changes the scale of what can be stored."
These technological improvements put it within the reach of a country to store all the data it can obtain, Villasenor says. "For a country like Syria, which has a population of 15 million people over the age of 14, the current cost to purchase storage sufficient to hold one year's worth of phone calls for the entire country would be about $2.5 million – a high number but certainly not beyond governmental reach," he writes. "If historical cost trends continue, the annual cost in 2011 dollars to purchase enough storage for Syria's government to record all calls made in that country will fall to about $250,000 by 2016 and to about $25,000 by 2020."
While video data takes up much more space, limited video data –such as recording license plate numbers — is becoming increasingly prevalent in various states throughout the U.S., most recently in Minnesota. "Over the course of a full year, a system of 1,000 roadside license plate reading cameras each producing 1 megabit per second would generate image data that could be held in storage costing about $200,000," Villasenor writes. "The resulting database of license plate numbers (as opposed to the images used to obtain the numbers) could be stored for a small fraction of this cost."
The so-called "Peaceful Chongqing" universal video surveillance project in China — ostensibly for public safety — could cost as little as 25 cents per person per year by 2020, Villasenor writes.
Villasenor's paper was focused on what he called authoritarian governments. Extrapolating costs to the U.S. was presumably left as an exercise for the reader.
---
July 31, 2012 10:47 AM
Christian Szell: Is it safe?… Is it safe?
Babe: You're talking to me?
Christian Szell: Is it safe?
Babe: Is what safe?
Christian Szell: Is it safe?
Babe: I don't know what you mean. I can't tell you something's safe or not, unless I know specifically what you're talking about.
— Marathon Man
The topic of whether one is or is not compelled to produce a key to an encrypted disk drive in response to a law enforcement request has come up before (and, in fact, in the U.S. has come up at least five times, according to a DefCon presentation by Electronic Frontier Foundation attorney Marcia Hoffman).
Now that, in at least some cases, U.S. judges are ruling that individuals need to surrender the passwords to decrypt their disks, an interesting side issue has also come up, particularly for those countries that already have laws requiring people to provide encryption keys to law enforcement: What happens if the person doesn't have the key? Or says they don't?
Such key disclosure laws are in effect in countries including India, Australia, and a variety of European nations.
But most of the attention has fallen on the U.K., where in October, 2007, a law was put in place that people could be jailed for up to five years for refusing to release an encryption key.  Ostensibly, it was for national security and to help prevent terrorism.
And the law has been used. In 2007, it was applied — against a group of animal rights activists. Then in 2009, the first person – who had been diagnosed as mentally ill – was jailed for nine months for refusing to turn over a key. In 2010, a teenager was sentenced to 16 weeks in prison under a similar charge.
Earlier this month, a U.K. blogger, Rick Falkvinge, brought attention to the possibility that, should law enforcement decide that a random number generator, for example, was actually an encrypted file, one could be jailed for refusing to provide the nonexistent key.
This is not the first time the subject has been raised – Cisco blogged about a similar topic in 2009 – but with the increased focus on encryption and decryption – typically using the spectre of child pornography (according to Hoffman, four out of the five U.S. encryption key cases had to do with alleged child pornography), there is new concern being brought to the issue and how to deal with being forced to prove a negative: That you don't have a key that law enforcement insists you do.
"So imagine your reaction when the police confiscate your entire collection of vacation photos, claim that your vacation photos contain hidden encrypted messages (which they don't), and sends you off to jail for five years for being unable to supply the decryption key?" writes Falkvinge.
---