---
January 10, 2009 3:06 AM

I've reached a milestone of sorts in the development process which I'd like to share. Continued »
January 9, 2009 1:05 AM
Wordle.net creates word maps of all the words on a website.  So I fed it my blog and came up with this.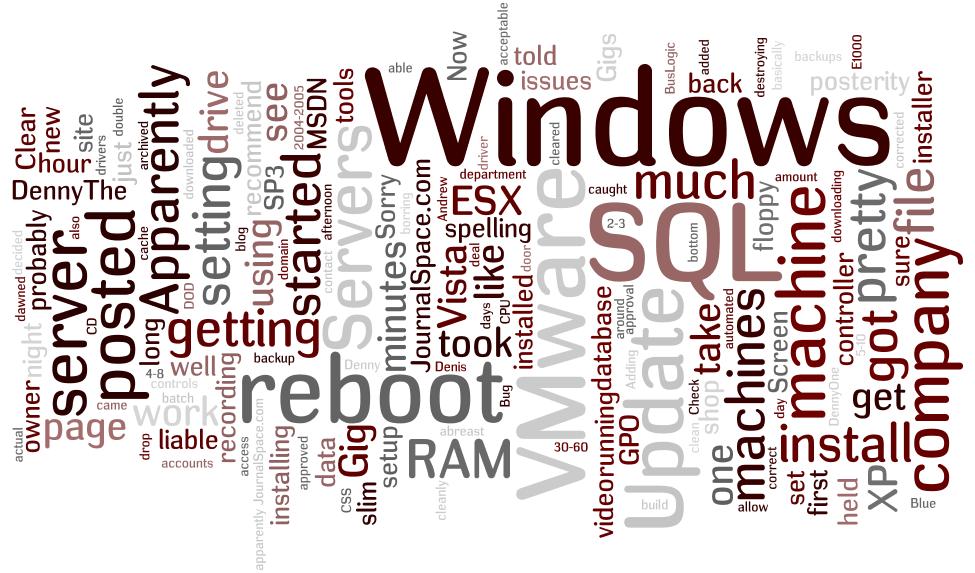 I thought it was kind of cool, so I posted it up here.  Try out our site and see what it does.
In the true spirit of twitter I'll pick on a couple of people to generate there own and post them (as soon as twitter comes back up, it's DOA at the moment).
Denis Gobo, and Michelle Ufford you've been tagged

Denny

---
January 8, 2009 10:10 PM

Those of us with MSDN or TechNet accounts got access to the new Windows 7 build last night.  So I had my work PC spend the night downloading it, and spent this afternoon installing it today under VMware ESX.  I've recorded the install for posterity.  I paused the recording during the borring parts like waiting for the files to expand. Continued »
---
January 8, 2009 12:00 AM
One company I worked at the newer SQL Servers started taking forever to reboot the OS. The older servers didn't take all that long. It finely dawned on us one day what it was.
---
January 7, 2009 11:27 PM
The SQL Server CSS team has just posted a blog post saying that it you install SQL Server 2005 SP3 or SQL Server 2008 on a Windows XP Machine which is pre SP 3 you can get a Bug Check (Blue Screen).
If you are running Windows XP I highly recommend that you read this before installing SQL 2005 SP3 or SQL 2008 on your machine.
Denny

---
January 4, 2009 9:15 PM

The owner of JournalSpace.com has posted an update to the site (screen shot for posterity) giving more information about what happened.
Apparently the IT guy who liked to tell people how smart he was decided to rely on RAID as a backup for the database, but had automated backups of the web servers.  He was apparently caught steeling from the company and wiped out the SQL database on his way out the door.
Apparently my suspicions were correct and it wasn't a system problem, but a person who deleted the data.
Andrew Hart posted a note on how some of the users are able to get there data back using the Google cache.  I tried using the Internet Wayback Machine but apparently JournalSpace.com was set to not allow it to be archived.
I would recommend to the owner of the site that the contact the local police department and file a report.  While company employees can't be held liable for stupidity, intentionally destroying the company we can be held liable for.
Denis Gobo posted an update as well, as I'm sure others did as well.
Denny
UPDATE: I forgot to include that I'm following the JournalSpace.com user on twitter so that I can keep abreast of new updates.
SECOND UPDATE: My horrible spelling was pointed out to me, so I've corrected this. Apparently Firefox didn't pickup the spelling problems the first time around.
---
January 2, 2009 8:46 PM
In case you live under a rock and haven't heard about Journalspace.com's little mistake, they have gone out of business due to a database problem.  Here's a screenshot in case the site is down when you look at it.
In a nutshell it appears that they were relying on a RAID1 array as the database backup.  While we see this all the time in small database shops as noted on /. this site has been up since 2002 and had an Alexa page rank of 106,881 with 14k monthly visitors (according to Quantcast).  For a site so large to be making such a simple mistake is just unacceptable. Continued »
---
---
January 2, 2009 7:12 AM

If you have used SQL Server 2005 Express Edition (or SQL Server 2008 Express Edition) then you know that the SQL Agent has been removed from the product.  I have from time to time found this to be annoying as I want to do things like backup my database on a regular basis, or do other basic things.  The normal solution is to either use another SQL Server to do the scheduling, or use the Windows Task Scheduler to do the scheduling. Continued »
---
December 31, 2008 11:00 AM
Have a happy New Year. Go spend the night with family.
That's what I'm doing tonight.
Denny

---