---
May 11, 2010 9:02 PM
So yesterday was day 1 of EMC World.  I attended some great sessions (and one not so great one).
The first session that I hit was the futures for the EMC CLARiiON's FLARE software.  For those that don't know what FLARE is, FLARE is the software which runs the array and handles all the functions of the Array.  The next release will be FLARE v30.  If you are a CX3 or older customer this new release will be of no use to use as this version only supports the CX4 array.
Some of the new features which are being included are a totally new management interface called Unisphere.  This new interface will give a single interface for your EMC CX arrays as well as your Celera devices and RecoverPoint.  Eventually other EMC products will be integrated into Unisphere with products such as Replication Manager coming hopefully in 2011. Continued »
May 10, 2010 2:26 PM
Yesterday was Day 0 or EMC World which means that it's party day.  The day started with Registration and the Welcome reception.  If you've never been to EMC World, registration is probably the longest line in the place.  You've got all 10,000 or so attendees trying to get checked in.  Fortunately for me I'm a returning attendee so my line was much shorter than the general registration line (thank god).
After the welcome reception was the concert featuring the Counting Crows.  The Counting Crows put on a pretty good show, so far I'd have to say that the Bare Naked Ladies are still my favorite concert at EMC World so far.
I took a bunch of pictures at the party and registration which I've posted to Flickr.
Probably my favorite picture of Day 0 is this one of me with the walking Celerra.
I'll try and post sessions daily about everything that I've seen though out the sessions.
Denny

---
May 9, 2010 6:46 PM

My trip to EMC World started a day early this year.  With the long trip out here, and the events starting pretty early on Sunday afternoon, trying out on Sunday just doesn't work unless I want to sleep through the Sunday welcome reception and check in.
And since I don't want to sleep through either of those events, I came out on Saturday.
On the way from the airport to the hotel I was able to snap a few pictures which I figured that I'd share with everyone. Below are a few of them. Feel free to click through above to see all of them.
The view from the plane was pretty nice for most of the flight.
We were greeted at the airport with some EMC World signs before we even got out of the baggage claim area.
In the cab from the airport to the hotel we got a view of the river going through the city.
Granted these aren't the best pictures that I've ever taken, but I took them on my camera phone so I think they came out pretty good.
As the week progresses I'll post pictures here and on my Twitter feed or on the #emcworld hash tag.  You can also look for pictures posted by everyone else on Fickr under the #emcworld hash tag.
Denny
---
May 6, 2010 11:00 AM
Something that some companies like to do is to change the port number that the default instance is listening under as a security precaution.  However this has a habit of stopping anyone from connecting to the default instance without knowing the port number.
This is because the default instance doesn't register itself with the SQL Browser when it starts, so you can no longer simply just connect to the default instance when named instances will work just fine.  The fix from CSS is to simply change the port back to TCP 1433.  The reason for this is that changing the port number doesn't do a lot to secure your SQL Server as a quick port scan will show an attacker which port the SQL Server is listening on.  That or they'll simply check out the web.config and get the port number from there.
Denny

---
May 3, 2010 11:00 AM
So last week was SoCal Code Camp and I just released that I hadn't gotten the slides posted for the sessions that I did.
Can I really consolidate my SQL Server database
Diving into Server Virtualization, Deciding if Virtualization is a good choice for your SQL Server
If you didn't submit a session survey at the Code Camp, please go to http://speakerrate.com/mrdenny and fill one out.
Thanks,
Denny

---
April 29, 2010 11:00 AM
The nice folks at Tech Target were nice enough to send me some swag to give away during my SoCal Code Camp sessions in June.  They sent some stickers (and who doesn't love free stickers), a few t-shirts and a bunch of cable holders.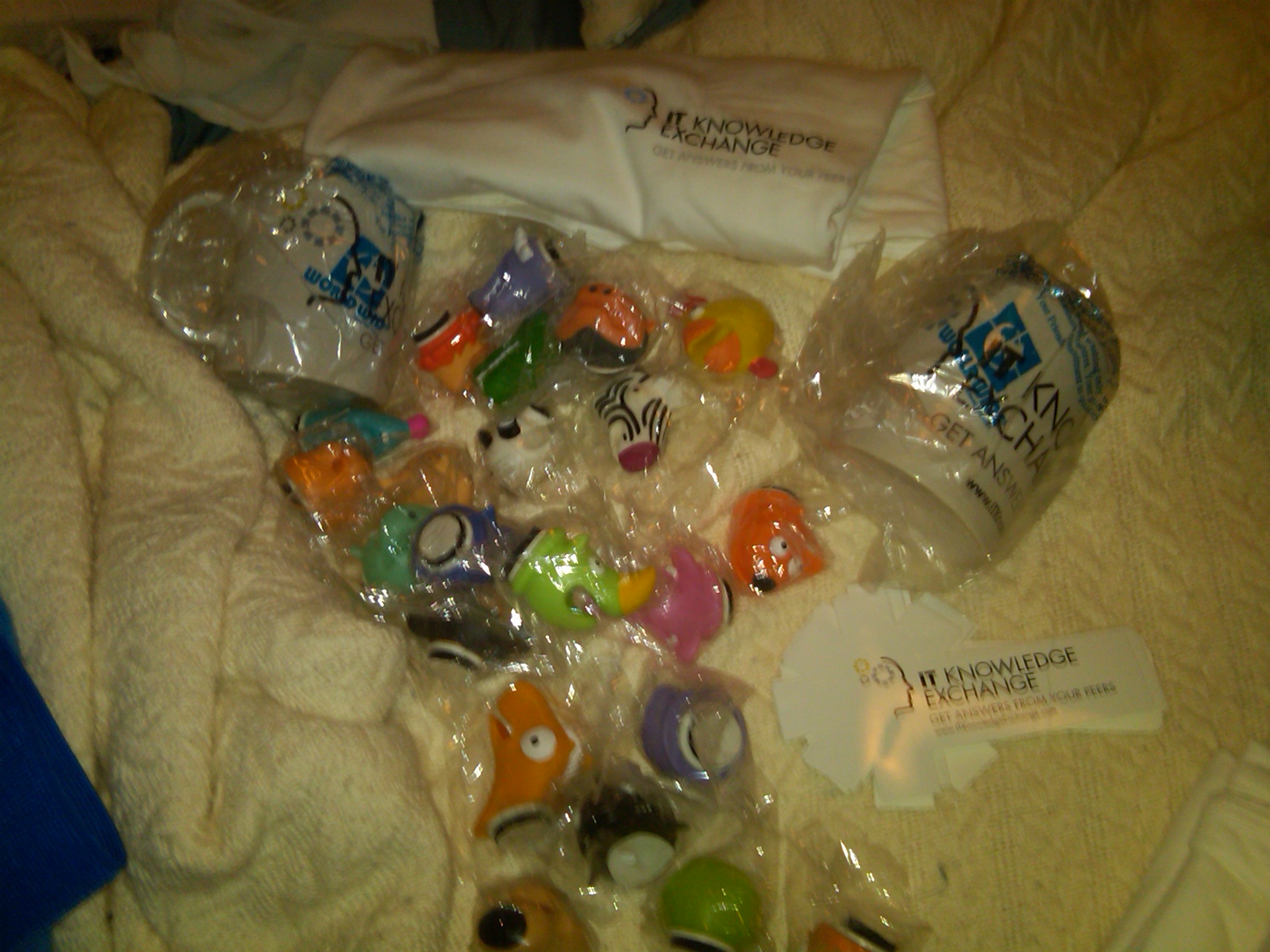 Continued »
---
April 26, 2010 11:00 AM
For those of you who attended the SSWUG vConference a couple of weeks ago, hopefully you caught my sessions on Day 1.  A good number of the attendees submitted evals, and I figured that I'd go ahead and share the scores with you. Continued »
---
April 22, 2010 9:00 AM

For those of you who are interest in getting a second shot voucher from Microsoft, drop me an email mrdenny AT mrdenny.com with the email address that you want the voucher sent to and I'll kick one over to you.  If you want to take more than one certification exam let me know how many you plan on taking before the end of June.
These second shot vouchers can be used for any Microsoft IT Professional, Developer of Dynamics Exam (anything which starts with 070).  The second shot vouchers can not be used for the academic exams (072 and 073 exams).
Each voucher is valid for one exam retake (if the first attempt failed) and one Practice Test discounted 40% before June 30, 2010.
I'll try and remember to print some up and bring them with me to SQL Saturday in case anyone there wants one.
If you are on twitter feel free to send me a DM and I'll email the vouchers to you.
Good luck on those exams,
Denny
---
April 21, 2010 5:00 PM
While Microsoft has been telling us over and over how multi-server management will be this great way to manage all your instances, don't plan on managing your SQL Express instances with it.  Multi-Server management will only enroll Web Edition up through the Data Center Edition.  The Express edition will fail to enroll within the feature.
Also, if you planned on using the dashboard views and drilldowns or the policy based resource utilization evaluation then you better pay up.  These features will be a datacenter edition only feature.
Denny

---
April 21, 2010 4:12 PM
As part of the SQL Server 2008 R2 launch it was announced that SQL Server 2008 R2 now supports Hyper-V Live Migration.  However according to MSDN only the Standard, Enterprise and Datacenter editions support Live Migration.
I'm not sure why those are the only editions which support Live Migration, but hopefully they will get this extended to the Workgroup, web and Express editions as those editions probably get virtualized more than the Enterprise and Standard edition databases do.
Denny

---