---
July 1, 2010 11:00 AM
The abstract for my SQL PASS Summit 2010 Pre-Con has been posted up on the SQL PASS website.  The abstract for my session is:
This session will be a two part session in which we will be focusing on two of the biggest topics in the DBA field, how to properly design your storage and virtualization solutions. Storage can be one of the biggest bottlenecks when it comes to database performance. It's also one of the hardest places to troubleshoot performance issues because storage engineers and database administrators often do not get along. We'll be digging into LUNs, HBAs, the fabric, as well as the storage itself. In the second half of the day we'll be looking into the pros and cons of moving SQL Servers into a virtual environment. Specifically we'll be looking into when it's a good idea and when it's probably not a good idea. Like everything in the database world there are no hard set answers as to if virtualization is a good idea or not. We'll look into how tie the virtual platforms to the storage array so that you can maximize the storage performance for your SQL Servers and the virtual environment.
In order to register for my pre-con (or any of the fantastic pre and post cons sessions) simply register for the PASS Summit and on the third page or so you'll be given a list of the available Pre-Conference and Post-Conference sessions.
Hopefully you'll join me on Monday November 8th, 2010 for 7 awesome hours of "Storage and Virtualization For The DBA".
Denny
---
June 24, 2010 4:59 PM
So apparently I need to actually read ALL the emails from PASS instead of letting my ADD kick in.  I've been selected for a Pre-Con on Monday November 8th, 2010.  You see PASS sends you a few emails when you are selected.  The first tells you which pre-con and spotlight sessions have been accepted.  The second has the speaker contract, and apparently tells you when your pre-con will be.
I read the first, saw the second and simply opened the attachment.  That'll teach me.
Many thanks to Allen White (Blog | Twitter) who told me to stop running around like a puppy about to piddle him self and actually read the damn email.
I'll hopefully be seeing everyone bright and early on Monday the 8th for my Pre-Con session.
Denny
---
June 24, 2010 11:00 AM
In case you aren't on twitter, at about 5pm (Pacific time) yesterday PASS sent out the emails to the people who have had their pre/post con sessions selected, and apparently Tim Ford (Blog | Twitter) was drinking heavily because I got my pre/post con approved.  Allen White (Blog | Twitter) also had one approved.  Over the next day or so others people should pop-up saying that they were approved as well.
Now in case you haven't heard of a pre/post con I'll give you the skinny.
It's a 7 hour presentation, that people are paying to attend.
As I've had mine selected, for the low, low price of $395 you can come and catch a deep dive (or as deep as we can go in 7 hours) or storage and virtualization in my "Storage and Virtualization for the DBA" session.  Now I don't know yet if this will be a pre or a post con as they haven't announced the schedule.
I've also got a spotlight session picked up.  The spotlight sessions are 15 minutes longer than the regular sessions (so 90 minutes) which will give us lost of time to talk about the what and how of SQL Service Broker in my "Getting SQL Service Broker up and Running" session.
I hope to see you at both sessions, but if not I better see you at PASS.
Denny
As soon as PASS has the marketing materials and the abstracts up, I'll be sure to point a link to them.
---
June 24, 2010 11:00 AM
Well it's that time again.  It's time for another one or our world famous SoCalCodeCamp's.  This time Code Camp is down in San Diego, CA at the UCSD Extension Complex in La Jolla, CA.
This time around I've for four sessions.  Three that I've put together, and one that is a group pannel.
Storage For the DBA
Exploring the DAC and everyone's favorite feature the DACPAC
There's more to know about storage?
SQL Server panel discussion
"Storage for the DBA" is a session I've given a few times at SoCal Code Camp where we go into the basics of storage, and how it relates to SQL Server.
"There's more to know about storage?" is a followup to the "Storage for the DBA" session where we will go into the design techniques that the various storage vendors have used to create their respective platforms.  From there we'll move into some of the more advanced features you can use with storage arrays that turn the from the large JBOD that most people think of them into advanced storage devices worth every penny that they cost.
In the DACPAC session we'll look at this new feature called Data Tier Applications to see how they work, when they should be used, and when they shouldn't be used.
The panel discussion will have a large number of SQL Server professionals from the Southern California area including myself, Andrew Karcher (Blog | Twitter), Lynn Langit (Blog | Twitter), Bret Stateham (Blog | Twitter), and several more all there to answer your questions about SQL Server.
I hope to see you there at Code Camp.
Denny
---
---
June 17, 2010 11:00 AM
With the release of Office 2010 uses of Blackberrys have a new problem to deal with.  The blackberry desktop manager software which you install on your computer is only a 32bit application, so if you install the 64bit version of Outlook (or Office) then the Blackberry desktop manager can't talk to Outlook in order to get your Exchange settings so that it can talk to the Exchange server and configure your Wireless sync.
Now the official fix from RIM is to downgrade to Office 2007 or older and wait for them to get around to releasing a new version of the desktop manager (my phrasing, not theirs).
If you have Windows 7 then you have a pretty easy to configure solution available to you.  That solution is Windows XP Mode.  Download Windows XP Mode from Microsoft and install it.  This will give you a 32bit VM to work with.  Install Outlook 2007 on the VM (if you have an MSDN or TechNet account you can download it from there) and then install the Blackberry software on the VM.
After you have everything installed, connect the phone to your computer.  In the Windows XP Mode VPC click on the USB drop down menu and attach the RIM device to the VM.

Fire up Outlook and configure it to connect to your Exchange server using your normal account, then fire up the blackberry software and configure it like normal.
I just got done doing this on my machine, and it works great.
Now if you are using Windows Vista this will be a little harder.  The Virtual PC that works with Windows Vista doesn't support USB, however VMware Workstation does support USB, but VMware Workstation has to be purchased.  The same basic technique can then be used, but you'll need to install the OS instead of just downloading an already configured OS.
Now because you are running within a VM everything will be a bit slower, but it'll let you get the job done.
Denny
---
---
June 9, 2010 3:50 PM
Managing the space used by your SQL Server transaction logs is pretty easy.
If the database is in full recovery mode then do transaction log backups on a regular basis.  Typically every 15-60 minutes.
The second option is to put the database into Simple recovery mode.  If you need the ability to do point in time recovery then you can't use simple recovery mode at all.
Now there is something that you shouldn't ever do.  Truncating the log and shrinking the file is the first thing that shouldn't ever be done (contrary to popular opinion).
If you are doing log backups, and your database log file is growing to a large size, then you need to get more space for your disk.  Shrinking the log won't do anything for you as the SQL Server will simply grow the file back out to a larger size.  All you are doing is giving yourself a false sense of security when it comes to how much free drive space that you have.
There are also some internal technical reasons to not do this as well which you can read a little about on Paul Randal's blog.  (If Paul tells me he's got a more specific post I'll post that link as well.)
Denny
---
June 3, 2010 11:00 AM
So a while back I got a new laptop and also upgraded by desktop from Windows 7 32bit to Windows 7 64bit.  Everything worked great, but there was one thing which took me some time to get working correctly.  That one thing was the EMC Navisphere software which I use to manage our EMC Storage Array.
I'm sure the first question is "Denny, how hard can it be to install some management software?".  Well first tough guy, you don't install Navisphere, it is a Java applet which is launched via accessing the web server which runs on the storage array.  You feeling less smug?  Good.  Now lets move on.
On both my machines use FireFox as my primary browser.  On both machines I accessed the array which triggered the download and installation of Java.  So far so good, right?  The Java applet never fully launched.  I was greeted by a blank window within the browser instead of the login screen that I was expecting.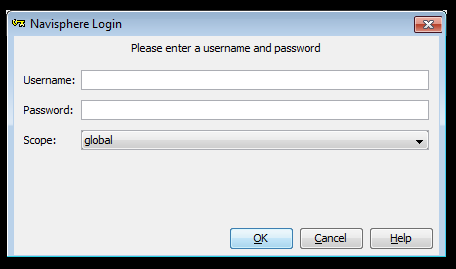 After Navisphere didn't do anything useful  I tried opening it in Internet Explorer both 32bit and 64bit.  Neither one worked and they simply gave me the same blank screen.
I tried uninstalling Java and manually downloading it and installing the same version as well as a newer version with the same absolutely useless results.
After trying this a few times, I finely uninstalled Java yet again (I've noticed about the only thing which Java does quickly is uninstall) I installed Java automatically via my Internet Explorer 64bit with the same results yet again.
This time I opened the Java control panel and tried to manually upgrade Java.  This threw an error.  So I tried opening a command prompt with administrative rights and navigated to the Java folder (C:\Program Files (x86)\Java\jre1.5.0_06\bin) and ran jucheck.exe which causes Java to check for a new upgrade.  I then got the magical little icon in my system tray which said that Java had an upgrade available.  So I upgraded Java and magically Navisphere started working.
I don't know why the auto upgrade wasn't working correctly but now that it's been upgraded everything it working and I'm able to manage the storage array, which is kind of important.
Denny
---