---
May 5, 2013 2:38 PM

Bank of America has decided to implement two factor authentication on their website when doing specific things like adding a remote account to transfer money to, or when doing a wire transfer (basically anything where money is going to leave the account). So far this sounds like an excellent plan. The second factor is that when I want to send money to another account or send a wire transfer they'll send me a text message and I then enter the one time use code they text me into the website.
All this sounds perfect (except for if I'm out of the country and I can't get their text messages), except for one little issue.
Adding a new cell phone to send a text message to is as simple as just logging onto the bank's webpage. Once I log into the site I can simply add another cell phone, verify that I have the cell phone via a text message and then I can use that cell phone to approve any wire transfers. All very convenient. The problem is that is someone else figures out my username and password for the website they to can add a cell phone to my bank account, approve it for use, then start sending wire transfers off all my money to their account.
So while Bank of America has two factor authentication, the second factor is dependent on knowing the first factor. For this to be actually useful two factor authentication it would need to require that I go into a branch with my ID to prove that I'm me and that I can add the phone as a two factor authentication phone. Additionally they should be using as an option one of the phone application based two factor authentication processes so that if I have several phones I can just use the one application, or if I'm not in the country I can still manage my money (which has been a problem a couple of times).
While I applaud the effort that Bank of America has put into having two factor authentication, doing it correctly would be a lot more useful.  As currently you have one factor authentication with an annoyance.
Denny
May 3, 2013 10:25 AM
SQL
At the upcoming SQL Saturday in Atlanta, GA I have the honor of delivering a precon on database security which has several seats still available.
This precon is a full day session where we will be talking about all the security best practices.
Signing up for the precon is pretty simple, just do to the URL for the precon and fill out the form.
I hope to see you there,
Denny

---
May 1, 2013 2:00 PM

One of the big myths of SQL Server resolves around the transaction log, and how it's used with the simple recovery model.
Many people think that the simple recovery model doesn't use the transaction log.  More specifically they think that it's there because it has to be there, but that SQL Server doesn't actually use it.  The reality is that SQL Server still uses the transaction log, much like it does in full or bulk logged recovery modes.  There are some transactions which are going to be minimally logged, but for the most part the INSERT, UPDATE and DELETE commands are going to be fully logged just like normal.
What SQL Server does with the transaction log in simple recovery model is that when the transactions are committed they are written to the transaction log and the pages are dirtied in the buffer pool.  When checkpoint runs the dirty pages in the buffer pool are written to the disk.  Everything up to this point is basically the same as with the other recovery models.  Once the checkpoint has been completed things get different between simple recovery and the other two recovery models.  With the simple recovery model the virtual log files which were just checkpointed and had their dirty pages written to disk will be marked as no longer in use (status=0).  With bulk logged and full recovery this doesn't happen until the transaction log backup has been completed.
Hopefully this helps dispel the myth.
Denny
---
April 26, 2013 5:04 PM

This week I've found some great things for you to read. These are a few of my favorites that I've found this week.
Hopefully you find these articles as useful as I did.
Don't forget to follow me on Twitter where my username is @mrdenny
.
Denny
---
April 24, 2013 2:00 PM

Ask any SEO "expert" and they'll tell you to write stuff that'll get you lots of page views, to use key words to lure people in.  The problem with this approach is that you end up not writing about the stuff that people want to read week over week, month over month.
Now getting people to show up on your site once isn't all that hard.  Say something shocking, something like "The iPad sucks really bad".  (Feel free to insert some other product in there.)  But this will only get the people to your site once, maybe twice.  In the long term you need to keep the reader coming back week over week, month over month.  To do this you need to write about things that you care about.  When you start doing that people that care about the same things that you care about will find your site and they will read your content.  And most importantly they will come back week after week, month after month, as long as you keep posting content that is relevant to your readers they will keep coming back.
Now that said yes I do realize that I'm breaking my own rule here.  Most of the time I'm writing on this site about SQL Server (or other kinds of technology stuff) and not how to maximize page views, but sometimes I like to step outside my comfort zone a little bit, and this would definitely qualify.
Denny
---
April 19, 2013 5:03 PM

This week I've found some great things for you to read. These are a few of my favorites that I've found this week.
Hopefully you find these articles as useful as I did.
Don't forget to follow me on Twitter where my username is @mrdenny
.
Denny
---
April 17, 2013 2:00 PM

Some people just really don't get social media. Recently a twitter account which belongs to a SQL Server training company who based on their website is a legit company. In what I can assume was supposed to be an advertising campaign they completely ruined their social media standing, and in 7 minutes managed to get their twitter account suspended. Grant Fritchey summed up what they did perfectly in this tweet.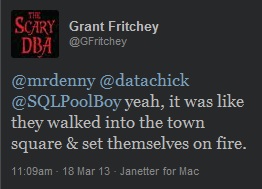 Their plan was apparently to message a lot of people (I counted about 70 including myself) with a link to their website. Apparently a lot of the people who received the message reported them as a spammer because within about 7 minutes of the first tweet their Twitter account was suspended thus ending their social media campaign.
I'm guessing that the goal of the tweets was to drive some business to their training program, but that has managed to backfire.
Lots of people make this mistake, and it's a pretty easy one. Engaging with people that might become customers is a great thing, however engaging with those people doesn't have to mean advertising and shoving your website down their throat. If people want to find your website they will. You don't need to shove it at them. This is the digital version of the flier in the (snail mail) mailbox that everyone just throws away. But in this case the people getting the flier have a way to stop the flier from being delivered ever again. You've been blocked, and probably reported for SPAM which has gotten the account suspended and you'll have to beg Twitter to let you have your account back.
Hopefully they have figured out that this isn't the approach to take, and hopefully if you were planning on doing this you've changed your mind.
Remember Advertising <> Engaging and the goal of social media is to engage not to advertise.
Denny
---
April 12, 2013 5:03 PM

This week I've found some great things for you to read. These are a few of my favorites that I've found this week.
Hopefully you find these articles as useful as I did.
Don't forget to follow me on Twitter where my username is @mrdenny
.
Denny
---
April 11, 2013 2:11 AM

There are lots of horror stories of people going to Europe on vacation or on business and coming home to massive cell phone bills. Even if you know that you are going to be paying a lot it's really easy to end up with a few hundred dollar international roaming cell phone bill. There are thankfully some ways around dealing with this. How easy and expensive this all is really depends on who your US cell phone carrier is.
If you are on AT&T or T-Mobile things are actually pretty easy. The first step is to make sure that your cell phone supports all the frequencies that you need. If you have a quad band phone you are done with this step. Most of the newer 3G and 4G phones are quad band.  I recommend an Android phone, as that's what I've got so I know that this all works perfectly.
The next thing you need to do is have AT&T or T-Mobile unlock your phone for you. They'll probably charge you a few bucks, but pay it.
If you are on Verizon (which is my US provider) or Sprint you are pretty hosed and you'll need to pick up an unlocked GSM phone. Google sells phones directly which are unlocked, which is where I bought one from.  If you are going to Europe a lot this makes sense.  If not you can pickup a used phone from eBay that's either unlocked or easily unlockable pretty easy.  You can either unlock the phone here, or you can unlock it at most cell phone shops in Europe for a few dollars.  I recommend an Android phone, as that's what I've got so I know that this all works perfectly.
The next step is to get a Google Voice account (this needs to be done while you are in the US).  Right now Google Voice is free (that may change, who knows).  Setup an account, you can use a separate number if you'd like, which is what I've done.
The next step is to get an app on your phone called GrooveIP.  This will let you connect to Google Voice without using the voice network in Europe.  Now this app is only available for Android phones.  There is an app called Talkatone which I haven't tried which is available for Android and iPhone.  Talkatone routes the calls through Talkatone's servers, while GrooveIP routes calls directly from Google Voice to your phone via Google Chat.
If you want people to be able to send you text messages you'll need to install the Google Voice app.  This app is free from iTunes and from the Google Play store.
Once this is all setup and working while you are at home in the US you are good to go.
When you get to Europe your first stop should be to the shops at the airport after you clear customs and immigration.  Tell the person behind the counter that you need a SIM card and a top up voucher.  The back of the SIM card box will probably tell you which top up voucher you need to purchase to get the unlimited data plan.  If they don't offer an unlimited data plan go with something which has a large data usage.  Cell phone calls going over the data network are about 1.2 Megs per minute.  So a Gig plan will handle about 900 minutes of voice calls.  Install the SIM card, if this is your US phone don't loose your US SIM card as you'll need that when you get home.  If you don't know how much top up credit you need, ask the guy behind the counter.  He probably knows as people ask him all day long.
Make sure that you read the instructions on the SIM card (or have someone translate them for you if they aren't in English) as to how to activate the unlimited plan if that's an option.  The unlimited plans usually don't activate themselves and you'll burn through a LOT of money on a pay as you go plan.  Usually it involves sending a text message or making a free phone call to activate.
At that point you can launch GrooveIP or Talkatone and make calls to the US for free.  This works because GrooveIP and Talkatone send your call over the data network instead of the voice network like a normal phone call.  Now if you need to call your hotel or a phone number within the country that you are currently in you'll need to use the phones normal dialer so that you aren't using Google Voice to make that international call.
If you aren't on an unlimited plan be sure to keep an eye on your data usage through the phones normal metering feature to make sure you don't run out of data service, and swing by just about any supermarket to purchase a top up card for the phone service.
Keep in mind that if you are jumping between countries while in Europe (which is really easy to do) you'll need a different SIM card and plan for each country as the pre-paid services don't have international roaming on them.  If you are doing this I'd recommend writing the country that the SIM card goes to on the SIM card so that you can try and use it again in the future.  Some of the phone providers lock out the cards about 180 days without use and some don't.
Hopefully this helps on your travels.
Denny
---
April 5, 2013 5:18 PM

This week I've found some great things for you to read. These are a few of my favorites that I've found this week.
Hopefully you find these articles as useful as I did.
Don't forget to follow me on Twitter where my username is @mrdenny
.
Denny
---