---
May 4, 2011 8:41 PM
At Red Hat JBoss World this week Red Hat, Inc. disclosed a controlled beta of  JBoss Enterprise Data Grid 6. In recent years, commercial data grids – or data caches – have come into use in high-performance, cloud computing and some Web commerce applications. Is there room for another? Probably, yes.
Though late to the party by some estimates, Red Hat claims its JBoss Enterprise Data Grid, which grows out of the ongoing Infinispan open source software project, brings new traits to this class of software – traits aimed at today's caching data needs. The data grid offering will complement Platform-as-a-Service (PaaS) and contemporary shared-services architectures, the company said.
Red Hat execs told us they are proposing the Infinispan work for inclusion in a Java Community Process standard. There, they will encounter IBM and Oracle, who have their own Java-enabled data caching products. No problem, Red Hat says –  they would just like to "start the process" on some new caching standards for Java.
April 29, 2011 5:19 PM
In the midst of economic disruption, application infrastructure and middleware software revenue has continued to thrive, posting 7.3% growth in 2010, according to Gartner. Developing areas are driving most of the growth in application infrastructure and middleware; Asia/Pacific is leading the charge.     
Continued »
---
April 25, 2011 8:28 PM
Cloud computing caught some flak last week as Amazon's Elastic Cloud snapped. Customer Netflix seemed to have dodged the blackout. Why not? Its boss Reed Hastings has true technology roots. Continued »
---
April 21, 2011 3:19 PM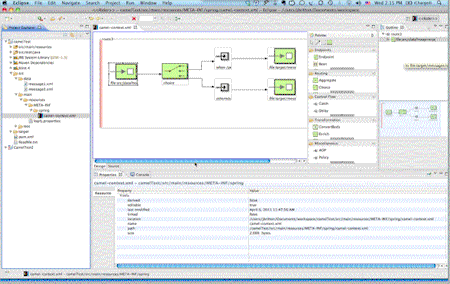 Forrester analysts and others sometimes bemoan the complexity of modern development languages. Can you hear their plaint? Do you think it valid? To program an integration with a Camel integration framework, you may have to use Java, Scala, XML, a DSL, and so on.
Tools like IBM's Integration Designer and FuseSource's open source Fuse Camel IDE (shown here) look to apply modeling notation to the integration problem.
The stubs generated by the Fuse Camel IDE software may not do the whole trick, of course – some assembly – or Scala, or XML or Java – may be required. But the visual tools may cut some project time. Still, somebody out there is contemplating the "80/20 rule." What do you think? Click on "Comments" below to tell us.
---
April 19, 2011 8:21 PM
Last week on SearchSOA.com James Denman published a podcast interview with mashup expert Michael Ogrinz, author of "Mashup Patterns." Naturally, they spoke about enterprise mashups, but with a twist. James and Michael hit on the apparent fit between mashups and cloud computing as well as Software as a Service (SaaS).
Cloud computing was also front and center at last week's IBM Impact 2011 event in Las Vegas. IBM announced moves to streamline provisioning of middleware images on cloud nodes. This is an important step. The first cloud applications, with some notable exceptions, were pretty much straightforward number crunching apps — one-trick ponies, if you will. But, increasingly, the apps on the cloud will come to mirror the complexity of "apps on the ground," ones that use sophisticated middleware. Read all about it in our Impact 2011 show story.
Clearly, the cloud was out in force last week at SearchSOA.com. Alan Earls contributed a piece that looks at the future of midrange legacy systems and the notion of cloud migration. Earls' effort is posed as a question: "Is it time to migrate your midrange assets to the cloud?" He suggests that the vestigial midrangers are as hard to decipher as mainframes. That and other issues may slow any effort to move the midrange legacy to a new platform.
---
April 14, 2011 3:48 PM
Someone raised an interesting question to industry expert Judith Hurwitz. They asked if there really can be such a thing as a private cloud. After all, the "cloudiest thing" about cloud is its massive scalability. If we are talking private and on premise, that naturally confines scalability to the less than massive realm. Hurwitz has an interesting reply to the inquisitive investigator's query. Yes, Virginia, you can have an elastic private cloud.
---
April 8, 2011 7:28 PM
Len Fehskens of The Open Group writes recently that enterprise architecture needs more to be about the whole enterprise — that may mean Enterprise Architecture (EA) may move to the business side. Let's face it, EA is still largely on the IT side, at this writing.
 
"Enterprise architecture ought to be about the entire enterprise, because that's what the name implies. If it's really about IT, it ought to be called enterprise IT architecture," writes Fehskens in a blog.
 
Fehskens wonders too, if EA will eventually go down in the record book as a 'soft' discipline or a 'hard' discipline. Stay tuned. More to come.
---
April 4, 2011 7:31 PM
By Ryan Cloutier –
Gartner has named IBM the market leader in the application infrastructure and middleware space. According to Gartner, IBM holds a 32.6 percent market share – nearly double that of its closest competitor. This is the tenth consecutive year that IBM has led in Gartner's market estimation. The worldwide market for application infrastructure and middleware grew 7.3 % and totals $7.6 billion, while IBM grew 14.4 percent. IBM also holds leadership positions in key submarkets determined to be growing faster than the overall IT field as well as the message-oriented middleware market, the transaction processing monitor market and the combined markets of enterprise service bus suites and integration appliances.
---
March 29, 2011 9:20 PM
By Alan Earls
What are emerging cloud computing best practices?  According to Jignesh Shah, vice president for Business Infrastructure Products & Solutions at Software AG, one of the emerging best practices is to centralize internal access to all cloud services through a 'gateway' or service intermediary. "This results in a single perch that can be used to govern both internal consumers of the service and the third-party provider of the service," he explains. Continued »
---
March 28, 2011 7:41 PM
Java innovator James Gosling, who left the employ of new Java steward Oracle shortly after its merger with Sun last year, has gone to work for Google, the first company Oracle sued for Java patent infringement.
In a blog entry, Gosling wrote:
Through some odd twists in the road over the past year, and a tardis encountered along the way, I find myself starting employment at Google today.
He contineud:
One of the toughest things about life is making choices. I had a hard time saying "no" to a bunch of other excellent possibilities.
In closing, Gosling admitted he was something of, er, a grump.
I don't know what I'll be working on. I expect it'll be a bit of everything, seasoned with a large dose of grumpy curmudgeon.
---