---
May 9, 2011 4:37 PM
Red Hat's JBoss World 2011 in Boston last week presented a unique view on some of the issues that press upon CTOs, software architects and development managers today. Of course, you would expect a unique view, given the company's distinctive open source software lineage. Continued »
May 7, 2011 2:00 AM
Video: When Site Editor Jack Vaughan got back from Red Hat's JBoss World, he filed a brief on a caching grid, something Red Hat looks to bring to the fore. In fact, the company is chasing others  – big and small – in the data cache quest. Will JBoss succeed in positioning this technology as a standard?
Vaughan discusses this issue…
---
May 6, 2011 9:45 PM

Profile: James Denman
The Red Hat Summit / JBoss World 2011 was this young reporter's first experience with an event of such size. Seeing so many open source vendors, users, experts, and enthusiasts all in one place was truly impressive. Not to mention the lavish refreshments (which I probably shouldn't).
The event kicked off on Tuesday afternoon with General Hugh Shelton, chairman of the Red Hat board of directors, who kept his speech short and sweet. Shelton assured listeners that although "We're not there yet, and we won't be there until we eliminate our fiercest competitors […] the open source army will continue to march on because it is the right thing to do." He finished his speech by extolling virtues such as openness, sharing, and evolutionary thinking.
Jim Whitehurst, president and CEO at Red Hat, picked up where General Shelton left off, connecting advances in information technology with advances in social reform. He cited recent revolutions of oppressed peoples whose greatest tool was the ability to exchange information. Whitehurst asserted that the principals that drive these revolutions—collaboration, openness, and most of all freedom of choice—are the same principles that drive cloud evolution. According to Whitehurst, we are coming to a fork in the road in the development of new cloud technologies where we, as the IT industry, must ask ourselves "Are we just choosing the next Microsoft?" In other words, will the cloud be dominated by one massive platform provider with whom everyone else will have to deal?  
Last up in the opening keynote was Paul Daugherty, chief technology architect at Accenture, who kept the revolution/evolution ball running by saying "If you look at where the innovation is happening, it's around open source." According to Daugherty the open source players are inundating the IT world with disruptive innovation. Daugherty sited social networking as an area where the biggest challenge can be dealing with the sheer volume of data and it's ever increasing rate of increase.
I'm writing about the opening keynote speeches because I think they set a really good tone for the whole show. It got me fired up and excited about learning what the open source folks are doing to build a better tomorrow. The company announced OpenShift, Cloud Form, the early access release JBoss Enterprise Application Platform 6, and more. I picked up a bushel of useful tips about database management, HTML 5, Java stuff, cloud application integration, RESTful programming, and more. I'm looking forward to a long stretch of writing stories for SearchSOA.com and for our sister site TheServerSide.com. Stay tuned.
---
May 4, 2011 8:41 PM
At Red Hat JBoss World this week Red Hat, Inc. disclosed a controlled beta of  JBoss Enterprise Data Grid 6. In recent years, commercial data grids – or data caches – have come into use in high-performance, cloud computing and some Web commerce applications. Is there room for another? Probably, yes.
Though late to the party by some estimates, Red Hat claims its JBoss Enterprise Data Grid, which grows out of the ongoing Infinispan open source software project, brings new traits to this class of software – traits aimed at today's caching data needs. The data grid offering will complement Platform-as-a-Service (PaaS) and contemporary shared-services architectures, the company said.
Red Hat execs told us they are proposing the Infinispan work for inclusion in a Java Community Process standard. There, they will encounter IBM and Oracle, who have their own Java-enabled data caching products. No problem, Red Hat says –  they would just like to "start the process" on some new caching standards for Java.
---
April 29, 2011 5:19 PM
In the midst of economic disruption, application infrastructure and middleware software revenue has continued to thrive, posting 7.3% growth in 2010, according to Gartner. Developing areas are driving most of the growth in application infrastructure and middleware; Asia/Pacific is leading the charge.     
Continued »
---
April 25, 2011 8:28 PM
Cloud computing caught some flak last week as Amazon's Elastic Cloud snapped. Customer Netflix seemed to have dodged the blackout. Why not? Its boss Reed Hastings has true technology roots. Continued »
---
April 21, 2011 3:19 PM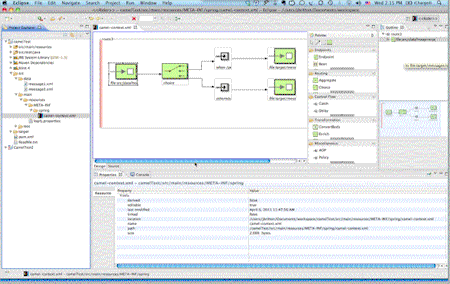 Forrester analysts and others sometimes bemoan the complexity of modern development languages. Can you hear their plaint? Do you think it valid? To program an integration with a Camel integration framework, you may have to use Java, Scala, XML, a DSL, and so on.
Tools like IBM's Integration Designer and FuseSource's open source Fuse Camel IDE (shown here) look to apply modeling notation to the integration problem.
The stubs generated by the Fuse Camel IDE software may not do the whole trick, of course – some assembly – or Scala, or XML or Java – may be required. But the visual tools may cut some project time. Still, somebody out there is contemplating the "80/20 rule." What do you think? Click on "Comments" below to tell us.
---
April 19, 2011 8:21 PM
Last week on SearchSOA.com James Denman published a podcast interview with mashup expert Michael Ogrinz, author of "Mashup Patterns." Naturally, they spoke about enterprise mashups, but with a twist. James and Michael hit on the apparent fit between mashups and cloud computing as well as Software as a Service (SaaS).
Cloud computing was also front and center at last week's IBM Impact 2011 event in Las Vegas. IBM announced moves to streamline provisioning of middleware images on cloud nodes. This is an important step. The first cloud applications, with some notable exceptions, were pretty much straightforward number crunching apps — one-trick ponies, if you will. But, increasingly, the apps on the cloud will come to mirror the complexity of "apps on the ground," ones that use sophisticated middleware. Read all about it in our Impact 2011 show story.
Clearly, the cloud was out in force last week at SearchSOA.com. Alan Earls contributed a piece that looks at the future of midrange legacy systems and the notion of cloud migration. Earls' effort is posed as a question: "Is it time to migrate your midrange assets to the cloud?" He suggests that the vestigial midrangers are as hard to decipher as mainframes. That and other issues may slow any effort to move the midrange legacy to a new platform.
---
April 14, 2011 3:48 PM
Someone raised an interesting question to industry expert Judith Hurwitz. They asked if there really can be such a thing as a private cloud. After all, the "cloudiest thing" about cloud is its massive scalability. If we are talking private and on premise, that naturally confines scalability to the less than massive realm. Hurwitz has an interesting reply to the inquisitive investigator's query. Yes, Virginia, you can have an elastic private cloud.
---
April 8, 2011 7:28 PM
Len Fehskens of The Open Group writes recently that enterprise architecture needs more to be about the whole enterprise — that may mean Enterprise Architecture (EA) may move to the business side. Let's face it, EA is still largely on the IT side, at this writing.
 
"Enterprise architecture ought to be about the entire enterprise, because that's what the name implies. If it's really about IT, it ought to be called enterprise IT architecture," writes Fehskens in a blog.
 
Fehskens wonders too, if EA will eventually go down in the record book as a 'soft' discipline or a 'hard' discipline. Stay tuned. More to come.
---