---
April 16, 2008 1:48 PM

Profile: Eric Siebert
As part of a business case to justify our server consolidation/virtualization project, I had to show the benefits of what the project would provide. Virtualization provides a lot of "soft" benefits like reduced administration, maintenance costs, head count, etc. but one of the "hard" benefits is from the reduced power and cooling costs. I put together a little spreadsheet of all my servers and the wattage of their power supplies to help calculate how much money we would save in that area. The end result was real numbers I could take to management to show them the ROI that virtualization provided.
In today's world the cost of just about everything has been on the rise. Fuel costs in particular have a ripple effect on just about everything we buy which also affects computers. That's why virtualization is a great way to offset those increased costs. Providing power and cooling to a data center can be a very big expense, virtualizing servers can dramatically reduce this cost. PlateSpin provides a nice power savings calculator on their website. If we plug in the following numbers:
200 physical servers
average usage of 750 watts per server
average processor utilization of 10% before virtualization
target processor utilization of 60% after virtualization
The average power and cooling savings a year comes out to $219,000 with a consolidation ratio of 5:1 based on a cost per kilowatt hour of 10 cents. As the cost of power increases the savings become even greater, at 12 cents the cost savings become $262,800 per year and at 15 cents the cost savings become $328,500 per year.
Of course savings will vary based on a number of factors including how well utilized your physical servers are before virtualization, your consolidation ratio which can sometimes be as high as 15:1 and also your location. Different parts of the country average different costs per kilowatt hour, California and New York tend to be the highest at 12 – 15 cents per kilowatt hour where Idaho and Wyoming are the cheapest at about 5 cents per kilowatt hour. Power costs tend to rise a lot more then they go down so the argument for virtualization from a cost perspective becomes much easier when you factor in the potential savings.
Some power companies like PG&E even offer incentives and rebates for virtualizing your data center and reducing power consumption. A greener data center benefits everyone and besides reducing costs also helps the environment. Virtualization is one of the key technology's to help make this possible.
April 16, 2008 10:50 AM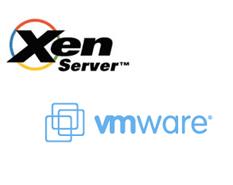 I have a confession to make: When it comes to Citrix's XenServer/Presentation Server/MetaFrame/WinFrame product line, I've always been biased. I simply love it. I remember giving people JDE software in a midsize manufacturing company (that has since been swallowed by a large imperial juggernaut.) When I was a server admin there, I had only to deploy the Citrix client and some configs and the desktop admins loved me for it. At my prior company, I remember going desktop to desktop putting nasty, frequently-updated-due-to-crappy-design applications on hundreds of clients' desktops. Thanks to Citrix, I was the office hero because staff could work at home when they needed to.
Then I discovered VMware and fell in love all over again. Now, I could deploy rich desktops without granting server access to the desktop. I could consolidate hundreds of servers, roll out emergency desktops in half the time, deploy servers from cloned templates with ease and backup entire systems without any agents. The only problem was that I never had Citrix run well on ESX 2 and 2.5, even though I was being told that Citrix and VMware go together like PB and J. If I were to anthropomorphize the whole thing (and I will) I'd say the two were jealous of each other and vied for my love and affection.
Putting Citrix on VMware
I had been advising people against using Citrix and VMware together; but should one insist, I have always recommended that they do some serious testing first. Then one day I broke down: After having read the VMware Performance Study and a great VMTN post, I figured it was about time I did my own testing. And like the aforementioned references, I got great results.
I officially rolled out Citrix Presentation Server on VI3.5 and the performance has been stellar. I don't have a lot of users on the Presentation Servers, but I run them alongside other production servers hosting the server side of some medical applications (billing applications, etc.), effectively putting the client and server on the same hosts. I've done this for my own office and for a couple of clients now. You could say that I am officially backpedaling now and embracing Citrix on VMware.
Here are my suggestions if you decide to try this for yourself:
Disaster recovery services (DRS) – Use anti-affinity rules to keep your Citrix servers from bunching up together if you allow automatic allocations. While it's unlikely that a large farm will wind up with all of its Citrix eggs in a few baskets and then lose all of those baskets, it's a possibility that should be planned for.
Storage – Use the fastest storage you can use. Citrix directly affects the user experience and shouldn't be skimped on. Slow Citrix equals unhappy masses, which equals poor perception of IT, which equals job troubles for you. If you have multiple storage area networks (SANs) to connect to, or even multiple logical unit numbers (LUNs) on the same SAN in different RAID groups, separate out the virtual machine disk files across your storage infrastructure to minimize the amount of disk I/O that Citrix boxes can generate (this is a good thing to do in any Citrix environment, not just a virtualized one.) Granted, I'm talking out of the side of my head here, since I run one of my Citrix farms on an iSCSI SAN, and it performs very well, but scalability may be an issue I don't have to address to the same degree as the largest enterprises.
Benefits of a Citrix on VMware system
The net result I'm seeing is an average of 18-20 users on each Citrix box before performance starts to tank. I was getting the same performance on my physical boxes. I don't need to schedule a reboot as frequently due to memory leaks (though we also redid the base Win2K3 install for R2, so I can't definitely point to virtualization as benefactor here), and when I do reboot, the reboot time is, like any virtual system, much faster than a hardware reboot.
Since I now can put my Citrix disk on the SAN, I can do block-level backup of data stored on Citrix servers (which, as any Citrix admin can tell you, happens no matter what you do since users always find a way.) Having templates makes it easy to roll out new Citrix boxes as well, especially since PS4.5 makes adding a new Citrix box to your farm a breeze. Then there's my favorite: snapshots. I'd take a lower user/server ration if I had to just to have this feature. Luckily, I don't have to. I can take snapshots just before and after every new application is installed for publishing; before and after every app is patched; before and after updating Windows; and before and after updating Citrix. Being able to roll back with such ease is what makes me truly, deeply happy with Citrix on VMware.
So, same user/server ratio, shorter downtime periods, quicker deployment and snapshots: I call this a win-win.
---
April 15, 2008 12:37 PM
Portsmouth, NH-based VKernel announced availability of its Capacity Bottleneck Analyzer Virtual Appliance, which allows system administrators to see capacity issues in VMware ESX Server-based environments so they can make necessary changes for optimum performance.
Network bottlenecks are issues in virtual environments due to increased capacity from virtual machines. A number of networking vendors have developed network products specifically for virtual environments to alleviate these issues.
A newer vendor called Altor Networks Inc. introduced a Virtual Network Security Analyzer last month that also lets IT view what is happening in virtual environment.
VKernel's software monitors CPU, memory and storage utilization trends in VMware ESX environments across hosts, clusters and resource pools. The virtual appliance gives users a single-screen management dashboard that displays all of the details on capacity to help plan for new hosts, clusters and resource pools. Users can also receive alerts via email and SNMP.
The VKernel Capacity Bottleneck Analyzer Virtual Appliance is currently available with pricing starting at $199 per CPU socket.
---
April 8, 2008 1:46 AM
Portsmouth, NH-based VKernel is deep into the beta stages for their new capacity bottleneck analyzer virtual appliance (VA). I had a chance to preview a pre-release candidate this week and was very happy the product. The capacity analyzer, a follow up to VKernel's chargeback product that launched last year, plugs into a VMware VirtualCenter or ESX host for data based on storage, networking, processor and memory usage for elements of the virtual environment. The capacity analyzer also includes new features that work well with the growing virtualization environment.
Categorized dashboards
Downloading the virtual appliance, assigning an IP address and pointing it to the VirtualCenter server was a breeze and I was looking at a base dashboard in less than 20 minutes. Probably the most notable feature of this VA is the main dashboard that provides a snapshot view of the environment. Everyone can learn something from their virtual environment from looking at the dashboard from the cumulative view. Upon first look, I learned some new things about my environment. For starters, I have one virtual machine that has an abnormally large storage requirement and I did not know it was as big as it was now.
The dashboard is element-sensitive, so if I have multiple hosts, datacenters or VMware ESX clusters , the bottleneck dashboard can display the status relevant to that object. For example, the figure below shows the dashboard from the summary for one particular datacenter:
One thing I find very beneficial to the virtualization admininstrator is the storage details. The for the storage dashboards you can get very detailed within the VA. For example, when looking at the dashboard's datastore statistics, important information about the environment is displayed. Storage is usually one of the virtualization administrator's biggest pain points, and any tool that increases visibility to the storage usage and trending is welcome. I mentioned a large virtual machine earlier, this figure shows that virtual machine at the top of the storage resource consumer's list with 81 GB allocated for its storage:
Note also that the LUNs are enumerated and their serial numbers are presented. Determining the LUN serial number is not possible through the Virtual Infrastructure Client, so I have had to frequently use the esxcfg-mpath command to get the serial number. Depending on your storage environment, you may need to reconcile LUNs by the serial number. In the scenario of many LUNs with the same geometry, the serial number is the only true way to identify the drive to the virtual environment. This is important in the case of a LUN return, as you do not want the incorrect LUN being removed from the storage system while in use.
Release candidate coming soon
The capacity bottleneck analyzer VA is soon to go into release candidate mode, so be sure to check out the VKernel evaluation site for the standard edition evaluation download.
---
April 7, 2008 10:35 AM
Hypervisors and VMs are becoming commoditized, resulting in a shifting emphasis towards user interface and management tools. In other words, anyone can make a virtualization platform but the platform that survives Hyper-V's entry into the virtualization space is the one that develops stand-out management features.
Virtualization pro Andrew Kutz discusses the components of an evolving virtualization ecosystem.
---
April 3, 2008 10:16 AM
System administrators can't seem to stop gushing about virtualization benefits. Data center folks reduce hardware footprints and lower power and cooling costs by consolidating servers. When IT pros take virtualization to the next level, such as implementing desktop and application virtualization, the benefits seem to expand exponentially.
However, system admins beware: some management issues cannot be glossed over, such as what to do about multiple OS images. In this video, virtualization expert Barb Goldworm discusses some potential risks when extending virtualization to the desktop and how to avoid them.
---
April 3, 2008 7:33 AM
Atlanta-based virtualization pro Mark Dean shares his thoughts in a guest blog for SearchServerVirtualization.com
One of the more popular products in the growing virtualization market is Parallels Virtuozzo Containers. Virtuozzo Containers provide a stable, high performance virtualization platform. However, this same technology also has some drawbacks in restricting the operating systems that can be used for both hosts and VMs.
I deployed Virtuozzo for a customer that wanted to leverage virtualization but was uneasy about the performance of their database server. I suggested Virtuozzo since it straddles the physical-virtual line with OS containers, it is similar to the technology that Sun Solaris uses.
The strengths of Virtuozzo Containers are really in that blurred line between the physical and virtual platforms. Instead of a hypervisor between the OS and the hardware, Virtuozzo Containers virtualize the OS by sharing OS code, files, memory and cache from the root OS, which is called the Hardware Node (and is represented as Container ID 0) in Virtuozzo terms. This means that the VMs are using the hardware directly rather than having calls to the hardware trapped by a hypervisor and then executed which translates into better performance for I/O workloads. This increase in performance is one of the main reasons companies will deploy Virtuozzo. High I/O workloads such as heavy transaction based databases benefit from the shared code nature of the containers.
But as hardware advances with the option of CPU hardware assistance from the CPU manufacturers (AMD-V and Intel-VT), I see Virtuozzo's technology becoming irrelevant. Since I can now run unmodified VMs using Xen or KVM on Linux and no longer have the (over-exaggerated) performance hit of the binary translation hypervisor (as in ESX), why go with a limiting technology?
Virtuozzo imposes some limitations on what you can run in your farm. Since the VMs are basically sharing code form the root Container OS, you can only run that type of VM on the host. Virtuozzo Containers currently only supports Windows 2003 Server and main Linux distributions. You cannot run Solaris, BSD or NetWare. Now, for some IT shops that may not be a problem but just about all the places I've seen, there is a mix of Unix, Windows and for many government places, NetWare.
If a virtualization vendor does not enable live migration, host/VM isolation or embrace the concept of a farm, it is not good for production workloads. Virtuozzo does have some of them, but their isolation is not as good as I like to see. I find that right now only VMware VI3 ESX 3.5 Server has all those concepts down. Xen Enterprise, when coupled with CPU assisted virtualization is the best contender to challenge VMware's space right now.
Mark Dean is a VMware Professional Partner and a Microsoft Certified Partner with certifications in VMware, Microsoft, Novell, Citrix, IBM and HP along with HP and IBM hardware. Dean has his own virtualization consulting company, VM Computing.
---
April 1, 2008 10:59 AM
Continuing our review of Hyper-V, the recently released Microsoft virtualization product for Windows Server 2008, we focus on the management aspect of the hypervisor. In two other recent blogs, I took a quick look at the Hyper-V Manager  and the simple creation of a virtual machine. Also on SearchServerVirtualization.com, fellow contributor Anil Desai gave advice on using the Hyper-V Manager. Now we'll take a closer look at System Center Virtual Machine Manager.
I installed the System Center Virtual Machine Manager, or VMM, for the management of virtual machines within Windows Server 2008. Installing the VMM is fairly straightforward, but it is worth noting the following pre-requisites:
.NET framework 2.0 to start the install, which is automatically upgraded to version 3.0
PowerShell from the Windows Server 2008 release environment
A SQL Server database instance (can be a local SQL Server 2005 Express edition or hosted database)
Domain membership
After some quick iterations of the VMM install, you will have the console application available. From there, you can add a host to the console as I have done below with the HYPERV-TEST-RWV host:
Inside of the VMM console, I added the single host to the same server that the console is installed and spent most of my time afterwards navigating the help file. Surprisingly, the VMM help file (C:\Program Files\Microsoft System Center Virtual Machine Manager 2007\help\Help.chm) is quite comprehensive and provides a good starting point for most configuration tasks in a single resource. One of the best initial observations of the VMM console is the Windows integration for delegated security and rights options. Within the VMM, this is referred to as a self-service policy. These policies offer one option above the competition in that you can assign users to be local administrators through the self-service policy. In other products, this is easily addressed by group policy. Below is the configuration of a self-service policy:
Like other virtualization platforms, the management layer is the key to an enterprise implementation. System Center VMM is no exception, and this initial release has support for migrating virtual machines and shared storage. However, this part of my evaluation of VMM will not focus on these components just yet, so stay tuned for my next entry on Hyper-V.
Microsoft resources for VMM
System Center is a comprehensive set of products that can manage components including Systems Management Server (SMS) and other pieces. VMM is a piece that can function as a stand alone or with the rest of the pieces in use. Microsoft has a nice video that showcases how VMM will fit into the management space for the virtual machines. If you are familiar with virtual machine management, this will be somewhat introductory. But towards the end of the video there are some quick tasks performed on-screen to give a feel for the process of managing the virtual machines in the VMM environment.
---
March 31, 2008 3:58 PM
Palo Alto, Calif.-based VMware, Inc. announced the general availability of VMware Lifecycle Manager, which was first announced and covered by SearchServerVirtualization.com in February.
The product is VMware's attempt to control virtual machine sprawl by showing who owns a virtual machine, when it was requested, who approved it, where it is deployed, how long it has been in operation and when it is scheduled to be decommissioned.
VMware Lifecycle Manager also gives IT managers the ability to measure and chargeback the use of virtual machines to individual department owners.
VMware offers other lifecycle management products, like VMware Stage Manager  and VMware Lab Manager, that are designed for specific functions and differ from the new LifeCycle Manager product.
So while VMware Lifecycle manager helps manage the creation, operation and decommissioning of virtual machines in compliance with company policies and standards, VMware Stage Manager helps to transition application stacks of multiple virtual machines through the integration and staging process prior to production. VMware Lab Manager helps with provisioning and allows manageability over the entire virtual environment.
There are a number of companies that offer virtual machine lifecycle management software similar to VMware's, and the majority of them are based on VMware virtualization. They have the pleasure of selling against VMware while also supporting the virtualization giant's product.
Some virtual machine lifecycle management vendors to consider if you are on the market for one of these tools include a new Alpharetta, GA-based company called vmSight that offers software for application performance, capacity planning, VM Sprawl control, billing and chargeback and regulatory compliance for VMware virtualization. Similarly, products from Buffalo Grove, IL.-based vizioncore Inc. with vCharter and Portsmouth, NH-based vKernel, which received kudos from Gartner Inc. for its VKernel Virtual Appliance Suite for Systems Management, offer virtualization lifecycle management products that go head to head with VMware's offering.
VMware Lifecycle Manager is now available for purchase through VMware's network of distributors, resellers and OEMs. VMware Lifecycle Manager is purchased a la carte and requires the purchase of the standard product offering per processor. There is also a customization option (one per VMware Lifecycle Manager server) that will allow customers to tailor fit VMware Lifecycle Manager into existing organizational tools and processes.
---
March 31, 2008 6:52 AM
The companies I speak with about their virtualization projects always list the same reasons for going virtual: they don't have enough space in their data center to add more physical servers; they can't afford power and cooling bills; they want to consolidate physical machines; and they want to consolidate physical people.
That's right. The majority of people I speak with – employers and employees alike – say they deploy virtual machines to avoid deploying more IT staff. While this is great for corporations, it isn't so good for IT job seekers.
For example, I went to a VMware Inc. User Group meeting in Boston on March 27 where one user gave a presentation about the virtualization project he oversaw at a Maine-based paper manufacturing company, SAPPi. "One reason we wanted to virtualize is we needed to lower our IT headcount," according to the systems engineer. "We needed to get rid of high end support and just keep desktop support."
A company called QualComm Inc has seen a similar side-effect of virtualization. At the VMware Virtualization Seminar Series in Providence Feb 26, VMware presented a case study of the wireless technology company about how it started with 1,200 servers and consolidated down to 100physical servers (12:1 ratio) , increasing data center space and cutting back on power and cooling.
That's great. And the cherry on top? They have not had to increase their IT staff at all in almost three years.
And at the growing Owen Bird Law Corp. in Vancouver, British Columbia, their sole IT staffer, Stephen Bakerman, went with Virtual Iron virtualization to avoid adding more physical servers and hiring more staff to help him manage it all.
"The cost savings is probably $100,000, and the time savings for me are incredible. Once everything is virtualized, I can run everything from my desktop remotely from my office or at home. I don't have to hire someone else, and I would have if we kept adding servers," Bakerman said.
Sure, I get how cool virtualization is, and the benefits it brings from a savings and management stand-point, but is anyone else concerned those IT college kids who dream of days spent engineering systems? or those system administrators who may get consolidated from many to few along with their servers?
---