---
November 4, 2009 4:33 PM
The new Red Hat Enterprise Virtualization for Servers platform made its debut yesterday, with Red Hat touting it as a "standalone, lightweight, high-performance hypervisor" that "provides a solid virtualization foundation for cloud deployments" and comes with software "for configuring, provisioning, managing and organizing virtualized Linux and Microsoft Windows servers."
Sounds good so far, right? Well, there are a few things Red Hat neglected to mention in that press release. First, there's this sentence buried in the Red Hat Enterprise Virtualization data sheet, about the system requirements for management servers:
"Windows Server 2008 not supported."
Isn't that kinda like coming out with a hot new car and saying, "unleaded gasoline not supported"?
November 2, 2009 2:29 PM
The trash talk in the Microsoft vs. VMware feud once reached Reggie Miller vs. Spike Lee heights. The two companies rarely passed up the opportunity to disparage, make fun of or even spread lies about each other.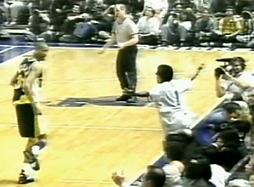 But things had quieted down lately, and a lot of the more recent trash talk just rehashed old criticisms and insults. That is, until VMware issued its "Competitive News Flash" about Hyper-V R2, which compares "Microsoft myths" to "VMware realities." (Hmm, where have we heard that before?)
The four-page document, marked "confidential," is to help VMware resellers "understand VMware's positioning in regards to Microsoft's virtualization offerings and to respond to customer questions about Hyper-V R2."
---
October 15, 2009 2:12 PM
Our recent blades vs. rack servers face-off between Chris House and Rick Vanover has spurred some hot debate. Virtualization blogger Aaron Delp, a senior engineer at ePlus Technology, submitted this response on the topic of blades vs. rack servers:
Here is how I see the rack vs. blades debate: No solution is right all the time! There are situations in which racks are better, and there are situations where blades are better.
---
October 12, 2009 8:05 PM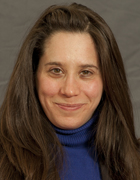 Profile: Lauren Horwitz
This year, SearchServerVirtualization.com is once again running its annual Products of the Year awards. Nominate your favorite product or your company's product in one of the following categories:
Virtualization platforms
Virtualization management
Virtualization security
Hardware for virtualization
Backup and storage for virtualization
Desktop virtualization
The call for entries is open now through Nov. 13, 2009. Products qualify if they were released between Nov. 1, 2008, and Nov. 1, 2009 (including beta). Click here for deadlines, details and criteria on Products of the Year. And click here for the direct link to our form.
---
September 3, 2009 6:14 PM
Following Tuesday's VMworld 2009 keynotes and sessions at the Moscone Center in San Francisco, TechTarget's Data Center and Virtualization Media Group hosted an after-party where attendees had a chance to wind down before another full day. If you missed this year's VMworld action (or if you just want to re-live the memory), check out our staff photos from the event.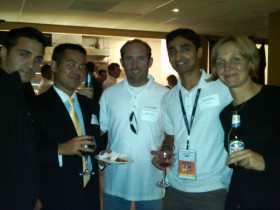 RingCube Technologies was out in full force at TechTarget's VMworld 2009 event (pictured here with TechTarget editor Jo Maitland).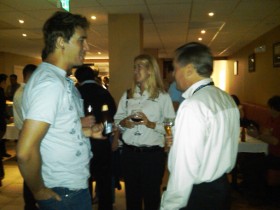 Brian Madden and others at TechTarget's VMworld 2009 party.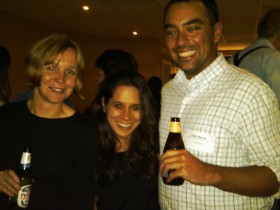 Jo Maitland and fellow TechTarget editors Lauren Horwitz and Colin Steele wind down on Tuesday night.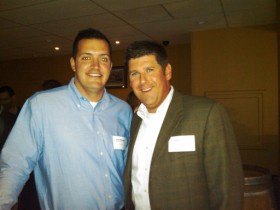 Sean Matthews and Peter Larkin of the Data Center and Virtualization group at the TechTarget VMworld party.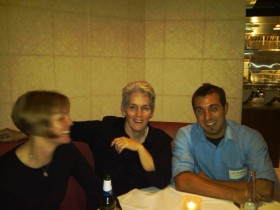 TechTarget editors Jo Maitland, Jan Stafford and Dan Mondello relax after Tuesday's sessions.
---
September 3, 2009 4:41 PM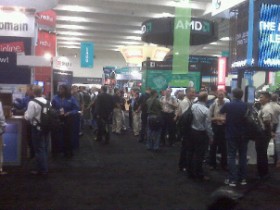 Inside the Moscone Center it was all business at VMworld 2009, but outside, Angus Young was rocking it out with SearchServerVirtualization.com (see below).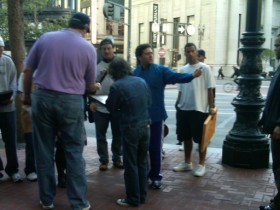 Editor Jo Maitland happened upon Angus Young of AC/DC on Second Street. He was signing autographs!
---
September 2, 2009 4:29 PM
SAN FRANCISCO — Much has been made about VMware's crackdown on competitors at VMworld 2009. Its goal is to keep the focus on VMware and its loyal partners, but really all it does is force the competition to get more creative.
Case in point: Citrix, which has taken its message to the streets. Literally. On taxi cabs.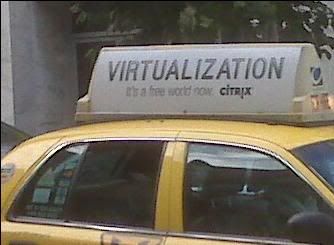 As you can see, Citrix has taken out taxi-top advertisements here in San Francisco. This one says, "Virtualization: It's a free world now," and I saw another this morning that said, "Virtualization: It's an open world now."
Sure, ads on cabs aren't as beneficial as showing off XenServer 5.5 on the VMworld floor would have been. But for Citrix, they're better than nothing.
---
September 2, 2009 2:56 AM
SAN FRANCISCO — I attended a session at VMworld 2009 today demonstrating VMware View and its cost saving value to the enterprise, but the only thing it really proved was how important proper bandwidth is for desktop virtualization.
The session, called "VMware View – Evangelizing the Value Proposition," was a hands-on workshop using 46 Wyse thin client desktops running VMware View. The point of the session was to let attendees run the Web-based VMware TCO/ROI Calculator using VMware View, so we could see how much money desktop virtualization can save while experiencing VMware View at the same time.
Unfortunately, the bandwidth in that room was less than adequate, and thus, so was the performance. For instance, the TCO/ROI calculator prompts for your company name, type, location, etc. After entering the data, the system took a minute or more to process it, and moving from one page to the next was agonizingly slow. Not good.
As we all sat waiting for our systems to process simple requests, the poor session host, VMware's Director of Enterprise Marketing, Bob Stephens, had to present on the benefits of desktop virtualization, such as reduced administration costs, better security, easier management and higher availability than traditional PCs. Stephens reiterated that the bandwidth in the room was "horrible" and said the performance was not indicative of what VMware View is actually like.
Later on I chatted with David Bieneman, the CEO and Founder of Liquidware Labs, which offers desktop virtualization diagnostic tools. I told him about the snafu during that session, and he said a safe bet for bandwidth is 200 kbits per user and under 200 milliseconds of latency. The sad performance could also have been due to a bandwidth connection issue to or from VMware's ROI/CTO Calculator Tool server, he said.
Unfortunately, the session was full of potential customers who now have a bad taste in their mouth about desktop virtualization. By a show of hands, all the attendees in the room said they use VMware, but only one or two use desktop virtualization already. The IT administrator from a University sitting beside me wasn't using desktop virtualization, and was less than impressed with what he saw. From what I could tell, other attendees felt the same way.
The takeaway here is that if you don't have the right networking infrastructure for virtualized desktops, your end users will notice a difference, and they will complain. What's worse, the time they spend waiting for their systems to respond translates into lower productivity, and it takes away from the savings you could gain in other areas.
---
August 28, 2009 5:54 PM
VMware's clause against competitive products at VMworld 2009 annoyed the hell out of Microsoft, and the company doesn't intend to sit idly by as thousands of potential Hyper-V users convene in San Francisco next week.
Sure, they will follow the show rules; Microsoft Corp. will have a 10-by-10 booth on the show floor and they won't demonstrate the new features and capabilities in Hyper-V, which will be available in Windows Server 2008 R2 in October. But will they talk to attendees about Hyper-V and undermine VMware's Stalin-esque policy of keeping the opposition out? You bet.
"When we saw the clause we called [VMware] to check on what we could do. We are only allowed to show products that complement VMware, so we won't be doing any product demos," said David Greschler, director of virtualization and management marketing. "But we will be there at the sessions at VMworld and we will be twittering (@MS_Virt) during the show, which is no longer an industry show. It is a VMware show."
At VMworld 2008 in Las Vegas, Microsoft did some guerrilla marketing to promote Hyper-V 1.0 by handing out poker chips with negative messages about VMware. I'm sure we'll see more of the same at the Moscone Center next week.
In fact, Microsoft has already started. On Thursday, the company put out a press release listing more than a dozen companies that saved over six-figures by moving from VMware to Windows Server 2008 Hyper-V and other Microsoft virtualization products.
Microsoft's cost savings case studies will probably catch some attention, especially in a poor economy. But VMware has about a 10-year head start in the virtualization market and companies that invested in VMware won't abandon that investment.
Knowing that, Microsoft included in Windows Server 2008 R2 Systems Center Virtual Machine Manager the ability to manage VMware ESX, VSphere and Hyper-V – eliminating a big reason VMware users might not try Hyper-V.
Microsoft is also playing the "easy" card. Greschler said adding VMware onto a Windows Server system, which already has Hyper-V built in, "is like having a car with GPS in it, but going out and buying a separate GPS system, and having to learn about that separate system. Hyper-V doesn't require a separate layer."
But whether the next version of Hyper-V with live migration and its other management features will be good enough to wow VMware users remains to be seen. At the very least, VMware customers will have another option, and will be able to use Hyper-V as leverage when negotiating prices with VMware.
---
August 25, 2009 1:54 PM
Microsoft announced the System Center Virtual Machine Manager 2008 R2 release to manufacturing (RTM) yesterday.
The release comes a month after the Hyper-V R2 RTM. Microsoft has been stressing that the biggest Hyper-V R2 benefits will come when used in conjunction with Virtual Machine Manager (VMM) 2008 R2, and this release shows that the two products are roughly on the same track. (VMM 2008 R2 will hit general availability Oct. 1, and Hyper-V R2 is expected to do so sometime in September.)
But it's important to note that Microsoft isn't targeting just Hyper-V users with VMM 2008 R2. The software will also support VMware vSphere 4.
---