---
September 16, 2010 6:41 PM
Welcome to the latest edition of the Virtualization Vendor Profile. Every once in a while I'll talk with a smaller or lesser-known company, learn about their business, discuss some industry trends, and write up a recap.
There were lots of first-timers at VMworld 2010, and not just attendees. It was also the first VMworld appearance for French vendor UShareSoft, which just started doing business in the United States a few months ago.
"Being a European company, if you want to get into the U.S. [market], it's important to have visibility, and these shows are one way to do it," UShareSoft CTO James Weir told me. "Being at the VMworld event was very important for us."
September 15, 2010 6:38 PM
The New York Post got the scoop today that Novell is selling itself in two parts: its SUSE Linux business will go to a mysterious "strategic buyer," and the rest to a private equity firm.
Novell, the "strategic buyer" and the private equity firm have all agreed to the deal and will sign it in three or four weeks, according to the Post. In the meantime, let the speculation begin!
Who's buying Novell? Let's take a look at some possible candidates and the odds they're the "strategic buyer":
---
September 14, 2010 7:17 PM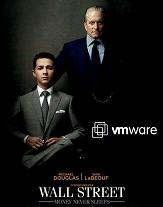 Our recent Spotlight on VMware series took an in-depth look at the challenges facing VMware in the server virtualization, desktop virtualization and cloud computing markets. But VMware's vulnerabilities aren't limited to those sectors.
The company is also at a crossroads on Wall Street, according to a Barron's article from this weekend, "Cloudy Future for VMware?" The story points out several potential areas of concern:
VMware's extremely high valuation — $85, or 61 times its expected annual earnings — "seems pricey, vulnerable to even the slightest mishap."
The company's revenue growth has become a victim of its own success, dropping from 70% to 20% as VMware has penetrated 97% of the Fortune 1,000.
Like many IT vendors, VMware's earnings don't reflect generally accepted accounting principals; if they did, they would have been 49 cents a share, not the $1 that was reported.
---
September 10, 2010 9:23 PM
By Alyssa Wood, Assistant Site Editor
It has come to this: the Justin Bieber Twitter page accounts for 3% of the entire Twitter server infrastructure. Considering the millions of Twitter pages out there (whether celebrity or average Joe), that figure is pretty astonishing.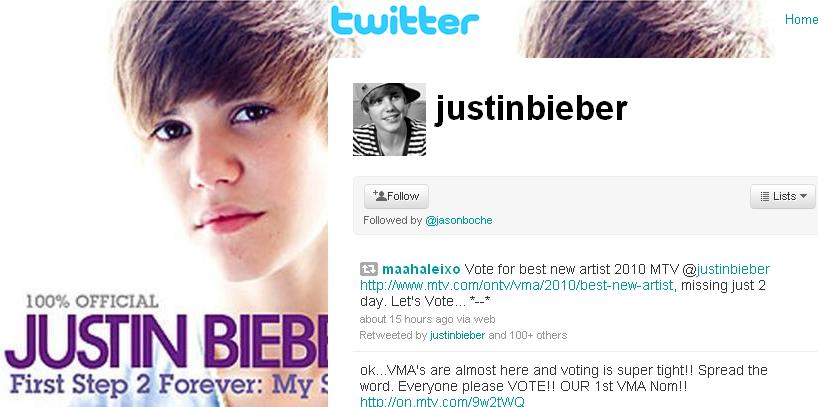 Web designer/blogger Dustin Curtis posted it online Sept. 6 — via Twitter, of course. Curtis said a Twitter employee gave him the information that "racks of servers" are dedicated to the young pop star. Company reps did not confirm the report but did say the Justin Bieber Twitter account is one of the most popular, according to CNN.
Curtis also said that Twitter's infrastructure was not originally designed to handle the influx of replies that a hugely popular account, such as Bieber's, receives every second. (The Justin Bieber Twitter account, @justinbieber, has more than 5.1 million followers.) That was clear during the FIFA World Cup this summer, when record usage of the site caused Twitter outages for more than five hours in one week.
No one could have foreseen the mania that Twitter — or Bieber, for that matter — would induce. But the capacity issues facing Twitter, albeit on a much larger scale, are common among organizations of all sizes.
---
September 8, 2010 9:17 PM
Remember back in July, when Dell and Hewlett-Packard made the surprising news that they would resell Oracle VM and other Oracle software? I even wrote a clever blog post comparing the whole thing to "Inception" and asking, "Are Dell and HP REALLY reselling Oracle VM, or is it all in my mind?"
Well, it looks like the whole HP part of that equation may be on hold. As you know by now, HP fired former CEO Mark Hurd, who was promptly hired by his good buddy Larry Ellison to be a president at Oracle, and now HP is suing Hurd for joining its rival/partner.
In response, Ellison has gone all "oh no they didn't!" and released a tersely worded statement calling the lawsuit "vindictive."
"The HP board is making it virtually impossible for Oracle and HP to continue to cooperate and work together in the IT marketplace," the statement says. So I guess that means you shouldn't look for Oracle VM on HP servers any time soon.
---
September 7, 2010 4:38 PM
The VMworld 2010 conference is over, but the experience at the show will help attendees throughout the year.
To that end, we're holding a contest. Just tell us what you learned at VMworld, and you could win one of three prizes:
TrainSignal's "VMware vSphere Pro Series Vol. 2" DVDs
Cisco Press' "A Complete Reference Guide to the Cisco Data Center Virtualization Server Architecture"
An official VMworld 2010 T-shirt
To enter, send a 150- to 200-word writeup on what you learned at VMworld to csteele@techtarget.com by Wednesday, Sept. 15 Friday, Sept. 17. We'll select three winners at random and publish as many responses as we can.
---
September 3, 2010 4:15 PM
By now, we know the stats. A mob of 17,000-plus swarmed the Moscone Center for VMworld this week, in hands-down the busiest and most crowded of the three VMworld's I've been to so far.
Couple that with VMware's "first-come, first-served" approach to session scheduling this year, and there was certainly never a dull moment.
So what was it like being part of such a massive sea of humanity?
---
September 3, 2010 2:52 PM
Moscone West pavilion
---
September 2, 2010 8:25 PM
By Beth Pariseau, Senior News Writer
SAN FRANCISCO — VMware demonstrated its new vShield Edge routing virtual firewall on the VMworld 2010 conference floor, and passersby stopped to give it a look. Most attendees were intrigued by the concept but worried about the cost and complexity of another virtual layer for networking security.
"The complexity of managing VPNs and different networks is always difficult," said Tony Stauffer, manager of end user services for an automotive manufacturer in the Midwest. "I'll be testing it out to see if it's really as simple as what's been demonstrated."
Ed Symanzik, information technologist at Michigan State University, said his shop has a virtual stack running 10 Gigabit Ethernet (GbE), but it's bottlenecked by a 1 GbE edge firewall.
"If I had this, I might be able to do an end-run around that physical firewall," he said.
---
September 2, 2010 8:18 PM
By Beth Pariseau, Senior News Writer
SAN FRANCISCO — After the splashy, high-level announcement of VMware's vCloud Director on Tuesday morning, reality set in at a VMworld 2010 session by Kevin Lees, VMware's global vCloud delivery team lead. Lees detailed the lessons learned from beta deployments at a handful of enterprise and service-provider customers.
He emphasized repeatedly that users looking to deploy vCloud director should "take a stepwise, evolutionary approach." He advised attendees to start simple by equating one back-end virtual data center with one vSphere cluster. He also recommended that ESX clusters running management utilities and the Oracle vCD database should be separated from resource pools in virtual data centers.
Lees also said careful planning is crucial for organizations looking to deploy vCloud Director at this stage. In particular, he advised users to follow a "60% rule," particularly if they are setting up an Oracle vCD at a service provider data center.
---