---
June 22, 2011 3:59 PM
The departures of XenSource founders Simon Crosby and Ian Pratt from Citrix have generated plenty of buzz in the virtualization market today, with all eyes focused on the company's next move.
Partners note that the bulk of Citrix's XenServer product development and marketing machine remains intact.
"Considering that both [Pratt] and [Crosby] are primarily advocates and evangelists for virtualization/open source projects and the heavy technical lifting is done by the Citrix developers, I don't think this will mean any changes to the XenServer product commitment by Citrix," wrote Shannon Snowden, consulting partner with Citrix partner New Age Technologies in Louisville, Ky., in an email. "Additionally, if the new company solves the security concerns with cloud infrastructures, then Citrix will be a big beneficiary, so it's a win-win departure for everyone involved."
June 22, 2011 2:02 PM
XenSource co-founders Simon Crosby and Ian Pratt are leaving Citrix Systems to tackle their next project: cloud security.
Crosby, Citrix's CTO, wrote today on his blog that he and Pratt, a Citrix vice president, will be co-founders of a new cloud security startup called Bromium. Bromium remains in stealth mode, but Crosby hinted at its direction in his post:
I remain firmly of the view that virtualization can offer a new toolset that can help to deliver a more secure and trustworthy computing infrastructure. … We are fusing deep virtualization and security systems DNA to build a powerful set of tools that can offer continuous endpoint protection.
Gaurav Banga, the creator of Phoenix Hyperspace, is another co-founder of Bromium,  whose investors so far include Andreessen Horowitz, Ignition Partners and Lightspeed Venture Partners. George Kurtz, worldwide CTO and executive vice president at McAfee, is a board member.
Crosby wrote that he and Pratt "will remain active in our stewardship, contribution to, and promotion of the key building blocks of open infrastructure: xen.org, OpenStack.org, OpenVSwitch.org, the Open Networking Foundation and other projects." He also emphasized that Bromium "does not intend to compete with any virtual infrastructure or security vendor."
Crosby and Pratt joined Citrix when the company acquired XenSource in 2007. In a statement, Citrix said, "While we will obviously miss their day-to-day presence as employees here at Citrix, we're genuinely excited about the Bromium vision and believe it will address some much needed industry challenges that are highly complementary to the Citrix virtualization, networking and cloud strategy."
---
June 21, 2011 4:47 PM

Profile: KeithKessinger
Celebrities occasionally evolve beyond what made them famous. A great example is Jesse Ventura, who went from professional wrestling villain to governor of Minnesota. But others aren't so lucky. Just look at Eddie Murphy's singing career.
The same can be said for IT vendors. Apple grew from a fledgling computer maker to the world's largest technology company by capitalizing on the iPod, iPad and iPhone. And now VMware is trying to pull off a similar transformation, using its core virtualization business to make inroads in other markets, such as business applications and cloud computing.
It's too early to tell if these moves will pay off, but early indications show that VMware is getting its cloud message out there, according to the SearchCloudComputing.com 2011 reader survey. When asked, "Which vendors do you most associate with private cloud computing?" an overwhelming majority of the survey's 500 respondents named VMware. (Google was a distant second, just edging out Salesforce.com and Amazon.)
These results are a testament to VMware's marketing machine, which constantly reminds us that VMware is not just a virtualization company. It feels like every week VMware purchases another company, and each acquisition is an opportunity for VMware to point out, "Hey, we do cloud!"
---
June 20, 2011 6:58 PM
PCI DSS 2.0 clarified that credit-card-handling organizations could, in fact, use server virtualization. But the question still remained: How, exactly?
A new information supplement from the Payment Card Industry (PCI) Security Standards Council attempts to answer that question. The supplement, produced by a PCI special interest group consisting of more than 30 merchants, vendors and security assessors, identifies the challenges of virtualizing PCI-regulated environments and advises organizations on how to implement virtualization in compliance with the Data Security Standard (DSS).
These virtualization guidelines (PDF) may look good on paper, but many organizations will still encounter roadblocks — surrounding not only PCI compliance, but the virtualization technology itself.
---
June 20, 2011 2:36 PM
The summer hypervisor season is in full swing, and three blockbusters are capturing the attention of fans and critics alike. We already know about the upcoming releases of VMware vSphere 5 and Citrix XenServer 6.0, and now word on Microsoft Hyper-V 3.0 has leaked out, too.
French publication PC INpact reported last year that the next version of Hyper-V would be part of the Windows 8 operating system, and that indeed appears to be the case. Early this morning, Windows Now blogger Robert McLaws posted several screenshots of what he said is a leaked Windows 8 x64 build, which show Hyper-V as a feature that users can turn on or off through the control panel.
(The name of the next version of Hyper-V isn't set in stone anywhere; PC INpact called it "Hyper-V V3" in its report last year, but McLaws went with "Hyper-V 3.0," although none of his screenshots use that name. We'll stick with that for now, but beware that it may change.)
---
June 16, 2011 5:49 PM
Dr. Kieran Harty, VMware's former executive vice president of engineering, is now tackling storage performance and management headaches.
His startup, Tintri, launched in March, after two and a half years in stealth mode, and it received $18 million in series C venture capital funding this month. The company's product, VMstore, is a combination of hardware and software that aims to solve the problems of storage I/O performance bottlenecks and management complexity in virtual infrastructures.
VMstore is a 4U box that comes with 8.5 TB of usable capacity, comprised of a combination of solid-state Flash disks and SATA capacity. It uses inline data deduplication to compress virtual machine (VM) data so that up to 13 logical TB can fit into one unit. With compression and deduplication — as well as the ability to automatically move data to the Flash disks in small 8KB blocks, according to application demand — the appliance can store between 100 and 200 VMs per node, including high-performance databases, Tintri says.
---
June 10, 2011 6:59 PM
EMC and VMware are as close as two vendors can get, but that doesn't make them immune to integration problems.
An issue with some versions of EMC's Engenuity Symmetrix VMax disk array microcode and VMware vSphere's vStorage APIs for Array Integration (VAAI) has EMC warning users of potential hits to performance and data integrity.
An unspecified but relatively small number of users have experienced performance slowdowns as a result of using EMC's VMax arrays at certain microcode levels with VAAI, according to a blog post written yesterday by Chad Sakac, EMC's vice president for the VMware Technical Alliance.
---
May 31, 2011 8:10 PM
Microsoft released a second beta of System Center Virtual Machine Manager (SCVMM) 2012 to a broader audience May 26, bringing the product another step closer to general availability.
Due out in the second half of 2011, SCVMM 2012 may bring greater feature parity with VMware's vCloud Director. New features include new administrative roles and workflows for self-service portals, which are meant to support Infrastructure as a Service (IaaS), plus automated, wizard-driven provisioning of virtual machine (VM), network and storage hardware through Virtual Machine Manager.
---
May 27, 2011 5:37 PM
SAN FRANCISCO — What do Dilbert, teddy bears and Angry Birds have in common? They were all among the sights at this week's Citrix Synergy 2011 conference. Here are some pictures from the show: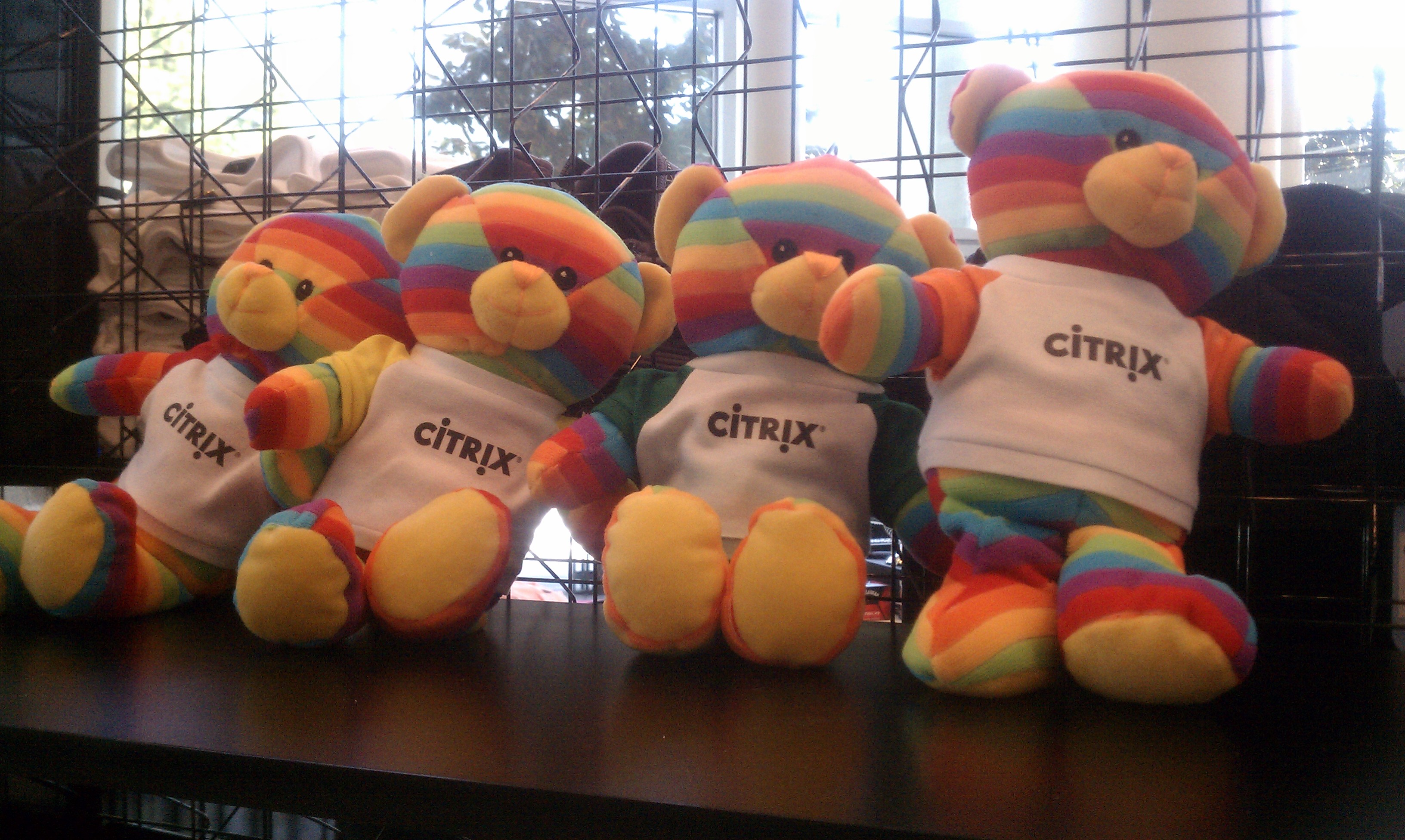 The Citrix Store at the show sold all kinds of merchandise, such as these teddy bears.
---
May 27, 2011 5:11 PM
Go big or go home. That's been VMware's strategy in the virtualization and cloud markets, so it's no surprise the company is doing the same in real estate.
VMware is planning a massive expansion at its Palo Alto headquarters, according to the San Jose Mercury News. The company will take over an adjacent 1 million square feet of space in the Stanford Research Park, where pharmaceutical company Roche once called home. The $225 million lease agreement expires in 2045. Can you imagine what cloud will be three decades from now?
With a $30 million renovation by the end of this year, VMware's campus will grow from 30 to 100 acres and from five to 22 buildings. The expansion will also bring new jobs — as many as 2,500. It could make VMware the largest employer in Palo Alto (outside of Stanford University), where tech and social media companies have come to dominate.
---