---
May 22, 2014 9:05 PM
best practices
,
BIOS password
,
Security
,
UEFI
If hackers can't boot your PC, it makes the task of stealing your files that much more difficult. Using a pre-boot password is a highly effective security precaution. In the latest issue of


RSS Feed

Email a friend
---
---
May 19, 2014 7:52 PM
Disk Encryption
,
Mobile device security
,
Security policy
,
Social media security
We all have our preferred security habits (at least, I hope so!) Some of them are for our own comfort and some of them are actually highly effective. In my next few posts, I am going to discuss the ones I consider are most effective. I plan to outline the pros and cons of full drive encryption,...
---
April 28, 2014 5:23 PM
Security
Stop using Internet Explorer and switch to an alternative browser immediately. Microsoft just announced a zero-day vulnerability in Internet Explorer that is being actively exploited in targeted attacks; they have not yet issued a fix. All versions of IE are affected. According to
---
December 8, 2013 9:12 PM
Security

---
November 24, 2013 10:25 PM
Security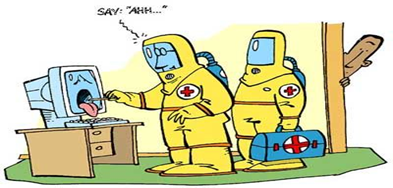 ---
August 25, 2010 1:18 AM
Security

---
March 25, 2008 6:58 PM
Security
Being a Ham Radio operator, I've always understood the risk inherent in using radio signals to transmit sensitive information: anyone with the right equipment can
---