---
September 26, 2009 2:46 AM
If the challenges at Hackthissite.org illustrate one thing, it's that viewing the source code of web pages can often reveal exploitable vulnerabilities. Beyond that, eCommerce sites often have payment buttons, shopping carts and other means to facilitate transactions. If the code for these things is openly visible when viewing the page's source, a hacker may be able to inject his own code to divert payments away from the rightful vendor and into the hacker's account. This is particularly true if the code is straight HTML or raw Javascript rather than scripts hosted on a secure server.
One solution is to encrypt the web page code. A web search will reveal plenty of tools to accomplish this; one that I've tried is iWebTool.com HTML Encrypt. It's easy to use, just paste your raw code into the text entry box, click the "Encrypt" button and see your encrypted code in the lower panel.
It's not a substitute for secure coding, but it can serve as an effective deterrent.
Comments? Go ahead and hit the button.
September 23, 2009 8:15 PM
So far, we've explored the first 4 basic missions at HackThisSite.org. As we get to each new level, the difficulty increases, but they're still pretty easy.

Today, we solve level 5:
Sam has gotten wise to all the people who wrote their own forms to get the password. Rather than actually learn the password, he decided to make his email program a little more secure.
If you try the same tactic we used to solve level 4, you'll get the error message, "Invalid referrer. The requested URL /missions/basic/5/level5.php will not be loaded." You get this because the script checks the HTTP headers to see where you are viewing the page from. If the url is not /missions/basic/5/ or /missions/basic/5/index.php then it will give an error. Since you're viewing it from a local file, the script fails.
There are two approaches we can take here: 1. Change the email address in the script using some form of code injection; 2. Use an online monitor/debugger that allows us to edit a page on the fly.
For the first approach, Javascript injection allows us to change the email address using the following code: javascript:alert(document.forms[0].to.value="put_your@email. here"); Enter that in the address bar, hit Enter, and you'll be greeted with an alert box show the email address you entered. If you then click the "Send Password to Sam" button, the password will be revealed. Copy the password, paste it into the password field, click Submit and you're in. Like the last exploit, the page won't actually send the password to the email address. In fact, you don't even have to change the email address in the code; it will work as shown.
For the second approach, if you use Firefox, you can install a cool add-on called Firebug. This powerful tool allows you edit, debug, and monitor CSS, HTML, and JavaScript live in any web page. I installed it, went to the challenge page and used the "Inspect Element" feature to see what was behind the "Send Password to Sam" button. Then, within Firebug, I changed the email address. When I clicked the "Send Password to Sam" button, the password was revealed.
Either way, mission accomplished!
(In a future post, I'll show you how to hack any stored password using a similar javascript approach. And I'll make sure you adopt a policy to never used a "remember me on this computer" check box on a publicly accessible PC ever again!)
---
September 20, 2009 9:54 PM
Thanks to Google, there's a tool you can use to check any site and see if Google lists it as hosting any suspicious files or acting as a malware intermediary. Yes, I know there's a Firefox extension and that the Google Toolbar for Firefox incorporates the tool, but what if you're out in the field on a machine that doesn't have the tool installed and you want to check a site? Simple. Use this URL:
"http://google.com/safebrowsing/diagnostic?site=[URL of site you want to check]" (Leave off the http://).
For example, this URL produced the report shown in the screen shot (click on the image to view it full size):
http://google.com/safebrowsing/diagnostic?site=itknowledgeexchange.techtarget.com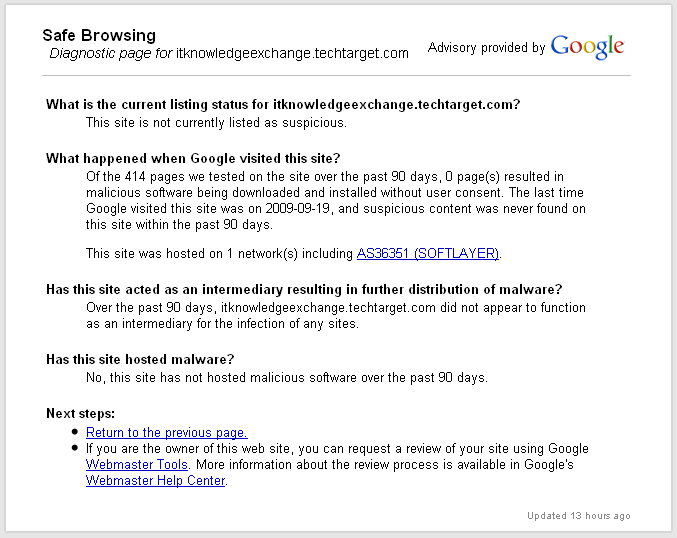 Try it out for yourself on your favorite sites. You might be surprised at what you find out.
(Thanks to Steve Gibson and Leo Laporte of Security Now! for presenting a reader comment that brought this to my attention.)
What do you think? Leave a comment!
---
September 20, 2009 5:45 PM
So far, we've explored the first 3 basic missions at HackThisSite.org. As we get to each new level, the difficulty increases, but they're still pretty easy. Today, we solve level four:
An email script has been set up, which sends the password to the administrator. Requirements: HTML knowledge, an email address.

This time Sam hardcoded the password into the script. However, the password is long and complex, and Sam is often forgetful. So he wrote a script that would email his password to him automatically in case he forgot.
So, what we have to do is hack the page to get the password sent to an email address of our own choosing. The script is invoked by clicking the "Send Password to Sam" button. Once again, we can view the source to see what clues are there. Paths to two scripts stand out:
"/missions/basic/4/level4.php"
"/missions/basic/4/index.php"

Those are both relative paths. We can't make them absolute and save the source, but we can save the page to the desktop, edit it, then open the local file. This should give us some action. Make sure to change the email address to one you own.
When the page is opened, we see the challenge screen. Click on the "Send Password to Sam" button and voila! A page appears to reveal the password 50c3072c. The script doesn't actually email the password, so don't bother checking the email address you entered.
Mission accomplished!
According to some, level 5 is a bit tougher, but I'm sure we have the talent.
What do you think? How could this hack be thwarted? Leave a comment!
---
September 19, 2009 3:05 PM
As if we don't already have enough to deal with, it seems that malvertising–a technique where malicious code is placed in an online ad to either mislead the user or infect their computer—is on the rise. Microsoft recently filed five lawsuits against unnamed individuals accusing them of posting ads containing malicious and deceptive code on its MSN advertising network. And when Microsoft stands up and takes notice against a threat, you know it has some teeth.
The lawsuits Microsoft filed allege that individuals doing business as Soft Solutions, Direct Ad, "qiweroqw.com" (that's a randomly generated name if there ever was one), ITmeter INC, and "ote2008.info" used malverstisements to either spread malicious code or deceive users into visiting websites that peddle scareware. Microsoft hopes that by filing civil suits in the U.S., the individuals responsible will be discovered and enjoined from continuing to post malvertising.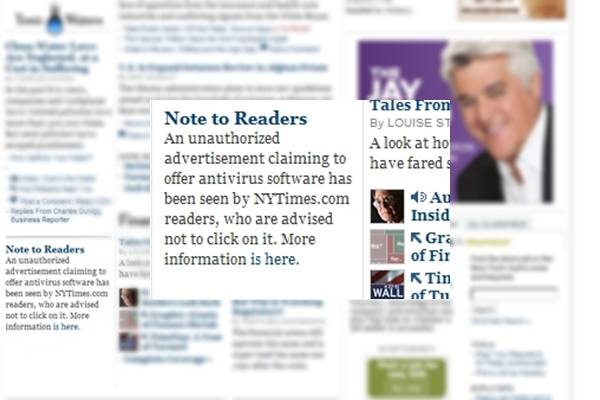 Recall that last week, as reported in The Register, an ad appeared on the New York Times web site offering a virus scan that then attempted to sell scareware to the user ("NYT scareware scam linked to click fraud botnet").
As always, I recommend using a secure browser (Firefox with NoScript) and keeping your OS and security software up to date. Oh, yes, and a healthy serving of general caution couldn't hurt.
Caveat araneo-fluitator! (Let the web-surfer beware!)
What do you think? Leave a comment!
---
September 16, 2009 6:38 PM
My most recent post, Hacker Skills Help Save a Client's PC, is a real-life practical example of how honing (or developing) your hacking skills can help you better serve your clients. So if you haven't gotten around to it yet, mosey on over to HackThisSite.org, create an account and get started on the basic missions. They're pretty simple, but if you don't know a thing about hacking, you'll be challenged.
Did you figure out level 3 of the HackThisSite.org Basic Missions? Here's the mission:
This time Network Security Sam remembered to upload the password file, but there were deeper problems than that.
Recall that Sam forgot the password file the last time and so the script that checked for the file returned a <null> value—a blank password. This

time, he remembered to upload the password file, which, if you look at the source code for the page, is password.php. In the last challenge, we were told that the password file was not encrypted. I wonder if we can open password.php? Let's copy the URL of the challenge page and append "password.php" to it: http://www.hackthissite.org/missions/basic/3/password.php. Voila! The page opens, revealing 792debbc as the password.
Mission accomplished.
---
September 16, 2009 6:03 PM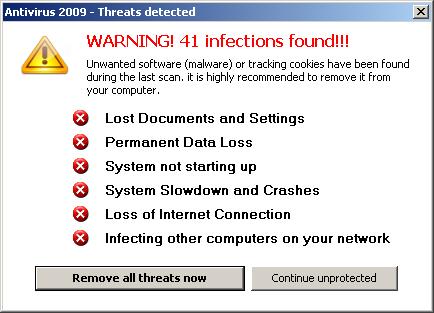 A client recently called about his home PC saying that there were all kinds of pop-ups telling him he was infected. Naturally, the pop-ups promised to remove the "infection" for $49.95, a typical scareware tactic. I figured this would be a simple job, probably WinAntivirus Pro or some variant of it, and I would be in and out in less than an hour. I was wrong; he had deeper problems.
When I booted his PC, I was confronted by multiple command windows all with the title "desote.exe." I was able to get to a web page and determine that this file is related to Windows Police PRO, a WinAntivirus Pro variant. I was also able to download MalwareBytes' Antimalware. It wouldn't install; desote.exe popped in every time I tried to run MBAM installer. I decided to try a manual removal to get the PC to where I could run MBAM and clean things up later, so I deleted desote.exe, dbsinit.exe and a couple other related files. That was a mistake; Windows lost its ability to run .exe files.
I knew I'd probably have to hack it, so I fell back on an old trick: When .exe files won't run, change the extension to .com. This worked. I was able to install MBAM, run it, and get the system cleaned up. Turns out that the malware changes the registry key HKCR\exefile\shell\open\command from the (Default) entry of ["%1″ %*] to ; since desote.exe was missing, Windows didn't know what shell to run .exe files with. Besides that, MBAM found rootkit components that would have been difficult to remove manually.
Hacker skills are valuable for us white hats.
---
September 12, 2009 12:55 PM
Did you figure out level 2 of the HackThisSite.org Basic Missions? Here's the mission:
Network Security Sam set up a password protection script. He made it load the real password from an unencrypted text file and compare it to the password the user enters. However, he neglected to upload the password file…
Read the mission briefing very carefully. A script loads a password from a file. There isn't a file, so the script won't load anything, meaning the variable will be…empty (blank). Clicking the Submit button with an empty password field should do it.
That worked. Mission accomplished.
---
September 9, 2009 8:09 PM
Yesterday, Michael Morisy, ITKnowledgeExchange's community editor, posted "President Obama's back-to-school speech tells students to pursue technology. What's your advice?" It contained a transcript of The President's speech. Ignoring the controversy and the politics, one has to agree that he made some good points; in fact, I found the whole speech inspiring.
One thing President Obama said relative to the pursuit of technology careers stood out: "Students who sat where you sit 20 years ago founded Google, Twitter and Facebook and changed the way we communicate with each other."  Yes, and before that another generation of students invented the Internet and founded the biggest software company in the world. What he left unsaid is that these technological advances have not been without problems; indeed, they have created entirely new problems that have spawned a separate IT industry: Information Security.
My advice to students who pursue technological careers—particularly IT related—is to realize that the development of new technology also carries with it the responsibility of ensuring that technology is safe to use. The lack of such responsibility in the past, whether through shortsightedness or outright neglect, has given us an Internet that is a haven for a new breed of criminal, that exposes our children to predators, hate propaganda and smut all at the click of a button and often unwittingly. And I haven't even mentioned the threat to our national security.
President Obama said, "…you become good at things through hard work." There's a lot of hard work ahead before we get to the point where anyone can buy a computer, plug it in and use it safely without having to be an information security specialist.
We'll know we're there when the PC is as safe to use as a TV.
---
September 8, 2009 11:37 PM
All of them are critical, but not a single one of them affects Windows 7, scheduled for release on October 22.
The most dangerous flaw covered by this month's batch of patches is a remote code execution vulnerability in the way that the JScript scripting engine decodes script in Web pages (MS09-045). A remote attacker can exploit this vulnerability by convincing a user to visit a specially crafted Web page and this could result in execution of arbitrary code on the affected system. All versions of Windows—except Windows 7—are vulnerable. Here is the list of bulletins taken from the Microsoft Security Bulletin Summary for September 2009:
MS09-045 Vulnerability in JScript Scripting Engine Could Allow Remote Code Execution (971961)
MS09-049 Vulnerability in Wireless LAN AutoConfig Service Could Allow Remote Code Execution (970710)
MS09-047 Vulnerabilities in Windows Media Format Could Allow Remote Code Execution (973812)
MS09-048 Vulnerabilities in Windows TCP/IP Could Allow Remote Code Execution (967723)
MS09-046 Vulnerability in DHTML Editing Component ActiveX Control Could Allow Remote Code Execution (956844)
It remains to be seen how Windows 7 will fare once it's released to retail, but so far, it appears to be more secure the previous versions of Windows. According to Wolfgang Kandek, chief technology officer at software security provider Qualys, "There are a number of additional security measures [in Windows 7] that seem to be working so far in its favor."
We can only hope.
---