---
January 24, 2010 11:20 PM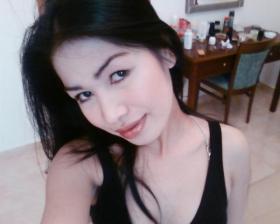 What follows is an email version of what one of my family members went through a couple of years ago. It goes like this: foreign person in the states is facing expiry of green card and seeks a more permanent work visa; foreign person "falls in love" with American and convinces him/her to get married; foreign person now has the means to stay here; foreign person divorces American spouse after an "acceptable" amount of time.
That's a real world example, but the scam also happens in cyberspace. In fact, here is an actual notice I got from the administrator of a social network that I happen to be a member of:
I am posting this as a warning… not from this site itself, but as a caution about other members and all sites in general.

It has been brought to my attention that a member of this site has been
befriending other members, asking for their emails and pics of them …
and subsequently getting to the point of asking the member to invite
them to their home (by filling out a request and visa for them to come
to the states).

Any complaints of such on any of my sites will warrant immediate suspension… no warning.

THIS IS NOT appropriate behavior or etiquette for internet sites anywhere at any time.  Please do not give out your emails unless you are doing business with someone or you know them WELL ENOUGH to do so.
You are encouraged to use very wise judgment on doing anything that could
jeopardize your being.  Please be cautious of such requests.

Sincerely, [name not revealed for security purposes]
Does this sound familiar to you? Please warn anyone you know who is being scammed in this way.
January 24, 2010 3:20 PM
I don't know about you, but I often get a bit weary of the constant "seriousness" of security issues. It's not all doom and gloom, you know; some things are actually funny. With that in mind, I'm launching my new ongoing series "Security Humor" and with that, today's installment (no offense to my Irish readers and friends) entitled, "Irish Password."
During a recent password audit at Bank Of Ireland it was found that Paddy O'Toole was using the following password:

MickeyMinniePlutoHueyLouieDeweyDonaldGoofyBerlin

When asked why he had such a long password he replied: "Oi was told it had to be at least 8 characters long and include one capital!"
I plan to post a minimum of two installments a month, more during slow security news times. As always, comments are welcome. Go ahead and tell me what you think right now!
---
January 23, 2010 4:51 PM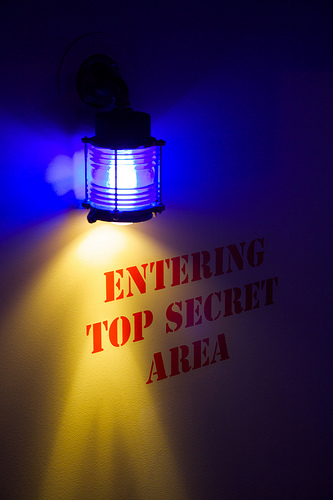 Do you block access to social networks from the office? Think this means you're safe? Think again. You're still susceptible to corporate espionage through your employees' social network profiles. The Dark Reading article, "The Seven Deadliest Social Networking Hacks," tells why:
To pull off a spear phishing attack, for example, all an attacker has to do is search for Company A's employees on a social networking site and then pose as someone within the organization — such as the head of human resources — and email the employee addresses he finds, for example. A phony HR spear phish could look something like this, Sophos's Cluley says: "Dear Fred Jones, Congratulations on joining XYZ Company. Click on this link to access our HR Intranet and then log in with your regular network username and password so we can update our files."

A newbie to the company could easily fall for the ploy and hand over access to the corporate network, he says.
How can you prevent such a thing? It's difficult at best; probably close to impossible because you have to educate your employees to never post your company name in personal profiles. It only takes one scrap of information to cause problems and the bad guys aren't far away:
…the "six degrees of separation" rule applies on most social networks: You're only a few hops away from a bad guy. "We know that there are bad people on these networks using them to steal information," Cluley says. "You may be only a half a dozen hops from an identity thief if we're all connected."
The solution to having good security is, always has been, and always will be increasing the security awareness of everyone in the company from the janitor to the CEO. It requires a continuous educational process to instill a security mindset into people; it requires eternal vigilance on the part of those responsible for managing security. It's not easy. When it comes right down to it, security uber-expert Bruce Schneier sums it up best:
"The user's going to pick dancing pigs over security every time."
---
January 22, 2010 2:48 AM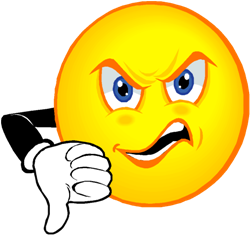 Time for one of my infrequent, but necessary, rants. People, tell me what's wrong with this picture:
*A fax was received by a former employer related to COBRA medical insurance coverage that I need to reapply for.
*An email was sent to me with the fax attached as a PDF file.
*Among the pages of the fax contained in that PDF was an "example" of how an attest form should be filled out.
*That form contained the full name and SSN of the "example" insured person, the employer group number, employer name, and certain other key pieces of information.
I was appalled! So, in the interest of security research, I did a quick and dirty check. With nothing more than a couple of simple Google searches, I was able to gain other information that would have allowed me social-engineer my way into a complete impersonation of the "example" insured person.
Naturally, I won't go into details about what I found and how I found it, but this should serve as a wonderful example of how most people are completely oblivious of the security consequences of mishandling sensitive information.
The first failure occurred at management level of the insurance company where proper controls and procedures were not in place to catch an employee's security breach. Sending a copy of an actual form instead of an invented one as an "example" of how to complete the documentation should not have been an option. Someone dropped the ball big time here.
The second failure occurred in the lack of security consciousness training of employees who deal with sensitive information. How could the person responsible for sending the fax have let such a thing get past them? The form didn't say "Jane Doe," it was a real person's name; the SSN wasn't "123-45-6789," it was an actual SSN; the company name didn't read "ACME Widgets," it was a real business name; and, the employee who filled out and attested to the form was an actual employee.
The last weak link in the chain was the administrative person who forwarded the PDF–via email in clear text, not encrypted–to me. That person probably didn't even look at it–it was just one more thing to do in an already too-busy day.
If you're in Information Security at any level, things like this should make it obvious that there's real truth in the statement, "Be afraid, be very afraid…"
I'm joking, of course, but we're not going to escape that the weakest link in the security chain is the people responsible for it.
---
January 21, 2010 1:54 AM
What's on your social network profile? You have to be careful what you put up there because even seemingly basic information about you can give away some valuable tidbits –- your name and date of birth, for instance –- that identity thieves can use to guess passwords or impersonate you, and even eventually steal your identity.
Some people are very free with their personal information, even going so far as to provide their phone number, email address, full street address, etc. Not really a good idea, but what can you do about it?
For starters, don't answer all of the questions in a social networking profile and for sure, don't give your real birthday. Who will know? If you have family and close friends who know your real numbers, you can explain that it's a security precaution–they certainly won't care. And what difference does it make if your profile says your birthday is 07/24/73 when it's really 08/16/75?
We're social creatures and tend to be trusting, but there's no need to be at risk. A little misdirection when posting your personal information is something you'll probably never have reason to regret.
---
January 19, 2010 2:18 AM

Cross-site scripting (XSS) and cross-site request forgery (CSRF) vulnerabilities have been with us for some time and while many social networks have tightened their defenses against XSS attacks–as have many other conventional websites–there are some social networking worms have used XSS flaws to spread. Some security experts say that CSRF attacks are not common on the social networks, but best be on the lookout for them unless the site admins are proactive.
The openness of Web 2.0 sites in general makes these complicated attacks virtually unnecessary, but it is possible using CSRF to utilize a hacked MySpace account to jump across to Facebook and wreak havoc. One security specialist noted that as long as users are allowed to use code in one form or another in profiles and comments–especially with links to external content–there are going to be security problems.
That seems to be the real issue here. XSS and CSRF, while possible, probably aren't even necessary for hackers to compromise accounts; they're already open enough to be vulnerable.
---
January 18, 2010 3:06 AM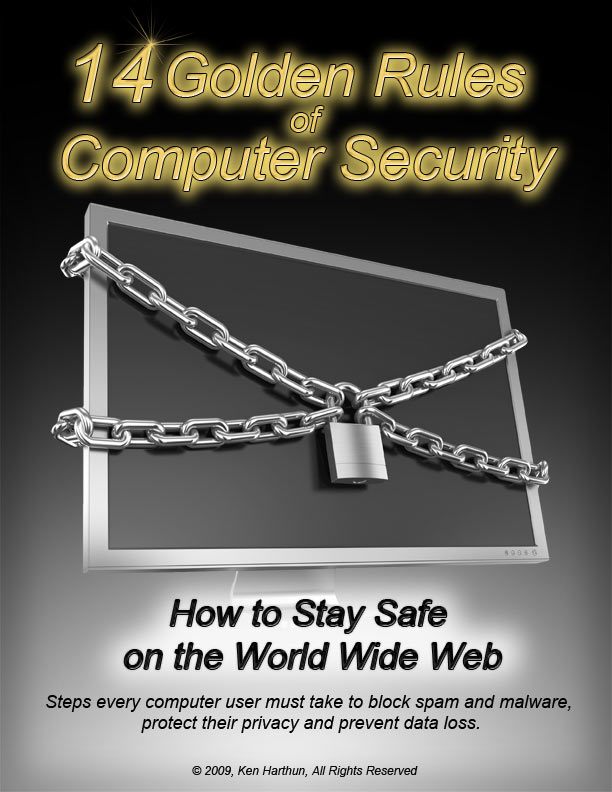 It's finally done! "14 Golden Rules of Computer Security" is now complete and for a limited time, I'm making it available to all of my readers here and on Ask the Geek for free download.
If you've been following my posts, you've already see the individual article series posted here.
All you have to do is visit this page, sign up and download your copy. Tell all your friends and associates to go get their copies, too.
Leave me feedback after you get a chance to read it.
Here's that link again: http://askthegeek.kennyhart.com/index.php/14-golden-rules-free-download/
---
January 14, 2010 9:17 PM
With the recent earthquake disaster in Haiti, everyone should beware of any emails or solicitations on social networking sites asking for donations to help the citizens of Haiti. The cyber-slime out there typically begin exploiting the gullible shortly after such an event. This comes via msnbc.com:
Security software company Symantec says it typically starts seeing spam and phishing e-mails seeking money, "donations" or access to bank accounts about 24 to 48 hours after after news of a major tragedy such as Haiti's.

And it's not just e-mails that need to be closely monitored. It's social networking sites like Twitter and Facebook, as well as fake Web that sites can pop up as fast as the news itself. There's also the problem of "search engine poisoning," which "we're seeing limited examples of already" in the quake's aftermath, said Joris Evers of McAfee security software.
The FBI gives tips to avoid getting scammed:
Before making a donation of any kind, consumers should adhere to certain guidelines, to include the following:

Do not respond to any unsolicited (spam) incoming e-mails, including clicking links contained within those messages.
Be skeptical of individuals representing themselves as surviving victims or officials asking for donations via e-mail or social networking sites.
Verify the legitimacy of nonprofit organizations by utilizing various Internet-based resources that may assist in confirming the group's existence and its nonprofit status rather than following a purported link to the site.
Be cautious of e-mails that claim to show pictures of the disaster areas in attached files because the files may contain viruses. Only open attachments from known senders.
Make contributions directly to known organizations rather than relying on others to make the donation on your behalf to ensure contributions are received and used for intended purposes.
Do not give your personal or financial information to anyone who solicits contributions: Providing such information may compromise your identity and make you vulnerable to identity theft.

Anyone who has received an e-mail referencing the above information or anyone who may have been a victim of this or a similar incident should notify the IC3 via www.ic3.gov.
Here's more good advice from the Better Business Bureau: BBB Advises Donors on How to Vet Haiti Earthquake Charity Appeals.
By all means, help; just make sure your help is funneled in the right direction.
---
January 11, 2010 12:45 AM

2010 is here and the IT security landscape is more active than ever. Web 2.0 is now a hotbed for crackers and identity thieves, not to mention hate mongers, jilted girlfriends, jealous boyfriends, and what-have-you. We IT Geeks are facing new challenges every day and it will be more of the same in 2010.
What challenges will you face and how will you meet them? What tools and information will help you mitigate the threats?
Please take my IT Security Challenges 2010 survey to help me help you meet the security challenges you'll face this year. I'll do my best to focus on what you tell me you need.
---
January 6, 2010 1:37 AM
This is an idea that has been floating around for awhile. I recommended Convert a USB Thumb Drive into a ROBAM. (ROBAM means read-only bootable alternative media.) Now, the ABA is recommending that businesses use a dedicated PC for online banking. This from SANS News Bites Vol. 12 No. 1:
The American Bankers' Association (ABA) issued guidance to small and mid-sized businesses regarding how to protect themselves from the growing problem of unauthorized Automated Clearing House (ACH) transactions.  Of special note is the recommendation that businesses use
a dedicated PC that is never used for email or web browsing to conduct online banking transactions.
My take on this would be to set up a PC with Microsoft's Steady State, disable any Internet access except to the bank's online application and uninstall Outlook Express. I would make a completely locked down and hardened installation of Windows with all services disabled except for essentials. Assign a static IP address to the machine. I would use a software firewall and disable all ports except 80 and 443. Of course, anti-malware software would be essential.
Make the machine so difficult to p0wn that the bad guys give up. It can be done.
---