Mar 8 2011 1:14AM GMT
Posted by:
Ken Harthun
Tags: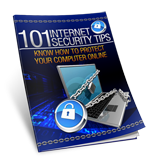 I just acquired Private Label Rights to an interesting series of media presentations called 101 Internet Security Tips. Because I am constantly faced with the necessity to educate people on security, I thought this would be a good starting point for a useful reference. [Private Label Rights, called "PLR" in Internet marketing circles, is a license granted by the original creator of the material that essentially gives the purchaser the right to do what he will with the material within the license terms. -Ed.]
After I read the entire report, I realized that I would have to bring it up to present time and expand upon the material given to include links to further reference materials and relevant products and utilities. This is typical for most PLR products–you have a framework of ideas, but it's up to you as editor to develop them into a comprehensive and coherent end product. Moreover, one who is particularly well versed in the subject material will often find misconceptions and errors introduced by the original creator. Nevertheless, 101 Internet Security Tips is good information, even in its raw form.
So, let me present the raw introduction for your comment. Remember this because I plan to post excerpts, including the revised and updated version, in future posts.
Using the Internet for business and leisure is a necessity in today's world.  As the technology that allows you to work more efficiently on-line increases, techniques used by Internet criminals also adapts.  While some on-line crimes are perpetrated only for the criminal to exert power by making your life miserable through damaging your computer, identity theft is a main focus for most Internet thieves.  In addition to identity theft threats from hackers, computers can fall victim to viruses, spyware and phishing programs from Internet misuse.  While you may think that high-profile or wealthy individuals are the common targets, most hackers are looking for any easy opportunity.  The easiest opportunity, of course, is an unprotected computer.  Your computer holds all of your most private personal and financial information, so proper security is a must to keep you and your files safe.
Stay tuned.