Oct 30 2011 4:00PM GMT
Posted by:
Ken Harthun
Tags: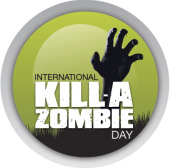 Though announced by Sophos on Halloween Eve (Oct. 30) two years ago, International Kill-A-Zombie Day is just as relevant this Halloween as it was then. So, with Halloween 2011nigh, let's redouble our efforts against malicious software. It's still out there, you know. Have you noticed any drop in activity?
"Millions of computers around the world, in homes and business premises, are – without the knowledge of their owners – under the control of cybercriminals who commandeer the PCs to send spam, distribute malware, and commit identity theft," says Graham Cluley, senior technology consultant at Sophos.
"Billions of spam messages are sent every day, with over 99% determined to be relayed from innocent users' computers that have been hijacked and turned into a "zombie". Hackers control networks of zombie computers, known as a botnet, in order to silently send out adverts that peddle sexual enhancement drugs or questionable financial deals, distribute scareware attacks to trick users out of their credit card details, access your social networking accounts, and spread further malicious attacks."
[kml_flashembed movie="http://www.youtube.com/v/C6Jm_wAl668" width="425" height="350" wmode="transparent" /]