---
May 3, 2017 8:14 PM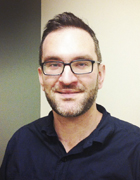 Profile: Michael Heller
Security
Looking at the overall numbers for the contributors to the Verizon Data Breach Investigations Report (DBIR) from the past five years, it would seem like the amount of partners is hitting a plateau, but looking at the specifics raises questions about international data sharing. The number of...
February 24, 2017 7:39 PM
Security
Security expert Bruce Schneier dragged an uncomfortable but very real possibility into public view during RSA Conference 2017, and it should have developers of all types pondering a very grim future full of software regulations. Schneier discussed his case for internet of things (IoT) regulation...
---
February 15, 2017 4:53 PM
Security
SAN FRANCISCO -- While much of the talk at this year's RSA Conference has been about future IoT threats and new attacks, Intel Security's Christopher Young urged attendees not forget the past -- specifically, the Mirai
---
February 8, 2017 9:09 PM
iot security
,
Security
RSA Conference 2017 officially kicks off Monday, and once again it will bring several topics, trends and potential controversies to the center of attention of the information security industry. Unlike
---
June 30, 2016 2:34 PM
Security
It's becoming harder and harder for me to read about the glaring security holes, the bafflingly risky behaviors and the all-around worst practices of the healthcare...
---
May 20, 2016 9:01 PM
Security
According to market forecasts, more companies are investing in cybersecurity and that spending is likely to increase dramatically in the next few years. MarketsandMarkets has forecast cybersecurity growth at $170.21 billion worldwide by 2020, up from $106.32 billion in 2015. This outlook...
---
February 24, 2016 7:58 PM
RSA Conference
This is our own fault. That was my first thought when I read the news last week that U.S. Magistrate Judge Sheri Pym had ordered Apple to assist the FBI in bypassing the...
---
April 3, 2015 8:03 PM
Security
Whether or not you think Bitcoin has a future, it has a couple of very interesting technological elements that will probably have a life of their own. The aspect that everyone talks about is that Bitcoins derive their value by dint of being "mined." It takes time, computational power, and a...
---
March 4, 2015 5:19 PM
Security
Reporting by The New York Times notwithstanding, it appears to this non-lawyer that Hillary Clinton probably didn't break any laws by using a personal email account to conduct state business. But legal or not, what should probably bother us all is that we can't help but assume that there's...
---
---