---
May 24, 2016 6:17 PM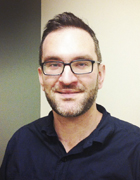 Profile: Michael Heller
Edward Snowden
,
Encryption
,
Google
,
Messaging
Last week, Google showed off a new messaging app called Allo. The reaction to that announcement was either extremely positive or negative, depending on who was speaking. General consumers liked the product because it built Google smarts into a messaging app, while privacy proponents decried the...
May 20, 2016 9:01 PM
Security
According to market forecasts, more companies are investing in cybersecurity and that spending is likely to increase dramatically in the next few years. MarketsandMarkets has forecast cybersecurity growth at $170.21 billion worldwide by 2020, up from $106.32 billion in 2015. This outlook...
---
May 13, 2016 8:43 PM
During the legal battle between Apple and the FBI over gaining access to an iPhone used by one of the San Bernardino shooters in December's terrorist attack, an unexpected development...
---