---
July 31, 2008 10:14 PM
The end result is that it is not a matter of if Knol will be spammed, but when it will happen and what form it will it take. Will it be SEO spammers using it to kick competitors out of the rankings? Will human plagiarists use the Adsense system to submit lifted content for the promise of high search results and ad revenue? Or will it be something else altogether?

Jonathan Bailey, Google Knol: The Future of Spam
July 31, 2008 6:30 PM
The search engine's launch was such a spectacular flameout that it may well go down as a verb. "What happened to that Eddie Murphy movie that was supposed to win him an Oscar?" "It came and went — it got totally Cuiled."

David Berkowitz, Do We Need Another…
There was tons of buzz this week — both in the media and in the office — about Cuil. The new search engine promised to index more sites than Google and it had some big industry names behind it. Everyone got all excited, hoping that Google finally had a real competitor. So what went wrong after the big reveal?
The engine works — it's just not Google. And remember, Google is the supreme ruler. We build out sites for Google. We live and die by changes in the Google algorithm. Competing with Google is serious business. Literally.
Here's how I knew that Cuil had disappointed and was already being dismissed. It hasn't even been a week and there are already Cuil jokes.
Think about it. Have you ever in your whole entire life heard a Google joke?
———————–
P.S.
David Berkowitz's quote made me laugh, but the thing I REALLY wondered when I heard about Cuil was this — what the heck were these brilliant people thinking when they named their engine Cuil?
NEW RULE: Never name your product something you need to tell people how to pronounce. For those of you new to the buzz-swarm, the word cuil is gaelic for knowledge and it's pronounced "cool."
---
July 31, 2008 10:10 AM
All development teams (read: more than one programmer) have to deal with integration builds. This is where you pull together all the bits and pieces that the different team members were working on, and check to see if you have a fully functioning product or a Frankenstein's monster.

Justin Gehtland, Continuous Integration with CruiseControl.NET and Draco.NET
Justin Gehtland is great teacher. (That's my highest compliment!)
---
July 30, 2008 12:09 PM
Jack Kelley designed the world's first mouse pad in 1969, when he worked at the Stanford Research Institute with Douglas Engelbart, inventor of the world's first computer mouse.

Kelley went on to work for Herman Miller Designs, where he and Robert Propst designed The Action Office System, the first flexible, modular office space.  We know Kelley and Propst's design as the office cubicle.
---
July 29, 2008 9:34 PM
| | |
| --- | --- |
| | Intel began to deemphasize the term UMPC in the Spring of 2008 and now prefers talking about "MID," the Mobile Internet Device. Most of Intel-based MIDs currently under development are merely a better realization of the original UMPC concept. |
MIDs aren't tied to a Microsoft OS, either.
---
---
July 28, 2008 1:55 PM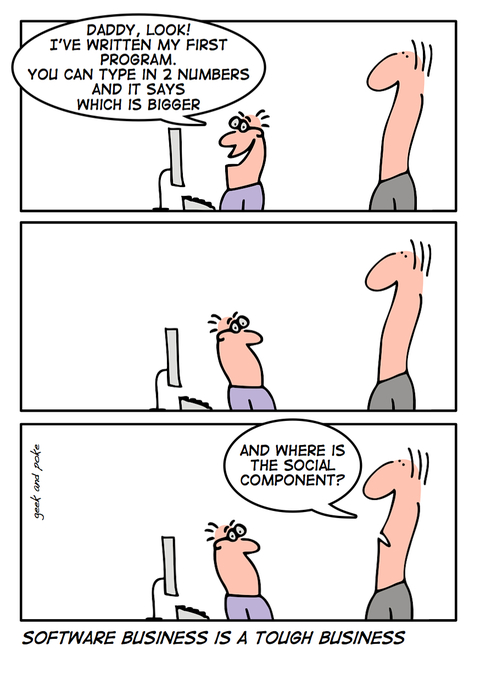 Thank you to Geek and Poke cartoons, Creative Commons License
---
July 28, 2008 10:56 AM
Many developers are sloppy about commenting their changes, and some may feel that commit messages are not needed. Either they consider the changes trivial, or they argue that you can just inspect the revision history to see what was changed. However, the revision history only shows what was actually changed, not what the programmer intended to do, or why the change was made.

Anders Sandvig, Best Practices for Version Control
---
July 27, 2008 1:55 PM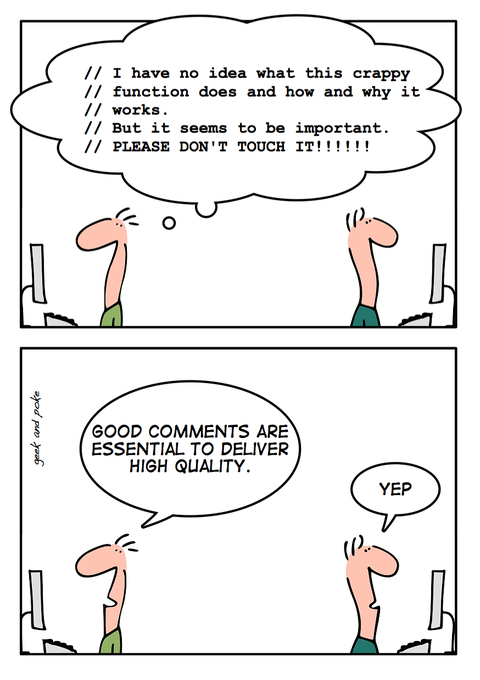 Thank you to Geek and Poke cartoons, Creative Commons License
---
July 26, 2008 12:16 PM
There's going to be an i-9/11 event, an event that demonstrates the instability of the Internet, and that inspires the government to a response.

 Lawrence Lessig, as quoted in Futurists: Feds to squash online freedom
---