---
June 30, 2008 11:44 AM
In the early days of dial-up access, America Online and other providers offered tiered pricing, in part because audio and video were barely viable online. Consumers feared going over their allotted time and bristled at the idea that access to cyberspace was billed by the hour.

In 1996, when AOL started offering unlimited access plans, Internet use took off and the online world started moving to the center of people's daily lives.
Is Brian Stelter the only person who's writing about how we're going backwards with Internet metering? Everyone's acting like this is a new thing. It's an old thing, billed in a new way — gigabytes instead of minutes.
June 27, 2008 3:52 PM

Apparently there are still a lot of people who are trying to explain what Twitter is all about. WhatIs.com Associate Editor Alex Howard rounded up some of the A-list explanations, adding his own two cents to the conversation.
Here's mine.
What is Twitter? Twitter is the electronic equivalent of the white board you used to have on your dorm room door.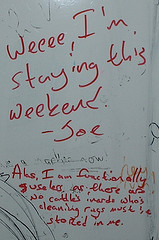 ---
June 26, 2008 8:05 PM
Nano enthusiasts see it as the next "platform technology" — one that will, like electricity or micro-computing, change the way we do almost everything.

Carole Bass, Nanotech: The Unknown Risks
Carole Bass provides a good overview of some of the dangers nanotech poses — she's not yelling fire, but she urges us to investigate any smoke.
---
June 26, 2008 5:53 PM
Dave: I always knew womens restrooms were nicer than what we guys got. Now I see they have server rooms in there too?!?!

Just Kelly: Damn! Our secret's out! Oh well. At least now you know why we all go in at once. LAN PARTY!!!
Alex Papadimoulis posted a good "sometimes life is stranger than fiction" story over at The Daily WTF.
It seems MacGyver got a job at Jen Frickell's company. The best comment of all was this one from a guy named Dave. His post? "Can that server room door be locked, or does any woman in the company have access to the servers?"
---
June 26, 2008 4:41 PM
"Still no moviemaker. I typed in movie. Nothing. I typed in movie maker. Nothing.

So I gave up and sent mail to Amir saying – where is this Moviemaker download? Does it exist?

So they told me that using the download page to download something was not something they anticipated."

Bill Gates, as quoted in Full text: An epic Bill Gates e-mail rant
I feel your pain, Bill. I wish I had seen this side of you earlier!
---
June 26, 2008 3:55 PM
Which one is correct? 
It's hard to believe that Bill Gates won't be working at Microsoft _____.
a. any more
b. anymore
---
June 26, 2008 3:11 PM
– Just wanted to share this one…I love it.
[kml_flashembed movie="http://www.youtube.com/v/L13N9gvu3Gs" width="425" height="350" wmode="transparent" /]
---
June 26, 2008 12:29 PM
Perhaps you think your E-mail is legitimate enough that encryption is unwarranted. If you really are a law-abiding citizen with nothing to hide, then why don't you always send your paper mail on postcards?

Phil Zimmerman, Why do you need PGP?
Phil Zimmerman is an interesting guy. You may remember that the U.S. Attorney's Office for the Northern District of California tried to put him in jail for making his email encryption program, Pretty Good Privacy, public. It was a crazy story.
So what's he up to now? VoIP security.
---
June 26, 2008 3:27 AM
Which is correct?
Jeff Bezos, as well as Bill Gates and Steve Jobs, _____ going to be at the conference.
a. is
b. are
---
June 25, 2008 1:01 PM
Which is correct?
Each of you _____ contributed a great deal to the success of this project.
a. have
b. has
---