---
July 31, 2008 10:10 AM
All development teams (read: more than one programmer) have to deal with integration builds. This is where you pull together all the bits and pieces that the different team members were working on, and check to see if you have a fully functioning product or a Frankenstein's monster.

Justin Gehtland, Continuous Integration with CruiseControl.NET and Draco.NET
Justin Gehtland is great teacher. (That's my highest compliment!)
July 30, 2008 12:09 PM
Jack Kelley designed the world's first mouse pad in 1969, when he worked at the Stanford Research Institute with Douglas Engelbart, inventor of the world's first computer mouse.

Kelley went on to work for Herman Miller Designs, where he and Robert Propst designed The Action Office System, the first flexible, modular office space.  We know Kelley and Propst's design as the office cubicle.
---
July 29, 2008 9:34 PM
| | |
| --- | --- |
| | Intel began to deemphasize the term UMPC in the Spring of 2008 and now prefers talking about "MID," the Mobile Internet Device. Most of Intel-based MIDs currently under development are merely a better realization of the original UMPC concept. |
MIDs aren't tied to a Microsoft OS, either.
---
---
July 28, 2008 1:55 PM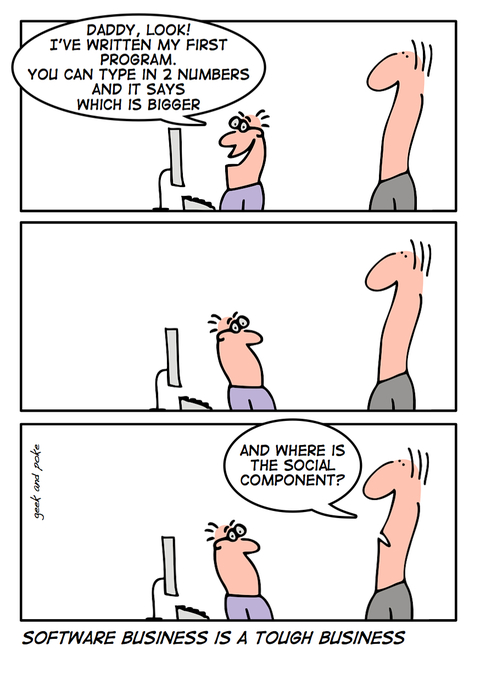 Thank you to Geek and Poke cartoons, Creative Commons License
---
July 28, 2008 10:56 AM
Many developers are sloppy about commenting their changes, and some may feel that commit messages are not needed. Either they consider the changes trivial, or they argue that you can just inspect the revision history to see what was changed. However, the revision history only shows what was actually changed, not what the programmer intended to do, or why the change was made.

Anders Sandvig, Best Practices for Version Control
---
July 27, 2008 1:55 PM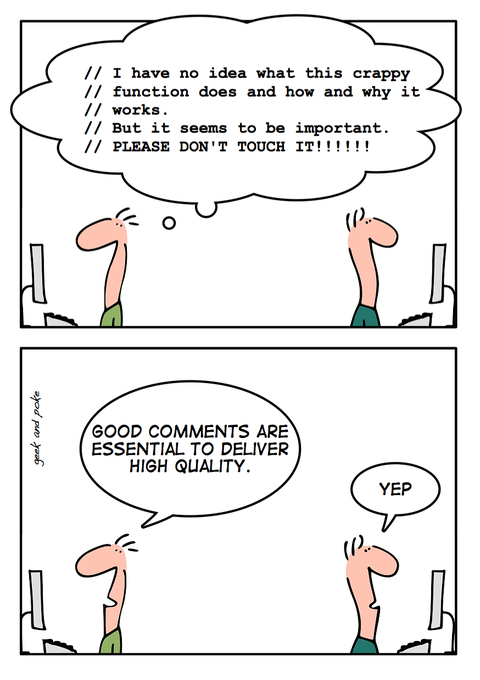 Thank you to Geek and Poke cartoons, Creative Commons License
---
July 26, 2008 12:16 PM
There's going to be an i-9/11 event, an event that demonstrates the instability of the Internet, and that inspires the government to a response.

 Lawrence Lessig, as quoted in Futurists: Feds to squash online freedom
---
July 25, 2008 2:19 PM
I came to work one day at MIT and the computer had been stolen, so I called DEC to break the news to them that this $30,000 computer that they'd lent me was gone. They thought this was the greatest thing that ever happened, because it turns out that I had in my possession the first computer small enough to be stolen!

Robert Metcalfe on the trials and tribulations of inventing Ethernet
Sometimes I forget how young the Internet is.  Here's an interesting video of Robert Metcalfe talking about "what's next."
[kml_flashembed movie="http://youtube.com/v/QZYyOtzbIHQ" width="425" height="350" wmode="transparent" /]
---
July 25, 2008 12:34 PM
Birthplace of Silicon Valley

This garage is the birthplace of the world's first high-technology region, "Silicon Valley."  The idea originated with Dr. Frederick Terman, a Stanford University professor who encouraged his students to start up their own electronics companies in the area instead of joining established firms in the East. The first two students to follow his advice were William R. Hewlett and David Packard, who in 1938 began developing their first product, an audio oscillator, in this garage.

California registered historical landmark no. 976
---