---
July 13, 2008 9:12 PM
Apple just launched K-12 on iTunes U (opens iTunes) that allows schools to use iTunes as a platform to distribute educational content.

Not quite sure why a school would find this easier than just posting the stuff on the web, but I do know Apple would love to get all those students spending even more time in iTunes.

Jon Robinson, Apple's iTunes U for K-12 Schools
I can't think of a single network administrator I know who would recommend putting iTunes on school computers.
July 13, 2008 8:07 PM
Removable flash applications, such as cards for cell phones, drive the bulk of today's NAND market.

NAND growth through 2012 will be driven by the computing segment, such as hybrid drives, and solid-state drives going into notebooks, UMPCs, servers, mobile and enterprise storage and data centers.
I had to look up the acronym UMPC. It stands for ultra-mobile personal computer.
---
July 13, 2008 6:59 PM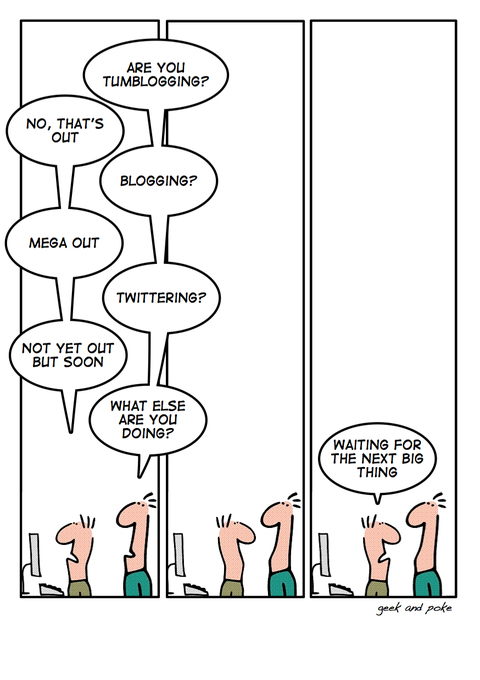 Reprint from Geek and Poke. Creative Commons License.
---
July 13, 2008 1:11 PM
If your business has any kind of web presence, this could be a great tool for you. Why? Your customers don't even need to launch a browser to find you. Your application, branded with your logo, could be sitting right on their desktop.

Kyle Claypool, Tech Tools: AdobeAIR Apps
I'm not so sure about Adobe AIR apps. I can clutter up my desktop quite nicely by myself. I've already ditched my gadgets and widgets. The AIR apps look pretty but I still think I'd rather go to a web page and keep my desktop for my own clutter. I must say, though, that Kyle's examples almost have me convinced to give it a try.
---
July 11, 2008 9:28 AM
Companies like Intel have a roadmap to reduce the size of circuits on the silicon wafer, down to about 10 nanometres – 10,000 times smaller than the width of a single human hair.

Darren Waters, Nano switch hints at future chips
The transistor, essentially an on/off switch, has been made using graphene, a two-dimensional material first discovered only four years ago.

Graphene is a single layer of graphite, which is found in the humble pencil.
---
---
---
July 9, 2008 12:20 PM
These days anything "green" seems to be able to sell and SSD's have a strong lead over spinning media on this front.

Rich Corley, A Real Storage Revolution
If Kermit the frog worked in IT right now, he'd be singing "IT IS easy being green." Especially if you're a vendor. Rich Corley gives a nice overview of what's happening with vendors and SSD.
---
July 8, 2008 9:59 AM
With normal memory and normal hard-disks, you can rewrite the contents trillions of times without concern. With flash memory, after rewriting data a few hundred thousand times, the block goes bad. It's quite easy to intentionally write a program that would continuously overwrite a block of flash until it failed.

Robert Graham, Hacking Flash Memory
At my previous employer, we found vulnerabilities in Cisco routers that would potentially allow us to create a worm. As part of our threat modeling, we considered what would happen if such a worm were to intentionally destroy the flash in a Cisco router. These routers boot from flash, so all the worm had to do was continuously overwrite the boot sector, then the router would no longer be able to boot. The flash in many (if not most) Cisco routers is soldered in. Therefore, destroying the flash would "brick" the device.
If you "brick" a device, that's like "toasting" a device. You break it. Permanently. It's toast. It's a brick.
---
---