---
July 21, 2008 9:23 PM
I shoot video using my cell phone all the time. Transferring it to other sites was a major pain until Qik came around. Using Qik, any video you shoot is streamed live, and also archived at the same time, so you can watch it again later.

Eric Zeman, Qik Offers Its Mobile Video Sharing Service To The Masses
I can see this really taking off — it makes much more sense to me than Twitter does.
I wonder how they're going to handle the pro-privacy backlash — it's bound to be an issue.
July 21, 2008 8:18 PM
When people hear about Twitter, their immediate reaction is that it's the simplest and stupidest idea in the world. They do not want to know that their brother is eating a hot dog right now, but then they discover that their friends are on it. And so are the L.A. Fire Department, NASA and JetBlue. Then they get it.

Biz Stone, as quoted in Twitter took off from simple to 'tweet' success
Biz Stone used to work for Google — I wonder what his parents look like? Who would name their kid Biz Stone? It's like they knew he'd be famous.
---
July 21, 2008 7:26 PM
HA clusters are deployed for the purpose of improving accessibility to the application, in the event of a hardware failure. They do this by incorporating redundant nodes that provide the capability.

Ken Milberg, Linux clusters vs. grids
---
July 21, 2008 7:17 PM
You have to hand it to Richard Stallman. He doesn't go quietly into that good night.
---
July 21, 2008 3:51 PM
Customers don't want a container that only supports HP equipment. Customers want to be able to mimic their own data centers, so we've designed the POD to support any vendor's hardware.

Steve Cummings, as quoted in HP's POD: The newest containerized data center
Another modular data center is on the way — this time from HP. Here's the press release.
At one point Google tried to patent the idea.
---
July 21, 2008 3:20 PM
A cloud computer is desirable for a few reasons. One is that small chips like the CherryPal's 400 MHz Freescale processor can handle more tasks with the help of an outside server. Individual devices almost never need upgrades, and are harder to infect with viruses. Upgrades are also possible without replacing the computer, and files are accessible from anywhere. And the CherryPal requires only two watts to run, much less than a normal computer.
If they're positioning it as a cloud computer — why not name it Cumulus or Stratus or Cirrus or Nimbus? (The price for this little black box is going to be $249.)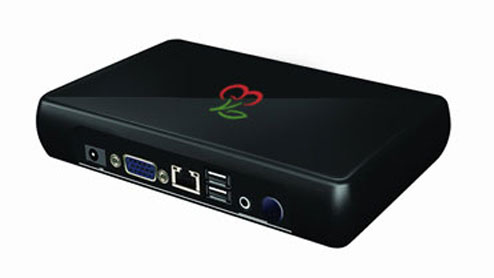 ---
July 20, 2008 1:01 PM
Look, I fully understand being enamored with a new feature or a new technology. I have succumbed to that siren song more times than I can count.And we, as vendors, don't make the situation any better, do we?

But I've learned — the hard way — that "outcome lust" is a far better thing than "feature lust".

Chuck Hollis, Feature Lust By Storage People
And then the truth came out … they were severely under the gun to cut IT expenses (who isn't?) and thought that thin (virtual) provisioning might be a great way to do it.
As IT battens down for rough seas, this is the kind of guy I'd want captaining our ship. I salute you, Chuck Hollis.
---
July 20, 2008 12:39 PM
The storage admin now has a new use for the time freed up by fast-and-simple allocation: monitoring the use of the virtual provisioned devices and their supporting pools.

Barry Burke (The Storage Anarchist), 0.007: virtual provisioning catch-22
---
July 18, 2008 11:19 AM
The various iterations of the iPhone Configuration Utility could be successfully used in smaller, depot-style support environments, but the tools as currently structured lack the security and remote reach for large deployments to use effectively.

Andrew Garcia, Apple's iPhone Configuration Utility Disappoints
---
July 16, 2008 12:09 PM
The Silicon Alley Insider blog reported that Summize was acquired for an estimated $15 million in cash and Twitter stock. Are Twitter search ads next?

Mark Walsh, Twitter Buys Search Engine Summize
---