---
April 11, 2010 1:36 PM
Sonny Bhagowalia is the chief information officer at the Interior Department.
We have 24,000 domains in the U.S. government and millions of Web pages. So the idea was to start connecting them and making it easier to find data from all those sites.

Everything we do in our lives is about information and data. I like to say that it's not about the technology, it's about the data. And when data is found in context, it becomes information. That whole continuum of data and then information is really where the world is going.
April 11, 2010 1:30 PM
GSA directs more than 80 percent of its IT spending to the operation and maintenance of existing systems, leaving only the remainder to invest in new technologies.

Casey Coleman,as quoted in The CIO 14 years later: Power vs. paperwork
---
April 11, 2010 1:11 PM
The most obvious impacts will be seen in how this [document] brings the national security community closer to legislative compliance requirements, assists our inspector general audits, and aligns with the rest of the federal government to support reciprocity…the document provides an approach to manage risks for both traditional and complex systems, a procedure that was not formalized previously.

Roger L. Caslow,as quoted in New Document Provides Framework for Interagency Data Sharing
Roger L. Caslow is chief of the Risk and Information Assurance Program Division, Office of the Associate Director of National Intelligence and Chief Information Officer. He's talking about NIST Special Publication 800-37, Revision 1, Guide for Applying the Risk Management Framework to Federal Information Systems: A Security Life Cycle Approach (NIST SP 800-37) and apparently he doesn't like to have his picture taken.

Henry Kenyon describes the special publication as a six-step risk management framework (RMF); a common information security framework for the federal government and the contractors who support it. The official diagram is below: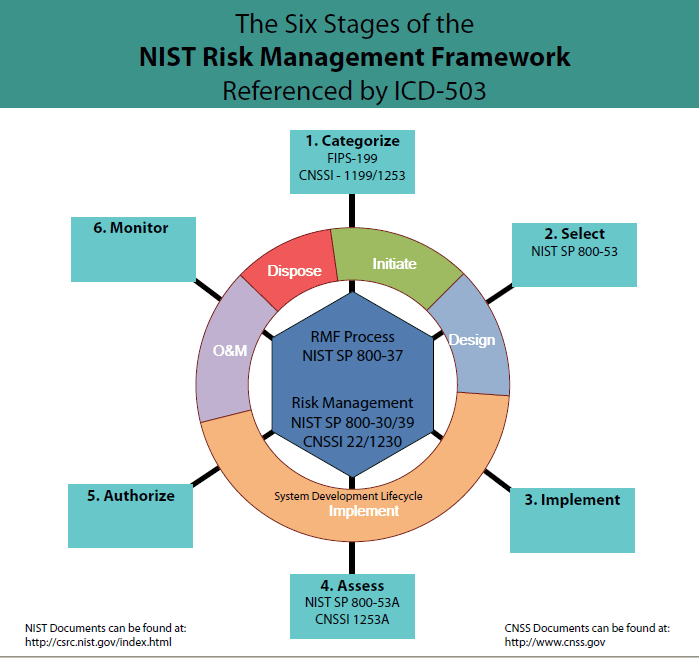 ---
April 11, 2010 12:37 PM
You can just have your browser on a thin client, tap into that cloud, get your files, get your e-mail, get your content, whatever you need in order to work. So we are clearly looking at leveraging the same type of concept and capabilities that they're trying to put in the commercial world into what we have in the military in the future.Lt. Gen.

Jeffrey A. Sorenson, Web 2.0, Military Style
Lt. Gen. Jeffrey A. Sorenson is the chief information officer/G-6, U.S. Army.
The Army also is considering how to replicate the Google Mail concept so soldiers can check e-mail from wherever they are located. In addition, the service is digging into Microsoft's plans to develop clouds of content. With this knowledge, the service could design equipment that would allow soldiers to use smaller devices to access information in lieu of carrying massive computers.
From Interview with Army Director CIO/G-6 Lt. Gen. Jeffrey A. Sorenson
We are trying to improve our enterprise architecture such that we are protecting what we call the 'coins of the realm,' those specific aspects of the network that you do not want to have compromised. Part of our strategy now is setting up area processing centers to reduce the number of points of presence on the network, so that we have a consolidated number of centers where different organizations across the Army can draw services, but leave network management to a number of centers that are highly standardized in terms of their tool sets, as well as function, so they can better manage the security of the network. That's part of the enterprise architecture.

The second thing is that we are trying to consolidate some of our active directory capabilities. As we have proliferated the number of active directories throughout the Army, we have so many that they can't see each other. We have difficulties making sure they are all secure. A lot of consolidation is taking place, both in the area of processing centers and our consolidation of active directory capabilities, to get to an improved security posture across the board.
Another good interview with General Sorenson from FedTech.
Fedtech: What's the biggest hurdle that you face in the Army right now in terms of deploying IT?

Sorenson: I would say at this point, it's clearly been trying to consolidate a lot of different networks that we have built up over time into a single network under the command and control of the Network Enterprise Technology Command, other­wise known as NETCOM 9th/Signal Command (Army), down at Fort Huachuca [in Arizona]. We have had difficulty trying to get to that interoperable network because we have built all these individual ones that don't necessarily work together.
Each one of us — OSD, the Army, the Air Force and the Navy — have individual agreements with Microsoft. There is an effort right now to consolidate that. We are moving quite frankly into a joint arena right now with Microsoft. The Army is the lead for this because we are the largest customer.
* Note: General Sorenson says the Army is Microsoft's biggest customer, period.
---
April 11, 2010 12:27 PM
We buy information technology the same way we buy weapons systems. We need to get away from buying applications and systems and buy services and capabilities. We should not care as much about the underlying technology, but rather what effect the service or capability will have.

John J. Garing, as quoted in Web 2.0, Military Style
John J. Garing is the Defense Information Systems Agency (DISA) Director for Strategic Planning and Information. Prior to assuming this role, he was DISA's Chief Information Officer. The Defense Information Systems Agency (DISA) employs more than 6200 civilians and pays quite well.
---
April 9, 2010 3:35 PM
There was either information left out or the information provided didn't match agency records. It didn't appear that it was intentional. But agencies and entities shouldn't get sloppy in their reporting.

Dave Powner, Government Accountability Office (GAO) Director for Information Technology Management Issues, as quoted in Report Identifies Data Gaps in Federal Transparency Web Site
---
April 9, 2010 2:09 PM
More evidence of the growing emphasis on mobility came last week when Federal CIO Vivek Kundra announced plans to offer mobile applications from an iPhone-like 'store' that will give the public access to new capabilities developed by both the government and third parties. The mobile apps will be hosted on Apps.gov.

Casey Coleman, Mobility and Meteorology
Casey Colman is Chief Information Officer for U.S. General Services Administration.
http://twitter.com/caseycoleman
---
April 9, 2010 1:15 PM
In a perfect world, Google, Microsoft and other major services — Dossia and Revolution Health Group LLC are also in the game — would develop a sort of "plug-and-play" interoperability standard that will simplify the process for both patients and IT staff.

Dr. John Halamka, as quoted in Personal health records latest concern for CIOs
Today's WhatIs.com Word of the Day is Google Health
---
April 9, 2010 1:05 PM
Susie Adams is the Chief Technology Officer for Microsoft Federal's Civilian business.
---
April 9, 2010 12:44 PM
"Given the size and complexity of the multi-billion dollar Federal IT Portfolio, we must relentlessly focus on the health of IT investments across the government."

Vivek Kundra, TechStat: Improving Government Performance
Vivek Kundra, the first federal chief information officer, is in charge of a network with 24,000 Web sites and 1,100 data centers. The US federal government is the largest single buyer of technology in the world at $71 billions dollars annually.
As the President said in his inaugural speech "those of us who manage the public's dollars will be held to account, to spend wisely, reform bad habits, and do our business in the light of day, because only then can we restore the vital trust between a people and their government." The IT Dashboard and TechStat Accountability Sessions are both critical tools in delivering better value and results for the American people.

[TechStat sessions enable the government to turnaround, halt or terminate IT investments that do not produce dividends for the American people. Investments are carefully analyzed with a focus on problem solving that leads to concrete action to improve performance.]
http://www.facebook.com/pages/Vivek-Kundra/56152836529?v=wall#!/pages/Vivek-Kundra/56152836529?ref=ts
---