---
August 20, 2012 4:26 PM
| | |
| --- | --- |
| | "The core CSIRT team can include representatives from major operating system groups, a network engineer and a member from the application group, for example. Ad hoc team members could be a person from the specific group involved in the potential data breach." — Nick Lewis |
Today's WhatIs.com Word of the Day is CSIRT (pronounced "see-sert").  The acronym stands for Computer Security Incident Response Team, an organizational group composed of IT, legal, human resources and corporate management.
CSIRT members usually have high security clearances within the organization and getting that clearance for "the right people" can be a big pain point.  The solution? Get  your core CSIRT team certified and waiting in the wings — and then pull in everyone else you need on an "ad-hoc" basis when the you-know-what hits the fan.
August 20, 2012 4:11 PM
| | |
| --- | --- |
| | "A successful DR test will have highlighted flaws in the plan and help move it to the next level of maturity. Even if the entire recovery procedure fails, having identified that failure denotes a successful test." — Pierre Dorion |
Today's WhatIs.com Word of the Day is DR test, the examination of each step in a disaster recovery program, as outlined in the business continuity/disaster recovery (BCDR) planning process.
---
August 20, 2012 3:57 PM
| | |
| --- | --- |
| | "Retina screens are just a marketing concept, but there exists real science behind the nomenclature. It has to do with how your eye works and how you use your specific device. You hold a phone closer than a tablet, and you'll probably hold a tablet closer to you than you would your laptop." —J.R. Nelson |
Today's WhatIs.com Word of the Day is Retina display,a backlit LCD (liquid crystal display) that provides resolution levels of 220 to 326 pixels per inch.
By the way, if you're curious about what our definition for laptop looks like in Serbo-Croatian, Jovana Milutinovich recently posted a translation. Jovana is currently studing Computer Science at the University of Belgrade,Serbia. We wish her the best of luck in her studies!
---
August 20, 2012 3:27 PM
| | |
| --- | --- |
| | "LevelUp participating merchants don't have to pay credit card companies' nasty payment processing fees — that range between 3% and 6% of each transaction." — Peter Cohan |
Today's WhatIs.com Word of the Day is LevelUp, a popular mobile payment (m-payment) and rewards service for consumer business transactions using smartphones.
---
August 17, 2012 1:02 PM
| | |
| --- | --- |
| | "At first glance, the Internet of Things concept can appear as yet another vendor attempt to get end users to install more products they may not really need in the hopes of achieving some kind of business acceleration nirvana. In reality, it's the end users who are driving vendors down this road to adopt an Internet of Things way of thinking." — David Greenfield |
Today's WhatIs.com Word of the Day is Internet of Things, a scenario in which every single thing you can think of has a unique identifier and the ability to communicate over the Internet or a similar wide-area network (WAN).
The concept has been around for about ten years when it was first associated with RFID tags, bar codes and supply chain management. Today, IoT is a hot buzzword used in city planning, big data analytics, automobile manufacturing — and just about any other industry you can think of.
I get it. Internet of Things is another name for machine-to-machine (M2M) communicaiton. Pervasive computing.  "Smart" everything. It's especially a hot topic for privacy advocates. They don't like the idea one bit.
My smart car sends data to my phone to tell me I have half a tank of gas left. My smart electric meter can send usage data to the power company and my son will never get a job as a meter reader.
But I didn't REALLY get the concept of Internet of Things until I saw a foal being born three months ago.
You see, this particular foal was bred to be a show horse.  Her birth required a lot of help from the Internet and this little filly is one of the "things" in the Internet of Things. She's not a machine, she's a real live horse. But her parents each have a unique identifier — she has a unique identifier  — and without the Internet, machine-to-machine communication and real-time analytics, she would never have been born.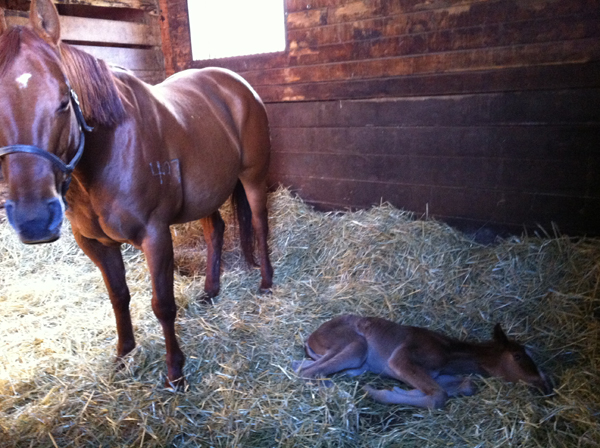 The horse that just gave birth in the picture above is a brood mare — a surrogate.  The filly's real mother is a show horse worth tens and tens of thousands of dollars.
The people who own the show horse wanted to breed her — but decided to have a surrogate carry the foal. Horses carry their  young for 11 months — that's a year off the show circuit, which translates into a financial loss.  And if something went wrong during the pregnancy and the mare died, the owner would lose any chance for future income from the horse.   For similar risk-management reasons, the filly's dad is a sperm donor.  Yep, show horses are an investment.
So far, this story is kind of "old school."  The scenario above could have taken place on any horse breeding farm in the 1970's.   The only technology involved is maybe a telephone.  There's no Internet of Things.  It's just another artificial insemination story. Yawn.
To paraphrase that old radio host Paul Harvey… "And now for the REST of the story."
After the show mare's owners decided to bred their award-winning mare, they needed to find a surrogate whose breeding cycle matched their own mare's.
They used the Internet and a distributed database,  not a telephone, to find a compatible mare.  The information in the database is captured in real time from equine veterinary records around the world and the records contain real-time data sent by enhanced RFID chips implanted in the horses.
The brood mare just happened to be out in Wyoming running with a herd, so a helicopter equipped with an RFID scanner found her and separated her from the rest of the herd.
Then a vet in Wyoming used PACS and telepatholgy  to share images and other data with the vet in New York to make sure the mares were in sync — and the egg from the show horse in New York was removed and flown to Wyoming.  (The owners used another database registry on the Internet to search for the right sire.  His sperm was captured and also sent to Wyoming.)
Timing was everything and it couldn't have happened without the Internet. The logistics were coordinated with the help of UPS so the egg and sperm would arrive at exactly the same time and the brood mare could be impregnated.
Once the vet in Wyoming determined there was a viable pregnancy, the brood mare was returned to her herd and monitored by the GPS in her chip and satellite imaging. Her vet monitored her remotely;  heart rate and temperature were just a mouse away.
Seven months later, the helicopter went out and culled the brood mare from the herd again so she could be flown to Ravena, New York, where the trainer took charge of the brood mare and awaited the foal's  birth.Three months after that, the show horse's filly was born, healthy and beautiful.
The filly was chipped with an even more enhanced RFID technology than her parents have.  When she grows up, she'll have a tag on her halter that automates how much grain she receives.  Her water trough will know when it's low and automatically refill itself.  Sensors in her stall will regulate the temperature by turning on fans or turning on the heat.  Her trainers can use desktop, iPad or iPad  apps to monitor the filly's heath and report on whether she's in a stall or out grazing in a pasture.
When I heard this whole story about the helicopter scanner using the mare's RFID tag to locate the right horse, it finally clicked.  This filly, who is about the size of a llama now — and puts everything in her mouth just as every baby does — is a walking, grass-eating member of  the Internet of Things.  And if we humans work out the privacy issues that surround the concept, so will we be some day.
The filly doesn't have a name yet.  I'm voting for IoT.
---
August 15, 2012 5:57 PM
| | |
| --- | --- |
| | "By the time the IEEE finalizes 802.11ac and its shorter-range sibling 802.11ad, max data rates will reach 7 Gbps—another order of magnitude.." — Lisa Phifer |
Today's WhatIs.com Word of the Day is 802.11ac,  also known as Gigabit Wi-Fi. It's a proposed specification for the 802.11 family that promises faster throughput.
---
August 14, 2012 1:00 AM
| | |
| --- | --- |
| | "The Google Nexus 7 is not only the first device to run the new Android 4.1, aka Jelly Bean, it's also Google's response to the Amazon Kindle Fire and the latest entry in the consumption/budget tablet market. " — Grant Hatchimonji |
Today's WhatIs.com Word of the Day is Nexus 7,  a tablet PC developed jointly by Google and Asus. Two versions were released in July 2012:  the 8 GB (gigabytes) version sells for $199 and the 16 GB version sells for $249.
---
August 13, 2012 1:00 AM
| | |
| --- | --- |
| | "When disaster strikes and you need to recover your environment, you need to be able to do so swiftly and with 100% success. There is no room for error and no option to redo it — you only have one shot at making it work…The solution has to be designed with the possibility in mind that the person executing the recovery is not the person who designed and/or implemented it." — Ashish Nadkarni |
Today's WhatIs.com Word of the Day is data recovery, the process of restoring data that has been lost, accidentally deleted, corrupted or made inaccessible for some reason.
---
August 10, 2012 12:48 PM
| | |
| --- | --- |
| | " After pressure from police departments, the wireless industry is moving to adopt a national registry system that would deny service to such devices. The idea is simple: When a smartphone is reported stolen, its ID number goes into a database. When another user tries to make a call or download data, the device pops up on the blacklist and the carrier denies service." — Rolfe Winkler |
Today's WhatIs.com Word of the Day is iCrime (Apple picking).  According to New York City police commissioner Ray Kelly, 40% of the mobile devices stolen in NYC are made by Apple.
---
August 9, 2012 12:55 AM
| | |
| --- | --- |
| | "Though nominally directed at "critical infrastructure," the NERC CIP is all about management of cyber assets (IT infrastructure) — the systems that support the operation of the bulk electric system." — Scot Petersen |
Today's WhatIs.com Word of the Day is NERC CIP. The North American Electric Reliability Corporation Critical Infrastructure Protection plan is a set of 9 standards and 45 requirements designed to secure the assets required for operating North America's bulk electric system.
---