---
January 31, 2008 3:07 PM
Master boot record rootkits are able to subvert the Windows kernel before it loads, which gives it a distinct advantage over rootkits that load while Windows is running. It gives it a great stealth mechanism that allows it to persist even after removal. Because the rootkit lurks deep within the hard drive, well below the operating system, most antivirus programs don't detect the malware.

Matthew Richard, as quoted in Excuse me sir: there's a rootkit in your master boot record
January 30, 2008 1:53 AM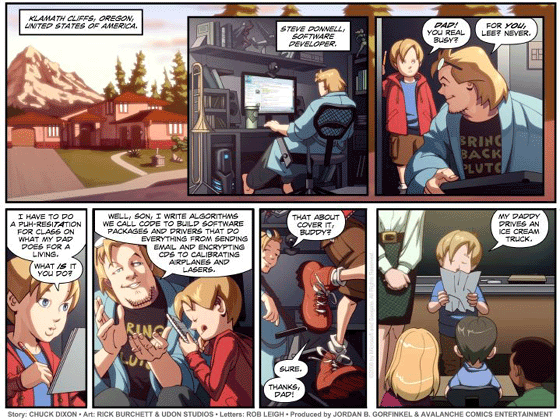 Microsoft is running another viral marketing campaign — this time they're creating a comic strip about IT pros. The strip will run for six months and they're inviting readers to send in story ideas. That's right — you think up the situation and they'll create the strip for it (if they chose your idea).
The HHH Comic Series is a daily web comic that adapts tech stories from actual IT Professionals and Developers – a web comic that reflects the real lives of IT Hero's such as you. Every business day we will release a new episode driven from suggestions from the IT community. Make sure you sign up for the RSS feed so you can have it delivered straight to your RSS enabled inbox or favorite RSS client when a new episode has been released. And remember – We want you to help drive the story!
You can submit your story ideas here. I'm going to submit one about computing in the cloud.
---
---
January 28, 2008 4:17 PM
The German Pirate Party just published some internal documents that show how Bavarian crime fighters want to get around Skype's VOIP encryption: The plan is to trick suspects into installing trojan-like malware on their PCs that then captures Skype phone calls and forwards them to a remote server.

Janko Roettgers, Bavarian police wants to use trojan malware to eavesdrop on Skype phone calls
On a related note, the U.S. government wants total access to Google search records.
---
January 28, 2008 2:57 PM
[kml_flashembed movie="http://youtube.com/v/C0MrHV3T-vI" width="425" height="350" wmode="transparent" /]
---
January 28, 2008 2:34 PM
IBM believes Linux on the enterprise desktop finally ready for widespread adoption. To meet future demand it is preparing to deliver its next versions of Lotus Notes enterprise collaboration software and Lotus Symphony office productivity applications for the first time with full support for Ubuntu Linux 7.0.

Todd Weiss, IBM says end users with 100,000 desktops looking at Ubuntu Linux
It seems like everywhere I go, I'm hearing somebody talk about Ubuntu.
---
January 28, 2008 1:43 PM
That integration wasn't quite there when we first implemented the software. We were going on faith regarding the vendor's promises.

John Wheeler, SunTrust Banks Inc.
This quote came from an article in CFO magazine by John Goff called The Emergence of Convergence.  It's a very well-written analysis of an emerging software genre called GRC (governance, risk and compliance managed with one application.)  I really recommend you make time to read it.
My other favorite quote from this article: "Application vendors, who cling to marketing hooks the way cats cling to curtains, have been only too happy to cater to this desire [to converge software].
When I first read the quote from John Wheeler about "going on faith regarding the vendor's promises," I thought "uh oh." But the vendor, OpenPages, came through. That's reason enough to read the article.  
---
January 27, 2008 9:56 PM
I like this addition. Every king should have a powerful, beautiful queen.
---
January 27, 2008 9:40 PM
What the CEO Wants You to Know is one of my favorite business books.  I refer to it periodically to help ground me in the fundamental foundations of business.  It tells you why everyone in a business should care about cash, inventory, product mix, merchandising, pricing, return on assets, customer focus, product quality, velocity, and growth.

Ron Dimon, Did Somebody Say Strategy?
People seem to either love or hate this book. It reminds me a bit of Eliyahu Goldratt's The Goal.
---
January 27, 2008 8:02 PM
Perhaps it's just what happens when a bored nation finds itself in the icy grip of winter. Whatever the reason, industry speculation over release dates for current and future versions of Microsoft Windows has reached an intensity normally associated with coverage of Britney Spears' day-to-day trials and tribulations.

Kevin McLaughlin, Microsoft Swats At Pesky Windows Rumors
---