---
March 28, 2008 1:54 PM
"The mainframe survived its near-death experience and continues to thrive because customers didn't care about the underlying technology. Customers just wanted the mainframe to do its job at a lower cost, and IBM made the investments to make that happen."

Irving Wladawsky-Berger as quoted in Why Old Technologies Are Still Kicking
John Belmont shows us IBM's newest mainframe, the Z10. It has a starting price of about a million dollars.
[kml_flashembed movie="http://www.youtube.com/v/LN4J4mClckA" width="425" height="350" wmode="transparent" /]
March 27, 2008 12:44 PM
I set my WildCharge pad up on my nightstand. After a phone chat, I tossed my RAZR cellphone over to the charging pad; four magnetic contact points on the phone's adapter helped it stick to the pad. A chime indicated my phone made electrical contact and started charging…I really grew fond of not hunting for the correct cord to charge my phone. Instead, I'd finish conversations, reach over and simply drop my phone down as if I was laying it on the table. 

Katherine Boehret, A Pad to Easily Power Up Your Phone
I really want one of these.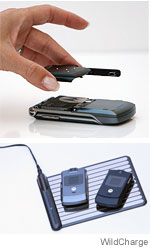 ---
March 25, 2008 1:53 PM
Many people (including myself) have tried to "hide" SSID as a security measure. Unfortunately, efforts to hide SSID ultimately fail and degrade overall WLAN performance.

Lisa Phifer, Configuring service set identifiers
SSIDs are analogous to Windows workgroup names. PCs use those names to browse a network neighborhood and discover others in the same workgroup. When a PC actually tries to access a fileshare, permission is determined by computer name, user name and password. Similarly, stations use SSID to discover APs in the same ESS, but access depends upon other parameters like the station's address, WEP keys and 802.1X credentials. Access requests must carry the right name, but the workgroup or ESS name is not a password – it identifies the resource to be accessed.
---
March 8, 2008 3:21 PM
The biggie in regards to Extrusion Detection is what ports are allowed egress at the perimeter. If you are serious about stopping information from leaking out, then you must enforce policy regarding what ports you allow egress, then you must have a way to apply policy to what is traveling egress on those ports. Your culture in regards to "acceptable use" will drive the solution.

Corey Elinburg, Some Thoughts On Data Leakage / Extrusion Prevention
---
March 8, 2008 3:02 PM
[kml_flashembed movie="http://youtube.com/v/c91mSYYIJ5U" width="425" height="350" wmode="transparent" /]
---
March 8, 2008 2:37 PM
[kml_flashembed movie="http://youtube.com/v/F4ZaFlcNynM" width="425" height="350" wmode="transparent" /]
---
March 8, 2008 12:18 PM
[kml_flashembed movie="http://youtube.com/v/AKabY1iPaBQ" width="425" height="350" wmode="transparent" /]
---
March 8, 2008 12:05 PM
I am so far behind on e-mail that I am declaring bankruptcy. If you've sent me an e-mail (and you aren't my wife, partner, or colleague), you might want to send it again. I am starting over.

Fred Wilson, Declaring Bankruptcy
---
---
March 7, 2008 12:41 PM
Here's a pretty easy way to automatically collect unused memory. Put a counter on each object, signifying how many outside references there are to this object. When it gets to zero, you know there are no references to it, so it can be deleted.

When another object starts referencing that object, it needs to increment the reference count by one. When it stops referencing it, the referrer needs to decrement the reference count.

Daniel Ehrenberg, A quick intro to garbage collection
---