---
April 22, 2008 4:01 PM
Boy did Richard Koman get that right. He just forgot to mention that the biggest threat to Office is going to come from Microsoft itself.
Big hoopla this week about Albany, Microsoft's hybrid SaaS response to Google Docs. Microsoft is hoping that by bridging the gap between online Office and desktop Office, throwing in some "security and communication tools" and making the subscription good for three computers, users will pony up a monthly fee to access their Office apps from the cloud.
Monthly fee??? I think they're dreaming. Microsoft should be GIVING this service away to anyone with a desktop Office license. If anything, the idea of a monthly fee just makes Google Docs and OpenOffice more attractive.
April 22, 2008 1:11 PM
| | |
| --- | --- |
| | The photo is of Martin Cooper demonstrating the first portable cellular telephone on April 3, 1973. Yes, he's the guy we can all thank for inventing the cell phone. |
The phone he's holding is the classic Motorola Dynatac 8000. (DynaTAC is an accronym for Dynamic Adaptive Total Area Coverage.) The phone became available commercially on March 6, 1983 and only cost $3,995! Because it weighed almost two pounds, the phone quickly got the nickname "the brick."
A younger generation knows the phone as the "Zack Morris phone." Zack Morris was a teenage character on a U.S. TV show called "Saved by the Bell." The character, played by actor Mark-Paul Gosselaar, was frequently seen with his mobile phone.  Gosselaa recently made a guest appearance on the Jimmy Fallon late-night show and recreated his character.  (The show Saved by the Bell has a cult following.)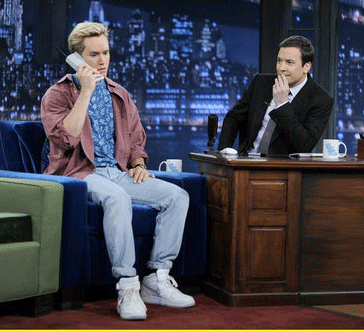 ---
April 21, 2008 5:22 PM
"15 years ago this month, Lou Gerstner arrived at IBM. When he got there, Gerstner found a company that literally didn't believe in its own future. The mainframe business — the core of IBM — was collapsing. Other business units were busy trying to turn themselves into stand-alone companies that could be spun off. The big blue ship was sinking, and everyone wanted off." 

Frank Hayes, Frankly Speaking: Microsoft's woes are like IBM's of old
Frank Hayes makes an interesting comparison between IBM in the early 80's and Microsoft today.
I remember the culture shock of those days. Signs appeared in offices: "The mainframe is dead." Project managers and programmers were frantic, pitching themselves to whoever held the purse strings. Life in Poughkeepsie, New York would never be the same.  Lifetime tenure at IBM was a thing of the past. People had to prove their worth each and every day. The shakeup was stressful, but it worked. It made the sleeping giant more agile.
Now who will do that for Microsoft?
---
April 21, 2008 1:18 PM
Jim Cicconi, AT&T's senior executive vice president-External and Legislative Affairs,  gave an interesting speech at the Westminster eForum on Web 2.0 last week.  First he got people's attention by saying that the Internet will reach full capacity by 2010 and we need to invest $130 billion to update the infrastructure.  Then he went on to say that private industry should be the fixer, not government.  I agree with him. 
"I think people agree why the Internet is successful. My personal view is that government has widely chosen to…keep a light touch and let innovators develop it. The reason I resist using the term 'Net neutrality' is that I don't think government intervention is the right way to do this kind of thing. I don't think government can anticipate these kinds of technical problems. Right now, I think Net neutrality is a solution in search of a problem."
---
April 18, 2008 1:22 PM
As a public, for-profit company, Red Hat must create products and technologies with an eye on the bottom line, and with desktops this is much harder to do than with servers. The desktop market suffers from having one dominant vendor, and some people still perceive that today's Linux desktops simply don't provide a practical alternative.

Desktop team, What's Going On With Red Hat Desktop Systems? An Update
---
April 17, 2008 1:18 PM
"Today, we might have achieved voice and data convergence from a technology standpoint, but convergence from a human resources perspective is still a figment of our imagination (if that).

If this situation is as bad as it seems from Tom's observations, it's certainly clear that [converging IT and telecom staffs] represents a major stumbling block in achieving the promised benefits of IP communications technology — and that such corporations with departmental 'iron curtains' that are deploying these solutions risk wreaking havoc instead of reaping cost savings and workforce productivity/efficiency improvements."

Marc Robbins, The Convergence Dilemma: Getting IT and Telecom Departments to Play Nice Together
Here's an interesting case study about how the Department of Central Management Services for the State of Illinois went about converging IT with Telecom.  I have to say, I'm impressed that they not only recognized that moving from a decentralized model to a centralized model would affect their staff members and contractors — they actually addressed the issue head-on in their planning.
"In any transformative initiative like this, people are what make and break the project. You can always solve technology issues because you can think through technology issues. You can't think through logically and rationally when you relate to people."
A key challenge in handling people relates to the cultural change. There were shifts in the reporting structure, changes in job profile of people and in some cases there was also a need to relocate. These changes brought in a lot of apprehensions in the minds of people. There was a growing fear and concern regarding their job security, pay scale and the new role which they would be playing. To address these issues, training sessions and orientations were held to familiarize people with the new reporting structures, functions and work practices. Also, there were documents posted across different agencies that answered questions regarding job security, change in pay scale, job relocation and such other."
---
April 15, 2008 5:06 PM
"The next generation of optimization is taking shape. First it was search engine optimization SEO, next came social media optimization (SMO), and now we've got news feed optimization (NFO)."

Chris Schultz, Jason Calacanis Crushes My Facebook News Feed
Chris Schultz's blog post about Jason Calacanis' using Facebook to brand his "human-powered search engine" by optimizing his newsfeed on Facebook hit home the idea that when it comes to optimization, we're still living in the wild, wild west. Chris writes:
I've got 99 friends on Facebook but I hear from Jason Calacanis more than anyone. He has turned Facebook into a marketing platform for his human-powered search engine, Mahalo. And he doesn't pay Facebook a dime for this primo branding opportunity.
The very best part of this post? The comment he got back from Jason.
The reason this all happened was because I was using our Mahalo Share tool (google it) and it puts my delicious bookmarks on Facebook. I didn't think it would put so many of my bookmarks on other people's pages. So, I'm going to limit it to my best 2-3 bookmarks a day.
---
April 15, 2008 1:20 PM
Interesting post by Matt Muchanan over at Gizmodo about ISP bandwidth management practices.  Can it be true that everyone but Verizon admitted they were managing bandwith? 
 "We don't manage our network by throttling, slowing or curbing service, either on DSL or FiOS." In reference to content filtering, we weren't given a new statement, but referred to earlier remarks by public affairs VP Tom Tauke that it is "reluctant to get into the business of examining content that flows across our networks," the most pro-active stance against content filtering. However, it's still no fan of the government stepping in: "These are decisions best made by network engineers and operators—not policymakers."
Managing bandwidth has a new name, btw.  "Filtering" is out.   So is "throttling," "capping," and "curbing." 
The new name? "Traffic shaping techniques." Hats off to whoever thought that one up.
---
April 14, 2008 2:45 PM
When it takes just a mouse click to open Gmail and have the message saved with the prospect record, it won't take long before Gmail becomes the default email system for most Salesforce users…

For Google, the combination brings Google Apps into big enterprise accounts and also expands its footprint among smaller businesses. For Salesforce.com, it expands the reach of its Salesforce application and further validates its Force.com integration and development platform. But more importantly for both of them — and for the rest of us who are committed to the on-demand model — it puts extra weight behind the gathering trend towards running business applications and computing in the cloud.

Phil Wainewright, Salesforce and Google team to conquer the enterprise
I'm not so sure about the first statement I grabbed from Phi's excellent post — but I'm pretty sure he's got it right about us looking back and seeing this as the beginning of the tipping point for enterprise computing in the cloud.
---
April 14, 2008 1:46 PM
I bet you still know people who use admin or 123456 as a router password. Let them know about DNS binding attacks.
---