---
January 8, 2015 2:47 PM
Technology

WhatIs Word of The Day

Word of the Day
Daily updates on the latest technology terms |January 7, 2015
flape and floud

FLAPE is an approach to tiered storage that relies on two storage technologies, flash plus tape.

This approach uses flash storage as primary storage but also writes a copy to a linear tape file system. When the data is being accessed frequently, it is recalled from flash. When the data is no longer being accessed frequently, it can be deleted from flash storage and the permanent, archival copy will still reside on tape.

FLOUD, a similar approach to tiered storage, also uses flash for primary storage and cloud storage for secondary storage. Both approaches allow storage administrators to store data immediately into the archive as it is written to primary storage so that instead of moving data into the archive at some later point in time, a file that has reached its archive point can simply be deleted from the primary storage.

Quote of the Day
"In a conversation with an industry insider the other day, I was warned to stand by for a lot of noise about flape. It might just be 'the next big thing' in storage architecture, I was told." — Jon Toigo

Stay In Touch
FOLLOW US
             CONTACT US
For feedback about any of our articles or to send us your article ideas, please contact us at: Editor@WhatIs.com
About This E-Newsletter Achive

This e-newsletter is published by the TechTarget network.

TechTarget, Whatis, 275 Grove Street, Newton, MA 02466.

Copyright 2015 TechTarget. All rights reserved.
August 4, 2014 4:26 PM
Technology
An electronic resume is a plain text (ASCII), PDF or HTML document that provides an employer with information regarding a job candidate's professional experience, education, and job qualifications and is meant to be read by a computer program instead of by a human being.

Many large companys process all their incoming resumes electronically by using an automated applicant tracking systems (ATS) or subscribing to a resume scanning service that scans resumes as images and uses optical character recognition (OCR) software to read the text. Essentially, the information contained on the resumes is entered into a relational database so when the company needs to hire new talent, someone from the human resources management (HRM) department can query the database for possible candidates. Resumes that match a specified score for keywords that were identified by the hiring manager are then selected for human review.

On the electronic resume, keywords can be stated in a separate keyword section, or they can be integrated into the text. The font should be simple and all text should be aligned to the left. Do not use underlining, bolding, italics or bullets as these can confuse older OCR software programs. In general, action verbs like "managed" or "facilitated", which are recommended for use in paper resumes, are not effective in electronic resumes because most ATS keywords are nouns.

Since computers read resumes differently than people do, recruiters recommend that job hunters should prepare two versions of their resume: a simple, electronic one for talent analytics programs and a more creative one printed on quality paper to hand deliver to someone within the organization or bring to an interview.
Quote of the Day

"Although they originally evolved to help employers scan paper resumes into a database, do basic screening and trace an applicant's path through the interview and hiring process, today's tracking systems are programmed to scan for keywords, former employers, years of experience and schools attended to identify candidates of likely interest." – Lauren Weber
Related Terms
Related Terms
Stay In Touch
FOLLOW WHATIS.COM

CONTACT US

For feedback about any of our definitions or to send us ideas for new definitions, please contact us at: editor@techtarget.com
About This E-Newsletter

This e-newsletter is published by the TechTarget network. To unsubscribe from Whatis.com, click here. Please note, this will not affect any other subscriptions you have signed up for.

TechTarget, Whatis, 275 Grove Street, Newton, MA 02466. Contact: webmaster@techtarget.com

Copyright 2013 TechTarget. All rights reserved.
---
July 30, 2014 1:58 PM
Technology
WhatIs.com Word of the Day
SMAC (social, mobile, analytics and cloud) is the concept that four technologies are currently driving business innovation. SMAC creates an ecosystem that allows a business to improve its operations and get closer to the customer with minimal overhead and maximum reach. None of the four technologies can be an afterthought because it's the synergy created by social, mobile, analytics and cloud working together that creates a competitive advantage.
Quote of the Day
"Social, mobile, analytics and cloud technologies (SMAC) are the front runners in disruptive technologies driving business innovation…" – Karl Flinders
Related Terms
1:1 marketing
customer analytics
mobile location analytics
Nexus of Forces
loyalty card program
social media analytics
cloud analytics
social login
disruptive technology
data broker
Related Tags
Customer privacy and data security
Commerce technology and strategy
Required Reading
From smoke signals to SMAC, digital business arrives
Harvey Koeppel analyzes how social media, mobile, analytics and cloud technology has transformed business communications. It's time for CIOs to get their SMAC on.
Talking SMAC with Dell CIO Andi Karaboutis
Dell CIO Andi Karaboutis talks about the demand for SMAC and self-service analytics.
CIO Interview: Lance Fisher, CIO, SThree
Learn why sThree CIO Lance Fisher's IT strategy revolves around around SMAC.
A guide for CIOs: SMAC strategy and governance
Read this Essential Guide to learn how SMAC technologies are changing the way businesses run. Explore the benefits of a SMAC strategy and find expert tips on SMAC governance best practices.
---
---
---
---
---
---
---
April 24, 2014 4:48 PM
Word of the Day
A NASCAR slide is marketing lingo for a presentation software slide filled with logos.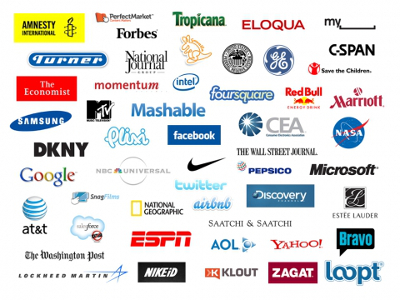 Fun Fact
Ever wonder how many PowerPoint presentations are made each day? According to Microsoft, the answer is about 30 million.
Required Reading
Eight tips every IT pro can use towards becoming a better presenter
Strengthen your presentation skills and wow your next audience with these tips.
CIOs On Stage: How to Join the Conference Speaker Circuit
The closest thing to universal advice from experienced CIOs and public-speaking experts is to start with small groups and work your way up.
Did your last presentation make a difference?
There's no magic formula for improving a dull presentation, but there are a range of techniques that can help you.
Related Terms
presentation software
death by PowerPoint
PechaKucha
relationship marketing
sock puppet marketing
---