---
May 16, 2008 5:24 PM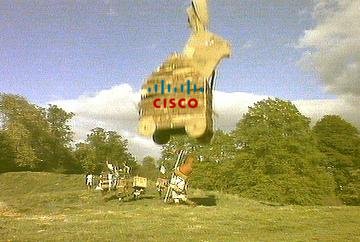 So it's not exactly breaking at this point, but scary nonetheless: The FBI's Operation Cisco Raider has led to a number criminal cases involving counterfeit Cisco products bought by military agencies and contractors, according to the New York Times.
What's so worrisome? Knockoff handbags and even iPhones aren't a direct security threat, but fake Cisco routers might be, as the Times reports:
The potential threat, according to the F.B.I. agents who gave a briefing at the Office of Management and Budget on Jan. 11, includes the remote jamming of supposedly secure computer networks and gaining access to supposedly highly secure systems.
Cisco says we're safe this time, and the counterfeiters' motives are a little more pedestrian:
"We did not find any evidence of re-engineering in the manner that was described in the F.B.I. presentation," said John Noh, a Cisco spokesman. He added that the company believed the counterfeiters were interested in copying high volume products to make a quick profit. "We know what these counterfeiters are about."
Today, it might (hopefully) be about making a quick buck, but an Ars Technica article underlines some of the Pentagon fears about of so-called "Manchurian chips":
There is no question that the technological infrastructure in the United States is under siege. We have seen a steady litany of attempted intrusions originating from abroad, most likely perpetrated by a mix of foreign governments and organized crime groups. An emerging concern is that the same agents behind those cyber-attacks could also have access to the chip fabrication facilities that make the components used in US military technology. Researchers say that virtually undetectable kill-switches and backdoors can be built into any of the countless integrated-circuit chips used in mission-critical military hardware systems.
So what can you do to make sure your own equipment is genuine? Not a whole lot, it appears. Amy browsed some forums for tips, but the best we could find was the old consumer adage: If a deal looks to good to be true, it probably is.
May 9, 2008 5:38 PM
Network pros must feel like they carry the world on their backs. One of my big takeaways from Interop was that with the tide of new applications being delivered across the network, network pros have to work across organizational and technological silos in order to keep things running; that they must stop pointing fingers and saying, "it's not the network," and fix the problems to prove their worth. By proving their worth, the network staff gains better access to coveted resources.
Network pros also have to be able to speak the language of business if they want to communicate with company bigwigs. Dr. Jim Metzler, evangelizing this message at Interop, said: "You don't want to go to the vice president of sales and say, 'I have MPLS.' It sounds like a disease. You would not get a second meeting with that person; you have just screamed 'I am a techie nerd.'"
Maybe this isn't new or earth-shattering wisdom, but the frequency I heard it repeated got me thinking: Why is it all up to the network pro? Isn't expecting the network guy to troubleshoot application performance sort of like expecting the highway department to fix your car?
Before you start to complain too much, though, think about MacGruber. If you haven't seen the recurring sketch on Saturday Night Live, Will Forte plays an alcoholic, neurotic spoof on MacGyver. In the most recent MacGruber sketch with Jonah Hill, MacGruber confronts his assistants about criticizing his abilities and questioning his job performance. He's so busy worrying about this that he fails to defuse the ticking time bomb, and — boom!
Imagine you're MacGruber, the ticking timebomb is an application performance problem, and Jonah Hill is an application manager blaming your network for his flawed application. You could get defensive and argue with him over whose fault the bomb is. But look what happens.
Sometimes, if you don't fix the problem, nobody will.
I asked Craig Hulbert, a senior network engineer at a major health care company in Ohio, why so much responsibility falls on the shoulders of network staff. He answered, "Lowest common denominator," and explained that calling him is almost always the first step taken when there's a problem to solve.
I'm not sure whether the network is the lowest common denominator. I would like to think that the smartest people with the most technical know-how are running the network, and when people have a problem that's where they turn.
As far as I know, they're not turning to the security team to fix application problems or asking the CEO to bone up on his geek-speak.
> Does your network take the blame for poor application performance? Tell us your story in an email.
---
May 7, 2008 3:12 PM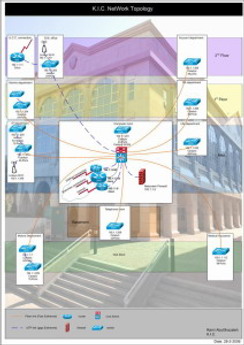 What, you don't know a precise number? Then get over to RateMyNetworkDiagram.com and find out exactly how pretty your peers think your network diagram is on a sliding 1-10 scale. It's HotOrNot.com for the networking set.
My favorite diagram overlaid the components and locations over an outdoor picture of the building, although another which explained Godzilla's position in the network was helpful when planning my home setup.
Speaking of which, you can browse and rank diagrams by size and purpose: Small, Large, Home, Rack, and Funny are all options, so no matter what your need you can find a little diagram inspiration … or at least a laugh or two.
Via Cisco blog.
---
May 6, 2008 3:35 PM
After struggling for several hours to upload the first of my Interop videos to YouTube, I ran across FastSoft's video demonstration of their accelerated file transfer appliance, which struck me pretty compelling. In this video, Dan Henderson, VP of Marketing, explains and demonstrates how FastSoft can accelerate data transmission over the Web at Interop Las Vegas 2008.
---
May 6, 2008 3:31 PM
AdRem Sales and Marketing Director Jarek Jerzakowski gives a tour of the company's brand new network management and monitoring product, NetCrunch 5, at Interop Las Vegas 2008. The product, sold around the world by AdRem and its resellers, automatically draws routing maps and physical maps of the network and allows you to create geographical custom maps to graphically monitor and manage your network.
---
May 5, 2008 9:43 PM
Aruba Networks is one of the top WLAN infrastructure vendors in the market. The last time I checked, they were second to the titan in the market, Cisco. A lot of vendors see the coming generation of 802.11n wireless technology as an opportunity to take on Cisco's market dominance.
At Interop last week, I stopped by Aruba's booth to talk about what they're doing with 802.11n. In this video, Aruba's head of strategic marketing, Michael Tennefoss shares the results of some recent tests which showed that endpoints performed better with Aruba's 802.11n technology than with some of its competitors.
---
May 5, 2008 9:38 PM
Aerohive is a new company in the wireless networking space. It's developed some innovative access points that work cooperatively with each other. Many vendors rely on controllers to coordinate the activities of Wi-Fi access points. Aerohive's access points communicate with each other in a "cooperative control model."
In this video Paul Levasseur, director of technical marketing for Aerohive, demonstrates this concept of cooperative control at Aerohive's booth at Interop 2008.
---
May 5, 2008 7:52 PM
Since I first encountered Vyatta two years ago, they have grown beyond merely being an open source software router. These days, Vyatta is calling itself an "open-source networking" company, and their router is now a router/firewall/VPN.
Dave Roberts, Vyatta's VP of Strategy, spoke on a panel session called "Open source networking: An insanely smart idea?" at Interop Las Vegas 2008. I asked Dave whether open source networking was making any progress against the common arguments against its use in businesses, such as companies wanting the assurance of "one (vendor's) throat to choke" should they have problems with the technology. Dave says that issue is "exactly the problem Vyatta was created to solve," and said that they wanted to bring together all the disparate open source parts to become the "Red Hat of the networking industry."
In this video, Dave talks a little bit about where Vyatta is now, some of the company's recent price/performance successes, and new features they're offering.
---
May 5, 2008 7:04 PM
In this video, Cahit Akin, PhD and CEO of Mushroom Networks tells me about Mushroom's broadband bonding device, the "Truffle," and explains the significance of the company's name.
---
May 5, 2008 5:32 PM
When I flew to Las Vegas last week for Interop 2008, I never imagined that I'd be wearing one of the most coveted pieces of bling in the poker-playing world. But here I am, wearing one of the two bracelets poker pro Mark Seif. won at the 2005 World Series of Poker. (That's Mark on the right)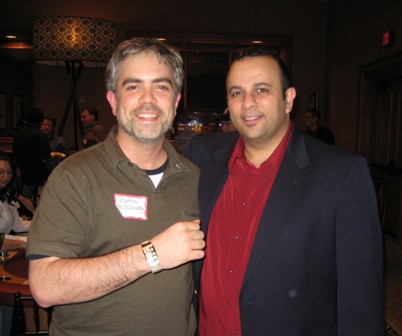 Usually when I go to a conference, all I do is work, work and work. I spend all day holding meetings and attending sessions and I spend all night writing. But every once in awhile I manage to mix in some fun.
Naturally I was excited when the PR firm Voce Communications invited me to a Texas hold 'em poker tournament at Interop in Las Vegas. The tournament, sponsored by Barracuda Networks and NetIQ, was set up to give the two vendors a chance to schmooze with a bunch of analysts and journalists over a friendly game of cards.
The tournament prize (an iPhone) didn't excite me as much as the opportunity to play a meaningful game of cards without any money on the line. I love playing poker, but I always seem to lose money when I play in Vegas. So this was a nice alternative. And since I'm a fan of poker on television, I was also thrilled to meet Mark Seif, a poker pro who you'll see on ESPN's World Series coverage and on the Travel Channel's World Poker Tour. Mark was there to give the 30 or so players in the room a tutorial on how to play no-limit Texas Hold 'Em. Then he was available to offer tips to players in crucial situations throughout the night.
I figured I had a good chance to win because I do pretty well when I play poker with friends. Yeah, I was feeling pretty good about my chances. And early on I felt like I was make the right moves. In one of my first hands, I was dealt a 9 and a 7. A few players limped into the pot by calling. I was the big blind so I just checked with my weak hand. When the flop came down 4-9-4, I decided to bet with my top pair. Two players (both NetIQ employees, I believe), raised me big time. I was left sitting there, wondering what they could have. Mark asked me if I wanted his advice. Since players could only ask him for advice once during the tournament, I told him I'd save his advice for later in the evening. I eventually folded. Mark grabbed my cards and looked at them. "Good fold," he whispered from across the table. It was a thrill to get the thumbs up on a fold from such a great poker player. And he was right. My opponents turned over pocket queens and pocket tens. They both would have obliterated me.
Despite that smart laydown, I struggled to stay alive throughout the rest of the night. I won a couple hands to build up my chip stack early, but the rapid escalation of the blinds really cut into my money. When I was dealt an Ace-Queen of hearts late in the evening I decided to move all-in with my dwindling stack of chips. Larry Howard, vice president of Infonetics Research called me. He was holding an Ace, too, with a lower kicker (an eight, if I recall correctly). Although an Ace came down on the flop, Larry paired his kicker on the river to knock me out. I finished in ninth place. Larry went on to win the tournament so I can at least seek solace in the fact that I was knocked out by the champion.
I must say it was a thrill to meet Mark Seif, who was a very friendly guy. As a pro, he's used to playing cards with millions on the line. One would think spending the evening with a bunch of IT journalists and analysts would be a bore for him. But he was having a good time. He even let me and my SearchNetworking.com colleagues Amy Kucharik and Sue Fogarty wear his priceless World Series of Poker bracelets.
Here are Amy and Sue with Mark. Amy lasted the longest out of all the TechTarget/SearchNetworking folks.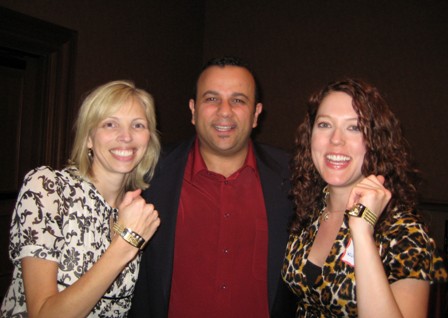 And here we all are, joined by Dana Brundage of SearchWindowsSecurity.com. Dana and I were knocked out in the same hand by Larry Howard. That guy is a shark!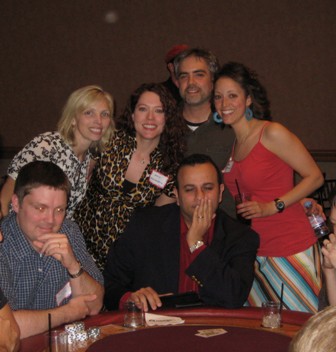 ---